Stable carbon and nitrogen isotopic composition of PM10 over Indo-Gangetic Plains (IGP), adjoining regions and Indo-Himalayan Range (IHR) during a winter 2014 campaign
Abstract
For source identification, a field campaign involving simultaneous sampling of particulate matter (PM10) was conducted at eight sampling sites in the Indian mainland during winter 2014. The sampling sites include Delhi (upper IGP), Lucknow (middle IGP), and Kolkata (lower IGP) in the Indo-Gangetic Plains (IGP); Mohal-Kullu and Darjeeling in the Indo-Himalayan Range (IHR). In addition, Ajmer, located upwind of the IGP in NW-India and Giridih and Bhubaneswar, in the downwind to the IGP has also been chosen. To characterize the sources of the ambient PM10, stable isotope ratios of carbon (δ13CTC) and nitrogen (δ15NTN) for the total carbon (TC) and total nitrogen (TN) fractions have been considered. Ancillary chemical parameters, such as organic carbon (OC), elemental carbon (EC), and water-soluble ionic components (WSIC) mass concentrations are also presented in this paper. There was very small variation in the daily average δ13CTC ratios (− 24.8 to − 25.9‰) among the sites. Comparison with end-member stable C isotopic signatures of major typical sources suggests that the PM10 at the sites was mainly from fossil fuel and biofuel and biomass combustion. Daily average δ15NTN ratios were not observed to vary much between sites either (8.3 to 11.0‰), and the low δ15NTN levels also indicate substantial contributions from biofuel and biomass burning of primarily C3 andC4 plant matter.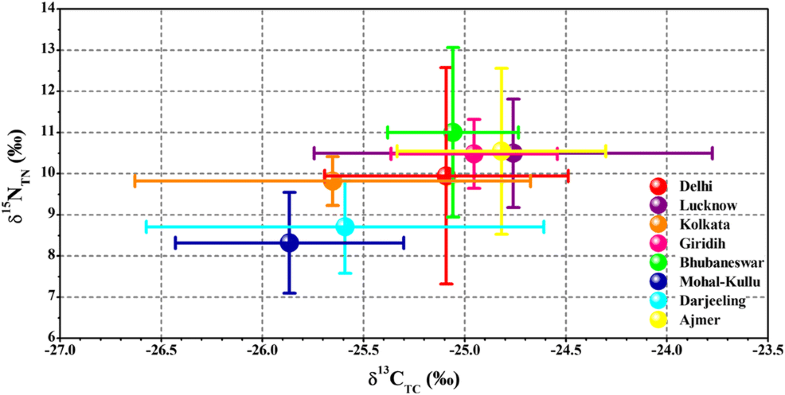 Keywords
IGP 
PM10 
Stable isotopes 
Carbonaceous aerosols 
Biomass burning 
Notes
Acknowledgments
The authors (TKM, SKS, MS) would like to thank the Director, CSIR-NPL, New Delhi, for his constant support and encouragement. The author (AS) would like to thank Mrs. Pratirupa Bardhan for the technical and scientific help rendered during the preparation of this manuscript. AS is also grateful to HRDG, CSIR for providing the SPM-SRF fellowship. AC acknowledges Prof Sibaji Raha for all the support in carrying out the observations at Kolkata and Darjeeling and the technical support of Mr. Vivek Gurung and Mr. Sabyasachi Majee at Darjeeling and Miss Debolina Seal at Kolkata. The author (AKK) is grateful to the Director, IITR, Lucknow for his encouragement and support. The author (JCK) would like to thank the Director, GBPNIHESD, Kosi-Katarmal, Almora (UK). Analyses and visualizations used in this paper were produced with the Giovanni online data system, developed and maintained by the NASA GES DISC.
Funding information
The authors (AKC and SP) are indebted to the Director, Indian Statistical Institute and HRDG, CSIR for their encouragement and financial support for this study at Giridih. The author (TD) takes the oppertunity to acknowledge to the Director, CSIR-IMMT and the Head, Environment, and Sustainability Department of CSIR-IMMT for their encouragement and financial support.
Copyright information
© Springer-Verlag GmbH Germany, part of Springer Nature 2018