Abstract
The privatization of water and sewerage services (WSS) has led to the foundation of water economic groups, which integrate several water companies and have gained notable importance at the global level. In the framework of benchmarking studies, there are no prior studies exploring the impact that economic groups have on the efficiency and quality of service provided by water companies. This study investigates, for the first time, whether the membership of water companies in an economic group influences their performance. Quantity- and quality-adjusted efficiency scores were computed using data envelopment analysis models. An empirical application was developed for the Chilean water industry since most of their water companies are private and belong to an economic group. The results show that independent water companies provide WSS with better quality than do water companies that belong to an economic group. From a statistical point of view, it was evident that membership in an economic group impacts both the quantity- and quality-adjusted efficiency scores of water companies. The results of this study illustrate that applying the model-firm regulation to the Chilean water industry has significant drawbacks that should be addressed by the water regulator to promote the long-term sustainability of the water industry.
This is a preview of subscription content, log in to check access.
Access options
Buy single article
Instant access to the full article PDF.
US$ 39.95
Price includes VAT for USA
Subscribe to journal
Immediate online access to all issues from 2019. Subscription will auto renew annually.
US$ 99
This is the net price. Taxes to be calculated in checkout.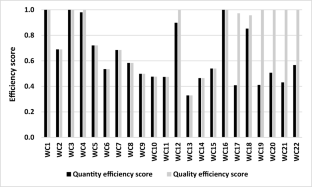 Notes
1.

Note that we did not compute the Pearson correlation coefficient since it assumes that both variables (quantity- and quality-adjusted efficiency scores) are normally distributed.
References
Alegría M, Celedón E (2006) Historia del sector sanitario chileno. De la gestión estatal hasta el proceso de privatización. Instituto de Investigación de las Naciones Unidas para el Desarrollo Social, Política Social y Desarrollo, 29. (In Spanish)

Araral E (2009) The failure of water utilities privatization: synthesis of evidence, analysis and implications. Polic Soc 27(3):221–228

Baer M (2014) Private water, public good: water privatization and state capacity in Chile. Stud Comp Int Dev 49(2):141–167

Berg SV (2013) Seven elements affecting governance and performance in the water sector. Util Policy 43:4–13

Berg S, Marques R (2011) Quantitative studies of water and sanitation utilities: a benchmarking literature survey. Water Policy 13(5):591–606

Bitrán E, Estache A, Guasch J, Serra P (1999) Privatizing and regulating Chile's utilities 1974–2000: successes, failures, and outstanding challenges. In: Perry G, Leipziger D (eds) Chile: recent policy lessons and emerging challenges. The World Bank, Washington, p 438

Bustos Á, Galetovic A (2002) Regulación por empresa eficiente: ¿quién es realmente usted?. Estudios Públicos, 86, Otoño. (In Spanish)

Charnes A, Cooper WW, Rhodes EL (1978) Measuring the efficiency of decision making units. Eur J Oper Res 2:429–444

Cooper WW, Seiford LM, Zhu J (2007) Handbook on data envelopment analysis. International series in operations research & management science. Springer, first edition

Corton ML, Berg SV (2009) Benchmarking Central American water utilities. Util Policy 17(3–4):267–275

De Witte K, Marques RC (2010) Designing performance incentives, an international benchmark study in the water sector. CEJOR 18(2):189–220

Dobbie MF, Brown RR, Farrelly MA (2016) Risk governance in the water sensitive city: practitioner perspectives on ownership, management and trust. Environ Sci Policy 55:218–227

Färe R, Grosskoppf S, Lovell CAK (1994) Production frontiers. Cambridge University Press, Cambridge

Ferro G, Mercadier AC (2016) Technical efficiency in Chile's water and sanitation providers. Util Policy 43:97–106

Fuentes F, Saavedra E (2007) Un Análisis Comparado de los Mecanismos de Regulación por Empresa Eficiente y Price Cap. ILADES – Universidad Alberto Hurtado, Santiago (In Spanish)

Galetovic A, Sanhueza R (1999) Regulación de servicios públicos: ¿hacia dónde debemos ir?. Sociedad de Fomento Fabril. (In Spanish)

García-Rubio MA, González-Gómez F, Guardiola J (2010) Performance and ownership in the governance of urban water. ICE Proceedings 163(1):51–58

Gómez-Lobo A, Vargas M (2001) La regulación de las empresas sanitarias en Chile: una revisión del caso de EMOS y una propuesta de reforma regulatoria. Departamento de Economía, Facultad de Ciencias Económicas y Administrativas, Universidad de Chile, Santiago (In Spanish)

Guerrini A, Romano G, Campedelli B (2013) Economies of scale, scope, and density in the Italian water sector: a two-stage data envelopment analysis approach. Water Resour Manag 27(13):4559–4578

GWI (2016) Global Water Intelligence webpage. Available at: www.globalwaterintel.com

Hernández-Sancho F, Molinos-Senante M, Sala-Garrido R, Del Saz-Salazar S (2012) Tariffs and efficient performance by water suppliers: an empirical approach. Water Policy 14(5):854–864

IWA (2015) Reduction of Non-Revenue Water Around the World. Available at: http://www.iwa-network.org/reduction-of-non-revenue-water-around-the-world/

Kruskal WK, Wallis WA (1952) Use of ranks in one-criterion variance analysis. J Am Stat Assoc 47(260):583–621

Lannier AL, Porcher S (2014) Efficiency in the public and private French water utilities: prospects for benchmarking. Appl Econ 46(5):556–572

Marques RC, Simões P (2008) Does the sunshine regulatory approach work?. Governance and regulation model of the urban waste services in Portugal. Resour Conserv Recycl 52(8–9):1040–1049

Marques RC, Berg S, Yane S (2014) Nonparametric benchmarking of Japanese water utilities: institutional and environmental factors affecting efficiency. J Water Resour Plan Manag 140(5):562–571

Mbuvi D, De Witte K, Perelman S (2012) Urban water sector performance in Africa: a step-wise bias-corrected efficiency and effectiveness analysis. Util Policy 22:31–40

Molinos-Senante M, Sala-Garrido R, Lafuente M (2015) The role of environmental variables on the efficiency of water and sewerage companies: a case study of Chile. Environ Sci Pollut Res 22(13):10242–10253

Molinos-Senante M, Mocholi-Arce M, Sala-Garrido R (2016) Efficiency assessment of water and sewerage companies: a disaggregated approach accounting for service quality. Water Resour Manag 30(12):4311–4328

Molinos-Senante M, Donoso G, Sala-Garrido R, Villegas A (2018) Benchmarking the efficiency of the Chilean water and sewerage companies: a double-bootstrap approach. Environ Sci Pollut Res 25:8432–8440

Morales M, Heaney J (2016) Benchmarking nonresidential water use efficiency using parcel-level data. J Water Resour Plan Manag 142(3):04015064

Pérard E (2007) Water supply: public or private? Working paper presented at the conference "The role of the state in public service delivery" at Lee Kuan Yew School of Public Policy, National University of Singapore, September 2007

Romano G, Guerrini A, Marques RC (2017) European Water Utility Management: Promoting Efficiency, Innovation and Knowledge in the Water Industry. Water Resour Manag 31(8):2349–2353

SISS (2015) Informe de Gestión del Sector Sanitario 2014. Available at: ​http://www.siss.gob.cl/586/w3-propertyvalue-6415.html

Smirnov N (1948) Table for estimating the goodness of fit of empirical distributions. Ann Math Stat 19:279–281

Tupper HC, Resende M (2004) Efficiency and regulatory issues in the Brazilian water and sewage sector: an empirical study. Util Policy 12(1):29–40

Water and Waste Digests (2015) Report ranks world's 50 largest private water utilities. Available at: https://www.wwdmag.com/trends-forecasts/report-ranks-world%E2%80%99s-50-largest-private-water-utilities
Acknowledgments
The authors would like to thank several employees of the Chilean "Superintendencia de Servicios Sanitarios" for their valuable comments and suggestions.
Additional information
Responsible editor: Philippe Garrigues
Electronic supplementary material
About this article
Cite this article
Molinos-Senante, M., Farías, R. Evaluation of the influence of economic groups on the efficiency and quality of service of water companies: an empirical approach for Chile. Environ Sci Pollut Res 25, 23251–23260 (2018). https://doi.org/10.1007/s11356-018-2363-x
Received:

Accepted:

Published:

Issue Date:
Keywords
Privatization

Water companies

Urban water

Quality of service

Performance