Abstract
Reversed A2O process (anoxic-anaerobic-aerobic) and conventional A2O process (anaerobic-anoxic-aerobic) are widely used in many wastewater treatment plants (WWTPs) in Asia. However, at present, there are still no consistent results to figure out which process has better total phosphorous (TP) removal performance and the mechanism for this difference was not clear yet. In this study, the treatment performances of both processes were compared in the same full-scale WWTP and the TP removal dynamics was analyzed by a modeling method. The treatment performance of full-scale WWTP showed the TP removal efficiency of the reversed A2O process was more efficient than in the conventional A2O process. The modeling results further reveal that the TP removal depends highly on the concentration and composition of influent COD. It had more efficient TP removal than the conventional A2O process only under conditions of sufficient influent COD and high fermentation products content. This study may lay a foundation for appropriate selection and optimization of treatment processes to suit practical wastewater properties.
This is a preview of subscription content, log in to check access.
Access options
Buy single article
Instant access to the full article PDF.
US$ 39.95
Price includes VAT for USA
Subscribe to journal
Immediate online access to all issues from 2019. Subscription will auto renew annually.
US$ 99
This is the net price. Taxes to be calculated in checkout.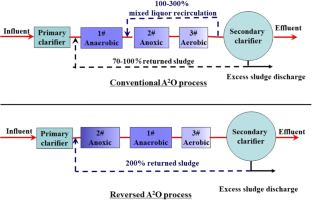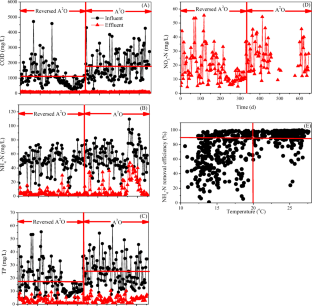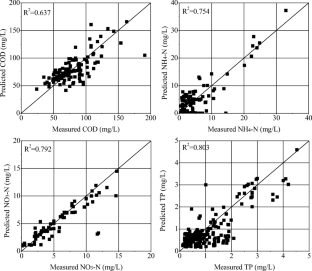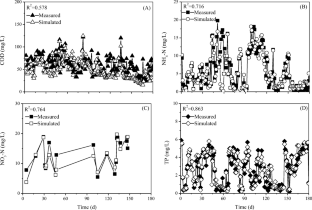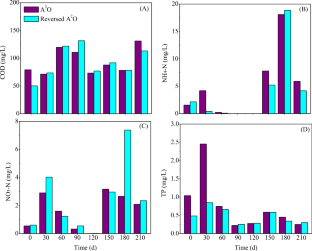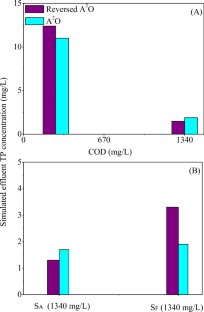 References
APHA (1998) Standard methods for the examination of water and wastewater. American Public Health Association, Washington DC

Bi XJ, Zhang B (2006) The principle and full-scale application of reversed A2O process for removing nitrogen and phosphorus. Environ Eng (in Chinese) 24:29–31

Fang F, Ni BJ, Li WW, Sheng GP, Yu HQ (2011) A simulation-based integrated approach to optimize the biological nutrient removal process in a full-scale wastewater treatment plant. Chem Eng J 174:635–643

Fang F, Qiao LL, Cao JS, Li Y, Xie WM, Sheng GP, Yu HQ (2016) Quantitative evaluation of A2O and reversed A2O processes for biological municipal wastewater treatment using a projection pursuit method. Sep Purif Technol 166:164–170

Filipe CDM, Daigger GT, Grady CPL Jr (2001) pH as a key factor in the competition between glycogen-accumulating organisms and phosphorous-accumulating organisms. Water Environ Res 73:223–232

Gernaey KV, van Loosdrecht MCM, Henze M, Lind M, JØrgensen SB (2004) Activated sludge wastewater treatment plant modeling and simulation: state of the art. Environ Model Softw 19:763–783

Grady Jr CPL, Daigger GT, Lim H (1999) Biological wastewater treatment. Revised and Expanded, 2nd edn. Marcel Dekker, New York

Henze M, Gujer W, Mino T, Matsuo T, Wentzel MC, Marais GVR, van Loosdrecht MCM (1999) Activated sludge model no. 2d, ASM2d. Water Sci Technol 39:165–182

Hu X, Wisniewski K, Czerwionka K, Zhou Q, Xie L (2016) Modeling the effect of external carbon source addition under different electron acceptor conditions in biological nutrient removal activated sludge systems. Environ Sci Technol 50:1887–1896

Kang XS, Liu CQ, Zhang B, Bi XJ, Zhang F, Cheng LH (2011) Application of reversed A2/O process on removing nitrogen and phosphorus from municipal wastewater in China. Water Sci Technol 63:2138–2142

Lahav O, Loewenthal RE (2000) Measurement of VFA in anaerobic digestion: the five-point titration method revised. Water SA 26:389–392

Li P, Bi XJ, Wang J, Ru SG (2017) Microbial diversity in activated sludges of conventional and reversed A2/O processes. China Environ Sci (in Chinese) 37:1137–1145

Liu CQ, Zhang F, Bi XJ, Zhang B (2008) Contrast between reversed A2O process and improved A2O process in full-scale test. Technol Wat Treat 34:53–56

Makinia J, Rosenwinkel KH, Spering V (2005) Long-term simulation of the activated sludge process at the Hanover-Gümmerwald pilot WWTP. Water Res 39:1489–1502

Massara TM, Solis B, Guisasola A, Katsou E, Baeza JA (2018) Development of an ASM2d-N2O model to describe nitrous oxide emission in municipal WWTPs under dynamic conditions. Chem Eng J 335:185–196

Mino T, van Loosdrecht MCM, Heijnen JJ (1998) Microbiology and biochemistry of the enhanced biological phosphate removal process. Water Res 32:3193–3207

Ni BJ, Yu HQ (2012) Microbial products of activated sludge in biological wastewater treatment systems: a critical review. Crit Rev Environ Sci Technol 42:187–223

Ni BJ, Xie WM, Liu SG, Yu HQ, Wang YZ, Wang G, Dai XL (2009) Modeling and simulation of the sequencing batch reactor at a full-scale municipal wastewater treatment plant. AICHE J 55:2186–2196

Oehmen A, Lopez-Vazquez CM, Carvalho G, Reis MAM, van Loosdrecht MCM (2010) Modeling the population dynamics and metabolic diversity of organisms relevant in anaerobic/anoxic/aerobic enhanced biological phosphorous removal processes. Water Res 44:4473–4486

Pratt S, Yuan Z, Keller J (2004) Modeling aerobic carbon oxidation and storage by integrating respirometric, titrimetric, and off-gas CO2 measurements. Biotechnol Bioeng 88:135–147

Reichert P (1998) Aquasim 2.0-User Manual, Computer Program for the Identification and Simulation of Aquatic Systems. EAWAG, Dübendorf, Switzerland

Xie WM, Zhang R, Li WW, Ni BJ, Fang F, Sheng GP, Yu HQ, Song J, Le DZ, Bi XJ, Liu CQ, Yang M (2011) Simulation and optimization of a full-scale Carrousel oxidation ditch plant for municipal wastewater treatment. Biochem Eng J 56:9–16

Xie WM, Ni BJ, Sheng GP, Seviour T, Yu HQ (2016) Quantification and kinetic characterization of soluble microbial products from municipal wastewater treatment plants. Water Res 88:703–710

Zhang B, Gao TY (2000) An anoxic/anaerobic/aerobic process for the removal of nitrogen and phosphorous from wastewater. J Environ Sci Health A 35:1797–1801

Zhang M, Peng YZ, Wang C, Wang CX, Zhao WH, Zeng W (2016) Optimization denitrifying phosphorous removal at different hydraulic retention times in a novel anaerobic anoxic oxic-biological contact oxidation process. Biochem Eng J 106:26–36

Zhou Z, Wu ZC, Wang ZW, Tang SJ, Gu GW, Wang LC, Wang YJ, Xin ZL (2011) Simulation and performance evaluation of the anoxic/anaerobic/aerobic process for biological nutrient removal. Korean J Chem Eng 28:1233–1240

Zhou Z, Shen XL, Jiang LM, Wu ZC, Wang ZW, Ren WC, Hu DL (2015) Modeling of multimode anaerobic/anoxic/aerobic wastewater treatment process at low temperature for process optimization. Chem Eng J 281:644–650
Funding
This study was funded by the National Natural Science Foundation of China (51408587; 51522812; 51778301).
Additional information
Responsible editor: Bingcai Pan
About this article
Cite this article
Xie, W., Zeng, R.J., Li, W. et al. A modeling understanding on the phosphorous removal performances of A2O and reversed A2O processes in a full-scale wastewater treatment plant. Environ Sci Pollut Res 25, 22810–22817 (2018). https://doi.org/10.1007/s11356-018-2317-3
Received:

Accepted:

Published:

Issue Date:
Keywords
Reversed A2O

Total phosphorous (TP)

Modeling

Wastewater

Phosphorus accumulating organisms