Ternary cross-coupled nanohybrid for high-efficiency 1H-benzo[d]imidazole chemisorption
Abstract
1H-Benzo[d]imidazole (BMA) has been considered as an emerging pharmaceutical organic contaminant, leading to the increasing BMA detection in wastewaters and need to be removed from ecosystem. This study investigated a highly synergistic BMA chemisorption using a novel ternary cross-coupled nanohybrid [γ-APTES]-Fe3O4@PAN@rGO. Magnetic nanoparticles (Fe3O4) were in situ core-shell co-precipitated with polyacrylonitrile polymer (PAN). Then, the prepared Fe3O4@PAN was decorated on hexagonal arrays of reduced graphene oxide (rGO) inside the framework of γ-aminopropyltriethoxysilane ([γ-APTES]). The final nanohybrid [γ-APTES]-Fe3O4@PAN@rGO produced adjacent inter-fringe distances of 0.2–0.4 nm corresponded well to (111), (220), and (311) parallel sub-lattices with two oblique intersections at 90° right angle and 60° triangle. The BMA adsorption was favorable in neutral pH 7, aroused temperature (50 °C), and controlled by endothermic process. The identified maximum adsorption capacity of 221.73 mg g−1 was 30% higher than the reported adsorbents. The adsorption mechanisms include ion exchange, hydrogen bond, dipole-dipole force, π-conjugation, electrostatic, and hydrophobic interaction.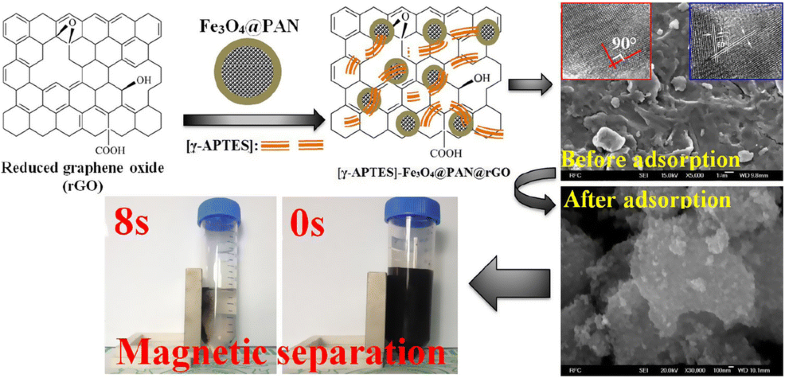 Keywords
Emerging pharmaceutical organic contaminant (EPOCs) 
Cross-coupled 
Sub-lattices 
Fe3O4@PAN alloy 
Synergistic removal 
Notes
Acknowledgments
We would like to thank The Chemical Accident Prevention Technology Development Project and The Korea Environment Industry and Technology Institute, Korea Ministry of Environment, (ID Grant 2016001960002).
Compliance with ethical standards
Conflict of interest
The authors do not have any conflicts to declare.
Copyright information
© Springer-Verlag GmbH Germany, part of Springer Nature 2018