Abstract
Toxicities of methylmercury chloride (CH3HgCl) and methylmercury hydroxide (CH3HgOH) to cultured neuroblastoma cell line SH-SY5Y in vitro are evaluated. This is the comparative study between two methylmercury compounds to find out the extent of toxicity of these compounds are toxic to SH-SY5Y cell line. Both cytotoxicity and genotoxicity experiments were carried out to find out the more toxic compound. For cytotoxicity study, four staining assay methods independently with trypan blue (TB), acridine orange/ethidium bromide (AO/EB), 3-(4,5-dimethylthiazol-2-yl) 2,5-diphenyl tetrazolium bromide (MTT), and neutral red (NR) were used and the comet assay method was done for genotoxicity study. The obtained toxicity data were used for probit analysis. In cytotoxicity, CH3HgCl had minimum inhibitory concentration (MIC) value in each assay method as 3 mg/L invariably; LC25 values were in the range 7.41 to 10.23 mg/L, and LC50 values were 14.79 to 15.48 mg/L; while LC75 values were 20.89 to 26.91 mg/L. Moreover, LC100 value was 30 mg/L, known from comet assay experiments for CH3HgCl. Similarly for CH3HgOH, the MIC value in each assay method was invariably 3 mg/L, the LC25 values were in the range 12.58 to 16.59 mg/L, and LC50 values were 19.49 to 23.44 mg/L; LC75 values were 27.54 to 30.90 mg/L and LC100 value was 42 mg/L in each assay done for cytotoxicity and genotoxicity studies. Computed DNA fragmentation indices in comet assays were 98.6 ± 0.57 30 mg/L with CH3HgCl and 76 ± 5.29 30 mg/L with CH3HgOH. This study clearly indicated that methylmercury chloride is more toxic than methylmercury hydroxide to SH-SY5Y cell line. Toxicity of Hg had been quantified with in vitro cultured human neuroblastoma cell line; since it has neurotoxic effects, its neural evaluation has implications in environmental health issues.
This is a preview of subscription content, log in to check access.
Access options
Buy single article
Instant access to the full article PDF.
US$ 39.95
Price includes VAT for USA
Subscribe to journal
Immediate online access to all issues from 2019. Subscription will auto renew annually.
US$ 99
This is the net price. Taxes to be calculated in checkout.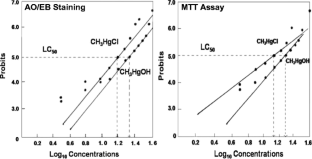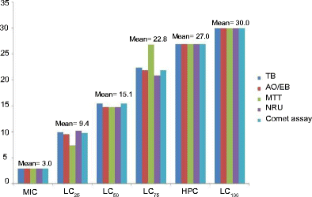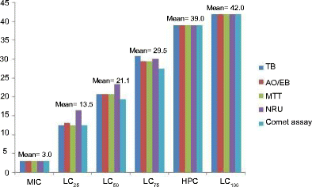 References
Algarve TD, Barbisan F, Ribeiro EE, Duarte MMMF, Manica-Cattani MF, Mostardeiro CP, Lenz AF, da Cruz IBM (2013) In vitro effects of Alal6val manganese superoxide dismutase gene polymorphism on human white blood cells exposed to methylmercury. Genet Mol Res 12:5134–5144

Amorim MIM, Mergler D, Bahia MO, Dubeau H, Miranda D, Lebel J, Burbano RR, Lucotte M (2000) Cytogenetic damage related to low levels of methyl mercury contamination in the Brazilian Amazon. An Acad Bras Cienc 72:497–507

Baeyens W, Leermakers M, Papina T, Saprykin A, Brion N, Noyen J, De Gieter M, Elskens M, Goeyens L (2003) Bioconcentration and biomagnification of mercury and methylmercury in North Sea and Scheldt estuary fish. Arch Environ Contam Toxicol 45:498–508

Bjomberg AK, Vahter M, Graw KP, Berglund M (2005) Methylmercury exposure in Swedish women with high fish consumption. Sci Total Environ 341:45–52

Clarkson TW (1993) Mercury: major issues in environmental health. Environ Health Perspect 100:31–38

Clarkson TW, Vyas JB, Ballatori N (2007) Mechanisms of mercury disposition in the body. Am J Ind Med 50:757–764

De Flora S, Benniceli C, Bagnasco M (1994) Genotoxicity of mercury compounds. A review. Mutat Res 317:57–79

Ehrenstein C, Shu P, Wickenheiser EB, Hirner AV, Dolfen M, Emons H, Obe G (2002) Methyl mercury uptake and associations with the induction of chromosomal aberrations in Chinese hamster (CHO) cells. Chem Biol Interact 141:259–274

Fok TF, Lam HS, Ng PC, Yip AS, Sin NC, Chan IH, Gu GJ, So HK, Wong EM, Lam CW (2007) Fetal methylmercury exposure as measured by cord blood mercury concentrations in a mother–infant cohort in Hong Kong. Environ Int 33:84–92

Guzzi G, Pigatto PD, Spadari F, La Porta CA (2012) Effect of thimerosal, methylmercury, and mercuric chloride in Jurkat T cell line. Interdiscip Toxicol 5:159–161

Haney A, Lipsey RL (1970) Accumulation and effects of methyl mercury hydroxide in a terrestrial food chain under laboratory conditions. Environ Pollut 5:305–316

Hassauer M, Kaiser E, Schneider K, Schuhmacher WU (2012) Collate the literature on toxicity data on mercury in experimental animals and humans. Part I—data on organic mercury. External scientific report. Supporting publications 2012: EN-297. Research and advisory institute for hazardous substances, FoBig- Forschungs - undBeratungsinstitutGefahrstoffe; Fobig, www.efsa.europa.eu/publications

He PJ, Xue JF, Shao LM, Lia GJ, Lee DJ (2006) Dissolved organic matter (DOM) in recycled leachate of bioreactor landfill. Water Res 40:1465–1473

Horvat M, Nolde N, Fajon V, Jereb V, Logar M, Lojen S, Jacimovic R, Falnoga I, Liya Q, Faganeli J, Drobne D (2003) Total mercury, methylmercury and selenium in mercury polluted areas in the province Guizhou, China. Sci Total Environ 304:231–256

Imai K, Kusakawa S, Tanoue A, Kuwagata M, Senuma M, Furuya M, Takashima H (2008) In vitro embryotoxicity testing of mercury vapour by differentiation of ES-D3 cells. Altern Anim Test Exp 13:118–122

Jedrychowski WA, PereraFP PA, Jacek R, Whyatt RM, Spengler JD (2006) Variability of total exposure to PM related to indoor and outdoor pollution sources. Krakow study in pregnant women. Sci Total Environ 366:47–54

Kovalevich J, Langford D (2013) Considerations for the use of SH-SY5Y neuroblastoma cells in neurobiology. Methods Mol Biol 1078:9–21

Lerebours A, Cambier S, Hislop L, Adam-Guillermin C, Bourdineaud JP (2013) Genotoxic effects of exposure to waterborne uranium, dietary methylmercury and hyperoxia in zebrafish assessed by the quantitative RAPD-PCR method. Mutat Res 7:55–60

Lohren H, Bornhorst J, Fitkau R, Pohl G, Galla HJ, Schwerdtle T (2016) Effects on and transfer across the blood-brain barrier in vitro—comparison of organic and inorganic mercury species. BMC Pharmacol Toxicol 17:63. https://doi.org/10.1186/s40360-016-0106-5

McElwee MK, Ho LA, Chou JW, Smith MV, Freedman JH (2013) Comparative toxicogenomic responses of mercuric and methyl-mercury. BMC Genomics 14:698. https://doi.org/10.1186/1471-2164-14-698

Morgan DL, Price HC, Fernando R, Chanda SM, O'Connor RW, Barone SS, Herr DW, Beliles RP (2006) Gestational mercury vapour exposure and diet contribute to mercury accumulation in neonatal rats. Environ Health Perspect 114:735–739

Neustadt JND, Pieczenik S (2007) Heavy-metal toxicity—with emphasis on mercury. Integrat Med 6:26–32

Patnaik R, Padhy RN (2015) Cellular and nuclear toxicity of HgCl2 to in vitro grown lymphocytes from human umbilical cord blood. Proc Natl Acad Sci India Sect B Biol Sci 85:821–830

Patnaik R, Padhy RN (2016) Evaluation of geno-toxicity of methyl parathion and chlorpyrifos to human liver carcinoma cell line (HepG2). Environ Sci Pollut Res 23:8492–8499

Petroni D, Tsai J, Mondal D, George W (2013) Attenuation of low dose methylmercury and glutamate induced-cytotoxicity and tau phosphorylation by an N-methyl-D-aspartate antagonist in human neuroblastoma (SHSY5Y) cells. Environ Toxicol 28:700–706

Schurz F, Sabater-Vilar M, Fink-Gremmels J (2000) Mutagenicity of mercury chloride and mechanisms of cellular defence: the role of metal-binding proteins. Mutagenesis 15:525–530

Takizawa Y, Kitamura S (2001) Estimation of the incidence of mercury exposure in the Minamata and Niigata areas using mathematical model from Iraqi poisonings. In: Takizawa Y, Osame M (eds) Understanding Minamata diseases: methyl mercury poisoning in Minamata and Niigata. Japan of Public Health Association, Tokyo, pp 27–32

Tchounwou PB, Ayensu WK, Ninashvili N, Sutton D (2003) Environmental exposure to mercury and its toxicopathologic implications for public health. Environ Toxicol 18:149–175

Tice RR, Agurell E, Anderson D, Burlinson B, HartmannA KH, Miyamae Y, Rojas E, Ryu JC, Sasaki YF (2000) Single cell gel/comet assay: guidelines for in vitro and in vivo genetic toxicology testing. Environ Mol Mutagen 35:206–221

Tollefson L, Cordle F (1986) Methylmercury in fish: a review of residue levels, fish consumption and regulatory action in the United States. Environ Health Perspect 68:203–208

Vimercati L, Santarelli L, Pesola G, Drago I, Lasorsa G, Valentino M, Vacca A, Soleo L (2001) Leukocytes in workers exposed to low levels of monocyte-macrophage system and polymorphonuclear metallic mercury. Sci Total Environ 270:157–163

Zahir F, Rizwi SJ, Haqb SK, Khan RH (2005) Low dose mercury toxicity and human health. Environ Toxicol Pharmacol 20:351–360

Zimmermann LT, Santos DB, Naime AA, Leal RB, Dorea JG, Barbosa F, Aschner M, Rocha JBT, Farina M (2013) Comparative study on methyl- and ethylmercury-induced toxicity in C6 glioma cells and the potential role of LAT-1 in mediating mercurial-thiol complexes uptake. Neurotoxicology 38:1–8
Acknowledgements
We are grateful to Prof. M.R. Nayak, President, Siksha 'O' Anusandhan University, Bhubaneswar for facilities. Especially, thanks are due to Mr. Somadatta Das (DEO) for his support for recording data. R Patnaik is supported by an INSPIRE Fellowship from DST, Govt. of India, New Delhi (code no. IF120548).
Additional information
Responsible editor: Philippe Garrigues
About this article
Cite this article
Patnaik, R., Padhy, R.N. Comparative study on toxicity of methylmercury chloride and methylmercury hydroxide to the human neuroblastoma cell line SH-SY5Y. Environ Sci Pollut Res 25, 20606–20614 (2018). https://doi.org/10.1007/s11356-018-2164-2
Received:

Accepted:

Published:

Issue Date:
Keywords
Methylmercury chloride

Methylmercury hydroxide

SH-SY5Y

Cytotoxicity·comet assay