Abstract
Nail polish has been widely used around the world. However, the hazards of nail polishes discarded in the environment are still poorly investigated. Thus, the toxicogenetic effects of solubilized (SE) and leached (LE) extracts from nail polishes were investigated, simulating their disposal on water and landfill, respectively, and identifying their physicochemical properties and chemical constituents. Organic compounds and metals were detected in both extracts. SE and LE only induced mutagenic effects in TA98 Salmonella strain in the presence and absence of exogenous metabolic activation. Although both extracts did not significantly increase the frequency of micronucleated HepG2 cells, the cell viability was affected by 24-h exposure. No DNA damage was observed in gonad fish cells (RTG-2) exposed to both extracts; however, the highest SE and LE concentrations induced significant lethal and sublethal effects on zebrafish early-life stages during 96-h exposure. Based on our findings, it can be concluded that if nail polishes enter aquatic systems, it may cause negative impacts to the environment.
This is a preview of subscription content, log in to check access.
Access options
Buy single article
Instant access to the full article PDF.
US$ 39.95
Price includes VAT for USA
Subscribe to journal
Immediate online access to all issues from 2019. Subscription will auto renew annually.
US$ 99
This is the net price. Taxes to be calculated in checkout.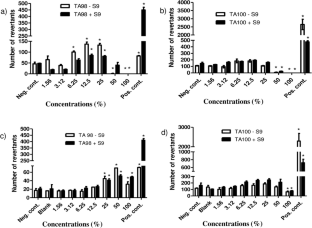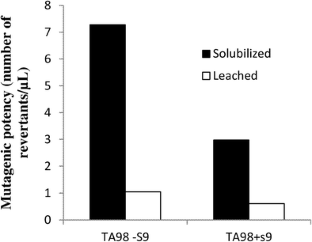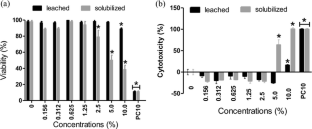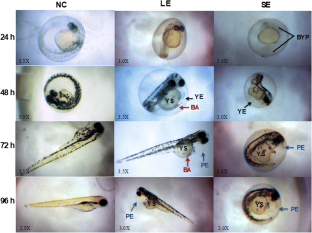 References
American Public Health Association (1998) Standard methods for the examination of water and wastewater, 20ed. American Public Health Association, American Water Works Association, Water Environmental Federation, Washington

Bali JC, Young WC, Wallington TJ, Japar SM (1992) Mutagenic properties of a series of alkyl hydroperoxides. Environ Sci 26:397–399

BAPHIPC—Brazilian Association of the Personal Hygiene Industry, Perfumery, and Cosmetics (2012) Available on https://abihpec.org.br/comunicado/jornal-da-cultura-fala-sobre-mercado-de-esmaltes/ accessed on 26 september 2017

Bernstein L, Kaldor J, McCann J, Pike MC (1982) An empirical approach to the statistical analysis of mutagenesis data from Salmonella test. Mutat Res 97:267–281

Bocca B, Pino A, Alimonti A, Forte G (2014) Toxic metals contained in cosmetics: a status report. Regul Toxicol Pharmacol 68:447–467

Bols NC, Dayeh VR, Lee LEJ, Schirmer K (2005) Use of fish cell lines in the toxicology and ecotoxicology of fish. Piscine cell lines in environmental toxicology—chapter 2. Biochem Mol Biol Fish 6:43–84

Brazil, Brazilian Health Surveillance Agency (Agência Nacional de Vigilância Sanitária, ANVISA) enacted Collegiate Board Resolution—RDC (2012) number 44, 9/08/2012 (accessed 2110.17)

Brazilian Association of Technical Standards, NBR 10005 (2004) Procedure for obtention of leached extract of solid wastes. http://wp.ufpel.edu.br/residuos/files/2014/04/ABNT-NBR-10005-Lixiviacao-de-Residuos.pdf, (accessed 10.03.16)

Brazilian Association of Technical Standards, NBR 10006 (2004) Procedure for obtention of solubilized extraction of solid wastes. http://www.ecosystem.com.br/wp-content/uploads/2014/03/NBR-10006.pdf, (accessed 10.03.16)

Castaño A, Bols N, Braunbeck T, Dierickx P, Halder M, Isomaa B, Kawahara K, Lee LE, Mothersill C, Pärt P, Repetto G, Sintes JR, Rufli H, Smith R, Wood C, Segner H (2003) The use of fish cells in ecotoxicology. ATLA 31:317–351

De Flora S, Zanacchi P, Camoirano A, Bennicelli C, Badolati GS (1984) Genotoxic activity and potency of 135 compounds in the Ames reversion test and in a bacterial DNA-repair test. Mutat Res 133:161–198

Doepker CL, Dumont KW, O'Donoghue J, English JC (2000) Lack of induction of micronuclei in human peripheral blood lymphocytes treated with hydroquinone. Mutagenesis 15:479–487

Du M, Zhang D, Yan C, Zhang X (2012) Developmental toxicity evaluation of three hexabromocyclododecane diastereoisomers on zebrafish embryos. Aquat Toxicol 112-113:1–10

Ellingson PC, Smith ED (2000) Long wear nail polish having adhesion, toughness, and hardness. United States Patent. Patent Number: 6,136,300. Date of patent: Oct 24, 2000. Available on https://www.google.com/patents/US6136300 accessed on 06 september 2017

EPA (2017) United State Environmental Protection Agency. Solid waste. Household hazardous waste. Available on https://www3.epa.gov/region9/waste/solid/house.html accessed on 26 september2017

EU, Council Directive 93/35/EEC of 14 June 1993 amending for the sixth time Directive 76/768/EEC on the approximation of the laws of the Member States relating to cosmetic products (1993) Official Journal L 151, 23/06/1993 p.32

EU, European Union (2009) Regulation (EC) No 1223/2009 of the European Parliament and of the Council of 30 November 2009 on cosmetic products. Official Journal L342, 22/12/2009, p. 59

Fenech M (2000) The in vitro micronucleus technique. Mutat Res 455:81–95

Gatica-Ortega ME, Pastor-Nieto MA, Mercader-García P, Silvestre-Salvador JF (2017) Allergic contact dermatitis caused by (meth)acrylates in long-lasting nail polish—are we facing a new epidemic in the beauty industry? Contact Derm 77:360–366. https://doi.org/10.1111/cod.12827

Grosser Z, Davidowski L, Thompson L (2011) The determination of metals in cosmetics. PerkinElmer, Inc. Application Note, ICP-Mass Spectrometry, pp 1–6

International Agency for Research on Cancer, IARC (2017) IARC monographs on the evaluation of carcinogenic risks to humans. Available on http://monographs.iarc.fr/ENG/Classification/latest_classif.php Acessed on 02 october 2017

International Organization for Standardization, ISO 16240, ISO 16240 (2005) Water quality—determination of the genotoxicity of water and waste water—Salmonella/microsome test (Ames test). https://dgn.isolutions.iso.org/obp/ui#iso:std:iso:16240:ed-1:v1:en, (accessed 10.03.16)

Kimmel CB, Ballard WW, Kimmel SR, Ullmann B, Schilling TF (1995) Stages of embryonic development of the zebrafish. Dev Dyn 203:253–310

Kirsch-Volders M, Sofuni T, Aardema M, Albertini S, Eastmond D, Fenech M, Ishidate Jr M, Kirchner S, Lorge E, Morita T, Norppa H, Surrallés J, Vanhauwaert A, Wakata A (2003) Report from the in vitro micronucleus assay working group. Mutat Res 540:153–163

Kopelovich L, Perez AL, Jacobs N, Mendelsohn E, Keenan JJ (2015) Screening-level human health risk assessment of toluene and dibutyl phthalate in nail lacquers. Food Chem Toxicol 81:46–53

Kumaravel TS, Vilhar B, Faux SP, Jha AN (2009) Comet assay measurements: a perspective. Cell Biol Toxicol 25:53–64

Lammer E, Carr GJ, Wendler K, Rawlings JM, Belanger SE, Braunbeck T (2009) Is the fish embryo toxicity test (FET) with the zebrafish (Danio rerio) a potential alternative for the fish acute toxicity test? Comp Biochem Physiol C 149:196–209

Leme DM, de Oliveira GAR, Meireles G, dos Santos TC, Zanoni MVB, de Oliveira DP (2014) Genotoxicological assessment of two reactive dyes extracted from cotton fibres using artificial sweat. Toxicol in Vitro 28:31–38

Lillicrap A, Belanger S, Burden N, Pasquier DD, Embry MR, Halder M, Lampi M, Lee L, Norberg-King T, Rattner BA, Schirmer K, Thomas P (2016) Alternative approaches to vertebrate ecotoxicity tests in the 21st century: a review of developments over the last 2 decades and current status. Environ Toxicol Chem 35:2637–2646

Lorge E, Hayashi M, Kirkland D (2008) Comparison of different methods for an accurate assessment of cytotoxicity in the in vitro micronucleus test. I Theoretical aspects. Mutat Res 655:1–3

Maron DM, Ames BN (1983) Revised methods for the Salmonella mutagenicity test. Mutat Res 113:173–214

Mendelsohn E, Hagopian A, Hoffman K, Butt CM, Lorenzo A, Congleton J, Webster TF, Stapleton HM (2016) Nail polish as a source of exposure to triphenyl phosphate. Environ Int 86:45–51

Mortelmans K, Zeiger E (2000) The Ames Salmonella/microsome mutagenicity assay. Mutat Res 455:29–60

Munari M, Sturve J, Frenzilli G, Sanders MB, Brunelli A, Marcomini A, Nigro M, Lyons BP (2014) Genotoxic effects of CdS quantum dots and Ag2S nanoparticles in fish cell lines (RTG-2). Mutat Res Genet Toxicol Environ Mutagen 775–776:89–93

Nehls S, Segner H (2001) Detection of DNA damage in two cell lines from rainbow trout, RTG-2 and RTL-W1, using the comet assay. Environ Toxicol 16:321–329

Ohe T, Watanabe TK, Wakabayashi K (2004) Mutagens in surface waters: a review. Mutat Res 567:109–149

Organization for Economic Co-operation and Development—OECD (1997) Test no. 471: bacterial reverse mutation test. OECD Publishing, Paris. (Accessed September, p 2017

Organization for Economic Co-operation and Development—OECD (2013) Test no. 236: fish embryo acute toxicity (FET) test. OECD Publishing, Paris. (Accessed Setember, p 2017

Organization for Economic Co-operation and Development—OECD (2014) Test no. 487: in vitro mammalian cell micronucleus test. OECD Publishing, Paris. (Accessed September, p 2017

Papis E, Davies SJ, Jha NA (2011) Relative sensitivity of fish and mammalian cells to the antibiotic, trimethoprim: cytotoxic and genotoxic responses as determined by neutral red retention, comet and micronucleus assays. Ecotoxicology 20:208–217

Pichardo S, Jos A, Zurita JL, Salguero M, Camean AM, Repetto G (2005) The use of the fish cell lines RTG-2 and PLHC-1 to compare the toxic effects produced by microcystins LR and RR. Toxicol in Vitro 19:865–873

Poynton HC, Wintz H, Vulpe CD (2008) Progress in ecotoxicogenomics for environmental monitoring, mode of action, and toxicant identification. Adv Exp Biol 2:21–73

Raisuddin S, Jha AN (2004) Relative sensitivity of fish and mammalian cells to sodium arsenate and arsenite as determined by alkaline single-cell gel electrophoresis and cytokinesis-block micronucleus assay. Environ Mol Mutagen 44:83–89

Reinardy HC, Syrett JR, Jeffree RA, Henry TB, Jha AN (2013) Cobalt-induced genotoxicity in male zebrafish (Danio rerio), with implications for reproduction and expression of DNA repair genes. Aquat Toxicol 126:224–230

SCCS, Scientific Committee on Consumers Safety (n.d.) Addendum to the SCCS's notes of guidance (NoG) for the testing of cosmetic ingredients and their safety evaluation, 8th revision. SCCS/1501/12

Scholz S, Fischer S, Gündel U, Küster E, Luckenbach T, Voelker D (2008) The zebrafish embryo model in environmental risk assessment—applications beyond acute toxicity testing. Environ Sci Pollut Res 15:394–404

Statista(2017) The Statistics Portal. Usage of nail polish and nail care products in the U.S. 2016. Availabe on https://www.statista.com/statistics/276463/us-households-usage-of-nail-polish-and-nail-care-products/ accessed on 26 September 2017

Tice RR, Agurell E, Anderson D, Burlinson B, Hartmann A, Kobayashi H, Miyamae Y, Rojas E, Ryu J, Sasaki YF (2000) Single cell gel/comet assay: guidelines for in vitro and in vivo genetic toxicology testing. Environ Mol Mutagen 35:206–221

Wang JJ, Sanderson BJS, Wang H (2007) Cyto- and genotoxicity of ultrafine TiO2 particles in cultured human lymphoblastoid cells. Mutat Res 628:99–106

Wong PK (1988) Mutagenicity of heavy metals. Bull Environ Contam Toxicol 40:597–603

Wu L, Jiang Y, Zhang L, Chen L, Zhang H (2014) Toxicity of urban highway runoff in Shanghai to zebrafish (Danio rerio) embryos and luminous bacteria (Vibrio qinghaiensis.Q67). Environ Sci Pollut Res 21:2663–2676
Acknowledgements
The authors are also grateful to the Multi-User Confocal Microscopy Center of Federal University of Paraná (UFPR), for the use of the equipment acquired with resources from Pro-Equipment (CAPES) and Pro-Infra (FINEP).
Funding
The authors thank the Foundation for Research Support of the State of Goias (FAPEG), Foundation for Research Support of the State of Rio de Janeiro (FAPERJ), and the National Council for Scientific and Technological Development (CNPq) for the financial support.
Ethics declarations
Conflicts of interest
The authors declare that there is no conflict of interest.
Additional information
Responsible editor: Philippe Garrigues
About this article
Cite this article
Felzenszwalb, I., Fernandes, A.d., Brito, L.B. et al. Toxicological evaluation of nail polish waste discarded in the environment. Environ Sci Pollut Res 26, 27590–27603 (2019). https://doi.org/10.1007/s11356-018-1880-y
Received:

Accepted:

Published:

Issue Date:
Keywords
Nail polishes waste

Environment

Cytotoxicity

Genotoxicity

Mutagenicity

Ecotoxicity

Embryotoxicity

Leached extract

Solubilized extract