Abstract
Copper is an essential element in human beings, alterations in serum copper levels could potentially have effect on human health. To date, no data are available regarding how serum copper affects cardiovascular disease (CVD) risk factors in children and adolescents. We examined the association between serum copper levels and CVD risk factors in children and adolescents. We analyzed data consisting of 1427 subjects from a nationally representative sample of the US population in the National Health and Nutrition Examination Survey (NHANES) from 2011 to 2014. The CVD risk factors included total cholesterol, HDL-cholesterol, LDL-cholesterol, triglycerides, fasting glucose, glycohemoglobin, fasting insulin, and blood pressure. Multivariate and generalized linear regressions were performed to investigate associations adjusted for age, gender, ethnicity, poverty:income ratio (PIR), BMI, energy intake, and physical activity. We found significant associations between serum copper and total cholesterol (coefficient = 0.132; 95% CI 0.081, 0.182; P for trend < 0.001), glycohemoglobin (coefficient = 0.044; 95% CI 0.020, 0.069; P < 0.001), and fasting insulin (coefficient = 0.730; 95% CI 0.410, 1.050; P < 0.001) among the included participants. Moreover, in the generalized linear models, subjects with the highest copper levels demonstrated a 0.83% (95% CI 0.44%, 1.24%) greater increase in serum total cholesterol (p for trend < 0.001) when compared to participants with the lowest copper concentrations. Our results provide the first epidemiological evidence that serum copper concentrations are associated with total cholesterol concentrations in children and adolescents. However, the underlying mechanisms still need further exploration.
This is a preview of subscription content, log in to check access.
Access options
Buy single article
Instant access to the full article PDF.
US$ 39.95
Price includes VAT for USA
Subscribe to journal
Immediate online access to all issues from 2019. Subscription will auto renew annually.
US$ 99
This is the net price. Taxes to be calculated in checkout.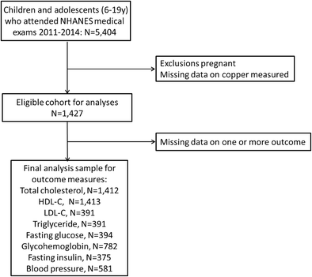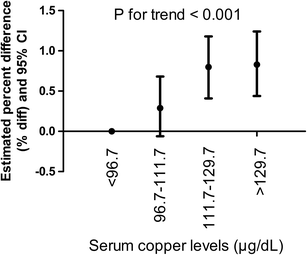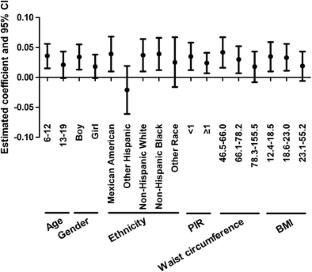 References
Bibbins-Domingo K, Coxson P, Pletcher MJ, Lightwood J, Goldman L (2007) Adolescent overweight and future adult coronary heart disease. N Engl J Med 357:2371–2379

Bonaccorsi G, Lorini C, Bani Assad G, Pepe P, Santomauro F (2013) Serum trace elements and risk of malnutrition in institutionalised elderly. Eur J Clin Nutr 67:155–160

Carl P (1975) Mental and elemental nutrients. Keats Publishing, New Canaan

De Olivera JV, Boufleur LA, Dos Santos CE, Dias JF, Squeff CH, Silva GR, Ianistcki M, Benvegnu VC, Da Silva J (2012) Occupational genotoxicity among copper smelters. Toxicol Ind Health 28:789–795

DiSilvestro RA, Joseph EL, Zhang W, Raimo AE, Kim YM (2012) A randomized trial of copper supplementation effects on blood copper enzyme activities and parameters related to cardiovascular health. Metabolism 61:1242–1246

Fishman JH, Fishman J (1987) Copper and the estradiol receptor. Biochem Biophys Res Commun 144:505–511

Friedemann C, Heneghan C, Mahtani K, Thompson M, Perera R, Ward AM (2012) Cardiovascular disease risk in healthy children and its association with body mass index: systematic review and meta-analysis. BMJ 345:e4759

Galhardi CM, Diniz YS, Rodrigues HG, Faine LA, Burneiko RC, Ribas BO, Novelli EL (2005) Beneficial effects of dietary copper supplementation on serum lipids and antioxidant defenses in rats. Ann Nutr Metab 49:283–288

Ghayour-Mobarhan M, Taylor A, New SA, Lamb DJ, Ferns GA (2005) Determinants of serum copper, zinc and selenium in healthy subjects. Ann Clin Biochem 42:364–375

Grandis DJ, Nah G, Whitman IR, Vittinghoff E, Dewland TA, Olgin JE, Marcus GM (2017) Wilson's disease and cardiac myopathy. Am J Cardiol 120:2056–2060

Gupta A, Lutsenko S (2009) Human copper transporters: mechanism, role in human diseases and therapeutic potential. Future Med Chem 1:1125–1142

Holmes L, LaHurd A, Wasson E, McClarin L, Dabney K (2015) Racial and ethnic heterogeneity in the association between total cholesterol and pediatric obesity. Int J Environ Res Public Health 13:ijerph13010019

Lee DS, Chiu M, Manuel DG, Tu K, Wang X, Austin PC, Mattern MY, Mitiku TF, Svenson LW, Putnam W, Flanagan WM, Tu JV, Canadian Cardiovascular Outcomes Research T (2009) Trends in risk factors for cardiovascular disease in Canada: temporal, socio-demographic and geographic factors. CMAJ 181:E55–E66

Lilis R, Valciukas JA, Weber JP, Malkin J, Selikoff IJ (1984) Epidemiologic study of renal function in copper smelter workers. Environ Health Perspect 54:181–192

Lilis R, Valciukas JA, Weber JP, Malkin J (1985) Effects of low-level lead and arsenic exposure on copper smelter workers. Arch Environ Health 40:38–47

Liu Y, Yang H, Song Z, Gu S (2014) Copper excess in liver HepG2 cells interferes with apoptosis and lipid metabolic signaling at the protein level. Turk J Gastroenterol 25(Suppl 1):116–121

Mantovani A, Fucic A (2014) Puberty dysregulation and increased risk of disease in adult life: possible modes of action. Reprod Toxicol 44:15–22

May AL, Kuklina EV, Yoon PW (2012) Prevalence of cardiovascular disease risk factors among US adolescents, 1999-2008. Pediatrics 129:1035–1041

Mozaffarian D, Benjamin E.J., Go A.S., Arnett D.K., Blaha M.J., Cushman M., de Ferranti S., Després J.P., Fullerton H.J., Howard V.J., Huffman M.D., Judd S.E., Kissela B.M., Lackland D.T., Lichtman J.H., Lisabeth L.D., Liu S., Mackey R.H., Matchar D.B., McGuire D., Mohler ER 3rd, Moy C.S., Muntner P., Mussolino M.E., Nasir K., Neumar R.W., Nichol G., Palaniappan L., Pandey D.K., Reeves M.J., Rodriguez C.J., Sorlie P.D., Stein J., Towfighi A., Turan T.N., Virani S.S., Willey J.Z., Woo D., Yeh R.W., Turner M.B., American Heart Association Statistics Committee and Stroke Statistics Subcommittee (2015) Heart disease and stroke statistics—2015 update: a report from the American Heart Association. Circulation 131: e29–322

Muller P, van Bakel H, van de Sluis B, Holstege F, Wijmenga C, Klomp LW (2007) Gene expression profiling of liver cells after copper overload in vivo and in vitro reveals new copper-regulated genes. J Biol Inorg Chem 12:495–507

Neggers YH, Bindon JR, Dressler WW (2001) The relationship between zinc and copper status and lipid levels in African-Americans. Biol Trace Elem Res 79:1–13

Nichols M, Townsend N, Scarborough P, Rayner M (2013) Trends in age-specific coronary heart disease mortality in the European Union over three decades: 1980-2009. Eur Heart J 34:3017–3027

Pellegrini M, Pallottini V, Marin R, Marino M (2014) Role of the sex hormone estrogen in the prevention of lipid disorder. Curr Med Chem 21:2734–2742

Proitsi P, Lupton MK, Velayudhan L, Newhouse S, Fogh I, Tsolaki M, Daniilidou M, Pritchard M, Kloszewska I, Soininen H, Mecocci P, Vellas B, Alzheimer's Disease Neuroimaging I, Williams J, Consortium G, Stewart R, Sham P, Lovestone S, Powell JF (2014) Genetic predisposition to increased blood cholesterol and triglyceride lipid levels and risk of Alzheimer disease: a Mendelian randomization analysis. PLoS Med 11:e1001713

Radhakishun N, Blokhuis C, van Vliet M, von Rosenstiel I, Weijer O, Heymans M, Beijnen J, Brandjes D, Diamant M (2014) Intermittent fasting during Ramadan causes a transient increase in total, LDL, and HDL cholesterols and hs-CRP in ethnic obese adolescents. Eur J Pediatr 173:1103–1106

Rojas-Sobarzo L, Olivares M, Brito A, Suazo M, Araya M, Pizarro F (2013) Copper supplementation at 8 mg neither affects circulating lipids nor liver function in apparently healthy Chilean men. Biol Trace Elem Res 156:1–4

Skoczynska A, Gruszczynski L, Wojakowska A, Scieszka M, Turczyn B, Schmidt E (2016) Association between the type of workplace and lung function in copper miners. Biomed Res Int 2016:5928572

Walker CG, Holzapfel C, Loos RJ, Mander AP, Klopp N, Illig T, Caterson ID, Hauner H, Jebb SA (2013) Genetic predisposition to an adverse lipid profile limits the improvement in total cholesterol in response to weight loss. Obesity (Silver Spring) 21:2589–2595

Wells EM, Navas-Acien A, Apelberg BJ, Herbstman JB, Jarrett JM, Lin YH, Verdon CP, Ward C, Caldwell KL, Hibbeln JR, Halden RU, Witter FR, Goldman LR (2014) Association of selenium and copper with lipids in umbilical cord blood. J Dev Orig Health Dis 5:281–287

Xu C, Liu Q, Zhang Q, Gu A, Jiang ZY (2015) Urinary enterolactone is associated with obesity and metabolic alteration in men in the US National Health and Nutrition Examination Survey 2001-10. Br J Nutr 113:683–690

Xu C, Shu Y, Fu Z, Hu Y, Mo X (2017) Associations between lead concentrations and cardiovascular risk factors in U.S. adolescents. Sci Rep 7:9121

Zietz BP, Dieter HH, Lakomek M, Schneider H, Kessler-Gaedtke B, Dunkelberg H (2003) Epidemiological investigation on chronic copper toxicity to children exposed via the public drinking water supply. Sci Total Environ 302:127–144
Funding
This work was supported by funding from the National Key Research and Development Program of China (2017YFSF110166 and 2016YFC1101001), the National Natural Science Foundation of China (81370277), the Jiangsu Provincial Special Program of Medical Science in China (BL2013003), the Maternal and Child Health Research Project of Jiangsu Province (F201755), and the Program for Postgraduates Research Innovation in University of Jiangsu Province (KYCX17_1263).
Ethics declarations
Conflict of interest
The authors declare that they have no competing interests.
Additional information
Responsible editor: Philippe Garrigues
Electronic supplementary material
About this article
Cite this article
Zang, X., Huang, H., Zhuang, Z. et al. The association between serum copper concentrations and cardiovascular disease risk factors in children and adolescents in NHANES. Environ Sci Pollut Res 25, 16951–16958 (2018). https://doi.org/10.1007/s11356-018-1816-6
Received:

Accepted:

Published:

Issue Date:
Keywords
NHANES

Copper

Total cholesterol

Children