Abstract
Long-range atmospheric transport is one of the most important ways in which persistent organic pollutants can be transported from their source to remote and pristine regions. Here, we report the results of the first Argentinian measurements of organochlorine pesticides in the Antarctic region. During a 9665-km track onboard OV ARA Puerto Deseado, within the framework of Argentinian Antarctic Expeditions, air samples were taken using high-volume samplers and analyzed using GC-μECD. HCB, HCHs, and endosulfans were the major organic pollutants found, and a north-south gradient in their concentrations was evident by comparing data from the Argentinian offshore zone to the South Scotia Sea.
This is a preview of subscription content, log in to check access.
We're sorry, something doesn't seem to be working properly.
Please try refreshing the page. If that doesn't work, please contact support so we can address the problem.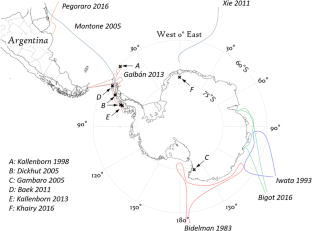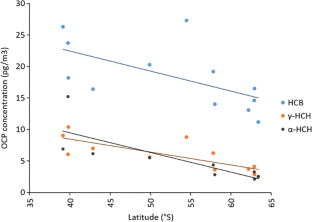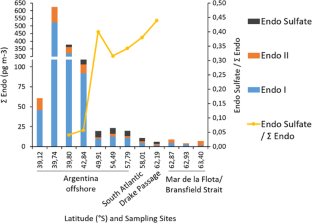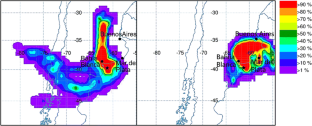 References
Ali U et al (2014) Organochlorine pesticides (OCPs) in South Asian region: a review. Sci Total Environ 476:705–717

Baek S-Y, Choi S-D, Chang Y-S (2011) Three-year atmospheric monitoring of organochlorine pesticides and polychlorinated biphenyls in Polar regions and the South Pacific. Environ Sci Technol 45(10):4475–4482

Bargagli R (2008) Environmental contamination in Antarctic ecosystems. Sci Total Environ 400(1–3):212–226

Bidleman TF et al. (1993) Organochlorine pesticides in the atmosphere of the Southern Ocean and Antarctica, January–March, 1990. Mar Pollut Bull Pergamon 26(5):258–262

Bidleman TF, Tysklind M (2018) Breakthrough during air sampling with polyurethane foam: What do PUF 2/PUF 1 ratios mean? Chemosphere Pergamon 192:267–271

Bigot M, Curran AJM et al. (2016a) Brief communication: Organochlorine pesticides in an archived firn core from Law Dome, East Antarctica. Cryosphere 10:2533–2539

Bigot M, Muir DCG et al (2016b) Air-Seawater Exchange of Organochlorine Pesticides in the Southern Ocean between Australia and Antarctica. Environmental Science and Technology 50(15):8001–8009

Bussian BM et al (2015) Persistent endosulfan sulfate is found with highest abundance among endosulfan I, II, and sulfate in German forest soils. Environ Pollut 206:661–666

Cai Q-Y et al (2008) The status of soil contamination by semivolatile organic chemicals (SVOCs) in China: A review. Sci Total Environ 389(2):209–224

Choi SD et al (2008) Passive air sampling of polychlorinated biphenyls and organochlorine pesticides at the Korean arctic and antarctic research stations: implications for long-range transport and local pollution. Environ Sci Technol. American Chemical Society 42(19):7125–7131

Cincinelli A et al (2009) Organochlorine pesticide air–water exchange and bioconcentration in krill in the Ross Sea. Environ Pollut 157(7):2153–2158

Corsolini S (2009) Industrial contaminants in Antarctic biota. J Chromatogr A 1216(3):598–612

Dickhut RM et al (2005) Atmospheric concentrations and air-water flux of organochlorine pesticides along the Western Antarctic Peninsula. Environ Sci Technol 39:465–470

Galbán-Malagón C et al (2013) Atmospheric occurrence and deposition of hexachlorobenzene and hexachlorocyclohexanes in the Southern Ocean and Antarctic Peninsula. Atmos Environ 80:41–49

Gambaro A et al (2005) Atmospheric PCB concentrations at Terra Nova Bay, Antarctica. Environ Sci Technol 39(24):9406–9411

Gonzalez M et al (2012) Surface and groundwater pollution by organochlorine compounds in a typical soybean system from the south Pampa, Argentina. Environ Earth Sci. Springer-Verlag 65(2):481–491

Iwata H et al (1993) Distribution of persistent organochlorines in the oceanic air and surface seawater and the role of ocean on their global transport and fate. Environ Sci Technol 27:1080–1098

Jaward FM et al (2004) Spatial distribution of atmospheric PAHs and PCNs along a north–south Atlantic transect. Environ Pollut 132:173–181

Jergentz S et al (2005) Assessment of insecticide contamination in runoff and stream water of small agricultural streams in the main soybean area of Argentina. Chemosphere 61(6):817–826

Kallenborn R et al (2013) Long-term monitoring of persistent organic pollutants (POPs) at the Norwegian Troll station in Dronning Maud Land, Antarctica. Atmos Chem Phys 13(14):6983–6992

Khairy MA et al (2016) Levels, sources and chemical fate of persistent organic pollutants in the atmosphere and snow along the western Antarctic Peninsula. Environ Pollut 216:304–313

Lewis RG, Brown AR, Jackson MD (1977) Evaluation of polyurethane foam for sampling of pesticides, polychlorinated biphenyls and polychlorinated naphthalenes, in ambient air. Anal Chem. American Chemical Society 49(12):1668–1672

Li YF, Macdonald RW (2005) Sources and pathways of selected organochlorine pesticides to the Arctic and the effect of pathway divergence on HCH trends in biota: A review. Sci Total Environ 342(1–3):87–106

Melymuk L et al (2014) Current challenges in air sampling of semivolatile organic contaminants: sampling artifacts and their influence on data comparability. Environ Sci Technol. American Chemical Society 48(24):14077–14091

Melymuk L et al (2016) Sampling artifacts in active air sampling of semivolatile organic contaminants: Comparing theoretical and measured artifacts and evaluating implications for monitoring networks. Environ Pollut. Elsevier 217:97–106

Melymuk L et al (2017) Uncertainties in monitoring of SVOCs in air caused by within-sampler degradation during active and passive air sampling. Atmos Environ. Pergamon 167:553–565

Miglioranza KSB, Aizpún de Moreno JE, Moreno VJ (2003) Dynamics of organochlorine pesticides in soils from a southeastern region of Argentina. Environ Toxicol Chem. Wiley Periodicals, Inc 22:712–717

Montone RC et al (2005) PCBs and chlorinated pesticides (DDTs, HCHs and HCB) in the atmosphere of the southwest Atlantic and Antarctic oceans. Mar Pollut Bull 50:778–786

Oehme M (1991) Further evidence for long-range air transport of polychiorinated aromates and pesticides: North America and Eurasia to the Arctic. Ambio 20(7):293–297

Pegoraro CN et al (2016) Assessing levels of POPs in air over the South Atlantic Ocean off the coast of South America. Sci Total Environ. Elsevier 571:172–177

Pozo K et al (2006) Toward a global network for persistent organic pollutants in air: results from the GAPS study. Environ Sci Technol 40:4867–4873

Pozo K et al (2009) Seasonally resolved concentrations of persistent organic pollutants in the global atmosphere from the first year of the GAPS study. Environ Sci Technol 43:796–803

Pozo K et al (2017) Persistent organic pollutants (POPs) in the atmosphere of coastal areas of the Ross Sea, Antarctica: Indications for long-term downward trends. Chemosphere. Pergamon 178:458–465

SENASA - Servicio Nacional de Sanidad y Calidad Agroalimentaria (2011) Resolución-511-201. Available at: http://senasa.gob.ar/normativas/resolucion-511-2011-senasa-servicio-nacional-de-sanidad-y-calidad-agroalimentaria.

Stein AF et al (2015) NOAA's HYSPLIT atmospheric transport and dispersion modeling system. Bull Am Meteorol Soc 96(12):2059–2077

Szopińska M, Namieśnik J, Polkowska Ż (2016) How important is research on pollution levels in Antarctica? Historical approach, difficulties and current trends. Springer International Publishing, Basel, pp 79–156

Tago D, Andersson H, Treich N (2014) Pesticides and health: a review of evidence on health effects, valuation of risks, and benefit-cost analysis. In: Blomquist GC, Bolin K (eds) Preference measurement in health. Emerald Group Publishing, Bingley, pp 203–295

Tanabe S, Hidaka H, Tatsukawa E (1983) PCBs and chlorinated hydrocarbon pesticides in Antarctic atmosphere and hydrosphere. Chemosphere 12(2):277–288

Tombesi N, Pozo K, Harner T (2014) Persistent organic pollutants (POPs) in the atmosphere of agricultural and urban areas in the Province of Buenos Aires in Argentina using PUF disk passive air samplers. Atmos Pollut Res 5:170–178

United Nations Environment Programme (2002) UNEP annual report for 2002. Available at: http://www.unep.org/gc/gc22/Media/UNEP_Annual_Report_2002.pdf

United Nations Environment Programme (2010) UNEP annual report for 2009. Available at: http://www.unep.org/publications/contents/pub_details_search.asp?ID=4105

United Nations Environmental Programme (2002) Regionally based assessment of persistent toxic substances - Antarctica Regional Report

Wania F, Mackay D (1993) Global fractionation and cold condensation of low volatility organochlorine compounds in polar regions. Ambio 22(1):10–18

Weber J et al (2010) Endosulfan, a global pesticide: a review of its fate in the environment and occurrence in the Arctic. Sci Total Environ 408(15):2966–2984

Xiao H et al (2008) A flow-through passive air sampler for semi-volatile organic compounds. Environ Sci Technol 42(8):2970–2975

Xie Z et al (2011) Transport and fate of hexachlorocyclohexanes in the oceanic air and surface seawater. Biogeosciences 8(9):2621–2633

Yadav IC et al (2015) Current status of persistent organic pesticides residues in air, water, and soil, and their possible effect on neighboring countries: a comprehensive review of India. Sci Total Environ 511:123–137
Acknowledgements
We wish to thank to the crew of OV ARA Puerto Deseado and participants of the Summer Antarctic Campaign that collaborated during sampling procedures. We also acknowledge the partial financial support from the Consejo Nacional de Investigaciones Científicas y Técnicas (CONICET) and from Secretaria de Ciencia y Técnica – Universidad Nacional de Córdoba (SeCyT - UNC). The authors gratefully acknowledge the NOAA Air Resources Laboratory (ARL) for the provision of the HYSPLIT transport and dispersion model and/or READY website (http://www.ready.noaa.gov) used in this publication.
Additional information
In memoriam of the crew of the sunken U-boot ARA San Juan and especially of Captain Pedro M. Fernández, former Commander of the ARA Puerto Deseado.
Responsible editor: Constantini Samara
Electronic supplementary material
About this article
Cite this article
Rimondino, G.N., Pepino, A.J., Manetti, M.D. et al. Latitudinal distribution of OCPs in the open ocean atmosphere between the Argentinian coast and Antarctic Peninsula. Environ Sci Pollut Res 25, 13004–13013 (2018). https://doi.org/10.1007/s11356-018-1572-7
Received:

Accepted:

Published:

Issue Date:
Keywords
Antarctica

OCPs

Endosulfan

HCHs

HCB

Atmosphere