Abstract
Hospital wastewater (HWW) represents a major source of the diffusion of many antibiotics and some toxic pathogenic microorganisms in the aquatic environment. Sanitation services play a critical role in controlling transmission of numerous waterborne pathogens, especially enteric human adenoviruses (HAdVs) that can cause acute gastroenteritis. This study intended to evaluate the human adenoviruses (HAdVs) detection rates, to determine the genotype of these viruses and to assess the efficiency of HAdVs removal in hospital pilot wastewater treatment plant (PWWTP) in Tunis City, Tunisia. Therefore, hospital wastewater samples (n = 102) were collected during the study year from the two biological wastewater treatment techniques: natural oxidizing ponds and the rotating biological disks or biodisks. Nested polymerase chain reaction (Nested PCR) was used to evaluate the HAdVs detection rates. The genotype of HAdVs positive samples was achieved by the sequencing of the PCR products. HAdVs were detected in 64% (65/102) of positive wastewater samples. A substantial increase in the frequencies of HAdVs was observed at the exit of the two wastewater treatment techniques studied. The typing of HAdVs species F showed the occurrence of only HAdVs type 41. This data acquired for the first time in Tunisia showed high persistence and survival of HAdVs in the two biological wastewater treatment techniques experienced, and mainly highlighted the poor virological quality of the treated wastewater intended for recycling, agriculture reuse, and discharges into the natural receiving environments. Consequently, tertiary wastewater treatment appeared necessary in this case to decrease the load of enteric viruses flowing in the water environment.
This is a preview of subscription content, log in to check access.
Access options
Buy single article
Instant access to the full article PDF.
US$ 39.95
Price includes VAT for USA
Subscribe to journal
Immediate online access to all issues from 2019. Subscription will auto renew annually.
US$ 99
This is the net price. Taxes to be calculated in checkout.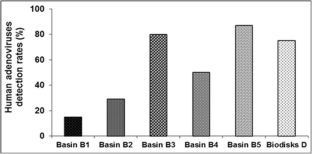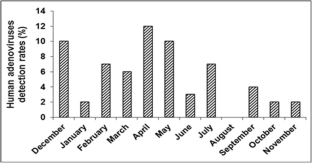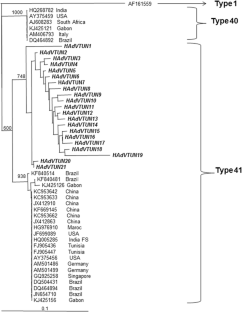 References
AFNOR (1992) Mise en œuvre des dispositifs d'assainissement autonome. Normalisation Française, DTU 64.1, France

Adefisoye MA, Nwodo UU, Green E, Okoh AI (2016) Quantitative PCR detection and characterization of human adenovirus, rotavirus and hepatitis a virus in discharged effluents of two wastewater treatment facilities in the Eastern Cape, South Africa. Food Environ Virol 8(4):262–274. https://doi.org/10.1007/s12560-016-9246-4

Akusjärvi G, Aleström P, Pettersson M, Lager M, Jörnvall H, Pettersson U (1984) The gene for the adenovirus 2 hexon polypeptides. J Biol Chem 259(22):13976–13979

Allard A, Albinsson B, Wadell G (2001) Rapid typing of human adenoviruses by a general PCR combined with restriction endonuclease analysis. J Clin Microbiol 39(2):498–505

Amdiouni H, Faouzi A, Fariat N, Hassar M, Soukri A, Nourlil J (2012) Detection and molecular identification of human adenoviruses and enteroviruses in wastewater from Morocco. Lett Appl Microbiol 54(4):359–366. https://doi.org/10.1111/j.1472-765X.2012.03220.x

Aw TG, Gin KY (2010) Environmental surveillance and molecular characterization of human enteric viruses in tropical urban wastewater. J Appl Microbiol 109(2):716–730. https://doi.org/10.1111/j.1365-2672.2010.04701.x

Carducci A, Battistini R, Rovini E, Verani M (2009) Viral removal by wastewater treatment: monitoring of indicators and pathogens. Food Environ Virol 1(2):85–91. https://doi.org/10.1007/s12560-009-9013-x

Carter MJ (2005) Enterically infecting viruses: pathogenicity, transmission and significance for food and waterborne infection. J Appl Microbiol 98(6):1354–1380. https://doi.org/10.1111/j.1365-2672.2005.02635.x

Dey RS, Ghosh S, Chawla-Sarkar M, Panchalingam S, Nataro JP, Sur D, Manna B, Ramamurthy T (2011) Circulation of a novel pattern of infections by enteric adenovirus serotypes 41 among children below 5 years of age in Kolkata, India. J Clin Microbiol 49(2):500–505. https://doi.org/10.1128/JCM.01834-10

Enriquez CE, Hurst CJ, Gerba CP (1995) Survival of the enteric adenoviruses 40 and 41 in tap, sea and waste water. Water Res 29(11):2548–2553. https://doi.org/10.1016/0043-1354(95)00070-2

Environmental Protection Agency (1992) Standards for the disposal of sewage sludge. Fed Regist 503:9387–9404

Felsenstein J (1993) PHYLIP (phylogeny inference package) version 3.5.c. Department of Genetics, University of Washington: http://www.Caos.kun.nl/cammsa/PHYLIP

Fernandez-Cassi X, Silvera C, Cervero-Aragó S, Rusiñol M, Latif-Eugeni F, Bruguera-Casamada C, Civit S, Araujo RM, Figueras MJ, Girones R, Bofill-Mas S (2016) Evaluation of the microbiological quality of reclaimed water produced from a lagoon system. Environ Sci Pollut Res Int 23(16):16 816–16 833

Filho EP, da Costa Faria NR, Fialho AM, de Assis RS, Almeida MM, Rocha M, Galvão M, dos Santos FB, Barreto ML, Leite JP (2007) The adenoviruses associated with acute gastroenteritis in hospitalized and community children up to 5 years old in Rio de Janeiro and Salvador, Brazil. J Med Microbiol 56(Pt 3):313–319. https://doi.org/10.1099/jmm.0.46685-0

Fodha I, Chouikha A, Dewar J, Trabelsi A, Boujaafar N, Steele AD (2007) Prevalence of adenovirus antigens in children presenting with acute diarrhea. Med Trop 67(3):256–258

Fong TT, Phanikumar MS, Xagoraraki I, Rose JB (2010) Quantitative detection of human adenoviruses in wastewater and combined sewer overflows influencing a Michigan river. Appl Environ Microbiol 76(3):715–723. https://doi.org/10.1128/AEM.01316-09

Fumian TM, Vieira CB, Leite JP, Miagostovich MP (2013) Assessment of the burden of virus agents in an urban sewage treatment plant in Rio de Janeiro, Brazil. J Water Health 11(1):110–119. https://doi.org/10.2166/wh.2012.123

Grøndahl-Rosado RC, Yarovitsyna E, Trettenes E, Myrmel M, Robertson LJ (2014) A one-year study on the concentrations of norovirus and enteric adenoviruses in wastewater and a surface drinking water source in Norway. Food Environ Virol 6(4):232–245

Hassen A, Jedidi N, Kallali H, Ferchichi M, Ghrabi A, Chebbi F, Saidi N, Shayeb H, Ennabli M (1994) Élimination des indicateurs et des métaux lourds au cours de traitement des eaux usées domestiques dans une station pilote semi-industrielle. Sci Techn de l'eau 27(4):34–41

He XQ, Cheng L, Zhang DY, Xie XM, Wang DH, Wang Z (2011) One-year monthly survey of rotavirus, astrovirus and norovirus in three sewage treatment plants (STPs) in Beijing, China and associated health risk assessment. Water Sci Technol 64(6):1202–1210. https://doi.org/10.2166/wst.2011.080

Hewitt J, Greening GE, Leonard M, Lewis GD (2013) Evaluation of human adenovirus and human polyomavirus as indicators of human sewage contamination in the aquatic environment. Water Res 47(17):6750–6761. https://doi.org/10.1016/j.watres.2013.09.001

Iaconelli M, Valdazo-González B, Equestre M, Ciccaglione AR, Marcantonio C, Della Libera S, La Rosa G (2017) Molecular characterization of human adenoviruses in urban wastewater using the next generation and sanger sequencing. Water Res 121:240–247. https://doi.org/10.1016/j.watres.2017.05.039

Ibrahim C, Hammami S, Mejri S, Mehri I, Pothier P, Hassen A (2017a) Detection of Aichi virus genotype B in two lines of wastewater treatment processes. Microb Pathog 109:109–512

Ibrahim C, Mehri I, Hammami S, Mejri S, Hassen A, Pothier P (2017b) Removal of human astroviruses from hospital wastewater by two biological treatment methods: natural oxidizing lagoons and rotating biodisks. Desalin Water Treat 89:287–296

Ibrahim C, Hammami S, Pothier P, Hassen A (2016) Quantification and genotyping of rotavirus a within two wastewater treatment processes. Clean Soil Air Water 44(4):393–401. https://doi.org/10.1002/clen.201400588

Ibrahim C, Chérif N, Hammami S, Pothier P, Hassen A (2015) Quantification and molecular characterization of norovirus after two wastewater treatment procedures. Water Air Soil Pollut 226:187–193

Jothikumar N, Cromeans TL, Hill VR, Lu X, Sobsey MD, Erdman DD (2005) Quantitative real-time PCR assays for detection of human adenoviruses and identification of serotypes 40 and 41. Appl Environ Microbiol 71(6):3131–3136. https://doi.org/10.1128/AEM.71.6.3131-3136.2005

Lim MCY, Wang YF, Huang SW, Yang JY, Wang JR (2015) High incidence of mammalian orthoreovirus identified by environmental surveillance in Taiwan. PLoS One 10(11):e0142745. https://doi.org/10.1371/journal.pone.0142745

Lin J, Ganesh A (2013) Water quality indicators: bacteria, coliphages, enteric viruses. Int J Environ Health Res 23(6):484–506. https://doi.org/10.1080/09603123.2013.769201

Lipp EK, Kurz R, Vincent R, Rodriguez-Palacios C, Farrah SR, Rose JB (2001) The effects of seasonal variability and weather on microbial fecal pollution and enteric pathogens in a subtropical estuary. Estuar Coasts 24(2):266–276. https://doi.org/10.2307/1352950

Kaas L, Gourinat AC, Urbès F, Langlet J (2016) A 1-year study on the detection of human enteric viruses in New Caledonia. Food Environ Virol 8(1):46–56. https://doi.org/10.1007/s12560-015-9224-2

Khoshdel A, Parvin N, Doosti A, Famouri F (2015) Prevalence of nosocomial diarrhea due to adenoviruses 40 and 41 in a pediatric ward in Iran. J Clin Diagn Res 9(12):SC15–SC17. https://doi.org/10.7860/JCDR/2015/15353.6976

Kokkinos P, Mandilara G, Nikolaidou A, Velegraki A, Theodoratos P, Kampa D, Blougoura A, Christopoulou A, Smeti E, Kamizoulis G, Vantarakis A, Mavridou A (2015) Performance of three small-scale wastewater treatment plants. A challenge for possible reuse. Environ Sci Pollut Res Int 22(22):17744–17752

Kimura M (1980) A simple method for estimating evolutionary rate of base substitutions through comparative studies of nucleotide sequences. J Mol Evol 16(2):111–120. https://doi.org/10.1007/BF01731581

Kumar S, Tamura K, Nei M (1994) MEGA: molecular evolutionary genetics analyzes software for microcomputers. Comput Appl Biosci 10:189–191

Kuo HW, Chen LZ, Shih MH (2015) High prevalence of type 41 and high sequence diversity of partial hexon genes of human adenoviruses in municipal raw sewage and activated sludge. J Appl Microbiol 119(4):1181–1195. https://doi.org/10.1111/jam.12907

La Rosa G, Sanseverino I, Della Libera S, Iaconelli M, Ferrero VEV, Barra Caracciolo A, Lettieri T (2017) The impact of anthropogenic pressure on the virological quality of water from the Tiber river, Italy. Lett Appl Microbiol 65(4):298–305. https://doi.org/10.1111/lam.12774

La Rosa G, Pourshaban M, Iaconelli M, Muscillo M (2010) Quantitative real-time PCR of enteric viruses in influent and effluent samples from wastewater treatment plants in Italy. Ann Ist Super Sanita 46(3):266–273. https://doi.org/10.4415/ANN_10_03_07

Le TH, Ng C, Chen H, Yi XZ, Koh TH, Barkham TM, Zhou Z, Gin KY (2016) Occurrences and characterization of antibiotic resistant bacteria and genetic determinants of hospital wastewater in a tropical country. Antimicrob Agents Chemother 60(12):7449–7456. https://doi.org/10.1128/AAC.01556-16

Lewis GD, Melcaft TG (1988) Polyethylene glycol precipitation for recovery of pathogenic viruses, including hepatitis A virus and human rotavirus, from oyster, water and sediment samples. Appl Environ Microbiol 54(8):1983–1988

Liu L, Qian Y, Zhang Y, Deng J, Jia L, Dong H (2014) The adenoviruses associated with acute diarrhea in children in Beijing, China. PLoS One 9(2):e88791. https://doi.org/10.1371/journal.pone.0088791

Lin J, Singh A (2015) Detection of human enteric viruses in Umgeni River, Durban, South Africa. J Water Health 13(4):1098–1112

Miagostovish MP, Ferreira FF, Guimarares FR, Fumian TM, Diniz-Mendes L, Luz SL, Silva LA, Leite JP (2008) Molecular detection and characterization of gastroenteritis viruses occurring naturally in the stream waters of Manaus, Central Amazonia, Brazil. Appl Environ Microbiol 74(2):375–382. https://doi.org/10.1128/AEM.00944-07

Myrmel M, Lange H, Rimstad E (2015) A 1-year quantitative survey of noro-, adeno-, human boca-, and hepatitis E viruses in raw and secondarily treated sewage from two plants in Norway. Food Environ Virol 7(3):213–223

Osuolale O, Okoh A (2015) Incidence of human adenoviruses and hepatitis a virus in the final effluent of selected wastewater treatment plants in Eastern Cape Province, South Africa. Virol J 12(1):98. https://doi.org/10.1186/s12985-015-0327-z

Page RDM (1996) TREVIEW: an application to display phylogenetic trees on personal computers. Comput Appl Biosci 12(4):357–358

Prado T, Silva DM, Guilayn WC, Rose TL, Gaspar AM, Miagostovich MP (2011) Quantification and molecular characterization of enteric viruses detected in effluents from two hospital wastewater treatment plants. Water Res 45(3):1287–1297. https://doi.org/10.1016/j.watres.2010.10.012

Rames E, Roiko A, Stratton H, Macdonald J (2016) Technical aspects of using human adenovirus as a viral water quality indicator. Water Res 96:308–326. https://doi.org/10.1016/j.watres.2016.03.042

Reis TA, Assis AS, do Valle DA, Barletta VH, de Carvalho IP, Rose TL, Portes SA, Leite JP, da Rosa e Silva ML (2016) The role of human adenoviruses type 41 in acute diarrheal disease in Minas Gerais after rotavirus vaccination. Braz J Microbiol 47(1):243–250. https://doi.org/10.1016/j.bjm.2015.11.011

Rodier (1978) L'analyse de l'eau. Eaux naturelles, eaux résiduaires, eaux de mer. 6th Édn, Dunod, Paris, ISBN: 2,100,496,360, 1383

Sdiri-Loulizi K, Gharbi-Khelifi H, de Rougemont A, Hassine M, Chouchane S, Sakly N, Pothier P, Guédiche MN, Aouni M, Ambert-Balay K (2009) Molecular epidemiology of human astrovirus and adenovirus serotypes 40/41 strains related to acute diarrhea in Tunisian children. J Med Virol 81(11):1895–1902. https://doi.org/10.1002/jmv.21586

Sdiri-Loulizi K, Hassine M, Aouni Z, Gharbi-Khelifi H, Chouchane S, Sakly N, Guédiche MN, Pothier P, Aouni M, Ambert-Balay K (2010) Detection and molecular characterization of enteric viruses in environmental samples in Monastir, Tunisia between January 2003 and April 2007. J Appl Microbiol 109(3):1093–1104. https://doi.org/10.1111/j.1365-2672.2010.04772.x

Seto D, Chodosh J, Brister JR, Jones MS, Members of the Adenovirus Research Community (2011) Using the whole-genome sequence to characterize and name human adenoviruses. J Virol 85(11):5701–5702

Sibley SD, Goldberg TL, Pedersen JA (2011) Detection of known and novel adenoviruses in cattle wastes via broad-spectrum primers. Appl Environ Microbiol 77(14):5001–5008. https://doi.org/10.1128/AEM.00625-11

Soares CC, Volotão EM, Albuquerque MC, Nozawa CM, Linhares RE, Volokhov D, Chizhikov V, Lu X, Erdman D, Santos N (2004) Genotyping of enteric adenoviruses by using single-stranded conformation polymorphism analysis and hetero duplex mobility assay. J Clin Microbiol 42(4):1723–1726. https://doi.org/10.1128/JCM.42.4.1723-1726.2004

Souza FS, Féris LA (2016) Hospital and municipal wastewater: identification of relevant pharmaceutical compounds. Water Environ Res 88(9):871–877. https://doi.org/10.2175/106143016X14609975747603

Uhrbrand K, Schultz AC, Koivisto AJ, Nielsen U, Madsen AM (2017) Assessment of airborne bacteria and noroviruses in air emission from a new highly advanced hospital wastewater treatment plant. Water Res 112:110–119. https://doi.org/10.1016/j.watres.2017.01.046

Vecchia AD, Fleck JD, Kluge M, Comerlato J, Bergamaschi B, Luz RB, Arantes TS, Silva JV, Thewes MR, Spilki FR (2012) Assessment of enteric viruses in a sewage treatment plant located in Porto Alegre, southern Brazil. Braz J Biol 72(4):839–946. https://doi.org/10.1590/S1519-69842012000500009

Vergara GG, Rose JB, Gin KY (2016) Risk assessment of noroviruses and human adenoviruses in recreational surface waters. Water Res 103:276–282. https://doi.org/10.1016/j.watres.2016.07.048

Wieczorek M, Krzysztoszek A, Witek A (2015) Species-specific identification of human adenoviruses in sewage. Pol J Microbiol 64(1):23–28

WHO (2005) Water recreation and disease. Plausibility of associated infections: acute effects, sequelae and mortality. IWA Publishing, London

Zhang QL, Wang HB, Wang YL, Zhou JS, Cai J, He RR (2016) Genotypes of adenoviruses in infants and young children with diarrhea. Zhongguo Dang Dai Er Ke Za Zhi 18(8):718–720
Acknowledgements
Our sincere gratitude and thank are addressed to the Tunisian Ministry of Higher Education and Scientific Research and to the National Reference Centre of Enteric Viruses (CNR) in France for their technical and financial support.
The HAdVs sequences found in the present study from wastewater samples have been submitted to the International Centre for Biotechnology Information and received the following accession numbers: KT369590—KT369610.
Ethics declarations
Conflict of interest
The authors declare that they have no conflict of interest.
Additional information
Responsible editor: Philippe Garrigues
About this article
Cite this article
Ibrahim, C., Hassen, A., Pothier, P. et al. Molecular detection and genotypic characterization of enteric adenoviruses in a hospital wastewater. Environ Sci Pollut Res 25, 10977–10987 (2018). https://doi.org/10.1007/s11356-018-1399-2
Received:

Accepted:

Published:

Issue Date:
Keywords
Enteric human adenoviruses

Hospital wastewater

Wastewater treatment plant

Nested-PCR

Waterborne diseases

Environmental virology