Abstract
The pollution characteristics and ecological risk of 12 classified as sulfonamide, trimethoprim, quinolone, and tetracycline antibiotics in Dongting Lake, China, were studied. The total concentrations of the antibiotics ranged from 1.06 to 135.40 ng L−1 for all sampling sites. The highest average concentration was observed for sulfadiazine, followed by sulfamethoxazole. The detection frequencies (over 60%) of sulfonamides were higher than those of other antibiotics. The direct discharge of the aquaculture, livestock, and poultry wastewater might be the main pollution sources of antibiotics in the Dongting Lake. The pollution levels of antibiotics decreased in the order of East Dongting Lake > South Dongting Lake > West Dongting Lake, which may be related to the distribution and the scale of the aquaculture, livestock, and poultry sources. The seasonal changes of antibiotic concentration were relatively diversified, with the dry season generally having higher concentrations than the wet season. The results of the ecological risk assessment indicated that sulfamethoxazole, ciprofloxacin, and sarafloxacin might pose a significant risk to the aquatic organisms in Dongting Lake, especially in Potou and Nandu. This study enriches the research of emerging pollutants in freshwater lake.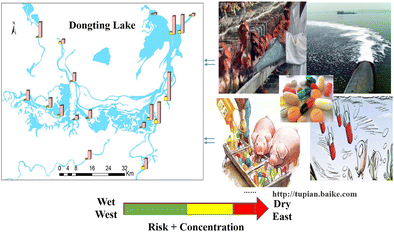 This is a preview of subscription content, log in to check access.
Access options
Buy single article
Instant access to the full article PDF.
US$ 39.95
Price includes VAT for USA
Subscribe to journal
Immediate online access to all issues from 2019. Subscription will auto renew annually.
US$ 99
This is the net price. Taxes to be calculated in checkout.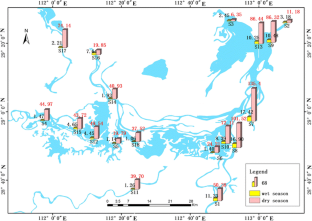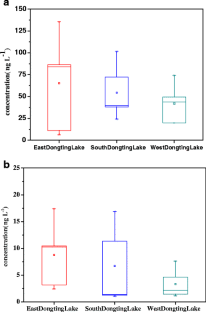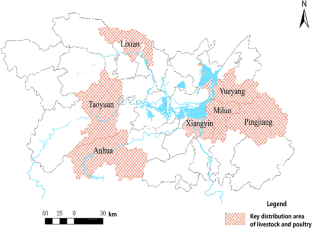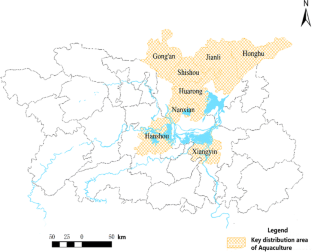 References
Białk-Bielińska A, Stolte S, Arning J et al (2011) Ecotoxicity evaluation of selected sulfonamides. Chemosphere 85(6):928–933

Backhaus T, Scholze M, Grimme LH (2000) The single substance and mixture toxicity of quinolones to the bioluminescent bacterium Vibrio fischeri. Aquat Toxicol 49(1):49–61

Bu YX (1991) Statistical analysis of Dongting Lake water quality and its time and space distribution indexes. Environ Pollut Control 13(3):2–4

Boundj P, Voulvoulis N (2004) Pharmaceuticals in the aquatic environment: a comparison of risk assessment strategies. Chemosphere 56(11):1143–1155. https://doi.org/10.1016/j.chemosphere.2004.05.010

Christen V, Hickmann S, Rchenberg B et al (2010) Highly active human pharmaceuticals in aquatic systems: a concept for their identification based on their mode of action. Aquat Toxicol 96(3):167–181

Cleuvers M (2004) Mixture toxicity of the anti-inflammatory drugs diclofenac, ibuprofen, naproxen and acetylsalicylic acid. Ecotoxicol Environ Saf 59(3):309–315. https://doi.org/10.1016/S0147-6513(03)00141-6

ChinaIRN. http://www.chinairn.com, 2012

Dai CM, Zhou XF, Zhang YL et al (2009) Research advancements in potential risk of PPCPs of environmental media. Environ Pollut Control 31(2):77–80 (in Chinese)

Ding H, Wu Y, Zhang W, Zhong J, Lou Q, Yang P, Fang Y (2017) Occurrence, distribution, and risk assessment of antibiotics in the surface water of Poyang Lake, the largest freshwater lake in China. Chemosphere 184:137–147. https://doi.org/10.1016/j.chemosphere.2017.05.148

Eguchi K, Nagase H, Ozawa M et al (2004) Evaluation of antimicrobial agents for veterinary use in the ecotoxicity test using microalgae. Chemosphere 57(11):1733–1738

Ferrari B, Mons R, Vollat B et al (2004) Environmental risk assessment of six human pharmaceuticals: are the current environmental risk assessment procedures sufficient for the protection of the aquatic environment? Environ Toxicol Chem 23(5):1344–1354

Fan CZ, Wang C, Lu LH et al (2015) Occurrence and seasonal changes of tetracycline antibiotics and antibiotic resistance genes in the xiang river. k 42(o):107–112 (in Chinese)

González-Pleiter M, Gonzalo S, Rodea-Palomares I et al (2013) Toxicity of five antibiotics and their mixtures towards photosynthetic aquatic organisms: implications for environmental risk assessment. Water Res 47(6):2050–2064

Grossman PL, Remington JS (1979) The effect of trimethoprim and sulfamethoxazole on Toxoplasma gondii in vitro and in vivo. Am J Trop Med Hyg 28(3):445–455. https://doi.org/10.4269/ajtmh.1979.28.445

Guo XY, Wang N, Xu J et al (2014) Research progress on environmental exposure levels and environmental fate of veterinary antibiotics. Environ Sci Technol 37(9):76–86 (in Chinese)

Hu Y, Huang J, Du Y, Han P, Huang W (2015) Monitoring spatial and temporal dynamics of flood regimes and their relation to wetland landscape patterns in Dongting Lake from MODIS time-series imagery. Remote Sens 7(6):7494–7520. https://doi.org/10.3390/rs70607494

Isidori M, Lavorgna M, Nardelli A et al (2005) Toxic and genotoxic evaluation of six antibiotics on non-target organisms. Sci Total Environ 346(1):87–98

Kolar B, Arnuš L, Jeretin B et al (2014) The toxic effect of oxytetracycline and trimethoprim in the aquatic environment. Chemosphere 115:75–80

Kümmerer K (2009) Antibiotics in the aquatic environment–a review–part I. Chemosphere 75(4):417–434. https://doi.org/10.1016/j.chemosphere.2008.11.086

Ling BD (2010) Multidrug resistance in Acinetobacter baumanni mechanisms and anti-infective therapy. Chin J Antibiot 4:241–254 (in Chinese)

Liang X, Chen B, Nie X et al (2013) The distribution and partitioning of common antibiotics in water and sediment of the Pearl River Estuary, South China. Chemosphere 92(11):1410–1416

Luo Y, Xu L, Rysz M, Wang Y, Zhang H, Alvarez PJJ (2011) Occurrence and transport of tetracycline, sulfonamide, quinolone, and macrolide antibiotics in the Haihe River Basin, China. Environ Sci Technol 45(5):1827–1833. https://doi.org/10.1021/es104009s

Li Y, Sleigh A, Ross AG et al (2000) Epidemiology of schistosma japonicum in China: morbidity and strategies for control in the Dongting Lake of region. Int J Parasitol 30(3):273–281

Lei X N. 2014 Distribution and pollution levels of antibiotics from typical lakes in Xinjiang. Guangxi Univ. (in Chinese)

Li WH, Shi YL, Gao LH et al (2012) Occurrence of antibiotics in water, sediments, aquatic plants, and animals from Baiyangdian Lake in North China. Chemosphere 89:1307–1315

Lützhøft HCH, Halling-Sørensen B, Jørgensen SE (1999) Algal toxicity of antibacterial agents applied in Danish fish farming. Arch Environ Contam Toxicol 36(1):1–6

Li J, Zhang RJ, Wang RM et al (2016) Distribution characteristics and ecological risk assessment of antibiotic pollution in Xiaoqing River watershed. J Agro-Environ Sci 35(7):1384–1391 (in Chinese)

Luo Y, Mao D, Rysz M, Zhou Q, Zhang H, Xu L, J. J. Alvarez P (2010) Trends in antibiotic resistance genes occurrence in the Haihe River, China. Environmental Science & Technology 44(19):7220–7225. https://doi.org/10.1021/es100233w

Ma R, Wang B, Lu S, Zhang Y, Yin L, Huang J, Deng S, Wang Y, Yu G (2016) Characterization of pharmaceutically active compounds in Dongting Lake, China: occurrence, chiral profiling and environmental risk. Sci Total Environ 557-558:268–275. https://doi.org/10.1016/j.scitotenv.2016.03.053

Pulgarín JAM, Molina AA, Ferreras FM et al (2012) Rapid and simple determination of sarafloxacin in egg by time-resolved chemiluminescence. Food Anal Methods 6(4):1153–1161

Pruden A, Pei R, Storteboom H, Carlson KH (2006) Antibiotic resistance genes as emerging contaminants: studies in northern Colorado. Environ Sci Technol 40(23):7445–7450. https://doi.org/10.1021/es060413l

Qin Y, Zhang L, Shi Y et al (2015) Contamination characteristics and ecological risk assessment of typical antibiotics in surface water of the Daliao River, China. Res Environ Sci 28(3):361–368 (in Chinese)

Robinson AA, Belden JB, Lydy MJ (2005) Toxicity of fluoroquinolone antibiotics to aquatic organisms. Environ Toxicol Chem 24(2):423–430. https://doi.org/10.1897/04-210R.1

Shen YW, Huang ZT, Xie B (2015) Advances in research of pollution, degradation and removal of antibiotics and antibiotic resistance genes in the environment. Chin J Appl Environ Biol 21(2):181–187 (in Chinese)

Shea KM (2003) Antibiotic resistance: what is the impact of agricultural uses of antibiotics on children's health. Pediatrics 112(1):253–258

Shi X, Zhou JL, Zhao H et al (2014) Application of passive sampling in assessing the occurrence and risk of antibiotics and endocrine disrupting chemicals in the Yangtze Estuary, China. Chemosphere 111C:344–351

Sassman SA, Lee LS (2005) Sorption of three tetracyclines by several soils; assessing the role of pH and cation exchange. Environ Sci Technol 39(19):7452–7459. https://doi.org/10.1021/es0480217

Shen QH, Ji XL, Fu SJ et al (2012) Preliminary studies on the pollution levels of antibiotic and antibiotic resistance genes in Huangpu River, China. Ecol Environ Sci 21(10):1717–1723 (in Chinese)

Sun K (2015) Contamination characteristics and ecological risk assessment of typical antibiotics in the water of the Hongze Lake. Nanjing Tech University, Nanjing

Tang J, Chen HY, Shi TZ et al (2013) Occurrence of quinolones and tetracyclines antibiotics in the aquatic environment of Chaohu Lake. J Anhui Agric Univ 40(6):1043–1048 (in Chinese)

Tang J, Zhang FH, Wang CC et al (2014) Investigation of sulfonamide antibiotics residue in the water of Chaohu Lake and its inlet rivers. J Saf Environ 14(4):334–338 (in Chinese)

Tao R, Ying GG, Su HC, Zhou HW, Sidhu JPS (2010) Detection of antibiotic resistance and tetracycline resistance genes in Enterobacteriaceae isolated from the Pearl rivers in South China. Environ Pollut 158(6):2101–2109. https://doi.org/10.1016/j.envpol.2010.03.004

Vryzas Z, Alexoudis C, Vassiliou G et al (2011) Determination and aquatic risk assessment of pesticide residues in riparian drainage canals in northeastern Greece. Ecotoxicol Environ Saf 74(2):174–181

Wang Z, Du Y, Yang C et al (2017) Occurrence and ecological hazard assessment of selected antibiotics in the surface waters in and around Lake Honghu, China. Sci Total Environ 609:1423–1432. https://doi.org/10.1016/j.scitotenv.2017.08.009

Wu CX, Huang XL, Witter JD et al (2014) Occurrence of pharmaceuticals and personal care products and associated environmental risks in the central and lower Yangtze river, China. Ecotoxicol Environ Saf 106:19–26. https://doi.org/10.1016/j.ecoenv.2014.04.029

Wang X, Xiao WH, Zhu EY et al (2012) Effects of water level variation on water quality in Dongting Lake. South-to-north Water Transfers Water Sci Technol 10(5):59–62 (in Chinese)

Xu YG, Yu WT, Ma Q et al (2015) The antibiotic in environment and its ecotoxicity: a review. Asian J Ecotoxicol 10(3):11–27 (in Chinese)

Xu W, Zhang G, Zou S et al (2006) Occurrence and seasonal changes of antibiotics in the Victoria Harbour and the Pearl River, South China. Environ Sci 27(12):2458–2462

Xu J, Zhang Y, Zhou CB et al (2014) Distribution, sources and composition of antibiotics in sediment, overlying water and pore water from Taihu Lake, China. Sci Total Environ s497–498(3):267–273

Xiao YH (2008) Medical and social consequences of antibiotics abuse. Symp Qual Saf Antibiot (in Chinese)

Xue B, Zhang R, Wang Y et al (2013) Antibiotic contamination in a typical developing city in south China: occurrence and ecological risks in the Yongjiang River impacted by tributary discharge and anthropogenic activities. Ecotoxicol Environ Saf 92(3):229

Xu DM, Wang YH, Rao GW (2013) Cellular response of freshwater green algae to the toxicity of tetracycline antibiotics. Environ Sci 34(9):3386–3390 (in Chinese)

Yan C, Yi Y, Zhou J et al (2014) Selected emerging organic contaminants in the Yangtze Estuary, China: a comprehensive treatment of their association with aquatic colloids. J Hazard Mater 283:14–23

Yuan Y, Zeng G, Liang J et al (2015) Variation of water level in Dongting Lake over a 50-year period: implications for the impacts of anthropogenic and climatic factors. J Hydrol 525(10):450–456

Yang Y, Cao X, Zhang M et al (2015) Occurrence and distribution of endocrine-disrupting compounds in the Honghu Lake and East Dongting Lake along the Central Yangtze River, China. Environ Sci Pollut Res 22(22):17644–17652

Yan C, Yang Y, Zhou J et al (2013) Antibiotics in the surface water of the Yangtze Estuary: occurrence, distribution and risk assessment. Environ Pollut 175(8):22–29

Yang Y, Cao X, Lin H et al (2016) Antibiotics and antibiotic resistance genes in sediment of Honghu Lake and East Dongting Lake, China. Microb Ecol 72(4):791–801

Zhang Q, Cheng J, Xin Q (2015a) Effects of tetracycline on developmental toxicity and molecular responses in zebrafish (Danio rerio) embryos. Ecotoxicology 24(4):707–719. https://doi.org/10.1007/s10646-015-1417-9

Zhang Q, Jia A, Wan Y, Liu H, Wang K, Peng H, Dong Z, Hu J (2014) Occurrences of three classes of antibiotics in a natural river basin: association with antibiotic-resistant Escherichia coli. Environ Sci Technol 48(24):14317–14325. https://doi.org/10.1021/es503700j

Zhang QQ, Ying GG, Pan CG, Liu YS, Zhao JL (2015b) A comprehensive evaluation of antibiotics emission and fate in the river basins of China: source analysis, multimedia modelling, and linkage to bacterial resistance. Environ Sci Technol 49(11):6772–6782. https://doi.org/10.1021/acs.est.5b00729

Zheng Q, Zhang R, Wang Y et al (2012) Occurrence and distribution of antibiotics in the Beibu Gulf, China: impacts of river discharge and aquaculture activities. Mar Environ Res 78(8):26–33

Zhang B, Liu YH (2010) Usage analysis of quinolones from 2007 to 2009 in a hospital. Guid China Med 8(26):112–113 (in Chinese)
Acknowledgments
This work was financially supported by the Ministry of Science and Technology of China (grant no. 2015FY110900) and the National Natural Science Foundation of China (41672340). The authors would like to thank the assistance of Prof. Weihao Zhang and Dr. Yixiao Wu from Wuhan University and Prof. Fang Yang from Tsinghua University.
Additional information
Responsible editor: Ester Heath
Electronic supplementary material
About this article
Cite this article
Liu, X., Lu, S., Meng, W. et al. Occurrence, source, and ecological risk of antibiotics in Dongting Lake, China. Environ Sci Pollut Res 25, 11063–11073 (2018). https://doi.org/10.1007/s11356-018-1290-1
Received:

Accepted:

Published:

Issue Date:
Keywords
Antibiotics

Dongting Lake

Aquatic environment

Pollution source

Ecological risk