Abstract
In this study, shrimp waste was enzymatically hydrolyzed to generate a green dispersant and the product was tested for crude oil dispersion in seawater. The hydrolysis process was first optimized based on the dispersant effectiveness (DE) of the product. The functional properties of the product were identified including stability, critical micelle concentration, and emulsification activity. Water was confirmed as a good solvent for dispersant generation when compared with three chemical solvents. The effects of salinity, mixing energy, and temperature on the dispersion of the Alaska North Slope (ANS) crude oil were examined. Microtox acute toxicity test was also conducted to evaluate the toxicity of the produced dispersant. In addition, DE of the product on three different types of crude oil, including ANS crude oil, Prudhoe Bay crude oil (PBC), and Arabian Light crude oil (ALC) was compared with that of the Corexit 9500, respectively. The research output could lead to a promising green solution to the oil spill problem and might result in many other environmental applications.
This is a preview of subscription content, log in to check access.
Access options
Buy single article
Instant access to the full article PDF.
US$ 39.95
Price includes VAT for USA
Subscribe to journal
Immediate online access to all issues from 2019. Subscription will auto renew annually.
US$ 99
This is the net price. Taxes to be calculated in checkout.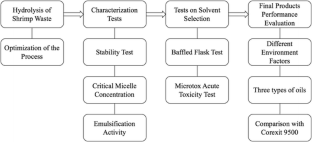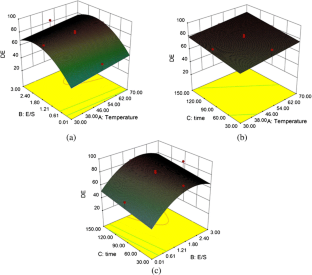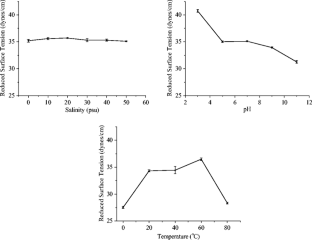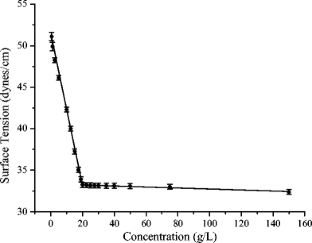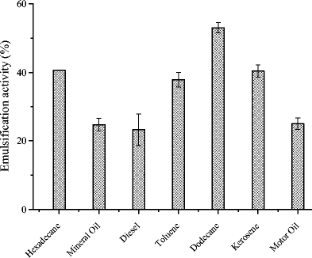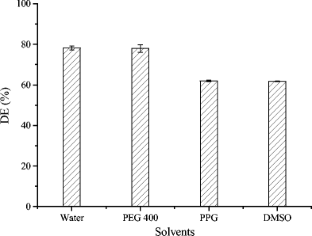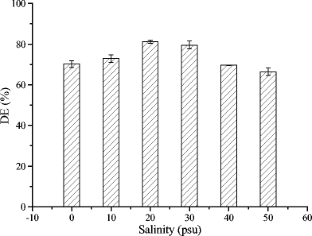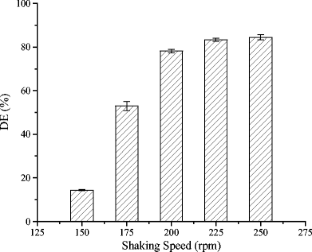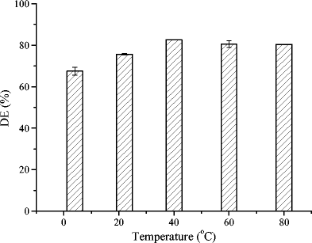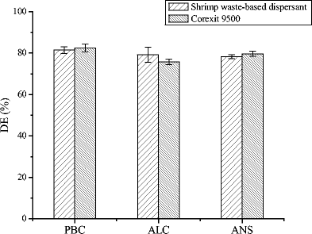 References
Adjonu R, Doran G, Torley P, Agboola S (2014) Formation of whey protein isolate hydrolysate stabilised nanoemulsion. Food Hydrocoll 41:169–177. https://doi.org/10.1016/j.foodhyd.2014.04.007

Aluko RE, Monu E (2003) Functional and bioactive properties of quinoa seed protein hydrolysates. J Food Sci 68(4):1254–1258. https://doi.org/10.1111/j.1365-2621.2003.tb09635.x

Arboleda JC, Rojas OJ, Lucia LA (2014) Acid-generated soy protein hydrolysates and their interfacial behavior on model surfaces. Biomacromolecules 15(11):4336–4342. https://doi.org/10.1021/bm501344j

Blondina GJ, Singer MM, Lee I, Ouano MT, Hodgins M, Tjeerdema RS, Sowby ML (1999) Influence of salinity on petroleum accommodation by dispersants. Spill Sci Technol Bull 5(2):127–134. https://doi.org/10.1016/s1353-2561(98)00048-6

Cai L, Gochin M, Liu K (2011) A facile surfactant critical micelle concentration determination. Chem Commun 47(19):5527–5529. https://doi.org/10.1039/c1cc10605h

Campisi T, Abbondanzi F, Casado-Martinez C, DelValls TA, Guerra R, Iacondini A (2005) Effect of sediment turbidity and color on light output measurement for Microtox® basic solid-phase test. Chemosphere 60(1):9–15. https://doi.org/10.1016/j.chemosphere.2004.12.052

Cao T (2015) Generation of biodispersants for offshore oil spill response (Master dissertation, Memorial University of Newfoundland)

Carrillo PG, Mardaraz C, Pitta-Alvarez SI, Giulietti AM (1996) Isolation and selection of biosurfactant-producing bacteria. World J Microbiol Biotechnol 12(1):82–84. https://doi.org/10.1007/bf00327807

Chalamaiah M, Rao GN, Rao DG, Jyothirmayi T (2010) Protein hydrolysates from meriga (Cirrhinus mrigala) egg and evaluation of their functional properties. Food Chem 120(3):652–657. https://doi.org/10.1016/j.foodchem.2009.10.057

Chandrasekar S, Sorial GA, Weaver JW (2006) Dispersant effectiveness on oil spills–impact of salinity. J Mar Sci 63(8):1418–1430. https://doi.org/10.1016/j.icesjms.2006.04.019

Chang CY, Wu KC, Chiang SH (2007) Antioxidant properties and protein compositions of porcine haemoglobin hydrolysates. Food Chem 100(4):1537–1543. https://doi.org/10.1016/j.foodchem.2005.12.019

Chapman H, Purnell K, Law RJ, Kirby MF (2007) The use of chemical dispersants to combat oil spills at sea: a review of practice and research needs in Europe. Mar Pollut Bull 54(7):827–838. https://doi.org/10.1016/j.marpolbul.2007.03.012

Cheng Y, Chen J, Xiong YL (2014) Interfacial adsorption of peptides in oil-in-water emulsions costabilized by tween 20 and antioxidative potato peptides. J Agric Food Chem 62(47):11575–11581. https://doi.org/10.1021/jf5038135

de Castro RJS, Bagagli MP, Sato HH (2015) Improving the functional properties of milk proteins: focus on the specificities of proteolytic enzymes. Curr Opin Food Sci 1:64–69. https://doi.org/10.1016/j.cofs.2014.12.004

DeLeo DM, Ruiz-Ramos DV, Baums IB, Cordes EE (2016) Response of deep-water corals to oil and chemical dispersant exposure. Deep-Sea Res II Top Stud Oceanogr 129:137–147. https://doi.org/10.1016/j.dsr2.2015.02.028

Dey SS, Dora KC (2014) Antioxidative activity of protein hydrolysate produced by alcalase hydrolysis from shrimp waste (Penaeus monodon and Penaeus indicus). J Food Sci Technol 51(3):449–457. https://doi.org/10.1007/s13197-011-0512-z

Fingas MF, Kyle DA, Holmes JB Tennyson EJ (1993). The effectiveness of dispersants: variation with energy. In International Oil Spill Conference. American Petroleum Institute. 1993(1) 567-574) https://doi.org/10.7901/2169-3358-1993-1-567

Foegeding EA, Davis JP, Doucet D, McGuffey MK (2002) Advances in modifying and understanding whey protein functionality. Trends Food Sci Technol 13(5):151–159. https://doi.org/10.1016/s0924-2244(02)00111-5

Gallert C, Winter J (2002) Solid and liquid residues as raw materials for biotechnology. Naturwissenschaften 89(11):483–496. https://doi.org/10.1007/s00114-002-0372-5

Gauthier SF, Pouliot Y (2003) Functional and biological properties of peptides obtained by enzymatic hydrolysis of whey proteins. J Dairy Sci 86:E78–E87. https://doi.org/10.3168/jds.s0022-0302(03)74041-7

George-Ares A, Clark JR (2000) Aquatic toxicity of two Corexit® dispersants. Chemosphere 40(8):897–906. https://doi.org/10.1016/S0045-6535(99)00498-1

Gildberg A, Stenberg E (2001) A new process for advanced utilisation of shrimp waste. Process Biochem 36(8):809–812. https://doi.org/10.1016/s0032-9592(00)00278-8

Gong Y, Zhao X, O'Reilly SE, Qian T, Zhao D (2014) Effects of oil dispersant and oil on sorption and desorption of phenanthrene with Gulf Coast marine sediments. Environ Pollut 185:240–249. https://doi.org/10.1016/j.envpol.2013.10.031

Goodbody-Gringley G, Wetzel DL, Gillon D, Pulster E, Miller A, Ritchie KB (2013) Toxicity of deepwater horizon source oil and the chemical dispersant, Corexit® 9500, to coral larvae. PLoS One 8(1):e45574. https://doi.org/10.1371/journal.pone.0045574

Infante MR, Pérez L, Pinazo A, Clapés P, Morán MC, Angelet M et al (2004) Amino acid-based surfactants. C R Chim 7(6):583–592. https://doi.org/10.1016/s1351-4210(05)00584-6

Innocente N, Corradini C, Blecker C, Paquot M (1998) Dynamic surface properties of the proteose-peptone fraction of bovine milk. J Dairy Sci 81(7):1833–1839

Intarasirisawat R, Benjakul S, Visessanguan W, Wu J (2012) Antioxidative and functional properties of protein hydrolysate from defatted skipjack (Katsuwonous pelamis) roe. Food Chem 135(4):3039–3048. https://doi.org/10.1016/j.foodchem.2012.06.076

Jamieson BL, Gonçalves AA, Gagnon GA (2013) Evaluation of treatment options for Atlantic Canadian seafood processing plant effluent. J Environ Eng Sci 8(4):448–460

Judson RS, Martin MT, Reif DM, Houck KA, Knudsen TB, Rotroff DM, Xia M, Sakamuru S, Huang R, Shinn P, Austin CP, Kavlock RJ, Dix DJ (2010) Analysis of eight oil spill dispersants using rapid, in vitro tests for endocrine and other biological activity. Environ Sci Technol 44(15):5979–5985. https://doi.org/10.1021/es102150z

Kezwoń A, Chromińska I, Frączyk T, Wojciechowski K (2015) Effect of enzymatic hydrolysis on surface activity and surface rheology of type I collagen. Colloids Surf B: Biointerfaces 137:60–69. https://doi.org/10.1016/j.colsurfb.2015.05.017

Klompong V, Benjakul S, Kantachote D, Shahidi F (2007) Antioxidative activity and functional properties of protein hydrolysate of yellow stripe trevally (Selaroides leptolepis) as influenced by the degree of hydrolysis and enzyme type. Food Chem 102(4):1317–1327. https://doi.org/10.1016/j.foodchem.2006.07.016

Korhonen H, Pihlanto A (2006) Bioactive peptides: production and functionality. Int Dairy J 16(9):945–960. https://doi.org/10.1016/j.idairyj.2005.10.012

Kujawinski EB, Kido Soule MC, Valentine DL, Boysen AK, Longnecker K, Redmond MC (2011) Fate of dispersants associated with the deepwater horizon oil spill. Environ Sci Technol 45(4):1298–1306. https://doi.org/10.1021/es103838p

la Farré M, Garcı́a MJ, Tirapu L, Ginebreda A, Barceló D (2001) Wastewater toxicity screening of non-ionic surfactants by Toxalert® and Microtox® bioluminescence inhibition assays. Anal Chim Acta 427(2):181–189. https://doi.org/10.1016/s0003-2670(00)01022-9

Lamsal BP, Koegel RG, Gunasekaran S (2007) Some physicochemical and functional properties of alfalfa soluble leaf proteins. Food Sci Technol 40(9):1520–1526. https://doi.org/10.1016/j.lwt.2006.11.010

Leal ALG, de Castro PF, de Lima JPV, de Souza Correia E, de Souza Bezerra R (2010) Use of shrimp protein hydrolysate in Nile tilapia (Oreochromis niloticus, L.) feeds. Aquac Int 18(4):635–646. https://doi.org/10.1007/s10499-009-9284-0

Lessard RR, DeMarco G (2000) The significance of oil spill dispersants. Spill Sci Technol Bull 6(1):59–68. https://doi.org/10.1016/s1353-2561(99)00061-4

Liu Q, Kong B, Xiong YL, Xia X (2010) Antioxidant activity and functional properties of porcine plasma protein hydrolysate as influenced by the degree of hydrolysis. Food Chem 118(2):403–410. https://doi.org/10.1016/j.foodchem.2009.05.013

Mackay D, Chau A, Hossain K, Bobra M (1984) Measurement and prediction of the effectiveness of oil spill chemical dispersants. Oil Spill Chem Dispersants Res Experience Recomm ASTM STP 840:38–54. https://doi.org/10.1520/stp30227s

Mizani MARYAM, Aminlari M, Khodabandeh M (2005) An effective method for producing a nutritive protein extract powder from shrimp-head waste. Food Sci Technol Int 11(1):49–54. https://doi.org/10.1177/1082013205051271

Moles A, Holland L, Short J (2002) Effectiveness in the laboratory of Corexit 9527 and 9500 in dispersing fresh, weathered, and emulsion of Alaska north slope crude oil under subarctic conditions. Spill Sci Technol Bull 7(5):241–247. https://doi.org/10.1016/s1353-2561(02)00041-5

Muheem A, Shakeel F, Jahangir MA, Anwar M, Mallick N, Jain GK, Warsi MH, Ahmad FJ (2014) A review on the strategies for oral delivery of proteins and peptides and their clinical perspectives. Saudi Pharm J 24(4):413–428. https://doi.org/10.1016/j.jsps.2014.06.004

Pietroski JP, White JR, DeLaune RD (2015) Effects of dispersant used for oil spill remediation on nitrogen cycling in Louisiana coastal salt marsh soil. Chemosphere 119:562–567. https://doi.org/10.1016/j.chemosphere.2014.07.050

Plascencia-Jatomea M, Olvera-Novoa MA, Arredondo-Figueroa JL, Hall GM, Shirai K (2002) Feasibility of fishmeal replacement by shrimp head silage protein hydrolysate in Nile tilapia (Oreochromis niloticus L) diets. J Sci Food Agric 82(7):753–759. https://doi.org/10.1002/jsfa.1092

Prince RC, Butler JD (2014) A protocol for assessing the effectiveness of oil spill dispersants in stimulating the biodegradation of oil. Environ Sci Pollut Res 21(16):9506–9510. https://doi.org/10.1007/s11356-013-2053-7

Saeki H, Sasaki M, Komatsu K, Miura A, Matsuda H (2009) Oil spill remediation by using the remediation agent JE1058BS that contains a biosurfactant produced by Gordonia sp. strain JE-1058. Bioresour Technol 100(2):572–577. https://doi.org/10.1016/j.biortech.2008.06.046

Šližytė R, Mozuraitytė R, Martinez-Alvarez O, Falch E, Fouchereau-Peron M, Rustad T (2009) Functional, bioactive and antioxidative properties of hydrolysates obtained from cod (Gadus morhua) backbones. Process Biochem 44(6):668–677. https://doi.org/10.1016/j.procbio.2009.02.010

Sorial GA, Venosa AD, Koran KM, Holder E, King DW (2004) Oil spill dispersant effectiveness protocol. II: performance of revised protocol. J Environ Eng 130(10):1085–1093. https://doi.org/10.1061/(asce)0733-9372(2004)130:10(1085)

Srinivasan R, Lu Q, Sorial GA, Venosa AD, Mullin J (2007) Dispersant effectiveness of heavy fuel oils using baffled flask test. Environ Eng Sci 24(9):1307–1320. https://doi.org/10.1089/ees.2006.0251

Synowiecki J, Al-Khateeb NAAQ (2000) The recovery of protein hydrolysate during enzymatic isolation of chitin from shrimp Crangon crangon processing discards. Food Chem 68(2):147–152. https://doi.org/10.1016/s0308-8146(99)00165-x

Tang L, Sun J, Zhang HC, Zhang CS, Yu LN, Bi J, Zhu F, Liu SF, Yang QL (2012) Evaluation of physicochemical and antioxidant properties of peanut protein hydrolysate. PLoS One 7(5):e37863. https://doi.org/10.1371/journal.pone.0037863

Venosa AD, King DW, Sorial GA (2002) The baffled flask test for DE: a round robin evaluation of reproducibility and repeatability. Spill Science & Technology Bulletin 7(5):299–308. https://doi.org/10.1016/s1353-2561(02)00072-5

Zhang K, Zhang B, Chen B, Jing L, Zhu Z, Kazemi K (2016) Modeling and optimization of Newfoundland shrimp waste hydrolysis for microbial growth using response surface methodology and artificial neural networks. Mar Pollut Bull 109(1):245–252. https://doi.org/10.1016/j.marpolbul.2016.05.075

Zhao J, Xiong YL (2015) Interfacial peptide partitioning and undiminished antioxidative and emulsifying activity of oxidatively stressed soy protein hydrolysate in an O/W emulsion. Food Sci Technol 61(2):322–329. https://doi.org/10.1016/j.lwt.2014.12.022

Zhao J, Xiong YL, McNear DH (2013) Changes in structural characteristics of antioxidative soy protein hydrolysates resulting from scavenging of hydroxyl radicals. J Food Sci 78(2):C152–C159. https://doi.org/10.1111/1750-3841.12030
Acknowledgements
The authors would like to express the gratitude to Petroleum Research of Newfoundland and Labrador (PRNL) and Canada Foundation for Innovation (CFI) for its support.
Additional information
Responsible editor: Philippe Garrigues
About this article
Cite this article
Zhang, K., Zhang, B., Song, X. et al. Generation of shrimp waste-based dispersant for oil spill response. Environ Sci Pollut Res 25, 9443–9453 (2018). https://doi.org/10.1007/s11356-018-1222-0
Received:

Accepted:

Published:

Issue Date:
Keywords
Shrimp waste

Surfactant

Dispersant

Crude oil

Renewable resources