Green processing: minimising harmful substances in leather making
Abstract
Conventional leather processing poses serious threat to the environment due to its numerous chemical treatments which include hazardous chemicals such as sodium sulphide and lime. To minimise the pollutants and harmful substances during leather processing, an enzymatic rehydration–dehairing–fibre-opening process has been achieved in shortest possible time compared to conventional process. The physicochemical characteristics of experimental leathers were found to be comparable with those of conventionally processed leathers. The releases of sugar and proteoglycans were found to be in congruence with the scanning electron micrographs and histology. TGA and DSC results ascertained the stability of enzymatically processed leathers. Pollution load in terms of TOC, BOD, COD, and TDS was reduced up to 80% compared to that of the conventional process. The present work provides immense potential for a new approach in leather making with environmental safeguards.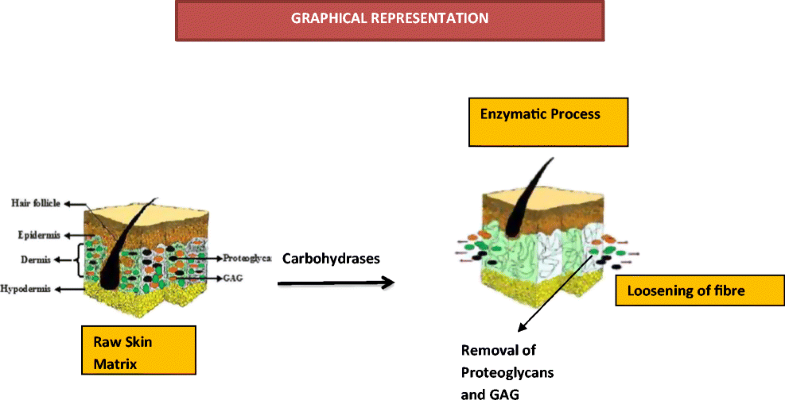 Keywords
Carbohydrases 
Leather 
Eco-process 
Pollution 
Notes
Acknowledgements
The authors are thankful to the Director of CSIR – Central Leather Research Institute for his support and encouragement.
Funding information
This research received funding from the Council of Scientific and Industrial Research (CSIR), New Delhi. J. Durga received a Senior Research Fellowship from the CSIR-SRF (CSIR – CLRI communication number: A/2018/LPT/CSIR-CLRI/1271).
Copyright information
© Springer-Verlag GmbH Germany, part of Springer Nature 2019