Abstract
Nowadays, public concerns regarding deleterious effect of lead (Pb) is on rise due to its abundance and toxic effect on plants and other living organisms. In plants, it has no noticeable biological importance but can cause various morphological, physiological, and biochemical malfunctions. To evaluate the remediating potential of plant-derived smoke (Cymbopogon jwarancusa), a pot culture experiment was designed to investigate the physiological, biochemical, metabolic, and antioxidant parameters of roots in lead (0 (control), 500, 1000, and 1500 ppm)-contaminated soil. Under dark condition, seeds were primed in smoke solution with two dilutions (1:500 and 1:1000) for 24 h. With an increasing concentration of Pb stress, fresh and dry weight and total nitrogen and protein contents decreased significantly while an increase was observed in smoke-treated seed. With increasing Pb stress level, metabolites (i.e., proline, total soluble sugar, total soluble protein, glycine betaine), and antioxidants (i.e., superoxide dismutase, peroxidase, catalase, ascorbate peroxidase, malonyldialdehyde, and H2O2), contents of roots were increased in non-treated (without smoke treatment) samples, whereas comparatively, a low level of alteration in aforementioned metabolites and antioxidative parameters was observed in the seeds treated with smoke solution. These results suggest a positive role of smoke in alleviating lead-induced changes in roots of two cultivated cultivars of rice grown in Pb-contaminated soil.
This is a preview of subscription content, log in to check access.
Access options
Buy single article
Instant access to the full article PDF.
US$ 39.95
Price includes VAT for USA
Subscribe to journal
Immediate online access to all issues from 2019. Subscription will auto renew annually.
US$ 99
This is the net price. Taxes to be calculated in checkout.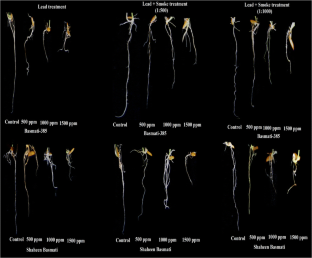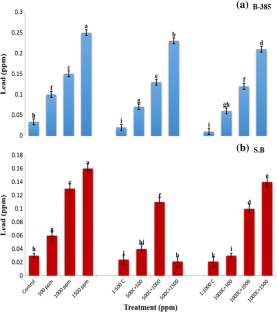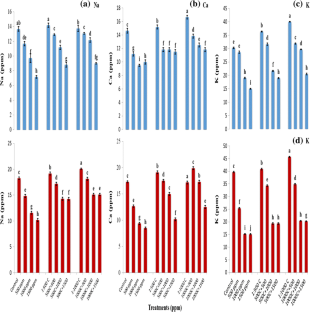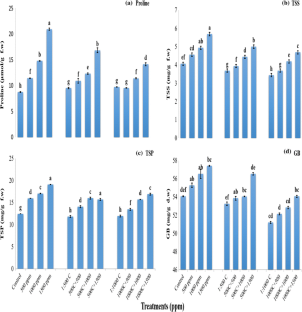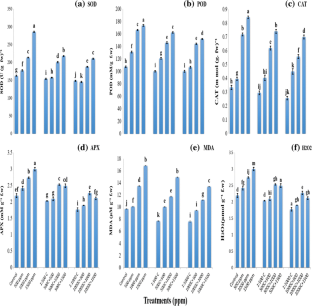 References
Aebi H (1984) Catalase in vitro. Methods Enzymol 105:121–126

Ali H, Khan E, Sajad MA (2013) Phytoremediation of heavy metals—concepts and applications. Chemosphere 91:869–881

Alia SPP (1991) Proline accumulation under heavy metal stress. J Plant Physiol 138(5):554–558

Aslam MM, Akhter A, Jamil M, Khatoon A, Malook I, Rehman SF (2014) Effect of plant derived smoke solution on root of Ipomoea marguerite cuttings under cobalt stress J Biomol Sci 2(1): 6–11

Athar R, Ahmad M (2002) Heavy metal toxicity: effect on plant growth and metal uptake by wheat, and on free living azotobacter. Water Air Soil Pollut 138:165

Awan JA, Salim UR (1997) Food analysis manual. Vet Agic Pub 5:2–17

Bansal P, Sharma P, Goyal V (2002) Impact of lead and cadmium on enzymes of citric acid cycle in germination pea seeds. Biol Plant 45(1):125

Bates LS, Waldren RP, Teare JD (1973) Rapid determination of free proline for water stress studies. Plant Soil 39(1):205–207

Beauchamp C, Fridovich I (1971) Superoxide dismutase: improved assays and an assay applicable to acrylamide gels. Annu Rev Biochem 44(1):276–287

Bhardwaj P, Chaturvedi AK, Prasad P (2009) Effect of enhanced lead and cadmium in soil on physiological and biochemical attributes of Phaseolus vulgaris L. Nat Sci 7(8):63–75

Bradford MM (1976) A rapid and sensitive method for the quantitation of microgram quantities of protein utilizing the principle of protein-dye binding. Annu Rev Biochem 72:248–254

Burzynski M, Grabowski A (1984) Influence of lead on nitrate uptake and reduction in cucumber seedlings. Acta Soc Bot Pol 53:77–86

Chatterjee C, Dube BK, Sinha P, Srivastava P (2006) Detrimental effect of lead phytotoxicity on growth, yield and metabolism of rice. Commun Soil Sci Plant Anal 35(1–2):255–265

Chen TH, Murtaza N (2011) Glycinebetaine protect plants against abiotic stress: mechanism in biotechnological applications. Plant Cell Environ 34:1–20

Choudhury B, Mitra S, Biswas AK (2010). Regulation of sugar metabolism in rice (Oryza sativa L.) seedlings under arsenate toxicity and its improvement by phosphate. PhysiolMolBiolPlants 16(1):59–68

Dey PM (1990) Oligosaccharides. In: Dey PM, Harborne JB (eds) Methods in plant biochemistry. Academic, London

Eun SO, Youn HS, Lee Y (2000) Lead disturbs microtubule organization in the root meristem of Zea mays. Physiol Plant 110(3):357–365

Fecht-Cristoffers MM, Braun HP, Horst WJ (2006) The role of hydrogen peroxide-producing and hydrogen peroxide consuming peroxidase in the leaf apoplast of cowpea manganese tolerance. Plant Physiol 140:1451

Garraud H, Robert M, Quetel CR, Szpunarand J, Dinoard OFX (1996) At Spectr 17:183

Goldbold DL, Kettner C (1991) Lead influence root growth and mineral nutrition of Picea abies seedlings. J Plant Physiol 139:95–99

Grieve CM, Grattan SR (1983) Rapid assay for the determination of water soluble quaternary ammonium compound. Plant Soil 70(2):303–307

Jahangir M, Abdel-Farid IB, Choi YH, Verpoorte R (2008) Metal ion-inducing metabolite accumulation in Brassica rapa. J Plant Physiol 165:1429–1437

Jahangir M, Abdel-Farid IB, Kim HK, Choi YH, Verpoorte R (2009) Healthy and unhealthy plants: the effect of stress on the metabolism of Brassicaceae. Environ Exp Bot 67:23–33

Jamil M, Malook I, Parveen S, Naz T, Ali A, Jan SU, Rehman SU (2013) Smoke priming a potent protective agent against salinity: effect in proline accumulation, elemental uptake, pigmental attributes and protein banding patterns of rice (Oryza sativa L.) J Stress Physiol Biochem 9(1):169–183

Jamil M, Kanwal M, Aslam MM, Khan S, Malook I, Tu J, Rehman S (2014) Effect of plant-derived smoke priming physiological and biochemical characteristics of rice under salt stress condition. Aust J Crop Sci 8:159–170

Khan MU, Malik RN, Muhammad S (2013) Human health risk from heavy metals via food crops consumption with wastewater irrigation practices in Pakistan. Chemosphere 93(10):2230–2238

Khan P, Rehman S, Jamil M, Irfan S, Waheed MA, Aslam MM, Kanwal M, Shakir SK (2014) Alleviation of boron stress through plant derived smoke extracts in Sorghum bicolor. J Plant Physiol Biochem 10(3):153–165

Kibria MG, Osman KT, Ahmad MJ (2007) Cadmium and lead uptake by rice (Oryza sativa L.) grown in three different textured soils. Soil Environ 25:70–77

Kosobrukhov A, Knyazeva I, Mudrik V (2004) Plantago major plants responses to increase content of lead in soil: growth and photosynthesis. Plant Growth Regul 42(2):145–151

Kumar KB, Khan PA (1982) Peroxidase and polyphenol oxidase in excised ragi (Eleusine coracana cv. PR 202) leave during senescence. Indian J Exp Boil 20:412–416

Mishra M, Dubey PG, Dubey SR (2007) Lead toxicity effects the growing rice plants: germination, seedling vigor and biochemical changes in rice plants (report). Exam Altern Med 34:12–22

Nankano Y, Asada K (1980) Hydrogen-peroxide is scavenged by ascorbate-specific peroxidase in spinach chloroplasts. Plant Cell Physiol 22:867

Pellett LP, Young VR (1980) Nutritional evaluation of protein foods. UNO Publication pp 45–47

Pourrut B, Shahid M, Dumat C, Winterton P, Pinelli E (2011) Lead uptake, toxicity and detoxification in plants. Rev Environ Contam Toxicol 213:114

Rossato LV, Nicoloso FT, Cargnelluti D, Tabaldi LA, Antes FG, Dressler VL (2012) Effect of lead on growth, Pb accumulation and physiological responses of Pluchea sagitallis. Ecotoxicology 2:111

Saradhi PP (1991) Proline accumulation under heavy metal stress. J Plant Physiol 138(5)554–558

Seregin IV, Shpigun LK, Ivanov VB (2004) Distribution and toxic effects of cadmium and lead on maize roots. Russ J Plant Physiol 51(4): 525–533

Sharma P, Dubey RS (2003) Lead toxicity in plants. Braz J Plant Physiol 17:35

Sigh G, Agnihorti RK, Reshma RS, Ahmad M (2012) Effect of lead and nickel toxicity on chlorophyll and proline content or Urd (Vigna mungo L.) seedlings. Intern J Plant Physiol Biochem 4(6):136

Sparg SG, Kulkarni MG, Light ME, Staden JV (2005) Improving seedling vigor of indigenous medicinal plant with smoke. Bioresour Technol 96:1323

Taylor CB (1996) Proline and water deficit: ups, down, ins and outs. Plant Cell 8:1221

Velikova V, Yordanov I, Edreva A (2000) Oxidative stress and some antioxidant systems in acid rain-treated bean plants. Plant Sci 151:59–66

Verma S, Dubey RS (2003) Lead toxicity induces lipid peroxidation and altered the activities of antioxidant enzymes in growing rice plants. Plant Sci 164:645–655

Wang H, Shan X, Liu T, Xie Y, Wen B, Zhang S (2006) Organic acids enhance the uptake of Pb by wheat roots. Planta 225(6):1483–1494

Yang YY, Jung JY, Song WY, Sue HS, Lee Y (2000) Identification of rice varieties with high tolerance or sensitivity to lead and characterization of the mechanism of tolerance. Plant Physiol 124:1019–1026

Zhang X, Erik H, Kiehl E (2009) Enzymatic antioxidant responses tobiostimulants in maize and soybean subjected to drought. Sci Agric 66(3):395–402

Zheng LJ, Liu XM, Lutz-Meindl U, Peer T (2011) Effects of lead and EDTA-assisted lead on biomass, lead uptake and mineral nutrients in Lespedeza chinensis and Lespedeza davidii. Water Air Soil Pollut 220:57–68

Zou T, Li T, Zhang YH, Luo H (2011) Lead accumulation and tolerance characteristics of Athyrum wardii (Hook.) as potential phytostabilizer. J Hazard Mater 186:683
Additional information
Responsible editor: Philippe Garrigues
About this article
Cite this article
Akhtar, N., Khan, S., Malook, I. et al. Pb-induced changes in roots of two cultivated rice cultivars grown in lead-contaminated soil mediated by smoke. Environ Sci Pollut Res 24, 21298–21310 (2017). https://doi.org/10.1007/s11356-017-9777-8
Received:

Accepted:

Published:

Issue Date:
Keywords
Lead

Smoke priming

Rice

Heavy metals

Remediation