Abstract
It is important to establish the toxicity pesticides against non-target species, especially those pesticides used in commercial formulations. Pyrethroid insecticides are widely used in agriculture despite their toxicity to aquatic animals. In this study, we determine the toxicity of commercial formulation of two pyrethroid insecticides, cypermethrin and deltamethrin, in two life stages of Physalaemus gracilis, a frog that breeds in agricultural ecosystems and has potential contact with pyrethroid pesticides. The acute toxicity test (96 h) was carried out with embryos of stage 17:18 and larvae of stages 24:25. Embryos were more resistant to both pesticides than larvae. In embryo mobility assays, we found that both pesticides caused spasmodic contractions, suggestive of neurological effects. In acute toxicity assays, we found that P. gracilis is more resistant to these insecticides than other studied species.
This is a preview of subscription content, log in to check access.
Access options
Buy single article
Instant access to the full article PDF.
US$ 39.95
Price includes VAT for USA
Subscribe to journal
Immediate online access to all issues from 2019. Subscription will auto renew annually.
US$ 99
This is the net price. Taxes to be calculated in checkout.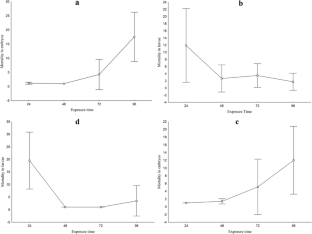 References
Agostini MG, Natale GS, Ronco AE (2010) Lethal and sublethal effects of cypermethrin to Hypsiboas pulchellus tadpoles. Ecotoxicology 19:1545–1550. doi:10.1007/s10646-010-0539-3

Alonso DG (2003) Desarrollo y diferenciación de las branquias externas e internas em embriones y larvas de Bufo arenarum: análisis descriptivo y experimental. Tese, Universidad de Buenos Aires (in spanish)

Aydin-Sinan H, Güngördü A, Ozmen M (2012) Toxic effects of deltamethrin and λ-cyhalothrin on Xenopus laevis tadpoles. J Environ Sci Health B 47:397–402. doi:10.1080/03601234.2012.648545

Biga LM, Blaustein AR (2013) Variations in lethal and sublethal effects of cypermethrin among aquatic stages and species of anuran amphibians. Environ Toxicol Chem 32:2855–2860. doi:10.1002/etc.2379

Borges-Martins M, Colombo P, Zank C, Becker FG, Melo MTQ (2007) Anfíbios. http://www.researchgate.net/profile/Fernando_Becker2/publication/255992592_Anfbios/links/00b49521505c2c6599000000.pdf. Accessed 03 November 2015 (in Portuguese)

Brandão FP, Marques S, Rodrigues S, Santos B, Travasso R, Venâncio C, Pereira R, Ortiz-Santaliestra M, Soares AMVM, Gonçalves F, Lopes I (2011) Influência da temperatura na toxicidade de cobre em girinos de rã verde Pelophylax perezi. Captar 3:66–77 (in portuguese)

BRASIL (2014) Secretaria da Saúde do Estado do Rio Grande do Sul-Portaria N° 320 de 28/01/2014 (in portuguese)

David M, Marigoudar SR, Patil VK, Halappa R (2012) Behavioral, morphological deformities and biomarkers of oxidative damage as indicators of sublethal cypermethrin intoxication on the tadpoles of D. melanostictus (Schneider, 1799). Pestic Biochem Physiol 103:127–134. doi:10.1016/j.pestbp.2012.04.009

Edginton AN, Rouleau C, Stephenson GR, Boermans HJ (2006) 2, 4-D Butoxyethyl ester kinetics in embryos of Xenopus laevis: the role of the embryonic jelly coat in reducing chemical absorption. Arch Environ Contam Toxicol 52:113–120. doi:10.1007/s00244-005-0215-4

Frost DR (2017) Amphibian species of the world: an online reference. Version 6.0. American Museum of Natural History http://research.Amnh.Org/herpetology/amphibia/index.Html. Accessed 23 may 2017

Gonçalves MW, Carvalho WF, Pereira RR, Silva DM, Bastos RP, Cruz AD (2014) Avaliação de danos genômicos em anfíbios anuros do cerrado goiano. Estudos 41:89–104 (in portuguese)

Gosner KL (1960) A simplified table for staging anuran embryos and larvae with notes on identification. Herpetologica 16:183–190

Greulich K, Pflugmacher S (2004) Uptake and effects on detoxication enzymes of cypermethrin in embryos and tadpoles of amphibians. Arch Environ Contam Toxicol 47:489–495. doi:10.1007/s00244-004-2302-3

Izaguirre MF, Lajmanovich RC, Peltzer PM, Soler AP, Casco VH (2000) Cypermethrin-induced apoptosis in the telencephalon of Physalaemus biligonigerus tadpoles (Anura: Leptodactylidae). Bull Environ Contam Tox 65:501–507. doi:10.1007/s001280000152

Izaguirre MF, Marín L, Vergara MN, Lajmanovich RC, Peltzer P, Casco VH (2006) Modelos experimentales de anuros para estudiar los efectos de piretroides. Cien Docen Tec 32:181–206 (in spanish)

Johnson MS, Aubee C, Salice CJ, Leigh KB, Liu E, Pott U, Pillard D (2017) A review of ecological risk assessment methods for amphibians: comparative assessment of testing methodologies and available data. Integr Environ Assess Manag. doi:10.1002/ieam.1881

L'Hotellier M, Vincent P (1986) Assessment of the impact of deltamethrin on aquatic species. British Crop Protection Conference-Pests and Diseases, British Crop Protection Enterprises, UK, 1109–1117

Lavilla E, Kwet A, Segalla MV, Langone J, Baldo D (2010) Physalaemus gracilis. In the IUCN red list of threatened species. The IUCN red list of threatened species. Version 2017-1. www.Iucnredlist.Org. Accessed on 23 may 2017

Marino D, Ronco EA (2005) Cypermethrin and chlorpyrifos concentration levels in surface water bodies of the Pampa Ondulada, Argentina. Bull Environ Contam Toxicol 75:820–826

McDiarmid RW, Altig R (1999) Tadpoles: the biology of anuran larvae. The University of Chicago Press, Chicago and London

Montanha FP, Pimpão CT (2012) Efeitos toxicológicos de piretróides (cipermetrina e deltametrina) em peixes - Revisão. Rev Cien Elet Med Vet 18:1–58 (in portuguese)

Moraes R, Elfvendahl S, Kylin H, Molander S (2003) Pesticide residues in rivers of a Brazilian rain forest reserve: assessing potential concern for effects on aquatic life and human health. Ambio 32:258–263. doi:10.1579/0044-7447-32.4.258

Romero-Carvajal A, Sáenz-Ponce N, Venegas-Ferrín M, Almeida-Reinoso D, Lee C, Bond J, Ryan MJ, Wallingford JB, Del Pino EM (2009) Embryogenesis and laboratory maintenance of the foam-nesting túngara frogs, genus Engystomops (= Physalaemus). Dev Dyn 238:1444–1454. doi:10.1002/dvdy.21952

Sá JFOF (2015) Efeito da poluição do igarapé do Quarenta sobre a expressão gênica e da contaminação por cobre sobre o comportamento e o desenvolvimento larvário, dos anuros Rhinella granulosa e Scinax ruber. Tesis, Instituto Nacional de Pesquisas da Amazônia (in Portuguese)

Salibian A (1992) Effects of deltamethrin on the south American toad, Bufo arenarum, tadpoles. Bull Environ Contam Toxicol 48:616–621

Solomon K, Giddings J, Maund S (2001) Probabilistic risk assessment of cotton pyrethroids: I. Distributional analyses of laboratory aquatic toxicity data. Environ Toxicol Chem 20:652–659

Svartz G, Meijide F, Coll CP (2016) Effects of a fungicide formulation on embryo-larval development, metamorphosis, and gonadogenesis of the south American toad Rhinella arenarum. Environ Toxicol Pharmacol 45:1–7. doi:10.1016/j.etap.2016.05.008

Svartz GV, Pérez-Coll CS (2013) Comparative toxicity of cypermethrin and a commercial formulation on Rhinella arenarum larval development (Anura: Bufonidae). Int J Environ Health 6:320–320. doi:10.1504/IJENVH.2013.056973

Zank C, Anés A C, Colombo P, Borges-Martins M (2014) Anfíbios https://www.researchgate.net/publication/269697878_Anfibios. Accessed 16 June 2016 (in Portuguese)
Acknowledgments
Valuable help in laboratorial work was provided by Jessica Herek, Jéssica Slaviero, and Gregori B. Bieniek. We are grateful to the Federal University of Fronteira Sul—UFFS for providing logistical support.
Additional information
Responsible editor: Philippe Garrigues
About this article
Cite this article
Macagnan, N., Rutkoski, C.F., Kolcenti, C. et al. Toxicity of cypermethrin and deltamethrin insecticides on embryos and larvae of Physalaemus gracilis (Anura: Leptodactylidae). Environ Sci Pollut Res 24, 20699–20704 (2017). https://doi.org/10.1007/s11356-017-9727-5
Received:

Accepted:

Published:

Issue Date:
Keywords
Pesticides

Pyrethroids

Amphibians

Environment contamination

Aquatic organism