Abstract
Air toxics are airborne pollutants known or suspected to cause cancer or other serious health effects, including certain volatile organic compounds (VOCs), prioritized by the US Environmental Protection Agency (EPA). While several EPA-designated air toxics are monitored at a subset of Canadian National Air Pollution Surveillance (NAPS) sites, Canada has no specific "air toxics" control priorities. Although pulp and paper (P&P) mills are major industrial emitters of air pollutants, few studies quantified the spectrum of air quality exposures. Moreover, most NAPS monitoring sites are in urban centers; in contrast, rural NAPS sites are sparse with few exposure risk records. The objective of this pilot study was to investigate prioritized air toxic ambient VOC concentrations using NAPS hourly emissions data from a rural Pictou, Nova Scotia Kraft P&P town to document concentration levels, and to determine whether these concentrations correlated with wind direction at the NAPS site (located southwest of the mill). Publicly accessible Environment and Climate Change Canada data (VOC concentrations [Granton NAPS ID: 31201] and local meteorological conditions [Caribou Point]) were examined using temporal (2006–2013) and spatial analytic methods. Results revealed several VOCs (1,3-butadiene, benzene, and carbon tetrachloride) routinely exceeded EPA air toxics-associated cancer risk thresholds. 1,3-Butadiene and tetrachloroethylene were significantly higher (p < 0.05) when prevailing wind direction blew from the northeast and the mill towards the NAPS site. Conversely, when prevailing winds originated from the southwest towards the mill, higher median VOC air toxics concentrations at the NAPS site, except carbon tetrachloride, were not observed. Despite study limitations, this is one of few investigations documenting elevated concentrations of certain VOCs air toxics to be associated with P&P emissions in a community. Findings support the need for more research on the extent to which air toxics emissions exist in P&P towns and contribute to poor health in nearby communities.
Access options
Buy single article
Instant access to the full article PDF.
US$ 39.95
Tax calculation will be finalised during checkout.
Subscribe to journal
Immediate online access to all issues from 2019. Subscription will auto renew annually.
US$ 79
Tax calculation will be finalised during checkout.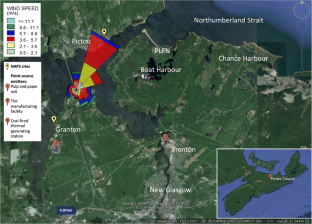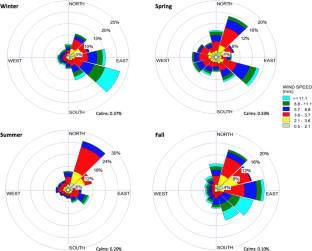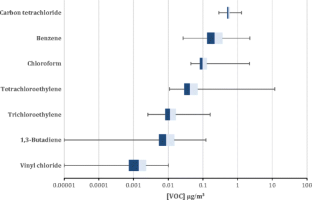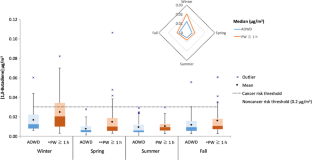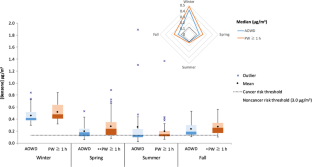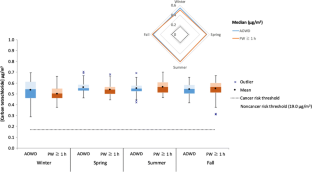 References
Agency for Toxic Substances and Disease Registry (ATSDR) (2005) Toxicological profile for carbon tetrachloride. http://www.atsdr.cdc.gov/. Accessed 15 Nov 2015

Al-Khulaifi NM, Al-Mudhaf HF, Alenezi R, Abu-Shady ASI, Selim MI (2014) Seasonal and temporal variations in volatile organic compounds in indoor and outdoor air in Al-Jahra City, Kuwait. J Environ Prot 5:310–326

An T, Huang Y, Li G, He Z, Chen J, Zhang C (2014) Pollution profiles and health risk assessment of VOCs emitted during e-waste dismantling processes associated with different dismantling methods. Environ Int 73:186–194

ATSDR (2007a) Toxicological profile for benzene. http://www.atsdr.cdc.gov/. Accessed 15 Nov 2015

ATSDR (2007b) Public health statement for benzene. http://www.atsdr.cdc.gov/. Accessed 15 Nov 2015

ATSDR (2014a) Public health statement. http://www.atsdr.cdc.gov/. Accessed 15 Nov 2015

ATSDR (2014b) Draft toxicological profile for 1,3-butadiene. http://www.atsdr.cdc.gov/. Accessed 15 Nov 2015

Bates DV, Caton RB (eds) (2002) A citizen's guide to air pollution. David Suzuki Foundation, Vancouver

Canadian Council of Ministers of the Environment (CCME) (2011) Ambient air monitoring protocol for PM2.5 and ozone: Canada-wide standards for particulate matter and ozone. http://www.ccme.ca/files/Resources/. Accessed 22 Oct 2015

Canadian Environmental Protection Act (1999) SC 1999, c 33. http://www.canlii.ca/. Accessed 5 Oct 2015

Chagger HK, Jones JM, Pourkashanian M, Williams A, Owen A, Fynes G (1999) Emission of volatile organic compounds from coal combustion. Fuel 78:1527–1538

Cicolella A (2008) Volatile organic compounds (VOC): definition, classification and properties. Rev Mal Respir 25:155–163

Clean Air Act (1970) Clean Air Act, SS 1986-87-88, c C-12.1. http://www.canlii.org. Accessed 5 Oct 2015

Clougherty JE (2010) A growing role for gender analysis in air pollution epidemiology. Environ Health Perspect 118:167–176

Commission for Environmental Cooperation (CEC) (2009) Comprehensive Assessment of North American Air Emissions Inventories and Ambient Air Monitoring Networks. http://www3.cec.org/. Accessed 30 Oct 2015

Craig L, Brook JR, Chiotti Q, Croes B, Gower S, Hedley A et al (2008) Air pollution and public health: a guidance document for risk managers. J Toxicol Environ Health A 71:588–698

Crouse DL, Peters PA, van Donkelaar A, Goldberg MS, Villeneuve PJ, Brion O et al (2012) Risk of non-accidental and cardiovascular mortality in relation to long-term exposure to low concentrations of fine particulate matter: a Canadian national-level cohort study. Environ Health Perspect 120:708–714

ECCC (2012) Facility & substance information. http://www.ec.gc.ca/. Accessed 29 March 2015

ECCC (2013a) Manual of surface weather observations. http://www.ec.gc.ca/. Accessed 16 June 2016

ECCC (2013b) Quality management systems http://www.ec.gc.ca/. Accessed 16 June 2016

ECCC (2014) National pollutant release inventory. http://www.ec.gc.ca/. Accessed 22 Feb 16

ECCC (2015a) Air and radiation. http://www3.epa.gov/air/. Accessed 18 Oct 2015

ECCC (2015b) Facility & substance information. http://www.ec.gc.ca/. Accessed 8 Sept 2016

Environment and Climate Change Canada (ECCC) (2004) National Air Pollution Surveillance network quality assurance and quality control guidelines. http://www.ec.gc.ca/. Accessed 16 June 2016

EPA (2013) A synthesis of completed community-scale air toxics ambient monitoring projects. http://www3.epa.gov/. Accessed 11 Nov 2015

EPA (2015a) About air toxics. http://www3.epa.gov/. Accessed 18 Oct 2015

EPA (2015b) Urban air toxic pollutants. http://www3.epa.gov/. Accessed 21 Sept 2015

EPA (2015c) National air toxics assessments. http://www3.epa.gov/. Accessed 21 Sept 2015

EPA (2015d) National air toxics trends station work plan template. http://www3.epa.gov/. Accessed 16 Oct 2015

Galarneau E, Wang D, Dabek-Zlotorzynska E, Siu M, Celo V, Tardif M et al (2016) Air toxics in Canada measured by the National Air Pollution Surveillance (NAPS) program and their relation to ambient air quality guidelines. J Air Waste Manage Assoc 66:184–200

Gibson MD, Kundu S, Satish M (2013) Dispersion model evaluation of PM2.5, NOx and SO2 from point and major line sources in Nova Scotia, Canada using AERMOD Gaussian plume air dispersion model. Atmos Pollut Res 4:157–167

He Z, Li G, Chen J, Huang Y, An T, Zhang C (2015) Pollution characteristics and health risk assessment of volatile organic compounds emitted from different plastic solid waste recycling workshops. Environ Int 77:85–94

Health Canada (2010) Windsor exposure assessment study (2005–2006): data summary for volatile organic compound sampling. http://publications.gc.ca/. Accessed 10 Nov 2015

Hewitt ML, Parrott JL, McMaster ME (2006) A decade of research on the environmental impacts of pulp and paper mill effluents in Canada: sources and characteristics of bio-active substances. J Toxicol Environ Health B Crit Rev 9:341–356

Hoffman E, Bernier M, Blotnicky B, Golden PG, Janes J, Kader A et al (2015) Assessment of public perception and environmental compliance at a pulp and paper facility: a Canadian case study. Environ Monit Assess 187:766

Hoffman E, Lyons J, Boxall J, Robertson C, Lake CB, Walker TR (2017) Spatiotemporal assessment (quarter century) of pulp mill metal(loid) contaminated sediment to inform remediation decisions. Environ Monit Assess 189:257. doi:10.1007/s10661-017-5952-0

Hopke PK (2016) Review of receptor modeling methods for source apportionment. J Air Waste Manag Assoc 66:237–259

Institute of Medicine (IOM) (2011) Long-term health consequences of exposure to burn pits in Iraq and Afghanistan. http://iom.nationalacademies.org/. Accessed 1 March 2016

Kelly FJ, Fussell JC (2015) Air pollution and public health: emerging hazards and improved understanding of risk. Environ Geochem Health 37:631–649

MacAskill ND, Walker TR, Oakes K, Walsh M (2016) Forensic assessment of polycyclic aromatic hydrocarbons at the former Sydney Tar Ponds and surrounding environment using fingerprint techniques. Environ Pollut 212:166–177

McCulloch A (2003) Chloroform in the environment: occurrence, sources, sinks and effects. Chemosphere 50:1291–1308

Mirabelli MC, Wing S (2006) Proximity to pulp and paper mills and wheezing symptoms among adolescents in North Carolina. Environ Res 102:96–100

Morello-Frosch RA, Woodruff TJ, Axelrad DA, Caldwell JC (2000) Air toxics and health risks in California: the public health implications of outdoor concentrations. Risk Anal 20:273–292

Northern Pulp Nova Scotia Corporation (NP) (2016a) Environment. http://www.northernpulp.ca/. Accessed 3 April 2016

Nova Scotia Department of Environment (NSE) (2014) Air Quality Health Index (AQHI). http://novascotia.ca/nse/. Accessed 27 Nov 27 2015

NP (2016b) Our company http://www.northernpulp.ca/. Accessed 3 April 2016

NSE (2015) 2015 industrial approval for NP Nova Scotia. Province of Nova Scotia Environment Act, S.N.S. 1994–95, c.1

Ogden JG III (1972) Oxygen demand of effluent from a bleached kraft pulp mill. Water Air Soil Pollut 1:365–374

Oliver JE (ed) (2008) Encyclopedia of world climatology. Springer, Dordrecht

Pascal M, Pascal L, Bidondo ML, Cochet A, Sarter H, Stempfelet M, Wagner V (2013) A review of the epidemiological methods used to investigate the health impacts of air pollution around major industrial areas. J Environ Public Health 2013:1–17

Pictou County Health Authority (PCHA) (2008) Health status profile. http://www.pcha.nshealth.ca/. Accessed 15 Nov 2015

Reid DS (1989) Pictonians, pulp mill and pulmonary diseases. Nova Scotia Med J 68:146–148

Ryerson TB, Trainer M, Holloway JS, Parrish DD, Huey LG, Sueper DT et al (2001) Observations of ozone formation in power plant plumes and implications for ozone control strategies. Science 292:719–723

Sonoma Technology, Inc (STI) (2009) Lewiston area air toxics data analysis. http://wwwnezperceorg/ Accessed 1 Nov 2105

Soskolne CL, Sieswerda LE (2010) Cancer risk associated with pulp and paper mills: a review of occupational and community epidemiology. Chronic Dis Can 29:86–100

Soto AM, Justicia H, Wray JW, Sonnenschein C (1991) p-Nonyl-phenol: an estrogenic xenobiotic released from "modified" polystyrene. Environ Health Perspect 92:167–173

Statistics Canada (2011) Households and the environment: energy use. http://www.statcan.gc.ca/. Accessed 8 Sept 2016

Statistics Canada (2013) Health profile 2013. http://www.statcan.gc.ca/. Accessed 12 Nov 2015

Toren K, Persson B, Wingren G (1996) Health effects of working in pulp and paper mills: malignant diseases. Am J Ind Med 29:123–130

U.S. Environmental Protection Agency (EPA) (1985) Survey of chloroform emission sources. http://www3.epa.gov/. Accessed 15 Oct 2015

Villeneuve PJ, Jerrett M, Su J, Burnett RT, Chen H, Brook J et al (2013) A cohort study of intra-urban variations in volatile organic compounds and mortality, Toronto, Canada. Environ Pollut 183:30–39

Walker TR, Crittenden PD, Young SD (2003a) Regional variation in the chemical composition of winter snow pack and terricolous lichens in relation to sources of acid emissions in the USA river basin, northeast European Russia. Environ Pollut 125:401–412

Walker TR, Young SD, Crittenden PD, Zhang H (2003b) Anthropogenic metal enrichment of snow and soil in north-eastern European Russia. Environ Pollut 121:11–21

WHO (2016) Ambient air pollution: a global assessment of exposure and burden of disease. http://www.who.int/. Accessed 29 Sept 2016

World Health Organization (WHO) (2006) WHO air quality guidelines for particulate matter, ozone, nitrogen dioxide and sulfur dioxide: global update 2005. http://www.who.int/ . Accessed 1 March 2016
Additional information
Responsible editor: Constantini Samara
Electronic supplementary material
About this article
Cite this article
Hoffman, E., Guernsey, J.R., Walker, T.R. et al. Pilot study investigating ambient air toxics emissions near a Canadian kraft pulp and paper facility in Pictou County, Nova Scotia. Environ Sci Pollut Res 24, 20685–20698 (2017). https://doi.org/10.1007/s11356-017-9719-5
Received:

Accepted:

Published:

Issue Date:
Keywords
Air toxics

Air quality

Volatile organic compounds (VOCs)

Community health

Pulp and paper

Cancer risk