Abstract
Sediment bacterial communities are sensitive to environmental fluctuations, particularly external input sources. Studying the relationships between bacterial community distribution and the estuarine environment is critical for understanding the river-lake confluence ecosystem and the effect of inflow-rivers on lakes. In the present study, bacterial communities from the sediments of 14 estuaries and four pelagic sites of the Taihu Lake were investigated via high-throughput sequencing. The results demonstrated that Delta-, Beta-, and Gamma-proteobacteria, Acidobacteria, Nitrospira, Bacilli, Anaerolineae, and Actinobacteria were the major classes in sediment bacterial communities of the Taihu Lake. In general, the inflow-rivers of different pollution types have distinctly different influences on sediment bacterial communities of the lake. The bacterial community composition and physicochemical properties of pelagic sites were closer to those of the estuaries of western region which was polluted by serious industrial and agricultural pollution. The bacterial community diversity of estuaries was lower than those of pelagic sites. Spearman correlation analysis indicated that α-diversity of the bacterial community was significantly correlated with C/N, total nitrogen, and total carbon in estuarine sediments. Redundancy analysis revealed that the variance in bacterial community composition was also significantly associated with C/N (24.9%) followed by total phosphorus (15.8%), nitrite (7.2%), and nitrate (7.7%) among different estuaries. This study provides a reference to understand the influence of inflow-rivers on the lake ecosystem, which offered a basic guidance for maintaining the ecological system and protecting the water environment of lacustrine basin.
This is a preview of subscription content, log in to check access.
Access options
Buy single article
Instant access to the full article PDF.
US$ 39.95
Price includes VAT for USA
Subscribe to journal
Immediate online access to all issues from 2019. Subscription will auto renew annually.
US$ 99
This is the net price. Taxes to be calculated in checkout.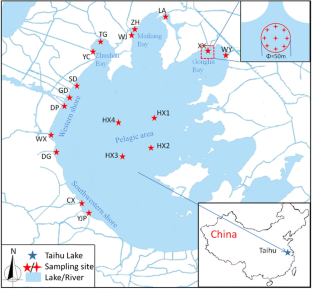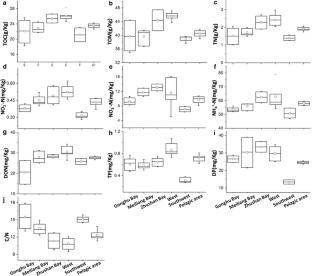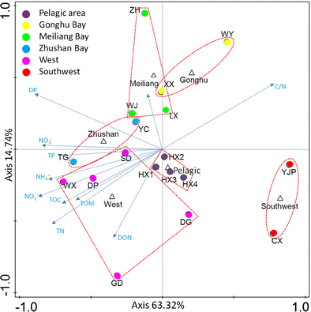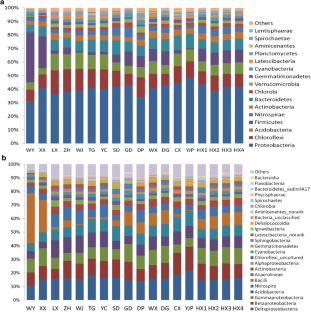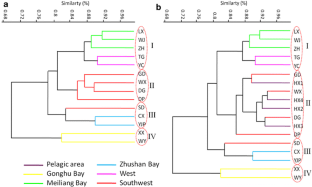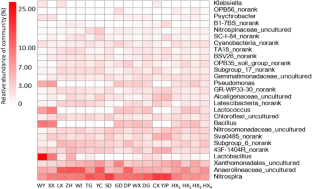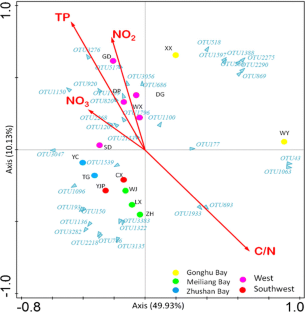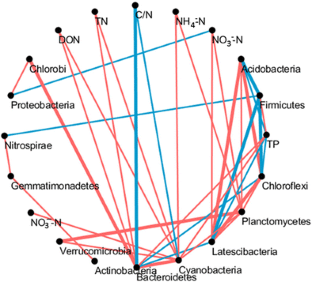 References
Altmann D, Stief P, Amann R, de Beer D, Schramm A (2003) In situ distribution and activity of nitrifying bacteria in freshwater sediment. Environ Microbiol 5(9):798–803. doi:10.1046/j.1462-2920.2003.00469.x

Baatar B, Chiang PW, Rogozin DY, Wu YT, Tseng CH, Yang CY, Chiu HH, Oyuntsetseg B, Degermendzhy AG, Tang SL (2016) Bacterial communities of three saline Meromictic Lakes in Central Asia. PLoS One 11(3):e0150847. doi:10.1371/journal.pone.0150847

Bai Y, Shi Q, Wen D, Li Z, Jefferson WA, Feng C, Tang X (2012) Bacterial communities in the sediments of Dianchi Lake, a partitioned eutrophic waterbody in China. PLoS One 7(5):e37796. doi:10.1371/journal.pone.0037796

Bao S (2008) Soil agro-chemistrical analysis. China Agriculture Press (in Chinese)

Battin TJ, Kaplan LA, Newbold JD, Cheng X, Hansen C (2003) Effects of current velocity on the nascent architecture of stream microbial biofilms. Appl Environ Microbiol 69:5443–5452

Ben-Dan TB, Shteinman B, Kamenir Y, Itzhak O (2001) Hydrodynamical effects on spatial distribution of enteric bacteria in the Jordan River—Lake Kinneret contact zone. Water Res 35(1):311–314

Besemer K, Singer G, Hodl I, Battin TJ (2009) Bacterial community composition of stream biofilms in spatially variable-flow environments. Appl Environ Microbiol 75:7189–7195

Bureau of Hydrology of Taihu Basin Authority (2015) Annual Report of Precipitation of Taihu Lake Basin 2014 (in China) http://www.tba.gov.cn/

Cai HY, Yan ZS, Wang AJ, Krumholz LR, Jiang HL (2013) Analysis of the attached microbial community on mucilaginous cyanobacterial aggregates in the eutrophic Lake Taihu reveals the importance of Planctomycetes. Microb Ecol 66(1):73–83. doi:10.1007/s00248-013-0224-1

Chen H, Shen J, Pan G, Liu J, Li J, Hu Z (2015a) Correlations between cyanobacterial density and bacterial transformation to the viable but nonculturable (VBNC) state in four freshwater water bodies. Ecotoxicology 24(7–8):1459–1466. doi:10.1007/s10646-015-1476-y

Chen N, Yang JS, Qu JH, Li HF, Liu WJ, Li BZ, Wang ET, Yuan HL (2015b) Sediment prokaryote communities in different sites of eutrophic Lake Taihu and their interactions with environmental factors. World J Microb Biot 31(6):883–896. doi:10.1007/s11274-015-1842-1

Cheng W, Zhang J, Wang Z, Wang M, Xie S (2013) Bacterial communities in sediments of a drinking water reservoir. Ann Microbiol 64(2):875–878. doi:10.1007/s13213-013-0712-z

China EPA (2002) Environmental quality standards for surface water. Ministry of Environmental Protection of P.R China GB3838-2002 (in China)

Chrost R, Adamczewski T, Kalinowska K, Skowronska A (2009) Inorganic phosphorus and nitrogen modify composition and diversity of microbial communities. Pol J Microbiol 58(1):77–90

Chrzanowski T, Grover J (2001) Effects of mineral nutrients on the growth of bacterio- and phytoplankton in two southern reservoirs. Limnol Oceanogr 46(6):1319–1330

Dai Y, Yang Y, Wu Z, Feng Q, Xie S, Liu Y (2016) Spatiotemporal variation of planktonic and sediment bacterial assemblages in two plateau freshwater lakes at different trophic status. Appl Microbiol Biotechnol 100(9):4161–4175. doi:10.1007/s00253-015-7253-2

Dang H, Li J, Chen R, Wang L, Guo L, Zhang Z, Klotz MG (2010) Diversity, abundance, and spatial distribution of sediment ammonia-oxidizing Betaproteobacteria in response to environmental gradients and coastal eutrophication in Jiaozhou Bay, China. Appl Environ Microbiol 76(14):4691–4702. doi:10.1128/AEM.02563-09

Dang H, Zhang X, Sun J, Li T, Zhang Z, Yang G (2008) Diversity and spatial distribution of sediment ammonia-oxidizing crenarchaeota in response to estuarine and environmental gradients in the Changjiang Estuary and East China Sea. Microbiol-SGM 154(7):2084–2095. doi:10.1099/mic.0.2007/013581-0

Ding X, Peng XJ, Jin BS, Xiao M, Chen JK, Li B, Fang CM, Nie M (2015) Spatial distribution of bacterial communities driven by multiple environmental factors in a beach wetland of the largest freshwater lake in China. Front Microbiol 6:129. doi:10.3389/fmicb.2015.00129

Duan H, Loiselle SA, Zhu L, Feng L, Zhang Y, Ma R (2014) Distribution and incidence of algal blooms in Lake Taihu. Aquat Sci 77(1):9–16. doi:10.1007/s00027-014-0367-2

Fagervold SK, Bourgeois S, Pruski AM, Charles F, Kerherve P, Ve'tion G, Galand PE (2014) River organic matter shapes microbial communities in the sediment of the Rhone prodelta. ISME J 8:2327–2338. doi:10.1038/ismej.2014.86

Gibbons SM, Jones E, Bearquiver A, Blackwolf F, Roundstone W, Scott N, Hooker J, Madsen R, Coleman ML, Gilbert JA (2014) Human and environmental impacts on river sediment microbial communities. PLoS One 9(5):e97435. doi:10.1371/journal.pone.0097435

Guo L (2007) Ecology: doing battle with the green monster of Taihu Lake. Science 317:1166

Haller L, Tonolla M, Zopfi J, Peduzzi R, Wildi W, Pote J (2011) Composition of bacterial and archaeal communities in freshwater sediments with different contamination levels (Lake Geneva, Switzerland). Water Res 45(3):1213–1228. doi:10.1016/j.watres.2010.11.018

Hollister EB, Engledow AS, Hammett AJ, Provin TL, Wilkinson HH, Gentry TJ (2010) Shifts in microbial community structure along an ecological gradient of hypersaline soils and sediments. ISME J 4(6):829–838. doi:10.1038/ismej.2010.3

Huang X, Hu B, Wang P, Chen X, Xu B (2016) Microbial diversity in lake–river ecotone of Poyang Lake, China. Environ Earth Sci 75(11):965. doi:10.1007/s12665-016-5473-0

Ip CC, Li XD, Zhang G, Farmer JG, Wai OW, Li YS (2004) Over one hundred years of trace metal fluxes in the sediments of the Pearl River Estuary, South China. Environ Pollut 132(1):157–172. doi:10.1016/j.envpol.2004.03.028

Li J, Zhang J, Liu L, Fan Y, Li L, Yang Y, Lu Z, Zhang X (2015a) Annual periodicity in planktonic bacterial and archaeal community composition of eutrophic Lake Taihu. Sci Rep 5:15488. doi:10.1038/srep15488

Li Y, Wang C, Zhang W, Wang P, Niu L, Hou J, Wang J, Wang L (2015b) Modeling the effects of hydrodynamic regimes on microbial communities within fluvial biofilms: combining deterministic and stochastic processes. Environ Sci Technol 49(21):12869–12878. doi:10.1021/acs.est.5b03277

Lin X, Green S, Tfaily MM, Prakash O, Konstantinidis KT, Corbett JE, Chanton JP, Cooper WT, Kostka JE (2012) Microbial community structure and activity linked to contrasting biogeochemical gradients in bog and fen environments of the Glacial Lake Agassiz Peatland. Appl Environ Microbiol 78(19):7023–7031. doi:10.1128/AEM.01750-12

Liu S, Ren H, Shen L, Lou L, Tian G, Zheng P, Hu B (2015) pH levels drive bacterial community structure in sediments of the Qiantang River as determined by 454 pyrosequencing. Front Microbiol 6:285. doi:10.3389/fmicb.2015.00285

Louati I, Pascault N, Debroas D, Bernard C, Humbert JF, Leloup J (2015) Structural diversity of bacterial communities associated with bloom-forming freshwater Cyanobacteria differs according to the cyanobacterial genus. PLoS One 10(11):e0140614. doi:10.1371/journal.pone.0140614

Martins G, Terada A, Ribeiro DC, Corral AM, Brito AG, Smets BF, Nogueira R (2011) Structure and activity of lacustrine sediment bacteria involved in nutrient and iron cycles. FEMS Microbiol Ecol 77(3):666–679. doi:10.1111/j.1574-6941.2011.01145.x

Meziti A, Tsementzi D, Ar Kormas K, Karayanni H, Konstantinidis KT (2016) Anthropogenic effects on bacterial diversity and function along a river-to-estuary gradient in Northwest Greece revealed by metagenomics. Environ Microbiol 18(12):4640–4652. doi:10.1111/1462-2920.13303

Niu L, Li Y, Wang P, Zhang W, Wang C, Wang Q (2015) Understanding the linkage between elevation and the activated-sludge bacterial community along a 3,600-meter elevation gradient in China. Appl Environ Microbiol 81(19):6567–6576. doi:10.1128/AEM.01842-15

Oikonomou A, Filker S, Breiner HW, Stoeck T (2015) Protistan diversity in a permanently stratified meromictic lake (Lake Alatsee, SW Germany). Environ Microbiol 17(6):2144–2157. doi:10.1111/1462-2920.12666

Patrick CJ (2014) Macroinvertebrate communities of ecotones between the boundaries of streams, wetlands, and lakes. Fund Appl Limnol 185(3):223–233. doi:10.1127/fal/2014/0645

Qin B, Xu P, Wu Q, Luo L, Zhang Y (2007) Environmental issues of Lake Taihu, China. Hydrobiologia 581(1):3–14. doi:10.1007/s10750-006-0521-5

Sala OE, Chapin FS, Armesto JJ, Berlow E, BloomÞeld J, Dirzo R, et al (2000) Global biodiversity scenarios for the year 2100. Science 287(5459):1770–1774

Schloss PD, Westcott SL, Ryabin T, Hall JR, Hartmann M, Hollister EB, Lesniewski RA, Oakley BB, Parks DH, Robinson CJ, Sahl JW, Stres B, Thallinger GG, Van Horn DJ, Weber CF (2009) Introducing mothur: open-source, platform-independent, community-supported software for describing and comparing microbial communities. Appl Environ Microbiol 75(23):7537–7541. doi:10.1128/AEM.01541-09

Shao K, Gao G, Qin B, Tang X, Wang Y, Chi K, Dai J (2011) Comparing sediment bacterial communities in the macrophyte-dominated and algae-dominated areas of eutrophic Lake Taihu, China. Can J Microbiol 57(4):263–272. doi:10.1139/w11-003

Sheng P, Yu Y, Zhang G, Huang J, He L, Ding J (2016) Bacterial diversity and distribution in seven different estuarine sediments of Poyang Lake, China. Environ Earth Sci 75(6):479. doi:10.1007/s12665-016-5346-6

Song H, Li Z, Du B, Wang G, Ding Y (2012) Bacterial communities in sediments of the shallow Lake Dongping in China. J Appl Microbiol 112(1):79–89. doi:10.1111/j.1365-2672.2011.05187.x

Sun MY, Dafforn KA, Brown MV, Johnston EL (2012) Bacterial communities are sensitive indicators of contaminant stress. Mar Pollut Bull 64(5):1029–1038. doi:10.1016/j.marpolbul.2012.01.035

Taihu Basin Authority of Ministry of Water Resources (2016) The health status report of Taihu Lake 2015 (in China). http://www.tba.gov.cn/

Teira E, Martínez-García S, Calvo-Díaz A, Morán XAG (2010) Effects of inorganic and organic nutrient inputs on bacterioplankton community composition along a latitudinal transect in the Atlantic Ocean. Aquat Microb Ecol 60(3):299–313. doi:10.3354/ame01435

Wan X, Huang Z, He Z, Yu Z, Wang M, Davis MR, Yang Y (2014) Soil C:N ratio is the major determinant of soil microbial community structure in subtropical coniferous and broadleaf forest plantations. Plant Soil 387(1–2):103–116. doi:10.1007/s11104-014-2277-4

Wear EK, Koepfler ET, Smith EM (2013) Spatiotemporal variability in dissolved organic matter composition is more strongly related to bacterioplankton community composition than to metabolic capability in a blackwater estuarine system. Estuar Coasts 37(1):119–133. doi:10.1007/s12237-013-9651-y

Woodhouse JN, Kinsela AS, Collins RN, Bowling LC, Honeyman GL, Holliday JK, Neilan BA (2016) Microbial communities reflect temporal changes in cyanobacterial composition in a shallow ephemeral freshwater lake. ISME J 10(6):1337–1351. doi:10.1038/ismej.2015.218

Wu Y, Xiang Y, Wang J, Zhong J, He J, Wu QL (2010) Heterogeneity of archaeal and bacterial ammonia-oxidizing communities in Lake Taihu, China. Environ Microbiol Rep 2(4):569–576. doi:10.1111/j.1758-2229.2010.00146.x

Xie Y, Wang J, Wu Y, Ren C, Song C, Yang J, Yu H, Giesy JP, Zhang X (2016) Using in situ bacterial communities to monitor contaminants in river sediments. Environ Pollut 212:348–357. doi:10.1016/j.envpol.2016.01.031

Xiong JB, Liu YQ, Lin XG, Zhang HY, Zeng J, Hou JZ, Yang YP, Yao TD, Knight R, Chu HY (2012) Geographic distance and pH drive bacterial distribution in alkaline lake sediments across Tibetan Plateau. Environ Microbiol 14(9):2457–2466. doi:10.1111/j.1462-2920.2012.02799.x

Xiong W, Xie P, Wang S, Niu Y, Yang X, Chen W (2014) Sources of organic matter affect depth-related microbial community composition in sediments of Lake Erhai, Southwest China. J Limnol 74(2):310–323. doi:10.4081/jlimnol.2014.1106

Yu J, Fan C, Zhong J, Zhang Y, Wang C, Zhang L (2016) Evaluation of in situ simulated dredging to reduce internal nitrogen flux across the sediment-water interface in Lake Taihu, China. Environ Pollut 214:866–877. doi:10.1016/j.envpol.2016.03.062

Yuan X, Knelman J, Gasarch E, Wang D, Nemergut D, Seastedt T (2016) Plant community and soil chemistry responses to long-term nitrogen inputs drive changes in alpine bacterial communities. Ecology 97(6):1543–1554

Zeng J, Yang L, Li J, Liang Y, Xiao L, Jiang L, Zhao D (2008) Vertical distribution of bacterial community structure in the sediments of two eutrophic lakes revealed by denaturing gradient gel electrophoresis (DGGE) and multivariate analysis techniques. World J Microb Biotechnol 25(2):225–233. doi:10.1007/s11274-008-9883-3

Zhang J, Yang Y, Zhao L, Li Y, Xie S, Liu Y (2015) Distribution of sediment bacterial and archaeal communities in plateau freshwater lakes. Appl Microbiol Biotechnol 99(7):3291–3302. doi:10.1007/s00253-014-6262-x

Zinger L, Amaral-Zettler LA, Fuhrman JA, Horner-Devine MC, Huse SM, Welch DB, Martiny JB, Sogin M, Boetius A, Ramette A (2011) Global patterns of bacterial beta-diversity in seafloor and seawater ecosystems. PLoS One 6(9):e24570. doi:10.1371/journal.pone.0024570

Zwirglmaier K, Keiz K, Engel M, Geist J, Raeder U (2015) Seasonal and spatial patterns of microbial diversity along a trophic gradient in the interconnected lakes of the Osterseen Lake District, Bavaria. Front Microbiol 6:1168. doi:10.3389/fmicb.2015.01168
Acknowledgements
This study was supported by National Natural Science Foundation of China [grant numbers 91547105, 51479066, and 51679064]; the Foundation for Innovative Research Groups of the National Natural Science Foundation of China [grant number 51421006]; Priority Academic Program Development of Jiangsu Higher Education Institutions, and the Top-Notch Academic Programs Project of Jiangsu Higher Education Institutions [PPZY2015A051]; and Fundamental Research Funds for the Central Universities [grant number 2016B10614].
Additional information
Responsible editor: Robert Duran
Electronic supplementary material
About this article
Cite this article
Wu, H., Li, Y., Zhang, J. et al. Sediment bacterial communities in a eutrophic lake influenced by multiple inflow-rivers. Environ Sci Pollut Res 24, 19795–19806 (2017). https://doi.org/10.1007/s11356-017-9602-4
Received:

Accepted:

Published:

Issue Date:
Keywords
Lake ecosystem

Estuary

Sediment

Bacterial diversity

Community composition