Abstract
Information on the detection of pesticides in fresh water Lakes of Kashmir (Dal and Mansbal) through GC–MS technique is scarce, and also the recovery in biochemical parameters (AST, ALT and ALP) of fish after transferring them to clean media has not been reported yet. The water samples were collected from three sites and analyzed for their pesticide profile by dispersive liquid–liquid micro extraction (DLLME) followed by GC–MS. Influence of pesticides on liver marker enzymes of Cyprinus carpio and Carassius carassius was also investigated. The results obtained showed the presence of three main pesticides viz. chlorpyrifros, dimethoate and dichlorvos in waters of Dal Lake whereas no pesticide was detected in waters of Mansbal. The higher values for AST, ALT and ALP activities and decrease in protein content were obtained in the samples from the Dal Lake compared with those from Mansbal Lake (p < 0.05). These data when compared with the values found in C. carpio and C. carassius from both the Dal Lake and Mansbal Lake kept under laboratory conditions after 15, 30, 45 and 60 days of maintenance in clean media found that during depuration, all the enzyme activities came down significantly (p < 0.05) indicating the compensatory response by the fish against the pesticide stress. Therefore, these parameters could be used as indicators of pesticide pollution in aquatic organisms and were recommended for environmental monitoring for investigating the mechanism involved in the recovery pattern.
This is a preview of subscription content, log in to check access.
Access options
Buy single article
Instant access to the full article PDF.
US$ 39.95
Price includes VAT for USA
Subscribe to journal
Immediate online access to all issues from 2019. Subscription will auto renew annually.
US$ 99
This is the net price. Taxes to be calculated in checkout.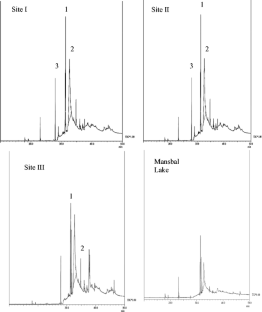 References
Adams SM (2002) Biological indicators of aquatic ecosystem stress. American Fisheries Society 644pp

APHA, AWWA, WPCF (2005) Standard methods for the examination of water and wastewater, 21sted edn. American Publication of Health Association, Washington 1360pp

Banday M, Dhar J, Shafiqa K, Sabia AQ, Ahmad I (2012) Contamination of freshwater fish Schizothorax niger with chlorpyrifos from Dal Lake basins, India. Int J Pharm Sci Res 3:42–535

Barse AV, Chakrabarti TT, Ghosh K, Pal AK, Jadhao SB (2006) One-tenth dose of LC 50 of 4-tert-butyl phenol causes endocrine disruption and metabolic changes in Cyprinus carpio. Pestic Biochem Physiol 86:172–179

Begum G (2004) Carbofuran insecticide induced biochemical alterations in liver and muscle tissues of the fish Clarias batrachus (linn) and recovery response. Aquat Toxicol 66:83–92

Begum G (2005) In vivo biochemical changes in liver and gill of Clarias batrachus during cypermethrin exposure and following cessation of exposure. Pestic Biochem Physiol 82:185–196

Begum G (2008) Assessment of biochemical markers of carbofuran toxicity and recovery response in tissues of the freshwater teleost, Clarias batrachus (Linn). Bull Environ Contam Toxicol 81:480–484

Cavas T (2011) In vivo genotoxicity evaluation of atrazine and atrazine–based herbicide on fish Carassius auratus using the micronucleus test and the comet assay. Food Chem Toxicol 49:1431–1435

Cavas T, Ergene-Gozukara S (2005) Induction of micronuclei and nuclear abnormalities in Oreochromis niloticus following exposure to petroleum refinery and chromium processing plant effluents. Aquat Toxicol 74(3):264–271

Cavas T, Konen S (2008) In vivo genotoxicity testing of the amnesic shellfish poison (domoic acid) in piscine erythrocytes using the micronucleus test and the comet assay. Aquat Toxicol 90:154–159

Ccanccapa A, Masiá A, Andreu V, Picó Y (2016) Spatio-temporal patterns of pesticide residues in the Turia and Júcar Rivers (Spain). Sci Total Environ 540:200–210

Cortada C, Vidal L, Pastor R, Santiago N, Canals A (2009) Determination of organochlorine pesticides in water samples by dispersive liquid–liquid microextraction coupled to gas chromatography-mass spectrometry. Anal Chim Acta 649:218–221

Dar SA, Yousuf AR, Ganai FA, Bhat FA (2015) Assessment of endosulfan induced genotoxicity and mutagenicity manifested by oxidative stress pathways in freshwater cyprinid fish crucian carp (Carassius carassius L.) Chemosphere 120:273–283

De la Torre FR, Salibian A, Ferrari L (2000) Biomarkers assessment in juvenile Cyprinus carpio exposed to waterborne cadmium. Environ Pollut 109:277–282

De la Torre FR, Salibian A, Ferrari L (2007) Assessment of the pollution impact on biomarkers of effect of a freshwater fish. Chemosphere 68:1582–1590

Donohue I, Mc Garrigle ML, Mills P (2006) Linking catchment characteristics and water chemistry with the ecological status of Irish rivers. Water Res 40:91–98

Edmondson WT (1961) Changes in Lake Washington following an increase in the nutrient income. Verhandlungen Internationale Vereinigung Limnologie 14:167–175

Faria AM, Maldaner L, Santana CC, Jardim IC, Collins CH (2007) Poly (methyl tetra decyl siloxane) immobilized onto silica for extraction of multiclass pesticides from surface waters. Anal Chim Acta 582(1):34–40

Gholami-Seyedkolaei SJ, Mirvaghefi AH, Farahmand H, Kosari AA (2013) Effect of a glyphosate-based herbicide in Cyprinus carpio: assessment of acetyl cholinesterase activity, hematological responses and serum biochemical parameters. Ecotoxicol Environ Saf 98:135–141

Gornall AG, Bardawill CJ, David MM (1949) Determination of serum proteins by means of the biuret reaction. J Biol Chem 177(2):751–766

Hossain MS, Chowdhury MAZ, Pramanik MK, Rahman MA, Fakhruddin ANM, Alam MK (2015) Determination of selected pesticides in water samples adjacent to agricultural fields and removal of organophosphorus insecticide chlorpyrifos using soil bacterial isolates. Appl Water Sci 5:171–179

Kim W, Flamm SL, Di Bisceglie AM, Bodenheimer HC (2008) Serum activity of alanine aminotransferase (ALT) as an indicator of health and disease. Hepatology 47:1363–1370

Koukal B, Dominik J, Vignati D, Arpagaus P, Santiago S, Ouddane B, Benaabidate L (2004) Assessment of water quality and toxicity of polluted Rivers Fez and Sebou in the region of Fez (Morocco). Environ Pollut 1311:63–172

Luskova V, Svoboda M, Kolarova J (2002) Effect of diazinon on blood plasma biochemistry in carp (Cyprinus carpio L.) Acta Vet Brno 71:117–123

OECD (1982) Eutrophication of waters. Monitoring, assessment and control. Organisation for Economic Co-operation and Development, Paris 154 pp

Ohle W (1956) Bioactivity, production, and energy utilization of lakes. Limnol Oceanogr:1139–1149

Pandit AK, Yousuf AR (2002) Trophic status of Kashmir Himalayan lakes as depicted by water chemistry. Journal of Research and Development 2:1–12

Pari L, Amali DR (2005) Protective role of tetra hydro curcumin (THC) an active principle of turmeric on chloroquine induced hepatotoxicity in rats. J Pharm Pharm Sci 823–115

Popović NT, Strunjak-Perović I, Barišić J, Kepec S, Jadan M, Beer-Ljubić BJ, Kljusurić G (2016) Native Prussian carp (Carassius gibelio) health status, biochemical and histological responses to treated wastewaters. Environ Pollut 218:689–701

Qayoom I, Shah FA, Mukhtar M, Balkhi MH, Bhat FA, Bhat BA (2016) Dimethoate induced behavioral changes in juveniles of Cyprinus carpio var.communis under temperate conditions of Kashmir, India. Sci World J. doi:10.1155/2016/4726126

Ramesh M, Saravanan M (2008) Hematological and biochemical responses in a freshwater fish Cyprinus carpio exposed to chlorpyrifos. Int J Integr Biol 3:80–83

Rao JV (2006) Biochemical alterations in euryhaline fish, Oreochromis mossambicus exposed to sub-lethal concentrations of an organophosphorus insecticide, monocrotophos. Chemosphere 65:1814–1820

Rawson DS (1939) Some physical and chemical factors in the metabolism of lakes. In problems of Lake biology. Publication of the American Association for the Advancement of Science 486:9–26

Remia KM, Logaswamy SK, Logankumar, Rajmohan D (2008) Effect of an insecticide (Monocrotophos) on some biochemical constituents of the fish Tilapia mossambica. Pollut Res 27:523–526

Saleh YS, Marie MAS (2016) Use of Arius thalassinus fish in a pollution biomonitoring study, applying combined oxidative stress, hematology, biochemical and histopathological biomarkers: a baseline field study. Mar Pollut Bull 106:308–322

Samanta P, Pal S, Mukherjee AK, Senapati T, Ghosh AR (2014) Effects of almix herbicide on metabolic enzymes in different tissues of three teleostean fishes Anabas testudineus, Heteropneustes fossilis and Oreochromis niloticus. International Journal of Scientific Research in Environmental Sciences 21:56

Saravanan M, Kumar KP, Ramesh M (2011) Hematological and biochemical responses of freshwater teleost fish Cyprinus carpio (Actinopterygii: Cypriniformes) during acute and chronic sublethal exposure to lindane. Pestic Biochem Physiol 100:206–211

Sepici-Dincel A, Benli ACK, Selvi M, Sarıkaya R, Sahin D, Ozkul IA, Erkoc F (2009) Sublethal cyfluthrin toxicity to carp (Cyprinus carpio L.) fingerlings: biochemical, hematological, histopathological alterations. Ecotoxicol Environ Saf 72:1433–1439

Shaffi SA (1978) Effect of starvation on tissue and serum gluconeogenic enzymes, alkaline phosphatase and tissue glycogen in the freshwater catfish, Heteropneustes fossilis (Bloch). Acta Physiologica Academiae Scientiarum Hungaricae 53:501–505

Shamsipur M, Yazdanfar N, Ghambarian M (2016) Combination of solid-phase extraction with dispersive liquid–liquid microextraction followed by GC–MS for determination of pesticide residues from water, milk, honey and fruit juice. Food Chem 204:289–297

Shegefti S, Sereshti H, Samadi S (2010) Determination of endosulfan in water samples using dispersive liquid-liquid micro-extraction and experimental design for optimization. International Journal of Environmental Research 4:237–246

Ugokwe CU, Awobode HO (2015) Alterations in water quality, enzyme levels and aematology of Oreochromis niloticus (Nile Tilapia) from River Ogun at Abeokuta Nigeria. Int Res J Environ Sci 41–9

Van der Oost R, Beyer J, Vermeulen NP (2003) Fish bioaccumulation and biomarkers in environmental risk assessment: a review. Environ Toxicol Pharmacol 13(2):57–149

Vega FC, Sancho E, Ferrando MD, Andreu E (2002) Thio bencarb induced changes in acetyl cholinesterase activity of the fish Anguilla anguilla. Pestic Biochem Physiol 72:55–63

Zargar UR, Yousuf AR, Chishti MZ, Ahmed F, Bashir H (2012) Effects of water quality and trophic status on helminth infections in the cyprinid fish, Schizothorax niger Heckel, 1838 from three lakes in the Kashmir Himalayas. J Helminthol 86(1):70–76
Acknowledgments
The authors are grateful to the Director, Centre of Research for Development (CORD), University of Kashmir, India, for providing the necessary research facilities. The first author also thanks Dr. Ajay Kumar, In-charge GC–MS, Advanced Instrumentation Research Facility (AIRF), Jawaharlal Nehru University, New Delhi, for cordially providing the GC–MS facility.
Additional information
Responsible editor: Cinta Porte
About this article
Cite this article
Meraj, M., Ali, M.N., Ganai, B.A. et al. Alterations in liver marker enzymes and recovery ability of cyprinids as indicators of aquatic pollution. Environ Sci Pollut Res 24, 19149–19158 (2017). https://doi.org/10.1007/s11356-017-9572-6
Received:

Accepted:

Published:

Issue Date:
Keywords
DLLME

GC–MS

Pesticides

Water

Fish

Liver marker enzymes

Recovery