Abstract
As the most important fishery medicines, sulfonamides are widely used to prevent diseases caused by pathogens in aquaculture. However, relatively little is known about the residues and dietary risks associated with cultured fish around Tai Lake. In the present study, a sampling strategy for a complete aquaculture period was conducted. Specifically, 12 selected sulfonamide antibiotics were measured among 116 fish samples recruited from four sampling periods, four species, four areas, and 18 fish ponds. All 12 antibiotics were detected at detection frequencies of 4.31–28.45%. Total sulfonamides were detected in 77.59% of the fish samples, with 57.76% of fish samples containing from 0.1 to 10 μg kg−1. Sulfadiazine (SDZ), sulfamethoxazole (SMZ), sulfamethazine (SDD), and sulfamonomethoxine (SMM) were the main types of antibiotics used, and these were present at high concentrations (>100 μg kg−1) with high occurrences, especially in the middle of the aquaculture season. Dietary assessment showed that residual antibiotics in all fish that were being sent to market were far below the maximum residue limit (MRL) of total sulfonamides and that there was almost no risk associated with fish consumption. The results of the present study will facilitate development of effective measures to produce safe aquatic products and meaningful suggestions for consuming aquatic products.
This is a preview of subscription content, log in to check access.
Access options
Buy single article
Instant access to the full article PDF.
US$ 39.95
Price includes VAT for USA
Subscribe to journal
Immediate online access to all issues from 2019. Subscription will auto renew annually.
US$ 99
This is the net price. Taxes to be calculated in checkout.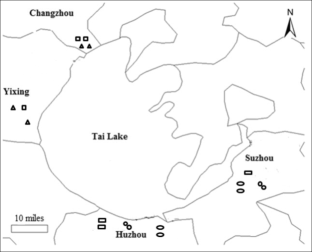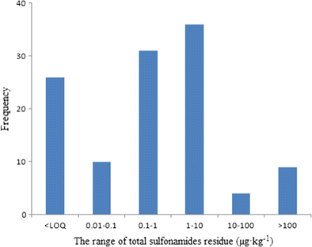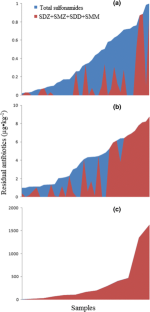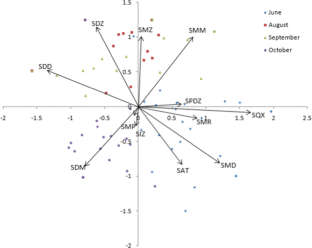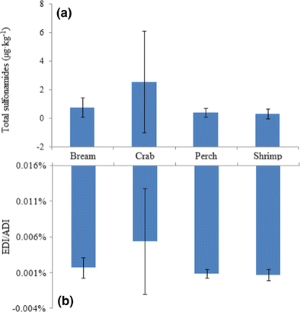 References
Bódis M, Kucska B, Bercsényi M (2007) The effect of different diets on the growth and mortality of juvenile pikeperch (Sander lucioperca) in the transition from live food to formulated feed. Aquac Int 15(1):83–90

Bosma RH, Verdegem MCJ (2011) Sustainable aquaculture in ponds: principles, practices and limits. Livest Sci 139(1–2):58–68

Cao L, Naylor R, Henriksson P, Leadbitter D, Metian M, Troell M, Zhang W (2015) China's aquaculture and the world's wild fisheries. Science 347(6218):133–135

Carvalho IT, Santos L (2016) Antibiotics in the aquatic environments: a review of the European scenario. Environ Int 94:736–757

Daniel B, Franqois G, Pierre L (2014) Numerical ecology with R. High Edication Press, Beijing

Ferreira CIA, Calisto V, Otero M, Nadais H, Esteves VI (2017) Removal of tricaine methanesulfonate from aquaculture wastewater by adsorption onto pyrolysed paper mill sludge. Chemosphere 168:139–146

Finley RL, Collignon P, Larsson DGJ, McEwen SA, Li X-Z, Gaze WH, Reid-Smith R, Timinouni M, Graham DW, Topp E (2013) The scourge of antibiotic resistance: the important role of the environment. Clin Infect Dis 57(5):704–710

Fishery Bureau, M.o.A., China (2016) China fishery statistical yearbook. China Agriculture Press, Beijing, pp 1–10

Gauthier GM, Keller NP (2013) Crossover fungal pathogens: the biology and pathogenesis of fungi capable of crossing kingdoms to infect plants and humans. Fungal Genet Biol 61:146–157

Han D, Shan X, Zhang W, Chen, Y, Wang, Q, Li, Z, Zhang G, Xu P, Li J, Xie S, Mai K, Tang Q, De Silva SS (2016) A revisit to fishmeal usage and associated consequences in Chinese aquaculture. Rev Aquac 1–15

He XT, Wang Q, Nie XP, Yang YT, Cheng Z (2013) Residues and health risk assessment of sulfonamides in sediment and fish from typical marine aquaculture regions of Guangdong Provinces, China. Environ Sci 35(7):2728–2734

He X, Deng M, Wang Q, Yang Y, Yang Y, Nie X (2016) Residues and health risk assessment of quinolones and sulfonamides in cultured fish from Pearl River Delta, China. Aquaculture 458:38–46

Hou L, Yin G, Liu M, Zhou J, Zheng Y, Gao J, Zong H, Yang Y, Gao L, Tong C (2015) Effects of sulfamethazine on denitrification and the associated N2O release in estuarine and coastal sediments. Environ Sci Technol 49(1):326–333

JECFA (1998) Summary of evaluations performed by the Joint FAO/WHO Expert Committee on Food Additives, pp. http://apps.who.int/food-additives-contaminants-jecfa-database/chemical.aspx?chemID=597

Li N, Zhang X, Wu W, Zhao X (2014) Occurrence, seasonal variation and risk assessment of antibiotics in the reservoirs in North China. Chemosphere 111:327–335

Liu B, Pop M (2009) ARDB—antibiotic resistance genes database. Nucleic Acids Res 37(Database issue):D443–D447

Makkar HPS (2016) State-of-the-art on detoxification of Jatropha curcas products aimed for use as animal and fish feed: a review. Anim Feed Sci Technol 222:87–99

Ministry of Agriculture (2002) The announcement (The 235th) of Ministry of Agriculture, China, http://www.moa.gov.cn/zwllm/nybz/200803/t20080304_1028649.htm

Ministry of Agriculture (2007) Specification for the application of sulfonamides in aquaculture (SC/T 1083–2007): China Agriculture Press, Beijing, pp 1–5

Ministry of Health (2016) National action plan to contain antimicrobial resistance (2016–2020) pp. http://en.nhfpc.gov.cn/2016-2008/2026/c_70276.htm

Muziasari WI, Pärnänen K, Johnson TA, Lyra C, Karkman A, Stedtfeld RD, Tamminen M, Tiedje JM, Virta M (2016) Aquaculture changes the profile of antibiotic resistance and mobile genetic element associated genes in Baltic Sea sediments. FEMS Microbiol Ecol 92(4)

Ottinger M, Clauss K, Kuenzer C (2016) Aquaculture: relevance, distribution, impacts and spatial assessments—a review. Ocean Coast Manag 119:244–266

Rico A, Oliveira R, McDonough S, Matser A, Khatikarn J, Satapornvanit K, Nogueira AJA, Soares AMVM, Domingues I, Van den Brink PJ (2014) Use, fate and ecological risks of antibiotics applied in tilapia cage farming in Thailand. Environ Pollut 191:8–16

Roose-Amsaleg C, Laverman AM (2016) Do antibiotics have environmental side-effects? Impact of synthetic antibiotics on biogeochemical processes. Environ Sci Pollut Res 23(5):4000–4012

Schmieder R, Edwards R (2011) Insights into antibiotic resistance through metagenomic approaches. Future Microbiol 7(1):73–89

Song C, Zhang C, Fan L, Qiu L, Wu W, Meng S, Hu G, Kamira B, Chen J (2016) Occurrence of antibiotics and their impacts to primary productivity in fishponds around Tai Lake, China. Chemosphere 161:127–135

Syed S, Felipe C, Trine AL, Alexandra T, Henry G, Alejandro B, Henning S (2014) Antimicrobial resistance and antimicrobial resistance genes in marine bacteria from salmon aquaculture and non-aquaculture sites. Environ Microbiol 16(5):1310–1320

Xiong W, Sun Y, Zhang T, Ding X, Li Y, Wang M, Zeng Z (2015) Antibiotics, antibiotic resistance genes, and bacterial community composition in fresh water aquaculture environment in China. Microb Ecol 70(2):425–432

Zhang L, Li J, Zhao Y, Li X, Wen S, Shen H, Wu Y (2013) Polybrominated diphenyl ethers (PBDEs) and indicator polychlorinated biphenyls (PCBs) in foods from China: levels, dietary intake, and risk assessment. J Agric Food Chem 61(26):6544–6551

Zhang Q, Jia A, Wan Y, Liu H, Wang K, Peng H, Dong Z, Hu J (2014) Occurrences of three classes of antibiotics in a Natural River basin: association with antibiotic-resistant Escherichia coli. Environ Sci Technol 48(24):14317–14325

Zhang Q-Q, Ying G-G, Pan C-G, Liu Y-S, Zhao J-L (2015) Comprehensive evaluation of antibiotics emission and fate in the river basins of China: source analysis, multimedia modeling, and linkage to bacterial resistance. Environ Sci Technol 49(11):6772–6782

Zhao HJ, Yang BB, Hao Y, Chen RY, Li RH, Cen J, Chen F, Huo Q, Liu JF (2015) The actualities and counter measures of export tilapia in China. J Food Saf Qual 6(12):5100–5106

Zhong L, Song C, Chen X, Deng W, Xiao Y, Wang M, Qin Q, Luan S, Kong J, Bian W (2016) Channel catfish in China: historical aspects, current status, and problems. Aquaculture 465:367–373

Zhou X, Qiao M, Wang F-H, Zhu Y-G (2016) Use of commercial organic fertilizer increases the abundance of antibiotic resistance genes and antibiotics in soil. Environ Sci Pollut Res:1–10
Acknowledgements
The authors acknowledge the constructive comments of anonymous reviewers. This work was supported by the National Nonprofit Institute Research Grant of the FFRC (2017JBFM09) and the National Quality and Safety Project of the Aquatic Product of China (GJFP201600903).
Additional information
Chao Song and Le Li are the authors who contributed equally to this work.
Responsible editor: Philippe Garrigues
About this article
Cite this article
Song, C., Li, L., Zhang, C. et al. Occurrence and human dietary assessment of sulfonamide antibiotics in cultured fish around Tai Lake, China. Environ Sci Pollut Res 24, 17493–17499 (2017). https://doi.org/10.1007/s11356-017-9442-2
Received:

Accepted:

Published:

Issue Date:
Keywords
Detection frequency

Dietary assessment

Sulfonamide antibiotics

Aquaculture