Abstract
A holistic assessment procedure has been used in this study for comparing conventional activated sludge (CAS) and membrane bioreactor (MBR) processes for the treatment of municipal wastewater. Technical, social, administrative, economic and environmental impacts have been evaluated based on 1 year of operational data from three full-scale lines (one MBR and two CAS) working in parallel in a large municipal treatment plant. The comparative assessment evidences a slight advantage of the conventional process in the studied case, essentially due to lower costs, complexity and energy consumption. On the other hand, the MBR technology has a better social acceptance and similar overall environmental footprint. Although these results are influenced by site-specific parameters and cannot be generalized, the assessment procedure allowed identifying the most important factors affecting the final scores for each technology and the main differences between the compared technologies. Local conditions can affect the relative importance of the assessed impacts, and the use of weighting factors is proposed for better tailoring the comparative assessment to the local needs and circumstances. A sensitivity analysis on the weighted final scores demonstrated how local factors are very important and must be carefully evaluated in the decision making process.
This is a preview of subscription content, log in to check access.
Access options
Buy single article
Instant access to the full article PDF.
US$ 39.95
Price includes VAT for USA
Subscribe to journal
Immediate online access to all issues from 2019. Subscription will auto renew annually.
US$ 99
This is the net price. Taxes to be calculated in checkout.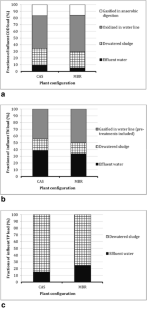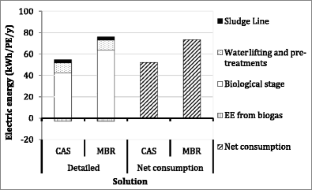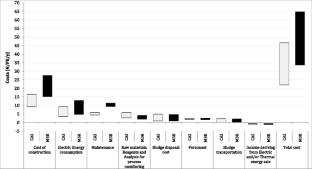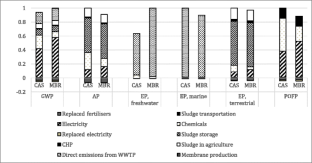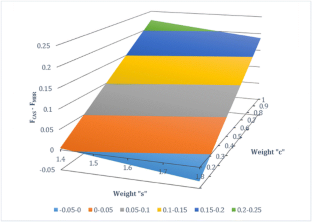 References
Achillas C, Moussiopoulos N, Karagiannidis A, Banias G, Perkoulidis G (2013) The use of multi-criteria decision analysis to tackle waste management problems: a literature review. Waste Manag Res 31(2):115–129. doi:10.1177/0734242X12470203

Bertanza G, Pedrazzani R, Dal Grande M, Papa M, Zambarda V, Montani C, Steimberg N, Mazzoleni G, Di Lorenzo D (2011) Effect of biological and chemical oxidation on the removal of estrogenic compounds (NP and BPA) from wastewater: an integrated assessment procedure. Water Res 45:2473–2484. doi:10.1016/j.watres.2011.01.026

Bertanza G, Papa M, Canato M, Collivignarelli MC, Pedrazzani R (2014) How can sludge dewatering devices be assessed? Development of a new DSS and its application to real case studies. J Environ Manag 137:86–92. doi:10.1016/j.envman.2014.02.002

Bertanza G, Canato M, Laera G, Tomei MC (2015) Methodology for technical and economic assessment of advanced routes for sludge processing and disposal. Environ Sci Pollut Res 22:7190–7202. doi:10.1007/s11356-014-3088-0

Bertanza G, Baroni P, Canato M (2016) Ranking sewage sludge management strategies by means of decision support systems: a case study. Resour Conserv Recycl 110:1–15. doi:10.1016/j.resconrec.2016.03.011

Brepols C, Schafer H, Engelhardt N (2010) Considerations on the design and financial feasibility of full-scale membrane bioreactors for municipal applications. Water Sci Technol 61(10):2461–2468. doi:10.2166/wst.2010.179

Camacho-Munoz D, Martin J, Santos JL, Alonso E, Aparicio I, De la Torre T, Rodriguez C, Malfeito JJ (2012) Effectiveness of three configurations of membrane bioreactors on the removal of priority and emergent organic compounds from wastewater: comparison with conventional wastewater treatments. J Environ Monit 14:1428–1436. doi:10.1039/c2em00007e

Campanelli M, Foladori P, Vaccari M (2013) Consumi elettrici ed efficienza energetica nel trattamento delle acque reflue (Energy consumptions and electric efficiency in the WWTPs). Maggioli Editore. ISBN: 9788838783685

Chiellini C, Munz G, Petroni G, Lubello C, Mori G, Verni F, Vannini C (2013) Characterization and comparison of bacterial communities selected in conventional activated sludge and membrane bioreactor pilot plants: a focus on Nitrospira and Planctomycetes bacterial phyla. Curr Microbiol 67(1):77–90. doi:10.1007/s00284-013-0333-6

De Luca G, Sacchetti R, Leoni E, Zanetti F (2013) Removal of indicator bacteriophages from municipal wastewater by a full-scale membrane bioreactor and a conventional activated sludge process: implications to water reuse. Bioresour Technol 129:526–531. doi:10.1016/j.biortech.2012.11.113

EC-JRC (2010) ILCD Handbook - International Reference Life Cycle Data System, European Union

EC-JRC (2011) ILCD Handbook - International Reference Life Cycle Data System - Recommmendation for Life Cycle Impact Assessment in the European context, European Union

Fenu A, Roels J, Wambecq T, De Gussem K, Thoeye C, De Gueldre G, Van De Steene B (2010) Energy audit of a full scale MBR system. Desalination 262:121–128. doi:10.1016/j.desal.2010.05.057

Francy DS, Stelzer EA, Bushon RN, Brady AMG, Williston AG, Riddell KR, Borchardt MA, Spencer SK, Gellner TM (2012) Comparative effectiveness of membrane bioreactors, conventional secondary treatment, and chlorine and UV disinfection to remove microorganisms from municipal wastewaters. Water Res 46:4164–4178. doi:10.1016/j.watres.2012.04.044

Gil JA, Túa L, Rueda A, Montaño B, Rodríguez M, Prats D (2010) Monitoring and analysis of the energy cost of an MBR. Desalination 250:997–1001. doi:10.1016/j.desal.2009.09.089

Gnirss R, Dittrich J (2001) Microfiltration of municipal wastewater for disinfection and advanced phosphorus removal: results from trials with different small-scale pilot plants. Water Environ Res 72(5):602–609. doi:10.2175/106143000X138184

Gonzalez S, Petrovic M, Barcelò D (2007) Removal of a broad range of surfactants from municipal wastewater—comparison between membrane bioreactor and conventional activated sludge treatment. Chemosphere 67:335–343. doi:10.1016/j.chemosphere.2006.09.056

Hai FI, Yamamoto K, Lee CH (2014) Membrane Biological Reactors. IWA Publishing, London

Hospido A, Sanchez I, Rodriguez-Garcia G, Iglesias A, Buntner D, Reif R, Moreira MT, Feijoo G (2012) Are all membrane reactors equal from an environmental point of view? Desalination 285:263–270

Ioannou-Ttofa L, Foteinis S, Chatzisymeon E, Fatta-Kassinos D (2016) The environmental footprint of a membrane bioreactor treatment process through life cycle analysis. Sci Total Environ 568:306–318

Judd S, Judd C (2011) The MBR book. Principles and applications of membrane bioreactors for water and wastewater treatment. 2nd Edition, Elsevier Ltd.. ISBN: 9780080966823

Lazarova V, Martin Ruel S, Berillon B, Dauthuille P (2012) The role of MBR technology for the improvement of environmental footprint of wastewater treatment. Water Sci Technol 66(10):2056–2064

Lesjean B, Tazi-Pain A, Thaure D, Moeslang H, Buisson H (2011) Ten persistent myths and the realities of membrane bioreactor technology for municipal applications. Water Sci Technol 63(1):32–39. doi:10.2166/wst.2011.005

Lindtner S, Schaar H, Kroiss H (2008) Benchmarking of large municipal wastewater treatment plants treating over 100,000 PE in Austria. Water Sci Technol 57(10):1487–1493. doi:10.2166/wst.2008.214

Nielsen PH, Mielczarek AT, Kragelund C, Nielsen JL, Saunders AM, Kong Y, Hansen AA, Vollertsen J (2010) A conceptual ecosystem model of microbial communities in enhanced biological phosphorus removal plants. Water Res 44:5070–5088. doi:10.1016/j.watres.2010.07.036

Radjenovic J, Petrovic M, Barcelo M (2009) Fate and distribution of pharmaceuticals in wastewater and sewage sludge of the conventional activated sludge (CAS) and advanced membrane bioreactor (MBR) treatment. Water Res 43:831–841. doi:10.1016/j.watres.2008.11.043

Sahar E, Messalem R, Cikurel H, Aharoni A, Brenner A, Godehardt M, Jekel M, Ernst M (2011) Fate of antibiotics in activated sludge followed by ultrafiltration (CAS-UF) and in a membrane bioreactor (MBR). Water Res 45:4827–4836. doi:10.1016/j.watres.2011.06.023

Saunders AM, Larsen P, Nielsen PH (2013) Comparison of nutrient-removing microbial communities in activated sludge from full-scale MBRs and conventional plants. Water Sci Technol 68(2):366–371. doi:10.2166/wst.2013.183

Sun J, Xiao K, Yan X, Liang P, Shen Y-X, Zhu N, Huang X (2015) Membrane bioreactor vs. oxidation ditch: full-scale long-term performance related with mixed liquor seasonal characteristics. Process Biochem 50:2224–2233. doi:10.1016/j.procbio.2015.09.010

Svanström M, Bertanza G, Bolzonella D, Canato M, Collivignarelli C, Heimersson S, Laera G, Mininni G, Peters G, Tomei MC (2014) Technical, economic and environmental benchmarking of advanced sludge processing routes. Water Sci Technol 69:2407–2416. doi:10.2166/wst.2014.092

Tomei MC, Bertanza G, Canato M, Heimersson S, Laera G, Svanström M (2015) Techno-economic and environmental assessment of upgrading alternatives for sludge stabilization in municipal wastewater treatment plants. J Clean Prod 112:3106–3115. doi:10.1016/ j.jclepro.2015.10.017

US EPA - Environmental Protection Agency (2014) Catalog of CHP technologies. U.S. Environmental Protection Agency, Washington

Wozniak T (2012) Comparison of a conventional municipal plant, and an MBR plant with and without MPE. Desalin Water Treat 47:341–352. doi:10.1080/19443994.2012.672186
Acknowledgements
Authors are grateful to the managing staff of the Verziano-Brescia (Italy) WWTP (A2A S.p.A). A special thanks also to Eng. Patrizia Quinzani for her contribution in the first phase of data collection and processing.
This research did not receive any specific grant from funding agencies in the public, commercial or not-for-profit sectors.
Additional information
Responsible editor: Bingcai Pan
Electronic supplementary material
About this article
Cite this article
Bertanza, G., Canato, M., Laera, G. et al. A comparison between two full-scale MBR and CAS municipal wastewater treatment plants: techno-economic-environmental assessment. Environ Sci Pollut Res 24, 17383–17393 (2017). https://doi.org/10.1007/s11356-017-9409-3
Received:

Accepted:

Published:

Issue Date:
Keywords
Comparison

Costs

Environmental impact

Multicriteria analysis

Score

Technical aspects