Abstract
Nineteen polychlorinated biphenyl (PCB) congeners, such as 2,2′,3,3′,6-pentachlorobiphenyl (PCB 84), display axial chirality because they form stable rotational isomers, or atropisomers, that are non-superimposable mirror images of each other. Although chiral PCBs undergo atropselective biotransformation and atropselectively alter biological processes, the absolute structure of only a few PCB atropisomers has been determined experimentally. To help close this knowledge gap, pure PCB 84 atropisomers were obtained by semi-preparative liquid chromatography with two serially connected Nucleodex β-PM columns. The absolute configuration of both atropisomers was determined by X-ray single-crystal diffraction. The PCB 84 atropisomer eluting first and second on the Nucleodex β-PM column correspond to (aR)-(−)-PCB 84 and (aS)-(+)-PCB 84, respectively. Enantioselective gas chromatographic analysis with the β-cyclodextrin-based CP-Chirasil-Dex CB gas chromatography column showed the same elution order as the Nucleodex β-PM column. Based on earlier reports, the atropisomers eluting first and second on the BGB-172 gas chromatography column are (aR)-(−)-PCB 84 and (aS)-(+)-PCB 84, respectively. An inversion of the elution order is observed on the Cyclosil-B gas chromatography and Cellulose-3 liquid chromatography columns. These results advance the interpretation of environmental and human biomonitoring as well as toxicological studies.
This is a preview of subscription content, log in to check access.
Access options
Buy single article
Instant access to the full article PDF.
US$ 39.95
Price includes VAT for USA
Subscribe to journal
Immediate online access to all issues from 2019. Subscription will auto renew annually.
US$ 99
This is the net price. Taxes to be calculated in checkout.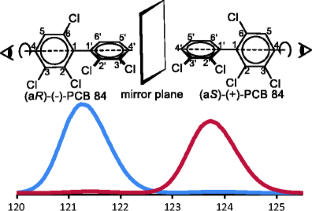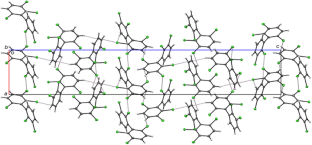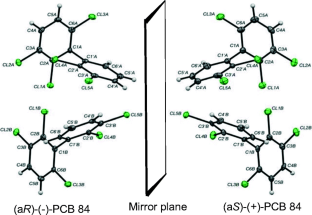 References
Bordajandi LR, Abad E, Gonzalez MJ (2008) Occurrence of PCBs, PCDD/Fs, PBDEs and DDTs in Spanish breast milk: enantiomeric fraction of chiral PCBs. Chemosphere 70:567–575

Bruker-AXS (2006) APEX2. Bruker-AXS Inc., Madison

Chai T, Cui F, Mu X, Yang Y, Wang C, Qiu J (2016a) Exploration of stereoselectivity in embryo-larvae (Danio rerio) induced by chiral PCB149 at the bioconcentration and gene expression levels. PLoS One 11

Chai T, Cui F, Yin Z, Yang Y, Qiu J, Wang C (2016b) Chiral PCB 91 and 149 toxicity testing in embryo and larvae (Danio rerio): application of targeted metabolomics via UPLC-MS/MS. Sci Rep. doi:10.1038/srep33481 Uk 6

Gomara B, Gonzalez MJ (2006) Enantiomeric fractions and congener specific determination of polychlorinated biphenyls in eggs of predatory birds from Donana National Park (Spain). Chemosphere 63:662–669

Grimm FA, Hu D, Kania-Korwel I, Lehmler HJ, Ludewig G, Hornbuckle KC, Duffel MW, Bergman A, Robertson LW (2015) Metabolism and metabolites of polychlorinated biphenyls. Crit Rev Toxicol 45:245–272

Haglund P (1996a) Enantioselective separation of polychlorinated biphenyl atropisomers using chiral high-performance liquid chromatography. J Chromatogr A 724:219–228

Haglund P (1996b) Isolation and characterisation of polychlorinated biphenyl (PCB) atropisomers. Chemosphere 32:2133–2140

Harju MT, Haglund P (1999) Determination of the rotational energy barriers of atropisomeric polychlorinated biphenyls. Fresen J Anal Chem 364:219–223

Jimenez O, Jimenez B, Marsili L, Gonzalez MJ (1999) Enantiomeric ratios of chiral polychlorinated biphenyls in stranded cetaceans from the Mediterranean Sea. Organohalgen Compd 40:409–412

Joshi SN, Vyas SM, Duffel MW, Parkin S, Lehmler HJ (2011) Synthesis of sterically hindered polychlorinated biphenyl derivatives. Synthesis 7:1045–1054

Kania-Korwel I, Garrison AW, Avants JK, Hornbuckle KC, Robertson LW, Sulkowski WW, Lehmler HJ (2006) Distribution of chiral PCBs in selected tissues in the laboratory rat. Environ Sci Technol 40:3704–3710

Kania-Korwel I, Lehmler HJ (2013) Assigning atropisomer elution orders using atropisomerically enriched polychlorinated biphenyl fractions generated by microsomal metabolism. J Chromatogr A 1278:133–144

Kania-Korwel I, Lehmler HJ (2016a) Chiral polychlorinated biphenyls: absorption, metabolism and excretion—a review. Environ Sci Pollut Res 23:2042–2057

Kania-Korwel I, Lehmler HJ (2016b) Toxicokinetics of chiral polychlorinated biphenyls across different species-a review. Environ Sci Pollut Res 23:2058–2080

Konwick BJ, Garrison AW, Black MC, Avants JK, Fisk AT (2006) Bioaccumulation, biotransformation, and metabolite formation of fipronil and chiral legacy pesticides in rainbow trout. Environ Sci Technol 40:2930–2936

Krause L, Herbst-Irmer R, Sheldrick GM, Stalke D (2015) Comparison of silver and molybdenum microfocus X-ray sources for single-crystal structure determination. J Appl Cryst 48(1):3–10

Lehmler HJ, Price DJ, Garrison AW, Birge WJ, Robertson LW (2003) Distribution of PCB 84 enantiomers in C57BL/6 mice. Fresenius Environ Bull 12:254–260

Lehmler HJ, Robertson LW, Garrison AW, Kodavanti PRS (2005a) Effects of PCB 84 enantiomers on [3H]-phorbol ester binding in rat cerebellar granule cells and 45Ca2+-uptake in rat cerebellum. Toxicol Lett 156:391–400

Lehmler HJ, Robertson LW, Parkin S (2005b) 2,2′,3,3′,6-Pentachlorobiphenyl (PCB 84). Acta Crystallogr Sect E: Struct Rep Online 61:O3025–O3026

Lehmler HJ, Harrad SJ, Huhnerfuss H, Kania-Korwel I, Lee CM, Lu Z, Wong CS (2010) Chiral polychlorinated biphenyl transport, metabolism, and distribution: a review. Environ Sci Technol 44:2757–2766

Li X, Parkin S, Lehmler HJ (2014) 2,4-Di-chloro-1-iodo-6-nitro-benzene. Acta Crystallogr E70:o607

Mannschreck A, Pustet N, Robertson LW, Oesch F, Puttmann M (1985) Enantiomers of polychlorinated-biphenyls semipreparative enrichment by liquid-chromatography. Liebigs Ann Chem:2101–2103

Parkin S, Moezzi B, Hope H (1995) XABS2: an empirical absorption correction program. J Appl Cryst 28(1):53–56

Parsons S, Flack HD, Wagner T (2013) Use of intensity quotients and differences in absolute structure refinement. Acta Crystallogr B 69:249–259

Pessah IN, Lehmler HJ, Robertson LW, Perez CF, Cabrales E, Bose DD, Feng W (2009) Enantiomeric specificity of (−)-2,2′,3,3′,6,6′-hexachlorobiphenyl toward ryanodine receptor types 1 and 2. Chem Res Toxicol 22:201–207

Pham-Tuan H, Larsson C, Hoffmann F, Bergman A, Froba M, Huhnerfuss H (2005) Enantioselective semipreparative HPLC separation of PCB metabolites and their absolute structure elucidation using electronic and vibrational circular dichroism. Chirality 17:266–280

Püttmann M, Oesch F, Robertson LW (1986) Characteristics of polychlorinated biphenyl (PCB) atropisomers. Chemosphere 15:2061–2064

Püttmann M, Mannschreck A, Oesch F, Robertson L (1989) Chiral effects in the induction of drug-metabolizing-enzymes using synthetic atropisomers of polychlorinated-biphenyls (PCBs). Biochem Pharmacol 38:1345–1352

Püttmann M, Arand M, Oesch F, Mannschreck A, Robertson LW (1990) Chirality and the induction of xenobiotic-metabolizing enzymes: effects of the atropisomers of the polychlorinated biphenyl 2,2′,3,4,4′,6-hexachlorobiphenyl. In: Frank HHB, Testa B (eds) Chirality and Biological Activity. Alan R. Liss, Inc., New York, pp 177–184

Reich S, Schurig V (1999) Enantiomerentrennung atropisomerer PCB mittels HPLC. GIT Spezial 1:15–16

Rodman LE, Shedlofsky SI, Mannschreck A, Puttmann M, Swim AT, Robertson LW (1991) Differential potency of atropisomers of polychlorinated-biphenyls on cytochrome-P450 induction and uroporphyrin accumulation in the chick-embryo hepatocyte culture. Biochem Pharmacol 41:915–922

Sheldrick GM (2008) A short history of SHELX. Acta Cryst A64:112–122

Sheldrick GM (2015) Crystal structure refinement with SHELXL. Acta Crystallogr Sect C Struct Chem 71:3–8

Toda M, Matsumura C, Tsurukawa M, Okuno T, Nakano T, Inoue Y, Mori T (2012) Absolute configuration of atropisomeric polychlorinated biphenyl 183 enantiomerically enriched in human samples. J Phys Chem A 116:9340–9346

Warner NA, Martin JW, Wong CS (2009) Chiral polychlorinated biphenyls are biotransformed enantioselectively by mammalian cytochrome p-450 isozymes to form hydroxylated metabolites. Environ Sci Technol 43:114–121

Xu N, Mu P, Jia Q, Chai T, Yin Z, Yang S, Qiu J (2015) Comparison of enantioseparations of 19 chiral polychlorinated biphenyls by 5 different polysaccharides chiral columns. Chin J Anal Chem 43:795–801

Xu N, Mu P, Yin Z, Jia Q, Yang S, Qian Y, Qiu J (2016) Analysis of the enantioselective effects of PCB 95 in zebrafish (Danio rerio) embryos through targeted metabolomics by UPLC-MS/MS. Plos One 11:e0160584

Yang DR, Kania-Korwel I, Ghogha A, Chen H, Stamou M, Bose DD, Pessah IN, Lehmler HJ, Lein PJ (2014) PCB 136 atropselectively alters morphometric and functional parameters of neuronal connectivity in cultured rat hippocampal neurons via ryanodine receptor-dependent mechanisms. Toxicol Sci 138:379–392

Yin W, Wu C, Fnag L, Zhang A (2012) Enantiomer separation of polychlorinated biphenyls on chiral chromatographic columns of cellulose and amylose by high-performance liquid chromatography. J Zhengjiang Univ Technol 40:35–38
Acknowledgements
This work was supported by grants ES05605, ES013661, and ES017425 from the National Institute of Environmental Health Sciences/National Institutes of Health. The X8 Proteum diffractometer was funded by the National Science Foundation (MRI CHE0319176) and by the University of Kentucky (cost share). The content of this manuscript is solely the responsibility of the authors and does not necessarily represent the official views of the National Institute of Environmental Health Sciences/National Institutes of Health or the National Science Foundation.
Additional information
Responsible editor: Philippe Garrigues
Electronic supplementary material
About this article
Cite this article
Li, X., Parkin, S.R. & Lehmler, H. Absolute configuration of 2,2′,3,3′,6-pentachlorinatedbiphenyl (PCB 84) atropisomers. Environ Sci Pollut Res 25, 16402–16410 (2018). https://doi.org/10.1007/s11356-017-9259-z
Received:

Accepted:

Published:

Issue Date:
Keywords
Absolute configuration

Chirality

Enantiomer

Environmental contaminant

Polychlorinated biphenyl

Rotational isomer