Abstract
Deterioration in groundwater quality has attracted wide social interest in China. In this study, groundwater quality was monitored during December 2014 at 115 sites in the Hutuo River alluvial-pluvial fan region of northern China. Results showed that 21.7% of NO3 − and 51.3% of total hardness samples exceeded grade III of the national quality standards for Chinese groundwater. In addition, results of gray relationship analysis (GRA) show that 64.3, 10.4, 21.7, and 3.6% of samples were within the I, II, IV, and V grades of groundwater in the Hutuo River region, respectively. The poor water quality in the study region is due to intense anthropogenic activities as well as aquifer vulnerability to contamination. Results of principal component analysis (PCA) revealed three major factors: (1) domestic wastewater and agricultural runoff pollution (anthropogenic activities), (2) water-rock interactions (natural processes), and (3) industrial wastewater pollution (anthropogenic activities). Using PCA and absolute principal component scores-multivariate linear regression (APCS-MLR), results show that domestic wastewater and agricultural runoff are the main sources of groundwater pollution in the Hutuo River alluvial-pluvial fan area. Thus, the most appropriate methods to prevent groundwater quality degradation are to improve capacities for wastewater treatment and to optimize fertilization strategies.
This is a preview of subscription content, log in to check access.
Access options
Buy single article
Instant access to the full article PDF.
US$ 39.95
Price includes VAT for USA
Subscribe to journal
Immediate online access to all issues from 2019. Subscription will auto renew annually.
US$ 99
This is the net price. Taxes to be calculated in checkout.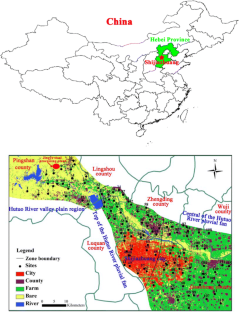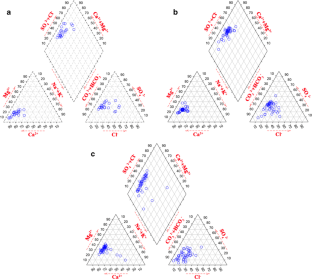 References
Arslan H (2013) Application of multivariate statistical techniques in the assessment of groundwater quality in seawater intrusion area in Bafra plain, Turkey. Environ Monit Assess 185:2439–2452

Atapour H (2012) Geochemical baseline of major anions and heavy metals in groundwaters and drinking waters around the urban areas of Kerman city, southeastern Iran. Environ Earth Sci 67:2063–2076

Belkhiri L, Boudoukha A, Mouni L, Baouz T (2010) Multivariate statistical characterization of groundwater quality in Ain Azel plain, Algeria. Afr J Environ Sci Technol 4:526–534

Boateng TK, Opoku F, Acquaah SO, Akoto O (2016) Groundwater quality assessment using statistical approach and water quality index in Ejisu-Juaben municipality, Ghana. Environ Earth Sci 75:1–14

Böhlke J-K (2002) Groundwater recharge and agricultural contamination. Hydrogeol J 10:153–179

Bordeleau G, Savard MM, Martel R, Ampleman G, Thiboutot S (2008) Determination of the origin of groundwater nitrate at an air weapons range using the dual isotope approach. J Contam Hydrol 98:97–105

Bu H, Tan X, Li S, Zhang Q (2010) Temporal and spatial variations of water quality in the Jinshui River of the south Qinling Mts., China. Ecotoxicol Environ Saf 73:907–913

Chaolin G, Liya W, Cook I (2012) Progress in research on Chinese urbanization. Front Archit Res 1:101–149

Chen J, Tang C, Sakura Y, Yu J, Fukushima Y (2005) Nitrate pollution from agriculture in different hydrogeological zones of the regional groundwater flow system in the North China plain. Hydrogeol J 13:481–492

Deng JL (1989) Introduction to Grey system theory. J Grey Syst 1:1–24

Gau HS, Hsieh CY, Liu CW (2006) Application of grey correlation method to evaluate potential groundwater recharge sites. Stoch Env Res Risk A 20:407–421

Golchin I, Moghaddam MA (2016) Hydro-geochemical characteristics and groundwater quality assessment in Iranshahr plain aquifer, Iran. Environ Earth Sci 75:1–14

Helena B, Pardo R, Vega M, Barrado E, Fernandez JM, Fernandez L (2000) Temporal evolution of groundwater composition in an alluvial aquifer (Pisuerga River, Spain) by principal component analysis. Water Res 34:807–816

Herojeet R, Rishi MS, Lata R, Sharma R (2016) Application of environmetrics statistical models and water quality index for groundwater quality characterization of alluvial aquifer of Nalagarh Valley, Himachal Pradesh, India. Sustain Water Resour Manag 2:39–53

Hou P, Ren Y, Zhang Q, Zhang Y, Wang H, Lu F et al (2013) Temporal and spatial variations of water quality in a trans-urban river in Beijing, China. Fresenius Environ Bull 22:561–572

Huang G, Sun J, Zhang Y, Chen Z, Liu F (2013) Impact of anthropogenic and natural processes on the evolution of groundwater chemistry in a rapidly urbanized coastal area, South China. Sci Total Environ 463:209–221

Ip WC, Hu BQ, Wong H, Xia J (2009) Applications of grey relational method to river environment quality evaluation in China. J Hydrol 379:284–290

Jiang Y, Wu Y, Groves C, Yuan D, Kambesis P (2009a) Natural and anthropogenic factors affecting the groundwater quality in the Nandong karst underground river system in Yunan, China. J Contam Hydrol 109:49–61

Jiang Y, Wu Y, Yuan D (2009b) Human impacts on karst groundwater contamination deduced by coupled nitrogen with strontium isotopes in the Nandong underground river system in Yunan, China. Environ Sci Technol 43:7676–7683

Juahir H, Zain SM, Yusoff MK, Hanidza TT, Armi AM, Toriman ME et al (2011) Spatial water quality assessment of Langat River basin (Malaysia) using environmetric techniques. Environ Monit Assess 173:625–641

Kurunc A, Ersahin S, Sonmez NK, Kaman H, Uz I, Uz BY, et al. (2016) Seasonal changes of spatial variation of some groundwater quality variables in a large irrigated coastal Mediterranean region of Turkey. Science of the Total Environment s 554–555: 53–63

Li P (2016) Groundwater quality in western China: challenges and paths forward for groundwater quality research in western China. Expo Health 8:305–310

Li Y, Zhang Z, Fei Y, Chen H, Qian Y, Yu D (2016) Investigation of quality and pollution characteristics of groundwater in the Hutuo River alluvial plain, North China plain. Environ Earth Sci 75:1–10

Lin CY, Abdullah MH, Praveena SM, Yahaya AHB, Musta B (2012) Delineation of temporal variability and governing factors influencing the spatial variability of shallow groundwater chemistry in a tropical sedimentary island. J Hydrol 432:26–42

Liu C-W, Lin K-H, Kuo Y-M (2003) Application of factor analysis in the assessment of groundwater quality in a blackfoot disease area in Taiwan. Sci Total Environ 313:77–89

Liu C-Q, Li S-L, Lang Y-C, Xiao H-Y (2006) Using δ15N-and δ18O-values to identify nitrate sources in karst ground water, Guiyang, Southwest China. Environ Sci Technol 40:6928–6933

Liu J, Zhang Z, Xu X, Kuang W, Zhou W, Zhang S et al (2010) Spatial patterns and driving forces of land use change in China during the early 21st century. J Geogr Sci 20:483–494

Ministry of Geology and Mineral Resources of China (1993) Quality Standard for Ground Water (GB/T 14848–93). The State Bureau of Quality and Technical Supervision (in Chinese)

Ministry of Land and Resources of the people's republic of China (MLRC) (2015) Specification for groundwater pollution survey and evalution (DZ/T0288–2015). (in Chinese)

Nasrabadi T, Maedeh PA (2014) Groundwater quality assessment in southern parts of Tehran plain, Iran. Environ Earth Sci 71:2077–2086

Omo-Irabor OO, Olobaniyi SB, Oduyemi K, Akunna J (2008) Surface and groundwater water quality assessment using multivariate analytical methods: a case study of the western Niger Delta, Nigeria. Phys Chem Earth A/B/C 33:666–673

Pastén-Zapata E, Ledesma-Ruiz R, Harter T, Ramírez AI, Mahlknecht J (2014) Assessment of sources and fate of nitrate in shallow groundwater of an agricultural area by using a multi-tracer approach. Sci Total Environ 470:855–864

Pekey H, Karakaş D, Bakoglu M (2004) Source apportionment of trace metals in surface waters of a polluted stream using multivariate statistical analyses. Mar Pollut Bull 49:809–818

Qibo H, Xiaoqun Q, Qiyong Y, Pengyu L, Jinsong Z (2016) Identification of dissolved sulfate sources and the role of sulfuric acid in carbonate weathering using δ13CDIC and δ34S in karst area, northern China. Environ Earth Sci 75:1–10

Qin R, Wu Y, Xu Z, Xie D, Zhang C (2013) Assessing the impact of natural and anthropogenic activities on groundwater quality in coastal alluvial aquifers of the lower Liaohe River plain, NE China. Appl Geochem 31:142–158

Rao NS (2014) Spatial control of groundwater contamination, using principal component analysis. J Earth Syst Sci 123:715–728

Saccon P, Leis A, Marca A, Kaiser J, Campisi L, Böttcher M et al (2013) Multi-isotope approach for the identification and characterisation of nitrate pollution sources in the Marano lagoon (Italy) and parts of its catchment area. Appl Geochem 34:75–89

Shen ZY, Xie TF (1997) An improved grey association analysis method and its applicationin water environmental quality assessment. Hydrology 3:13–15 (in Chinese)

Wang P, Yu J, Zhang Y, Liu C (2013) Groundwater recharge and hydrogeochemical evolution in the Ejina Basin, northwest China. J Hydrol 476:72–86

Xue D, De Baets B, Van Cleemput O, Hennessy C, Berglund M, Boeckx P (2012) Use of a Bayesian isotope mixing model to estimate proportional contributions of multiple nitrate sources in surface water. Environ Pollut 161:43–49

Yang Q, Zhang J, Wang Y, Fang Y, Martín JD (2015) Multivariate statistical analysis of hydrochemical data for shallow ground water quality factor identification in a coastal aquifer. Polish Journal of Environmental Studies 24

Zhang C, Wu L, Luo Y, Zhang H, Christie P (2008) Identifying sources of soil inorganic pollutants on a regional scale using a multivariate statistical approach: role of pollutant migration and soil physicochemical properties. Environ Pollut 151:470–476

Zhang Y, Guo F, Meng W, Wang X-Q (2009) Water quality assessment and source identification of Daliao river basin using multivariate statistical methods. Environ Monit Assess 152:105–121

Zhang Q, Sun J, Liu J, Huang G, Lu C, Zhang Y (2015) Driving mechanism and sources of groundwater nitrate contamination in the rapidly urbanized region of south China. J Contam Hydrol 182:221–230

Zhou F, Huang GH, Guo H, Zhang W, Hao Z (2007) Spatio-temporal patterns and source apportionment of coastal water pollution in eastern Hong Kong. Water Res 41:3429–3439
Acknowledgments
The study was funded by the National Natural Science Foundation of China (NO. 41401593), and the Natural Science Foundation of Hebei Province of China (No. D2015504008), a financial allocation project of Shijiazhuang in Hebei Province, China (No. B201504), and the Fundamental Research Funds of the Institute of Hydrogeology and Environmental Geology, Chinese Academy of Geological Sciences (No. SK201612).
Additional information
Responsible editor: Philippe Garrigues
About this article
Cite this article
Zhang, Q., Wang, H., Wang, Y. et al. Groundwater quality assessment and pollution source apportionment in an intensely exploited region of northern China. Environ Sci Pollut Res 24, 16639–16650 (2017). https://doi.org/10.1007/s11356-017-9114-2
Received:

Accepted:

Published:

Issue Date:
Keywords
Groundwater quality

Anthropogenic activities

Pollution source

Source apportionment