Abstract
This paper reports on a study that investigated the aquatic toxicity of new non-ionic surfactants derived from renewable raw materials, polyoxyethylene glycerol ester (PGE), and their binary mixtures with anionic and non-ionic surfactants. Toxicity of pure PGEs was determined using representative organisms from different trophic levels: luminescent bacteria (Vibrio fischeri), microalgae (Pseudokirchneriella subcapitata), and freshwater crustaceans (Daphnia magna). Relationships between toxicity and the structural parameters such as unit of ethylene oxide (EO) and hydrophilic-lipophilic balance (HLB) were evaluated. Critical micellar concentration (CMC) in the conditions of the toxicity test was also determined. It was found that the toxicity of the aqueous solutions of PGE decreased when the number of EO units in the molecule, HLB, and CMC increased. PGEs showed lower CMC in marine medium, and the toxicity to V. ficheri is lower when the CMC was higher. Given their non-polar nature, narcosis was expected to be the primary mode of toxic action of PGEs. For the mixture of surfactants, we observed that the mixtures with PGE that had the higher numbers of EO units were more toxic than the aqueous solutions of pure surfactants. Moreover, we found that concentration addition was the type of action more likely to occur for mixtures of PGE with lower numbers of EO units with non-ionic surfactants (alkylpolyglucoside and fatty alcohol ethoxylate), whereas for the mixture of PGE with lower EO units and anionic surfactant (ether carboxylic derivative), the most common response type was response addition. In case of mixtures involving amphoteric surfactants and PGEs with the higher numbers of EO units, no clear pattern with regard to the mixture toxicity response type could be observed.
This is a preview of subscription content, log in to check access.
Access options
Buy single article
Instant access to the full article PDF.
US$ 39.95
Price includes VAT for USA
Subscribe to journal
Immediate online access to all issues from 2019. Subscription will auto renew annually.
US$ 99
This is the net price. Taxes to be calculated in checkout.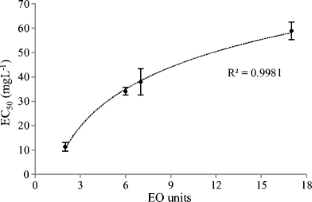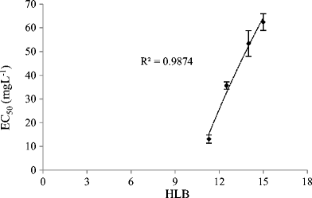 References
Aloui F, Kchaou S, Sayadi S (2009) Physicochemical treatments of anionic surfactants wastewater: effect on aerobic biodegradability. J Hazard Mater 164:353–359. doi:10.1016/j.jhazmat.2008.08.009

Altenburger R, Nendza M, Schüürmann G (2003) Mixture toxicity and its modeling by quantitative structure–activity relationships. Environ Toxicol Chem 22:1900. doi:10.1897/01-386

Atkinson SF, Johnson DR, Venables BJ, Slye JL, Kennedy JR, Dyer SD, Price BB, Ciarlo M, Stanton K, Sanderson H, Nielsen A (2009) Use of watershed factors to predict consumer surfactant risk, water quality, and habitat quality in the upper Trinity River, Texas. Sci Total Environ 407:4028–4037. doi:10.1016/j.scitotenv.2009.02.029

Bermejo MJ, Castán P, Siscart N, Vilaret J (2002) Una nueva generación de tensioactivos no iónicos completamente inocuos, para nuevos desarrollos en detergencia. In: Proceedings of Annual Meeting of CED, Vol 32. Spain, pp 85–94

Broderius SJ, Kahl MD, Hoglund MD (1995) Use of joint toxic response to define the primary mode of toxic action for diverse industrial organic chemicals. Environ Toxicol Chem. doi:10.1002/etc.5620140920

BS EN 14370:2004. Standard BS EN 14370:2004: surface active agents. Determination of surface tension

Buschmann N, Kruse A, Wodarczak S (1995) Analytical methods for alkylpolyglucosides. I: colorimetric determination. Tenside Surfact Det 32:336–339

Castán P, González X (2003) Skin properties of glycerine polyethoxylene esters. In: Proceedings of Annual Meeting of CED, Vol 33. Spain, pp 325–338

CESIO 2014. CESIO news. European Committee of Organic Surfactants and their Intermediates. Issue 15. September 2014

Chevalier J, Harscoët E, Keller M, Pandard P, Cachot J, Grote M (2015) Exploration of daphnia behavioral effect profiles induced by a broad range of toxicants with different modes of action. Environ Toxicol Chem 34:1760–1769. doi:10.1002/etc.2979

Cowan-Ellsberry C, Belanger S, Dorn P, Dyer S, McAvoy D, Sanderson H, Versteeg D, Ferrer D, Stanton K (2014) Environmental safety of the use of major surfactant classes in North America. Crit Rev Env Sci Tec 44:1893–1993. doi:10.1080/10739149.2013.803777

Di Toro MD, McGrath A (2000) Technical basis for narcotic chemicals and polycyclic aromatic hydrocarbon criteria. II. Mixtures and sediments. Environ Toxicol Chem 19:1971–1982

EC 1272/2008. Regulation EC 1272/2008 of the European Parliament and of the Council of 16 December 2008 on classification, labelling and packaging of substances and mixtures

EC 2012. Scientific Committee on Health and Environmental Risk, Scientific Committee on Emerging and Newly Identified Health Risks, Scientific Committee on Consumer Safety, 2012. Toxicity and assessment of chemical mixtures. European Commission. doi: 10.2772/21444

Fernández-Serrano M, Jurado E, Fernández-Arteaga A, Ríos F, Lechuga M (2014) Ecotoxicological assessment of mixtures of ether carboxylic derivative and amine-oxide-based non-ionic surfactants on the aquatic environment. J Surfactant Deterg 17:1161–1168. doi:10.1007/s11743-014-1621-2

Fu L, Li JJ, Wang Y, Wang XH, Wen Y, Qun WC, Su LM, Zhao YH (2015) Evaluation of toxicity data to green algae and relationship with hydrophobicity. Chemosphere 120:16–22. doi:10.1016/j.chemosphere.2014.05.040

García MT, Campos E, Ribosa I (2007) Biodegradability and ecotoxicity of amine oxide based surfactants. Chemosphere 69:1574–1578. doi:10.1016/j.chemosphere.2007.05.089

Hisano N, Oya M (2010) Effects of surface activity on aquatic toxicity of binary surfactant mixtures. J Oleo Sci 59:589–599. doi:10.5650/jos.59.589

Hodges G, Roberts DW, Marshall SJ, Dearden JC (2006) Defining the toxic mode of action of ester sulphonates using the joint toxicity of mixtures. Chemosphere 64:17–25. doi:10.1016/j.chemosphere.2005.12.021

Jurado E, Fernández-Serrano M, Núñez-Olea J, Luzón G, Lechuga M (2002) Comparison and use of methods for the determination of non-ionic surfactants in biodegradation processes. Tenside Surfact Det 39:154–159

Jurado E, Fernández-Serrano M, Núñez-Olea J, Luzón G, Lechuga M (2006) Simplified spectrophotometric method using methylene blue for determining anionic surfactants: applications to the study of primary biodegradation in aerobic screening tests. Chemosphere 65:278–285

Jurado E, Fernández-Serrano M, Núñez-Olea J, Luzón G, Lechuga M (2009) Acute toxicity and relationship between metabolites and ecotoxicity during the biodegradation process of non-ionic surfactants: fatty-alcohol ethoxylates, nonylphenol polyethoxylate and alkylpolyglucosides. Water Sci Technol 59:2351–2358. doi:10.2166/wst.2009.266

Jurado E, Fernández-Serrano M, Núñez-Olea J, Lechuga M, Jiménez J, Ríos F (2011a) Effect of concentration on the primary and ultimate biodegradation of alkylpolyglucosides in aerobic biodegradation tests. Water Environ Res 83:154–161. doi:10.2175/106143010X12780288628336

Jurado E, Fernández-Serrano M, Lechuga M, Ríos F (2011b) Environmental impact of ether carboxylic derivative surfactants. J Surfactant Deterg 15:1–7. doi:10.1007/s11743-011-1278-z

Jurado E, Vicaria JM, García-Martín JF, García-Roman M (2012a) Wettability of aqueous solutions of eco-friendly surfactants (ethoxylated alcohols and polyoxyethylene glycerin esters). J Surfactant Deterg 15:251–258. doi:10.1007/s11743-011-1312-1

Jurado E, Fernández-Serrano M, Núñez-Olea J, Lechuga M, Jiménez JL, Ríos F (2012b) Acute toxicity of alkylpolyglucosides to Vibrio fischeri, Daphnia magna and microalgae: a comparative study. Bull Environ Contam Toxicol 88:290–295. doi:10.1007/s00128-011-0479-5

Jurado E, Fernández-Serrano M, Ríos F, Lechuga M (2013) Aerobic biodegradation of surfactants. In: Chamy R, Rosenkranz F (eds) Biodegradation—life of science. In-Tech, Rijeka, pp 66–81. doi:10.5772/56120

Kokkali V, van Delft W (2014) Overview of commercially available bioassays for assessing chemical toxicity in aqueous samples. TrAC Trends Anal Chem 61:133–155. doi:10.1016/j.trac.2014.08.001

Layton AC, Gregory B, Schultz TW, Sayler GS (1999) Validation of genetically engineered bioluminescent surfactant resistant bacteria as toxicity assessment tools. Ecotoxicol Environ Saf 43:222–228. doi:10.1006/eesa.1999.1792

Lechuga M, Fernández-Serrano M, Jurado E, Nuñez-Olea J, Ríos F (2016) Acute toxicity of anionic and non-ionic surfactants to aquatic organisms. Ecotoxicol Environ Saf 125:1–8. doi:10.1016/j.ecoenv.2015.11.027

Mohajeri E, Noudeh GD (2012) Effect of temperature on the critical micelle concentration and micellization thermodynamic of nonionic surfactants: polyoxyethylene sorbitan fatty acid esters. E-J Chem 9:2268–2274. doi:10.1155/2012/961739

Muntaha ST, Khan MN (2015) Natural surfactant extracted from Sapindus mukurossi as an eco-friendly alternate to synthetic surfactant—a dye surfactant interaction study. J Clean Prod 93:145–150. doi:10.1016/j.jclepro.2015.01.023

Parvez S, Venkataraman C, Mukherji S (2006) A review on advantages of implementing luminescence inhibition test (Vibrio fischeri) for acute toxicity prediction of chemicals. Environ Int 32:265–268. doi:10.1016/j.envint.2005.08.022

Pavlić Z, Vidaković-Cifrek Z, Puntarić D (2005) Toxicity of surfactants to green microalgae Pseudokirchneriella subcapitata and Scenedesmus subspicatus and to marine diatoms Phaeodactylum tricornutum and Skeletonema costatum. Chemosphere 61:1061–1068. doi:10.1016/j.chemosphere.2005.03.051

Pereira LC, de Souza A, Bernardes MFF, Pazin M, Tasso MJ, Pereira PH, Dorta DJ (2015) A perspective on the potential risks of emerging contaminants to human and environmental health. Environ Sci Pollut Res 22:13800–13823. doi:10.1007/s11356-015-4896-6

Rebello S, Asok AK, Mundayoor S, Jisha MS (2014) Surfactants: toxicity, remediation and green surfactants. Environ Chem Lett 12:275–287. doi:10.1007/s10311-014-0466-2

Ríos F, Fernández-Arteaga A, Lechuga M, Jurado E, Fernández-Serrano M (2016) Kinetic study of the anaerobic biodegradation of alkyl polyglucosides and the influence of their structural parameters. Environ Sci Pollut Res Int 1–8. doi: 10.1007/s11356-016-6129-z

Ríos F, Lechuga M, Fernández-Serrano M, Fernández-Arteaga A (2017) Aerobic biodegradation of amphoteric amine-oxide-based surfactants: effect of molecular structure, initial surfactant concentration and pH. Chemosphere 171:324–331. doi:10.1016/j.chemosphere.2016.12.070

Roberts DW, Marshall SJ (1995) Application of hydrophobicity parameters to prediction of the acute aquatic toxicity of commercial surfactant mixtures. SAR QSAR Environ Res 4:167–176. doi:10.1080/10629369508029914

Roberts DW, Cotello JF (2003) Mechanisms of action for general and polar narcosis: a difference in dimension. QSAR Comb Sci 22:226–233

Roberts JF, Marshall SJ, Roberts DW (2007) Aquatic toxicity of ethoxylated and propoxylated alcohols to Daphnia magna. Environ Toxicol Chem 26:68–72. doi:10.1897/07-023R.1

Santos J, Trujillo-Cayado LA, Calero N, Muñoz J (2014) Physical characterization of eco-friendly O/W emulsions developed through a strategy based on product engineering principles. AICHE J 60:2644–2653. doi:10.1002/aic.14460

Servos MR, Maguire RJ, Bennie DT, Lee H-B, Cureton PMB, Davidson N, Sutcliffe R, Rawn DFK (2003) An ecological risk assessment of nonylphenol and its ethoxylates un the aquatic environment. Hum Ecol Risk Assess 9:569–587

Slye JL, Kennedy JR, Johnson DR, Atkinson SF, Scott DD, Ciarlo M, Stanton K, Sanderson H, Nielsen AM, Price BB (2011) Relationships between benthic macroinvertebrate community structure and geospatial habitat, in-stream water chemistry, and surfactants in the effluent-dominated Trinity River, Texas, USA. Environ Toxicol Chem 30:1127–1138. doi:10.1002/etc.483

Steber J, Guhl W, Steker N, Schröder F (1995) Alkyl polyglycosides-ecological evaluation of a new generation of nonionic surfactants. Tenside Surfact Det 32:515–521

Trujillo-Cayado LA, Ramírez P, Alfaro MC, Ruíz M, Muñoz J (2014a) Adsorption at the biocompatible α-pinene-water interface and emulsifying properties of two eco-friendly surfactants. Colloids Surf B Biointerfaces 122:623–629. doi:10.1016/j.colsurfb.2014.07.041

Trujillo-Cayado LA, Ramírez P, Pérez-Mosqueda LM, Alfaro MC, Muñoz J (2014b) Surface and foaming properties of polyoxyethylene glycerol ester surfactants. Colloids Surfaces A Physicochem Eng Asp 458:195–202. doi:10.1016/j.colsurfa.2014.02.009

UNE-EN ISO 11348–2:2009. Standard UNE-EN ISO 11348-2:2009: water quality—determination of the inhibitory effect of water samples on the light emission of Vibrio fischeri (Luminescent bacteria test)—part 2: method using liquid-dried bacteria

UNE-EN ISO 8692:2012. Standard UNE-EN ISO 8692:2012: water quality—fresh water algal growth inhibition test with unicellular green algae

UNE-EN ISO 6341:2013. Standard UNE-EN ISO 6341:2013: water quality—determination of the inhibition of the mobility of Daphnia magna Straus (Cladocera, Crustacea)—acute toxicity test

Verhaar HJM, van Leeuwen CJ, Hermens JLM (1992) Classifying environmental pollutants. Chemosphere 25:471–491. doi:10.1016/0045-6535(92)90280-5

van Wezel AP, Opperhuizen A (1995) Narcosis due to environmental pollutants in aquatic organisms: residue-based toxicity, mechanisms, and membrane burdens. Crit Rev Toxicol 25:255–279. doi:10.3109/10408449509089890

Wong DCL, Dorn PB, Chai EY (1997) Acute toxicity and structure–activity relationships of nine alcohol ethoxylate surfactants to fathead minnow and Daphnia magna. Environ Toxicol Chem 16:1970. doi:10.1002/etc.5620160929
Acknowledgements
Francisco Ríos acknowledges the support from the University of Granada and the Research Group TEP-212: Surfactants, Enzymes and Emulsions, within the postdoctoral grant "Contratos Puente—Plan Propio de Investigación."
Additional information
Responsible editor: Markus Hecker
Electronic supplementary material
About this article
Cite this article
Ríos, F., Fernández-Arteaga, A., Lechuga, M. et al. Ecotoxicological characterization of polyoxyethylene glycerol ester non-ionic surfactants and their mixtures with anionic and non-ionic surfactants. Environ Sci Pollut Res 24, 10121–10130 (2017). https://doi.org/10.1007/s11356-017-8662-9
Received:

Accepted:

Published:

Issue Date:
Keywords
Non-ionic surfactants

Polyoxyethylene glycerol ester

Toxicity

Mixtures

Renewable raw materials

Narcosis

Concentration addition

Response addition