Abstract
Mercury (Hg) exposure represents a significant public health concern at a global level. This study aims at assessing Hg exposure and risk among Lebanese young adults based on Hg biomonitoring and seafood intake. A group of 166 young adults were administered a questionnaire to assess Hg exposure and were asked to provide a hair sample. Risk assessment was performed: (1) using the US Environmental Protection Agency Hazard Quotient (HQ) model based on fish intake and previously studied local fish Hg concentrations, and (2) by determining the total hair Hg concentration (THHg) using continuous flow-chemical vapor generation atomic absorption spectrometry. Differences in THHg across demographic and exposure subgroups were tested using t test or ANOVA. Correlations between THHg concentrations, fish consumption, and HQ were determined by computing Pearson's r. Higher THHg correlated with higher consumption of Mediterranean rabbitfish/spinefoots (r = 0.27; p = 0.001) and geographical location (p < 0.001) in the bivariate analysis, and remained significant in the adjusted multivariable linear regression model (geographical location: ß = 0.255, 95%CI 0.121–0.388; rabbitfish/spinefoots consumption: ß = 0.016, 95%CI 0.004–0.027). No significant correlations were found between HQ and THHg. In conclusion, this is the first study examining hair Hg levels and fish consumption in a young adult Lebanese population. Our findings constitute valuable baseline data for a local fish advisory and Hg monitoring.
This is a preview of subscription content, log in to check access.
Access options
Buy single article
Instant access to the full article PDF.
US$ 39.95
Price includes VAT for USA
Subscribe to journal
Immediate online access to all issues from 2019. Subscription will auto renew annually.
US$ 99
This is the net price. Taxes to be calculated in checkout.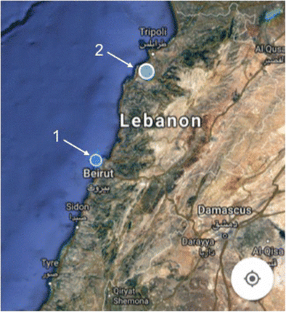 References
Abdelouahab N et al (2008) Gender differences in the effects of organochlorines, mercury, and lead on thyroid hormone levels in lakeside communities of Quebec (Canada). Environ Res 107:380–392. doi:10.1016/j.envres.2008.01.006

Al-Saleh I, Al-Doush I (1997) Mercury content in skin-lightening creams and potential hazards to the health of Saudi women. J Toxicol Environ Health 51:123–130. doi:10.1080/00984109708984016

Aschner M, Gannon M, Kimelberg HK (1992) Interactions of trimethyl tin (TMT) with rat primary astrocyte cultures: altered uptake and efflux of rubidium, L-glutamate and D-aspartate. Brain Res 582:181–185

ATSDR (2003) Analysis of hair samples: how do hair sampling results relate to environmental Exposure?

ATSDR (2005) public health assessment guidance manual (Update). Atlanta Georgia

Bakir F et al (1973) Methylmercury poisoning in Iraq. Science 181:230–241

Barghi M, Behrooz RD, Esmaili-Sari A, Ghasempouri SM (2012) Mercury exposure assessment in Iranian pregnant women's hair with respect to diet, amalgam filling, and lactation. Biol Trace Elem Res 148:292–301. doi:10.1007/s12011-012-9384-y

Bjornberg KA, Vahtera M, Grawe KP, Berglund M (2005) Methyl mercury exposure in Swedish women with high fish consumption. Sci Total Environ 341:45–52. doi:10.1016/j.scitotenv.2004.09.033

Brambilla G et al (2013) Mercury occurrence in Italian seafood from the Mediterranean Sea and possible intake scenarios of the Italian coastal population. Regul Toxicol Pharmacol 65:269–277. doi:10.1016/j.yrtph.2012.12.009

Buchanan S, Targos L, Nagy KL, Kearney KE, Turyk M (2015) Fish consumption and hair mercury among Asians in Chicago. J Occup Environ Med 57:1325–1330. doi:10.1097/JOM.0000000000000560

Burger J, Gochfeld M (2011) Mercury and selenium levels in 19 species of saltwater fish from New Jersey as a function of species, size, and season. Sci Total Environ 409:1418–1429. doi:10.1016/j.scitotenv.2010.12.034

Cernichiari E et al (1995) Monitoring methylmercury during pregnancy: maternal hair predicts fetal brain exposure. Neurotoxicology 16:705–710

Chien LC, Gao CS, Lin HH (2010) Hair mercury concentration and fish consumption: risk and perceptions of risk among women of childbearing age. Environ Res 110:123–129. doi:10.1016/j.envres.2009.10.001

Clarkson TW (1997) The toxicology of mercury. Crit Rev Clin Lab Sci 34:369–403. doi:10.3109/10408369708998098

Clarkson TW, Amin-Zaki L, Al-Tikriti SK (1976) An outbreak of methylmercury poisoning due to consumption of contaminated grain. Fed Proc 35:2395–2399

Clarkson TW, Magos L, Myers GJ (2003) The toxicology of mercury—current exposures and clinical manifestations. N Engl J Med 349:1731–1737. doi:10.1056/NEJMra022471

Covelli S, Langone L, Acquavita A, Piani R, Emili A (2012) Historical flux of mercury associated with mining and industrial sources in the Marano and Grado Lagoon (northern Adriatic Sea). Estuarine Coastal and Shelf Science 113:7–19

Di Bella G, Potorti AG, Lo Turco V, Bua D, Licata P, Cicero N, Dugo G (2015) Trace elements in Thunnus thynnus from Mediterranean Sea and benefit-risk assessment for consumers. Food Addit Contam Part B Surveill 8:175–181. doi:10.1080/19393210.2015.1030347

Diez S, Montuori P, Pagano A, Sarnacchiaro P, Bavona JM, Triassi M (2008) Hair mercury levels in an urban population from southern Italy: fish consumption as a determinant of exposure. Environ Int 34:162–167. doi:10.1016/j.envint.2007.07.015

Elhamri H et al (2007) Hair mercury levels in relation to fish consumption in a community of the Moroccan Mediterranean coast. Food Addit Contam 24:1236–1246. doi:10.1080/02652030701329611

Eto K, Oyanagi S, Itai Y, Tokunaga H, Takizawa Y, Suda I (1992) A fetal type of Minamata disease. An autopsy case report with special reference to the nervous system. Mol Chem Neuropathol 16:171–186

Gibicar D, Horvat M, Nakou S, Sarafidou J, Yager J (2006) Pilot study of intrauterine exposure to methylmercury in Eastern Aegean Islands, Greece. Sci Total Environ 367:586–595. doi:10.1016/j.scitotenv.2006.01.017

Gill US, Schwartz HM, Bigras L (2002) Results of multiyear international interlaboratory comparison program for mercury in human hair. Arch Environ Contam Toxicol 43:466–472. doi:10.1007/s00244-002-1257-5

Gochfeld M (2003) Cases of mercury exposure, bioavailability, and absorption. Ecotoxicol Environ Saf 56:174–179

Halbach S et al (2008) Blood and urine mercury levels in adult amalgam patients of a randomized controlled trial: interaction of Hg species in erythrocytes. Environ Res 107:69–78. doi:10.1016/j.envres.2007.07.005

Harada M (1995) Minamata disease: methylmercury poisoning in Japan caused by environmental pollution. Crit Rev Toxicol 25:1–24. doi:10.3109/10408449509089885

Knobeloch L, Tomasallo C, Anderson H (2011) Biomonitoring as an intervention against methylmercury exposure. Public Health Rep 126:568–574

Masih A, Taneja A, Singhvi R (2016) Exposure profiles of mercury in human hair at a terai belt of North India. Environ Geochem Health 38:145–156. doi:10.1007/s10653-015-9698-8

Maulvault AL et al (2015) Toxic elements and speciation in seafood samples from different contaminated sites in Europe. Environ Res 143:72–81. doi:10.1016/j.envres.2015.09.016

McDowell MA et al (2004) Hair mercury levels in U.S. children and women of childbearing age: reference range data from NHANES 1999-2000. Environ Health Perspect 112:1165–1171

Mezghani-Chaari S, Hamza A, Hamza-Chaffai A (2011) Mercury contamination in human hair and some marine species from Sfax coasts of Tunisia: levels and risk assessment. Environ Monit Assess 180:477–487. doi:10.1007/s10661-010-1800-1

Miklavcic A et al (2013) Mercury, arsenic and selenium exposure levels in relation to fish consumption in the Mediterranean area. Environ Res 120:7–17. doi:10.1016/j.envres.2012.08.010

Morrissette J, Takser L, St-Amour G, Smargiassi A, Lafond J, Mergler D (2004) Temporal variation of blood and hair mercury levels in pregnancy in relation to fish consumption history in a population living along the St. Lawrence River Environ Res 95:363–374. doi:10.1016/j.envres.2003.12.007

Mortada WI, Sobh MA, El-Defrawy MM, Farahat SE (2002) Reference intervals of cadmium, lead, and mercury in blood, urine, hair, and nails among residents in Mansoura city, Nile delta, Egypt. Environ Res 90:104–110. doi:10.1006/enrs.2002.4396

Nakagawa R (1995) Concentration of mercury in hair of Japanese people. Chemosphere 30:127–133

Nyland JF et al (2011) Biomarkers of methylmercury exposure immunotoxicity among fish consumers in Amazonian Brazil. Environ Health Perspect 119:1733–1738. doi:10.1289/ehp.1103741

Obeid PJ, El-Khoury B, Burger J, Aouad S, Younis M, Aoun A, El-Nakat JH (2011) Determination and assessment of total mercury levels in local, frozen and canned fish in Lebanon. J Environ Sci (China) 23:1564–1569

Oken E et al (2008) Maternal fish intake during pregnancy, blood mercury levels, and child cognition at age 3 years in a US cohort. Am J Epidemiol 167:1171–1181. doi:10.1093/aje/kwn034

Olivero J, Johnson B, Arguello E (2002) Human exposure to mercury in San Jorge river basin, Colombia (South America). Sci Total Environ 289:41–47. doi:10.1016/S0048-9697(01)01018-X

Olsen AR, Snyder BD, Stahl LL, Pitt JL (2009) Survey design for lakes and reservoirs in the United States to assess contaminants in fish tissue. Environ Monit Assess 150:91–100. doi:10.1007/s10661-008-0685-8

Pellizzari ED, Fernando R, Cramer GM, Meaburn GM, Bangerter K (1999) Analysis of mercury in hair of EPA region V population. J Expo Anal Environ Epidemiol 9:393–401

Sandborgh-Englund G, Elinder CG, Langworth S, Schutz A, Ekstrand J (1998) Mercury in biological fluids after amalgam removal. J Dent Res 77:615–624

Schaefer AM, Jensen EL, Bossart GD, Reif JS (2014) Hair mercury concentrations and fish consumption patterns in Florida residents. Int J Environ Res Public Health 11:6709–6726. doi:10.3390/ijerph110706709

Sheehan MC, Burke TA, Navas-Acien A, Breysse PN, McGready J, Fox MA (2014) Global methylmercury exposure from seafood consumption and risk of developmental neurotoxicity: a systematic review. Bull World Health Organ 92:254–269F. doi:10.2471/BLT.12.116152

Smith KM, Sahyoun NR (2005) Fish consumption: recommendations versus advisories, can they be reconciled? Nutr Rev 63:39–46

Spada L, Annicchiarico C, Cardellicchio N, Giandomenico S, Di Leo A (2012) Mercury and methylmercury concentrations in Mediterranean seafood and surface sediments, intake evaluation and risk for consumers. Int J Hyg Environ Health 215:418–426. doi:10.1016/j.ijheh.2011.09.003

Squadrone S, Chiaravalle E, Gavinelli S, Monaco G, Rizzi M, Abete MC (2015) Analysis of mercury and methylmercury concentrations, and selenium:mercury molar ratios for a toxicological assessment of sperm whales (Physeter macrocephalus) in the most recent stranding event along the Adriatic coast (Southern Italy, Mediterranean Sea). Chemosphere 138:633–641. doi:10.1016/j.chemosphere.2015.07.047

Taylor J (1987) Quality Assurance of Chemical Measurements. Lewis Publishing, Chelsea

Tchounwou PB, Ayensu WK, Ninashvili N, Sutton D (2003) Environmental exposure to mercury and its toxicopathologic implications for public health. Environ Toxicol 18:149–175. doi:10.1002/tox.10116

Traynor S, Kearney G, Olson D, Hilliard A, Palcic J, Pawlowicz M (2013) Fish consumption patterns and mercury exposure levels among women of childbearing age in Duval County. Florida J Environ Health 75:8–15

UNDP (2012) Demonstrating and promoting best techniques and practices for reducing health-care waste to avoid environmental releases of dioxins and mercury project. Retrieved from URL: http://www.undp.org.lb/ProjectFactsheet/projectDetail.cfm?projectId=135. Accessed 5 July 2016

USEPA (1989) Risk assessment guidance for superfund, volume I: human health evaluation manual (Part A), Interim Final. EPA/540/1–89/002. Washington DC

USEPA (1997) Mercury study report to congress volume IV: an assessment of exposure to mercury in the United States. EPA-452/R-97-006

WHO, UNEP (2008) Guidance for identifying populations at risk from mercury exposure. Switzerland, Geneva

Yoshizawa K et al (2002) Mercury and the risk of coronary heart disease in men. N Engl J Med 347:1755–1760. doi:10.1056/NEJMoa021437
Acknowledgements
The authors thank Dr. Gregory Kearney at the Florida Department of Health for sharing the questionnaire that was adapted for purposes of our study. This work was supported by a research grant from the University of Balamand (BIRG 20/2013).
Ethics declarations
All procedures performed in studies involving human participants were in accordance with the ethical standards of the institution and with the 1964 Helsinki declaration and its later amendments or comparable ethical standards. The study was reviewed and approved by the Institutional Review Board of the University of Balamand. Informed consent was obtained from all participants in the study.
Conflict of interest
The authors declare that they have no conflict of interest.
Additional information
Responsible editor: Philippe Garrigues
About this article
Cite this article
Obeid, P.J., Fares, S.A., Farhat, G.N. et al. Mercury health risk assessment among a young adult Lebanese population. Environ Sci Pollut Res 24, 9370–9378 (2017). https://doi.org/10.1007/s11356-017-8621-5
Received:

Accepted:

Published:

Issue Date:
Keywords
Mercury

Risk assessment

Hair mercury concentrations

Fish consumption

Lebanese youth

Mediterranean