Abstract
The anthropogenic activities in the Black Sea area are responsible for toxic metal contamination of sea food products. In this study, several toxic metals: cadmium, lead, nickel, chromium, and copper were quantified in different tissues (digestive tract, muscle, skeleton, skin) of nine fish species (Neogobius melanostomus, Belone belone, Solea solea, Trachurus mediterraneus ponticus, Sardina pilchardus, Engraulis encrasicolus, Pomatomus saltatrix, Sprattus sprattus, Scorpaena porcus) by using atomic absorption spectrometer with a high-resolution continuum source and graphite furnace technique (HR-CS GF-AAS), and the risk of fish meat consumption by the young human population was evaluated. These metals are used in high amounts in industries located near the coastline such as shipyard construction and industrial plants. Toxic metal accumulation depends on fish feeding behavior, abiotic conditions, metal chemistry, and animal physiology. For instance, cadmium was measured in the muscle of the investigated species and average values of 0.0008–0.0338 mg kg−1 were obtained. The lowest average value of this metal was measured at benthic species N. melanostomus and the highest at the pelagic predator T. mediterraneus ponticus. Generally, the highest metal concentration was measured in the digestive tract that has the role of biofilter for these contaminants. The risk of contamination is significantly reduced by avoiding the consumption of certain fish tissues (digestive tract and skin for copper and skeleton for nickel). An estimation of the dietary metal intake to young consumers was realized for each of the studied species of fish from Romanian, Bulgarian, and Turkish waters, during the period 2001–2014 in order to evaluate the risks of chronic exposure in time due to metal toxicity. This estimation is important for the prevention of chronic exposure due to metal toxicity. Food exposure to studied metals showed a negative trend for Romania, Turkey, and Bulgaria based on the data provided by this study. The young consumers were highly exposed to these elements during the 2001–2006 period as proven by the results from this study.
This is a preview of subscription content, log in to check access.
Access options
Buy single article
Instant access to the full article PDF.
US$ 39.95
Price includes VAT for USA
Subscribe to journal
Immediate online access to all issues from 2019. Subscription will auto renew annually.
US$ 99
This is the net price. Taxes to be calculated in checkout.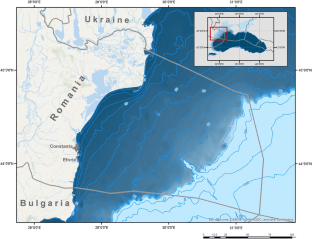 References
Alhashemi AS, Karbassi AR, Kiabi BH, Monavari SM, Nabavi SM, Sekhavatjou MS (2011) Bioaccumulation of trace elements in trophic levels of wetland plants and waterfowl birds. Biological Trace Elements Research 142:500–516

Bat L, Sezgin M, Ustun F, Sahin F (2012) Heavy metal concentration in ten species of fishes caught in Sinop coastal waters of the Black Sea, Turkey. Turkish Journal of Fisheries and Aquatic Science 12:371–376

Cao Y, Chen A, Bottai M, Caldwell KL, Rogan WJ (2013) The impact of succimer chelation on blood cadmium in children with background exposure: a randomized trial. J Pediatr 163:598–600

COMMISION REGULATION (EC) No 1881/2006 Setting maximum levels for certain contaminants in foodstuffs. Off J Eur Union

Djinovic-Stojanovic J, Nikolic D, Vranic D, Stefanovic S, Milijasevic M, Babic J, Jankovic S (2015) Distribution of mercury in three marine fish species. Procedia Food Science 5:65–68

Görür KF, Keser R, Akçay N, Dizman S (2012) Radioactivity and heavy metal of some commercial fish species consumed in the Black Sea region of Turkey. Chemosphere 87:356–361

Gunduz S, Akman S (2013) Determination of lead in rice grains by solid sampling HR-CS GFAAS. Food Chem 141:2634–2638

Hartwig A (2010) Mechanisms in cadmium-induced carcinogenicity: recent insights. Biometals 23:951–960

Jitar O, Teodosiu C, Nicoara M, Plavan G (2013) Study of heavy metal pollution and bioaccumulation in the Black Sea living environment. Environ Eng Manag J 12:1535–1445

Jitar O, Teodosiu C, Oros A, Plavan G, Nicoara M (2015) Bioaccumulation of heavy metals in marine organisms from the Romanian sector of the Black Sea. New Biotechnol 32(3):369–378

Makedonski L, Peycheva K, Stancheva M (2015) Determination of some heavy metal of selected black sea fish species. Food Control. doi:10.1016/j.foodcont.2015.08.024

Mason RP, Laporte J, Andres S (2000) Factors controlling the bioaccumulation of mercury, methylmercury, arsenic, selenium, and cadmium by freshwater invertebrates and fish. Arch Environ Contam Toxicol 38:283–297

Mendil D, Uluӧzlü ÖD, Hasdemir E, Tüzen M, Sari H, Suiçmez M (2005) Determination of trace metal levels in seven fish species in lakes in Toka Turkey. Food Chem 90:175–179

Mleczek M, Niedzielski P, Kalač P, Budka A, Siwulski M, Gąsecka M, Rzymski P, Magdziak Z, Sobieralski K (2016) Multielemental analysis of 20 mushroom species growing near a heavily trafficked road in Poland. Environ Sci Pollut Res Int 23:16280–16295

National Strategy of fishing sector (2014–2020) Issued by Romanian Ministry of Environment and Climate Changes, Ministry of Agriculture and Rural Development (text in Romanian language—Strategia Națională a Sectorului Pescăresc 2014–2020)

Nisbet C, Terzi G, Pilger O, Sarac N (2010) Determination of heavy metals levels in fish sample collected from the middle Black Sea. Kafkas Univ Veteriner Fak Dergisi 16(1):119–125

Nuray B, Abdullah A, Mahmut SE (2012) Petroleum hydrocarbon contamination of the southern Black Sea shelf, Turkey. Environ Sci Pollut Res 19:592–599

Oros A (2009) The contributions to acknowledging the consequences of the heavy metals pollution on the coastal marine ecosystems from the Romanian littoral of the Black Sea, (Romanian), (PhD Thesis), University "Ovidius" of Constanta, Faculty of Natural and Agricultural Sciences, Romania (Text in Romanian)

Peplow D, Augustine S (2014) Neurological abnormalities in a mercury exposed population among indigenous Wayana in Southeast Suriname. Environ Sci Process Impacts 16:2415–2422

Prato E, Biandolino F (2015) Chapter 16, The contribution of fish to the Mediterranean diet, the Mediterranean diet an evidence–based approach, Edited by Victor R. Preedy & Ronald Ross Watson CNR—Institute of Coastal Marine Environment (IAMC), Taranto, Italy, p 165–171

Rahbar MH, Samms-Vaughan M, Dickerson AS, Loveland KA, Ardjomand-Hessabi M, Bressler J, Lee M, Shakespeare-Pellington S, Grove ML, Pearson DA, Boerwinkle E (2014) Role of fruits, grains, and seafood consumption in blood cadmium concentrations of Jamaican children with and without spectrum disorder. Research in Autism Spectrum Disorders 8:1134–1145

Rzymski P, Klimaszyk P, Niedzielski P, Poniedziałek B (2013) Metal accumulation in sediments and biota in Malta Reservoir (Poland). Limnological Review 13(3):163–169

Rzymski P, Niedzielski P, Poniedziałek B, Rzymski P, Pacyńska J, Kozak L, Dąbrowski P (2015a) Free-ranging domestic cats are characterized by increased metal content in reproductive tissues. Reprod Toxicol 58:54–60

Rzymski P, Niedzielski P, Kaczmarek N, Jurczak T, Klimaszyk P (2015b) The multidisciplinary approach to safety and toxicity assessment of microalgae-based food supplements following clinical cases of poisoning. Harmful Algae 46:34–42

Rzymski P, Niedzielski P, Rzymski P, Tomczyk K, Kozak L, Poniedziałek B (2016) Metal accumulation in the human uterus varies by pathology and smoking status. Fertil Steril 105:1511–1518

Rzymski P, Poniedziałek B, Niedzielski P, Tabaczewski P, Wiktorowicz K (2014a) Cadmium and lead toxicity and bioaccumulation in Microcystis aeruginosa. Frontiers of Environmental Science and Engineering 8:427–432

Rzymski P, Niedzielski P, Klimaszyk P, Poniedziałek B (2014b) Bioaccumulation of selected metals in bivalves (Unionidae) and Phragmites australis inhabiting a municipal water reservoir. Environ Monit Assess 186:3199–3212

Saniye TÇ, Murat Y, Birol B, Aykut Y (2016) Heavy metals in tissues of scorpionfish (Scorpaena porcus) caught from Black Sea (Turkey) and potential risks to human health. Environ Sci Pollut Res 23:20882–20892

Siwulski M, Mleczek M, Rzymski P, Budka A, Jasińska A, Niedzielski P, Kalac P, Gąsecka M, Budzyńska S, Mikołajczak P (2016) Screening the multi-element content of Pleurotus mushroom species using inductively coupled plasma optical emission spectrometer (ICP-OES). Food Anal Methods. doi:10.1007/s12161-016-0608-1

Strungaru SA, Nicoară M, Rău MA, Plăvan G, Micu D (2015) Do you like to eat fish?—an overview of the benefits of fish consumption and risk of mercury poisoning. Analele Științifice ale Universității "Alexandru Ioan Cuza" din Iași, s.Biologie Animală, Tom LXI, p 117–123

Tsangaris C, Moschino V, Strogyloudi E, Coatu V, Ramšak A, Abu AR, Carvalho S, Felline S, Kosyan A, Lazarou Y, Hatzianestis I, Oros A, Tiganus D (2016) Biochemical biomarker responses to pollution in selected sentinel organisms across the eastern Mediterranean and the Black Sea. Environ Sci Pollut Res 23:20882–20892

Tunca E, Ucuncu E, Ozkan AD, Ulger ZE, Tekinay T (2013) Tissue distribution and correlation profiles of heavy-metal accumulation in the freshwater crayfish Astacus leptodactylus. Arch Environ Contam Toxicol 64:676–691

Türkdoğan MK, Kilicel F, Kara K, Tuncer I, Uygan I (2003) Heavy metals in soil, vegetables and fruits in the endemic upper gastrointestinal cancer region of Turkey. Environ Toxicol Pharmacol 13:175–179

Turkmen A, Tepe Y, Turkmen M (2008) Metal levels in tissues of the European anchovy, Engraulis encrasicolus L., 1758, and picarel, Spicara smaris L., 1758, from Black, Marmara and Aegean seas. Bull Environ Contam Toxicol 80(6):521–525

Tuzen M (2009) Toxic and essential trace elemental contents in fish species from the Black Sea, Turkey. Food Chem Toxicol 47(8):1785–1790

Uluozlu OD, Kinalioglu K, Tuzen M, Soylak M (2007) Trace metal levels in lichen samples from roadsides in east Black Sea region, Turkey. Biomed Environ Sci 20(3):203–207

World Health Organization & United Nations Environment Programme DTIE Chemicals Branch (2008) Guidance for identifying populations at risk from mercury exposure. Issued by UNEP DTIE chemicals branch and WHO Department of food safety. Zoonoses and Foodborne Diseases, Geneva
Acknowledgements
This work was partially funded by the "Alexandru Ioan Cuza" University of Iasi, the project no. GI-2015-11, grant competition for young researchers UAIC.
Ethics declarations
Conflict of interest
The authors declare that they have no conflicts of interest.
Additional information
Responsible editor: Philippe Garrigues
About this article
Cite this article
Plavan, G., Jitar, O., Teodosiu, C. et al. Toxic metals in tissues of fishes from the Black Sea and associated human health risk exposure. Environ Sci Pollut Res 24, 7776–7787 (2017). https://doi.org/10.1007/s11356-017-8442-6
Received:

Accepted:

Published:

Issue Date:
Keywords
Toxic metals

Black Sea

Young consumers

HR-CS GF-AAS

Fish consumption