Abstract
Although the role of iron plaque on rice root surface has been investigated in recent years, its effect on antibiotic uptake remains uncertain. In the study, pot experiment was conducted to investigate the effect of iron plaque on uptake and translocation of norfloxacin (adding 10 and 50 mg·kg−1 treatments) in rice seedlings grown in paddy soil. Iron plaque was induced by adding different amounts of Fe(II) in soil. The results showed that the presence of norfloxacin can decrease the amount of iron plaque induced. After rice with iron plaque induced, norfloxacin was mainly accumulated in iron plaque on root surface, followed by inside root, but its translocation from root to other rice tissues is not observed. Iron plaque played the role of a barrier for norfloxacin uptake into rice roots under high norfloxacin concentration of 50 mg·kg−1, however not that under low concentration of 10 mg·kg−1. And the barrier function was the most strongest with adding Fe(II) of 30 mg·kg−1 as combined action of iron plaque and rhizosphere effect. Fluorescence microscope analysis showed that norfloxacin mainly distributed in the outside of root cell, which showed its translocation as apoplastic pathway in rice. Comparing with non-rhizosphere, more norfloxacin was accumulated in rhizosphere soil. Maybe, strong root oxidization (high Eh values) induced more iron oxide formation in rhizosphere and on root surface, which led to norfloxacin's mobility towards to rhizosphere through its strong adsorption of iron oxides and then promoted its uptake by rice on root surface.
This is a preview of subscription content, log in to check access.
Access options
Buy single article
Instant access to the full article PDF.
US$ 39.95
Price includes VAT for USA
Subscribe to journal
Immediate online access to all issues from 2019. Subscription will auto renew annually.
US$ 99
This is the net price. Taxes to be calculated in checkout.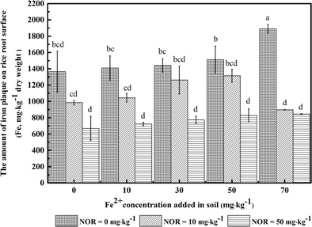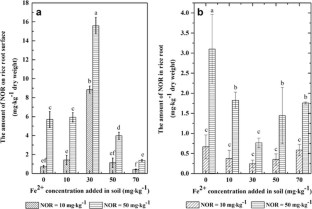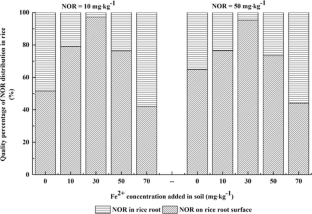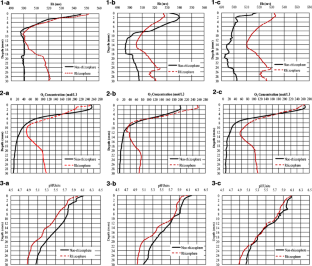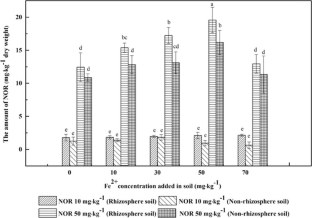 References
Armstrong W (1967) The oxidising activity of roots in waterlogged soils. Physl Plant 20:920–926

Bao YY, Zhou QX (2015) Temporal changes in horsebean bioavailability and accumulation after removing extractable oxytetracycline fractions in soils. RSC Adv 5:32572–32579

Blossfeld S, Gansert D, Thiele B, Kuhn AJ, Losch R (2011) The dynamics of oxygen concentration, pH value, and organic acids in the rhizosphere of Juncus spp. Soil Biol Biochem 43:1186–1197

Boonsaner M, Hawker DW (2010) Accumulation of oxytetracycline and norfloxacin from saline soil by soybeans. Sci Total Environ 408:1731–1737

Chabbi A (1999) Juncus bulbosus as a pioneer species in acidic lignite mining lakes: interactions, mechanism and survival strategies. New Phytol 144:133–142

Chang HS, Buettner SW, Seaman JC, Jaffé PR, Koster van Groos PG, Li D, Peacock AD, Scheckel KG, Kaplan DI (2014) Uranium immobilization in an iron-rich rhizosphere of a native wetland plant from the Savannah River Site under reducing conditions. Environ Sci Technol 48:9270–9278

Chen CC, Dixon JB, Turners FT (1980) Iron coatings on rice roots morphology and models of development. Soil Sci Soc Am J 44:1113–1119

Chen GL, Li M, Liu X (2015) Fluoroquinolone antibacterial agent contaminants in soil/groundwater: a literature review of sources, fate, and occurrence. Water Air Soil Pollut 226:418

Chong YX, Yu GW, Cao XY, Zhong HT (2013) Effect of migration of amorphous iron oxide on phosphorous spatial distribution in constructed wetland with horizontal sub-surface flow. Ecol Eng 53:126–129

Cui XD, Wang YJ, Hockmann K, Zhou DM (2015) Effect of iron plaque on antimony uptake by rice (Oryza sativa L.). Environ Pollut 204:133–140

Deng D, Wu SC, Wu FY, Deng H, Wong MH (2010) Effects of root anatomy and Fe plaque on arsenic uptake by rice seedlings grown in solution culture. Environ Pollut 158:2589–2595

Eggen T, Asp TN, Grave K, Hormazabal V (2011) Uptake and translocation of metformin, ciprofloxacin and narasin in forage and crop plants. Chemosphere 85:26–33

Emerson D, Weiss JV, Johanna V (1999) Iron oxidizing bacteria are associated with ferric hydroxide precipitates (Fe-plaque) on the roots of wetland plants. Appl Environ Microbiol 65:2758–2761

Fitz WJ, Wenzel WW (2002) Arsenic transformations in the soil-rhizosphere-plant system: fundamentals and potential application to phytoremediation. J Biotechnol 99:259–278

Gong W, Liu X, He H, Wang L, Dai G (2012) Quantitatively modeling soil-water distribution coefficients of three antibiotics using soil physicochemical properties. Chemosphere 89:825–831

Hansel CM, Fendorf S, Sutton S, Newville M (2001) Characterization of Fe plaque and associated metals on the roots of mine-waste impacted aquatic plants. Environ Sci Technol 35:3863–3868

Hawker DW, Cropp R, Boonsaner M (2013) Uptake of zwitterionic antibiotics by rice (Oryza sativa L.) in contaminated soil. J Hazard Mater 263(2):458–466

Hinsinger P, Plassard C, Tang CX, Jaillard B (2003) Origins of root-mediated pH changes in the rhizosphere and their responses to environmental constraints: a review. Plant Soil 248:43–59

Hu M, Li FB, Liu CP, Wu WJ (2015) The diversity and abundance of As(III) oxidizers on root iron plaque is critical for arsenic bioavailability to rice. Sci Rep 5:1–10

Huang Y, Chen Z, Liu W (2011) Influence of iron plaque and cultivars on antimony uptake by and translocation in rice (Oryza sativa L.) seedlings exposed to Sb (III) or Sb (V). Plant Soil 352:41–49

Huang QQ, Yu Y, Wang Q, Luo Z, Jiang RF, Li H (2015) Uptake kinetics and translocation of selenite and selenate as affected by iron plaque on root surfaces of rice seedlings. Planta 241:907–916

Khush G (1997) Origin, dispersal, cultivation and variation of rice in Oryza: from molecule to plant (eds Sasaki, T. & Moore, G.). 25–34 (Springer, Netherlands)

Kirk GJD, Bajita JB (1995) Root-induced iron oxidation, pH changes and zinc solubilization in the rhizosphere of lowland rice. New Phytologists 131:129–137

Li JR, Xu YM (2015) Immobilization of Cd in a paddy soil using moisture management and amendment. Chemosphere 122:131–136

Li B, Zhang T, Xu ZY, Fang HHP (2009) Rapid analysis of 21 antibiotics of multiple classes in municipal wastewater using ultra performance liquid chromatography-tandem mass spectrometry. Anal Chim Acta 645:64–72

Li XW, Xie YF, Li CL, Zhao HN, Zhao H, Wang N, Wang JF (2014) Investigation of residual fluoroquinolones in a soil-vegetable system in an intensive vegetable cultivation area in Northern China. Sci Total Environ 468-469:258–264

Liu WJ, Zhu YG, Hu Y, Williams PN, Gault AG, Meharg AA, Charnock JM, Smith FA (2006) Arsenic sequestration in iron plaque, its accumulation and speciation in mature rice plants (Oryza sativa L.). Environ Sci Technol 40:5730–5736

Ma W, Bao YY (2015) Effect of root iron plaque on norfloxacin uptake by rice. Environ Sci 336:2259–2265 (in Chinese)

Ma JF, Goto S, Tamai K, Ichii M (2001) Role of hairs and lateral roots in silicon uptake by rice. Plant Physiol 127:1773–1780

Okkenhaug G, Zhu YG, He JW, Li X, Luo L, Mulder J (2012) Antimony (Sb) and arsenic (As) in Sb mining impacted paddy soil from Xikuangshan, China: differences in mechanisms controlling soil sequestration and uptake in rice. Environ Sci Technol 46:3155–3162

Pan M, Chu LM (2016) Phytotoxicity of veterinary antibiotics to seed germination and root elongation of crops. Ecotoxicol Environ Saf 126:228–237

Pan W, Wu C, Xue S, Hartley W (2014) Arsenic dynamics in the rhizosphere and its sequestration on rice roots as affected by root oxidation. J Environ Sci 26:892–899

Sabourin L, Duenk P, Bonte-Gelok S, Payne M, Lapen DR, Topp E (2012) Uptake of pharmaceuticals, hormones and parabens into vegetables grown in soil fertilized with municipal biosolids. Sci Total Environ 431:233–236

Sadeek SA (2005) Synthesis, thermogravimetric analysis, infrared, electronic and mass spectra of Mn(II), Co(II) and Fe(III) norfloxacin complexes. J Mol Struct 753:1–12

Taylor GJ, Crowder AA, Rodden R (1984) Formation and morphology of an iron plaque on the roots of Typha latifolia L. Am J Bot 71:666–675

Tong CL, Zhuo XJ, Guo Y (2011) Occurrence and risk assessment of four typical fluoroquinolone antibiotics in raw and treated sewage and in receiving waters in Hangzhou, China. J Agric Food Chem 59:7303–7309

Tripathi RD, Tripathi P, Dwivedi S, Kumar A, Mishra A, Chauhan PS, Norton GJ, Nautiyal CS (2014) Roles for root iron plaque in sequestration and uptake of heavy metals and metalloids in aquatic and wetland plants. Metallomics 6:1789–1800

Turel I (2002) The interactions of metal ions with quinolone antibacterial agents. Coord Chem Rev 232:27–47

Wang T, Peverly JH (1996) Oxidation states and fractionation of plaque iron on roots of common reeds. Soil Sci Soc Am J 60:323–329

Wang TG, Peverly JH (1999) Iron oxidation states on root surfaces of a wetland plant (Phragmites australis). Soil Sci Soc Am J 63:247–252

Wang JM, Lin H, Sun WC, Xia Y, Ma JW, Fu JR, Zhang ZL, Wu HZ, Qian MR (2016) Variations in the fate and biological effects of sulfamethoxazole, norfloxacin and doxycyclinein different vegetable-soil systems following manure application. J Hazard Mater 304:49–57

Weiss JV, Emerson D, Backer SM, Megonigal JP (2003) Enumeration of Fe(II)-oxidizing and Fe(III)-reducing bacteria in the root zone of wetland plants: implications for a rhizosphere iron cycle. Biogeochemistry 64:77–96

Wright PM, Seiple IB, Myers AG (2014) The evolving role of chemical synthesis in antibacterial drug discovery. Angew Chem Int Ed Engl 53:8840–8869

Xu Y, Yu W, Ma Q, Zhou H (2015) Occurrence of (fluoro)quinolones and (fluoro)quinolone resistance in soil receiving swine manure for 11 years. Sci Total Environ 530-531:191–197

Zhang H, Huang CH (2007) Adsorption and oxidation of fluoroquinolone antibacterial agents and structurally related amines with goethite. Chemosphere 66:1502–1512

Zhang J, Li Z, Ge G, Sun W, Liang Y, Wu L (2009) Impacts of soil organic matter, pH and exogenous copper on sorption behavior of norfloxacin in three soils. J Environ Sci 21:632–640

Zhao L, Dong YH, Wang H (2010) Residues of veterinary antibiotics in manures from feed lot livestock in eight provinces of China. Sci Total Environ 408:1069–1075

Zheng RL, Cai C, Liang JH, Huang Q, Chen Z, Huang YZ, Arp HPH, Sun GX (2012) The effects of biochars from rice residue on the formation of iron plaque and the accumulation of Cd, Zn, Pb, As in rice (Oryza sativa L.) seedlings. Chemosphere 89:856–862

Zhou H, Zeng M, Zhou X, Liao BH, Peng PQ, Hu M, Zhu W, Wu YJ, Zou ZJ (2015) Heavy metal translocation and accumulation in iron plaques and plant tissues for 32 hybrid rice (Oryza sativa L.) cultivars. Plant Soil 386:317–329
Acknowledgements
This work is financially supported by the Tianjin Municipal Science and Technology Commission (Grant 16JCZDJC39200) and by the Ministry of Education, People's Republic of China as an innovative research team project (grant no. IRT13024).
Additional information
Responsible editor: Yi-ping Chen
About this article
Cite this article
Yan, D., Ma, W., Song, X. et al. The effect of iron plaque on uptake and translocation of norfloxacin in rice seedlings grown in paddy soil. Environ Sci Pollut Res 24, 7544–7554 (2017). https://doi.org/10.1007/s11356-017-8368-z
Received:

Accepted:

Published:

Issue Date:
Keywords
Iron plaque

Rice (Oryza sativa L.)

Norfloxacin

Uptake

Distribution