Abstract
Trace elements (TEs) could pose a potential threat to the environment and human health and hence they have been paid attention increasingly at present. This study presents the acid-leached concentrations of TEs (e.g., Al, As, Ba, Co, Cr, Cs, Cu, Fe, Li, Mn, Mo, Pb, Rb, Sb, Sr, Ti, Tl, U, V) and dust content sampled from Qiumianleike (QMLK), Meikuang (MK), Yuzhufeng (YZF), Xiaodongkemadi (XDKMD), Gurenhekou (GRHK) glaciers on the Tibetan Plateau (TP) from April to May in 2013. A nonparametric Jonckheere-Terpstra Method was used to test the trend of spatial distribution of TEs. The statistical analysis indicates that TEs were the highest in the QMLK glacier, lowest in the YZF glacier, and comparable in the other three glaciers. Comparison with other glaciers of the plateau, the statistical analysis on As, Cu, Mo, Pb, and Sb shows that their concentrations had, in general, a decreasing distribution characteristic from the north to the south of TP, which indicates that the northern TP is loading more atmospheric-polluted impurity than central and southern TP. Enrichment factor (EF) analysis indicates that Rb, V, U, Cr, Ba, Cs, Li, As, Co, Mn, Tl, Sr, and Cu originated mainly from crustal dust, while anthropogenic inputs such as nonferrous metals melting, coal combustion, and traffic emission made an important contribution to the Mo, Pb, and Sb. Evidences from air mass back trajectories show that TEs in the five studied glaciers might not only come from surrounding areas of glaciers but also might be long-range transported by atmosphere from the Central Asia and South Asia and deposited on these glaciers.
This is a preview of subscription content, log in to check access.
Access options
Buy single article
Instant access to the full article PDF.
US$ 39.95
Price includes VAT for USA
Subscribe to journal
Immediate online access to all issues from 2019. Subscription will auto renew annually.
US$ 99
This is the net price. Taxes to be calculated in checkout.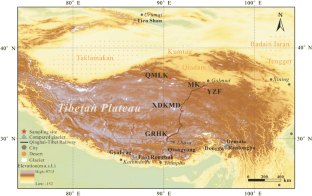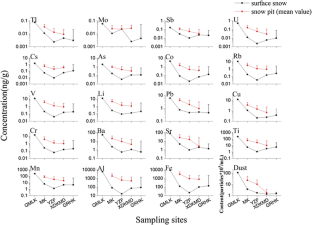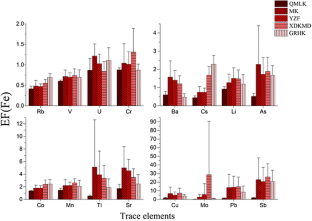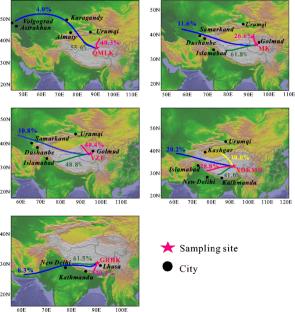 References
Chen W, Li Y, Qi S, Zhang C (2000) Distribution of nonferrous metallic mineral resources in Qinghai-Tibet plateau. Acta Geoscientica Sinica 21(1):26–37 (in Chinese)

Cong Z, Kang S, Zhang Y, Li X (2010) Atmospheric wet deposition of trace elements to central Tibetan plateau. Appl Geochem 25(9):1415–1421. https://doi.org/10.1016/j.apgeochem.2010.06.011

Cong Z, Kang S, Zhang Y, Gao S, Wang Z, Liu B, Wan X (2015) New insights into trace element wet deposition in the Himalayas: amounts, seasonal patterns, and implications. Environ Sci Pollut Res 22(4):2735–2744. https://doi.org/10.1007/s11356-014-3496-1

Dong Z, Kang S, Qin X, Li X, Qin D, Ren J (2015) New insights into trace elements deposition in the snow packs at remote alpine glaciers in the northern Tibetan plateau, China. Sci Total Environ 529:101–113. https://doi.org/10.1016/j.scitotenv.2015.05.065

Dong Z, Qin D, Qin X, Cui J, Kang S (2017) Changes in precipitating snow chemistry with seasonality in the remote Laohugou glacier basin, western Qilian Mountains. Environ Sci Pollut Res 24(12):11404–11414. https://doi.org/10.1007/s11356-017-8778-y

Duan J, Ren J, Qin X, Li Y (2007) Heavy metals concentrations and seasonal variations in snow of mount Qomolangma region. Acta Geograph Sin 62(1):22–26. https://doi.org/10.11821/xb200701003

Huang J, Kang S, Zhang Q, Guo J, Chen P, Zhang G, Tripathee L (2013) Atmospheric deposition of trace elements recorded in snow from the Mt. Nyainqentanglha region, southern Tibetan plateau. Chemosphere 92(8):871–881. https://doi.org/10.1016/j.chemosphere.2013.02.038

Kang S, Zhang Q, Kaspari S, Qin D, Cong Z, Ren J, Mayewski PA (2007) Spatial and seasonal variations of elemental composition in Mt. Everest (Qomolangma) snow/firn. Atmos Environ 41(34):7208–7218. https://doi.org/10.1016/j.atmosenv.2007.05.024

Koffman BG, Handley MJ, Osterberg EC, Wells ML, Kreutz KJ (2014) Dependence of ice-core relative trace-element concentration on acidification. J Glaciol 60(219):103–112. https://doi.org/10.3189/2014JoG13J137

Kyllönen K, Karlsson V, Ruoho-Airola T (2009) Trace element deposition and trends during a ten year period in Finland. Sci Total Environ 407(7):2260–2269. https://doi.org/10.1016/j.scitotenv.2008.11.045

Lee CSL, Li XD, Zhang G, Li J, Ding A, Wang T (2007) Heavy metals and Pb isotopic composition of aerosols in urban and suburban areas of Hong Kong and Guangzhou, South China—evidence of the long-range transport of air contaminants. Atmos Environ 41(2):432–447. https://doi.org/10.1016/j.atmosenv.2006.07.035

Legret M, Pagotto C (1999) Evaluation of pollutant loadings in the runoff waters from a major rural highway. Sci Total Environ 235(1–3):143–150. https://doi.org/10.1016/S0048-9697(99)00207-7

Li Y, Yao T, Wang N, Li Z, Tian L, Xu B, Wu G (2006a) Recent changes of atmospheric heavy metals in a high-elevation ice core from Muztagh Ata, east Pamirs: initial results. Ann Glaciol 43:154–159. https://doi.org/10.3189/172756406781812186

Li Z, Yao T, Tian L, Xu B, Li Y (2006b) Atmospheric Pb variations in Central Asia since 1955 from Muztagata ice core record, eastern Pamirs. Chin Sci Bull 51(16):1996–2000. https://doi.org/10.1007/s11434-006-2061-9

Li C, Kang S, Zhang Q (2009a) Elemental composition of Tibetan plateau top soils and its effect on evaluating atmospheric pollution transport. Environ Pollut 157(8–9):2261–2265. https://doi.org/10.1016/j.envpol.2009.03.035

Li Q, Wang N, Wu X, Pu J, He J, Xie J (2009b) Compositional characteristics of n-alkanes of the glaciers over the Tibetan Plateau and their environment and climatic significances. Sci China Ser D Earth Sci 52(11):1803–1812. https://doi.org/10.1007/s11430-009-0168-y

Li Q, Wu X, Pu J, He J (2011a) Environmental records of snow pis in Yuzhufeng glacier and Xiao Dongkemadi glacier in the Tibetan Plateau. Sci Cold Arid Regions 3(5):0392–0399. https://doi.org/10.3724/SP.J.1226.2011.00392

Li Y, Shi X, Wang N, Pu J, Yao T (2011b) Concentration of trace elements and their sources in a snow pit from Yuzhu Peak, north-east Qinghai-Tibetan plateau. Sci Cold Arid Regions 3(3):0216–0222. https://doi.org/10.3724/SP.J.1226.2011.00216

Li Y, Tian L, Shi X, Yao T (2012) The composition characteristics and environmental significance of trace elements in the firn core of Qiangyong glacier, southern Qinghai-Tibetan plateau. Geochimica 41(2):181–187 (in Chinese)

Li Y, Li Z, Huang J, Cozzi G, Turetta C, Barbante C, Xiong L (2017) Variations of trace elements and rare earth elements (REEs) treated by two different methods for snow-pit samples on the Qinghai–Tibetan Plateau and their implications. Sci Cold Arid Regions 9(6):1–12. https://doi.org/10.3724/SP.J.1226.2017.00000

Liu Y, Hou S, Li Y, Li Z, Wang Y (2008) The acid-cleaning method of labwares of analysis of ultra low concentration heavy metals in antarctic and arctic snow and ice samples. J Glaciol Geocryol 30(6):1007–1012 (in Chinese)

Liu Y, Hou S, Hong S, Do Hur S, Lee K, Wang Y (2011a) High-resolution trace element records of an ice core from the eastern Tien Shan, central Asia, since 1953 AD. J Geophys Res 116(D12):1248–1256. https://doi.org/10.1029/2010JD015191

Liu Y, Hou S, Hong S, Hur SD, Lee K, Wang Y (2011b) Atmospheric pollution indicated by trace elements in snow from the northern slope of Cho Oyu range, Himalayas. Environ Earth Sci 63(2):311–320. https://doi.org/10.1007/s12665-010-0714-0

McConnell JR, Edwards R (2008) Coal burning leaves toxic heavy metal legacy in the Arctic. Proc Natl Acad Sci U S A 105(34):12140–12144. https://doi.org/10.1073/pnas.0803564105

Nriagu JO (1989) A global assessment of natural sources of atmospheric trace metals. Nature 338(6210):47–49. https://doi.org/10.1038/338047a0

Osterberg EC, Handley MJ, Sneed SB, Mayewski PA, Kreutz KJ (2006) Continuous ice core melter system with discrete sampling for major ion, trace element, and stable isotope analyses. Environmental Science & Technology 40(10):3355–3361. https://doi.org/10.1021/es052536w

Ozsoy T, Ornektekin S (2009) Trace elements in urban and suburban rainfall, Mersin, Northeastern Mediterranean. Atmos Res 94(2):203–219. https://doi.org/10.1016/j.atmosres.2009.05.017

Pacyna JM, Pacyna EG (2001) An assessment of global and regional emissions of trace metals to the atmosphere from anthropogenic sources worldwide. Environ Rev 9(4):269–298. https://doi.org/10.1139/er-9-4-269

Shi X, Li Y, Li Z, Wang W (2011) The seasonal variations and sources of trace elements in head water glacier NO. 1 in Urumqi, east Tian-Shan. Environ Chem 30(9):1636–1642 (in Chinese)

Sun S, Kang S, Huang J, Li C, Guo J, Zhang Q, Sun X, Tripathee L (2016) Distribution and transportation of mercury from glacier to lake in the Qiangyong Glacier Basin, southern Tibetan Plateau, China. J Environ Sci 44:213–223. https://doi.org/10.1016/j.jes.2015.09.017

Tripathee L, Kang S, Huang J, Sharma CM, Sillanpää M, Guo J, Paudyal R (2014) Concentrations of trace elements in wet deposition over the central Himalayas, Nepal. Atmos Environ 95:231–238. https://doi.org/10.1016/j.atmosenv.2014.06.043

Uglietti C, Gabrielli P, Olesik JW, Lutton A, Thompson LG (2014) Large variability of trace element mass fractions determined by ICP-SFMS in ice core samples from worldwide high altitude glaciers. Appl Geochem 47:109–121. https://doi.org/10.1016/j.apgeochem.2014.05.019

Wang Y, Zhang X, Draxler RR (2009) TrajStat: GIS-based software that uses various trajectory statistical analysis methods to identify potential sources from long-term air pollution measurement data. Environ Model Softw 24(8):938–939. https://doi.org/10.1016/j.envsoft.2009.01.004

Wang G, Yan X, Zhang F, Zeng C, Gao D (2014) Traffic-related trace element accumulation in roadside soils and wild grasses in the Qinghai-Tibet plateau, China. Int J Environ Res Public Health 11(1):456–472. https://doi.org/10.3390/ijerph110100456

Wedepohl KH (1995) The composition of the continental crust. Geochim Cosmochim Acta 59(7):1217–1232. https://doi.org/10.1016/0016-7037(95)00038-2

Xiong L, Li Y, Li Z (2015) Comparative study of trace elements in snow pit from Xiaodongkemadi glacier in Tanggula mountain based on two sample preparation method. Environ Chem 34(3):520–528 (in Chinese)

Xu B, Yao T, Liu X, Wang N (2006) Elemental and organic carbon measurements with a two-step heating-gas chromatography system in snow samples from the Tibetan plateau. Ann Glaciol 43(1):257–262. https://doi.org/10.3189/172756406781812122

You C, Yao T, Wu G (2014) Research progress on biomass burning records in snow and ice. Advance in Earth Sciences 29(6):662–673. https://doi.org/10.11867/j.issn.1001-8166.2014.06.0662 (in Chinese)

Zhang XP, Deng W, Yang XM (2002) The background concentrations of 13 soil trace elements and their relationships to parent materials and vegetation in Xizang (Tibet), China. J Asian Earth Sci 21(2):167–174. https://doi.org/10.1016/S1367-9120(02)00026-3

Zhang H, Wang Z, Zhang Y, Hu Z (2012) The effects of the Qinghai–Tibet railway on heavy metals enrichment in soils. Sci Total Environ 439:240–248. https://doi.org/10.1016/j.scitotenv.2012.09.027

Zhang Y, Kang S, Chen P, Li X, Liu Y, Gao T, Guo J, Sillanpää M (2016) Records of anthropogenic antimony in the glacial snow from the southeastern Tibetan Plateau. J Asian Earth Sci 131:62–71. https://doi.org/10.1016/j.jseaes.2016.09.007
Acknowledgements
This study is supported by the National Natural Science Foundation of China (41276194, 40771046, 40601021). Thanks are owed to the Spring 2013 field work team on the Tibetan Plateau for their hard field work. We also appreciate two anonymous referees very much for their good reviews and suggestions for improving the paper.
Additional information
Responsible editor: Gerhard Lammel
About this article
Cite this article
Huang, J., Li, Y., Li, Z. et al. Spatial variations and sources of trace elements in recent snow from glaciers at the Tibetan Plateau. Environ Sci Pollut Res 25, 7875–7883 (2018). https://doi.org/10.1007/s11356-017-0904-3
Received:

Accepted:

Published:

Issue Date:
Keywords
Trace elements

Spatial variation

Sources

Snow

Tibetan Plateau