Abstract
The toxic metal contents of cigarette butts and distribution of cigarette butts have not been studied well in maritime environment. In the present study, cigarette butts distribution and the associations of Hg and Pb from cigarette butts were monitored along the Persian Gulf with 10 days interval sampling time. The number of cigarette butts, and Hg and Pb associations of butts were found to vary widely between 2 and 38 items per square meter, 2.5 and 86.32 ng/g cigarette butt (CB), as well as 650 and 8630 ng/g CB, respectively. Wilcoxon signed-rank test showed that there were no significant differences between the number of butts, and Hg and Pb contents of the butts at different sampling times. Considering amount of cigarette butts littered yearly, this study demonstrates that remarkable toxic metals of Hg and Pb may enter maritime environment each year and may introduce critical hazards to aquatic organisms, enter food chain, and finally human body.
This is a preview of subscription content, log in to check access.
Access options
Buy single article
Instant access to the full article PDF.
US$ 39.95
Price includes VAT for USA
Subscribe to journal
Immediate online access to all issues from 2019. Subscription will auto renew annually.
US$ 99
This is the net price. Taxes to be calculated in checkout.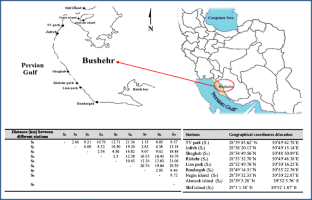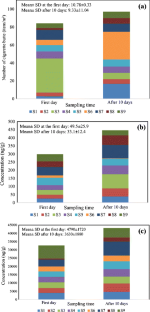 References
Adjei-Boateng D, Obirikorang KA, Amisah S (2010) Bioaccumulation of heavy metals in the tissue of the clam Galatea paradoxa and sediments from the Volta Estuary. Ghana Int J Environ Resour Res 4:533–540

Afridi HI, Kazi TG, Talpur FN, Brabazon D, Naher S (2013) Estimation of toxic elements in the samples of different cigarettes and their impact on human health of Irish hypertensive consumers. Clin Chim Acta 426:51–57

Ashton K, Holmes L, Turner A (2010) Association of metals with plastic production pellets in the marine environment. Mar Pollut Bull 60:2050–2055

Beck M, Böning P, Schückel U, Stiehl T, Schnetger B, Rullkötter J, Brumsack H (2013) Consistent assessment of trace metal contamination in surface sediments and suspended particulate matter: a case study from the Jade Bay in NW Germany. Mar Pollut Bull 70:100–111

Bonadio WA, Anderson Y (1989) Tobacco ingestions in children. Clin Ped 28:592

Booth S, Zeller D (2005) Mercury, food webs, and marine mammals: implications of diet and climate change for human health. Environ Health Perspect 113:521–526

Braune BM, Outridge PM, Fisk AT, Muir DCG, Helm PA, Hobbs K, Hoekstra PF, Kuzyk ZA, Kwan M, Letcher RJ, Lockhart WL, Norstrom RJ, Stern GA, Stirling I (2005) Persistent organic pollutants and mercury in marine biota of the Canadian Arctic: an overview of spatial and temporal trends. Sci Total Environ:351–352

Briant N, Bancon-Montigny C, Elbaz-Poulichet F, Freydier R, Delpoux S, Cossa D (2010) Trace elements in the sediments of a large Mediterranean marina (Port Camargue, France): levels and contamination history. Mar Pollut Bull 73:78–85

Bronstein AC, Spyker DA, Cantilena LR Jr, Rumack BH, Dart RC (2012) 2011 annual report of the American Association of Poison Control Centers' National Poison data system (NPDS): 29th annual report, 911–1164

Centers for Disease Control and Prevention (CDC) (1997) Ingestion of cigarettes and cigarette butts by children—Rhode Island, January 1994–July 1996. MMWR Morb Mortal Wkly Rep 46:125–128

Cigarette Butt Advisory Group (2009) How many filtered cigarettes are deposited into the environment each year? California, 2009. http://cigwaste.org/

Dobaradaran S, Nabipour I, Saeedi R, Ostovar A, Khorsand M, Khajeahmadi N, Hayati R, Keshtkar M (2017) Association of metals (Cd, Fe, As, Ni, Cu, Zn and Mn) with cigarette butts in northern part of the Persian Gulf. Tob Control 26:461–463

Falconer CR, Davies IM, Topping G (1983) Trace metals in the common porpoise, Phocoena phocoena. Mar Environ Res 8:119–127

Giarratano E, Duarte CA, Amin OA (2010) Biomarkers and heavy metal bioaccumulation in mussels transplanted to coastal waters of the Beagle Channel. Ecotoxicol Environ Saf 73:270–279

Green ALR, Putschew A, Nehls T (2014) Littered cigarette butts as a source of nicotine in urban waters. J Hydrol 519:3466–3474

Hoellein T, Rojas M, Pink A, Gasior J, Kelly J (2014) Anthropogenic litter in urban freshwater ecosystems: distribution and microbial interactions. PLoS One 9(6):e98485

Holmes LA, Turner A, Thompson RC (2012) Adsorption of trace metals to plastic resin pellets in the marine environment. Environ Pollut 160:42–48

Holmes LA, Turner A, Thompson RC (2014) Interactions between trace metals and plastic production pellets under estuarine conditions. Mar Chem 167:25–32

Issa BR, Arimoro FO, Ibrahim M, Birma GJ, Fadairo EA (2011) Assessment of sediment contamination by heavy metals in River Orogodo (Agbor, Delta State, Nigeria). Curr World Environ 6:29–38

Kazemi A, Riyahi Bakhtiari A, Kheirabadi N, Mohammad Karimi A (2013) Distribution of Pb in Sediment and shell of Rocky Oysters (Saccostrea cucullata) of Lengeh Port, Qeshm and Hormoz Islands in Persian Gulf. Iran ECOPERSIA 1:191–198

Kesavan K, Murugan A, Venkatesan V, Kumar V (2013) Heavy metal accumulation in molluscs and sediment from Uppanar estuary, southeast coast of India. Thalassas 29:15–21

Komárek M, Ettler V, Chrastný V, Mihaljevič M (2008) Lead isotopes in environmental sciences: a review. Environ Int 34(4):562–577

Kowalski R, Wierciński J (2009) Mercury content in smoke and tobacco from selected cigarette brands. Ecol Chem Eng S 16:155–162

Kubo K, Chishiro T (2008) Six-year review of cigarette ingestion in children—gastric lavage versus medical observation[Abstract]. Chudoku kenkyu 21:115–122

Law RJ, Jones BR, Baker JR, Kennedy S, Milne R, Morris RJ (1992) Trace metals in the livers of marine mammals from the Welsh coast and the Irish Sea. Mar Pollut Bull 24:296–304

Leopold K, Foulkes M, Worsfold PJ (2009) Preconcentration techniques for the determination of mercury species in natural waters. Trends Analyt Chem 28:426–435

Liu R, Liang P (2008) Determination of trace lead in water samples by graphite furnace atomic absorption spectrometry after preconcentration with nanometer titanium dioxide immobilized on silica gel. J Hazard Mater 152:166–171

Malizia E, Andreucci G, Alfani F, Smeriglio M, Nicholai P (1983) Acute intoxication with nicotine alkaloids and cannabinoids in children from ingestion of cigarettes. Hum Toxicol 2:315–316

Marah M, Novotny TE (2011) Geographic patterns of cigarette butt waste in the urban environment. Tob Control 20(Suppl 1):i42–i44

Martinez-Ribes L, Basterretxea G, Palmer M, Tintoré J (2007) Origin and abundance of beach debris in the Balearic Islands. Sci Mar 71:305–314

Massadeh AM, Alali FQ, Jaradat QM (2005) Determination of cadmium and lead in different cigarette brands in Jordan. Environ Monit Assess 104:163–170

Mcgee D, Brabson T, Mccarthy J, Picciotti M (1995) Four-year review of cigarette ingestions in children. Pediatr Emerg Care 11:13–16

Micevska T, Warne MSJ, Pablo F, Patra R (2006) Variation in, and causes of, toxicity of cigarette butts to a cladoceran and microtox. Arch Environ Contam Toxicol 50:205–212

Moerman J, Potts G (2011) Analysis of metals leached from smoked cigarette litter. Tob Control 20:i30–i35

Moore SL, Gregorio D, Carreon M, Weisberg SB, Leecaster MK (2001) Composition and distribution of beach debris in Orange County, California. Mar Pollut Bull 42:241–245

Moriwaki H, Kitajima S, Katahira K (2009) Waste on the roadside, 'poi-sute'waste: its distribution and elution potential of pollutants into environment. Waste Manag 29:1192–1197

Mudgal V, Madaan N, Mudgal A, Singh RB, Mishra S (2010) Effect of toxic metals on human health. Open Nutraceuticals J 3:94–99

Novotny TE, Lum K, Smith E, Wang V, Barnes R (2009) Cigarettes butts and the case for an environmental policy on hazardous cigarette waste. Int J Environ Res Public Health 6:1691–1705

Oigman-Pszczol SS, Creed JC (2007) Quantification and classification of marine litter on beaches along Armação dos Búzios, Rio de Janeiro, Brazil. J Coast Res:421–428

Pacyna EG, Pacyna JM, Sundseth K, Munthe J, Kindbom K, Wilson S, Steenhuisen F, Maxson P (2010) Global emission of mercury to the atmosphere from anthropogenic sources in 2005 and projections to 2020. Atmos Environ 44:2487–2499

Pan K, Wang WX (2011) Mercury accumulation in marine bivalves: influences of biodynamics and feeding niche. Environ Pollut 159:2500–2506

Panta YM, Qian S, Cross CL, Cizdziel JV (2008) Mercury content of whole cigarettes, cigars and chewing tobacco packets using pyrolysis atomic absorption spectrometry with gold amalgamation. J Anal Appl Pyrolysis 83:7–11

Pirrone N, Cinnirella S, Feng X, Finkelman RB, Friedli HR, Leaner J, Mason R, Mukherjee AB, Stracher GB, Streets DG, Telmer K (2010) Global mercury emissions to the atmosphere from anthropogenic and natural sources. Atmos Chem Phys 10:5951–5964

Quirk JT (2009) Cigarette-related injuries to young children in the USA, 2002–2007. Public Health 123:628–629

Register K (2000) Cigarette butts as litter—toxic as well as ugly? Underw Nat 25:23–29

Rubio B, Nombela MA, Vilas F (2000) Geochemistry of major and trace elements in sediments of the Ria De Vigo (NW Spain): an assessment of metal pollution. Mar Pollut Bull 40:968–980

Shirneshan G, Riyahi Bakhtiari A (2012) Accumulation and distribution of Cd, Cu, Pb and Zn in the soft tissue and shell of oysters collected from the northern coast of Qeshm Island, Persian Gulf. Iran Chem Speciat Bioavailab 24:129–138

Slaughter E, Gersberg RM, Watanabe K, Rudolph J, Stransky C, Novotny TE (2011) Toxicity of cigarette butts, and their chemical components, to marine and freshwater fish. Tob Control 20:i25–i29

Smolinske SC, Spoerke DG, Spiller SK, Wruk KM, Kulig K, Rumackt BH (1988) Cigarette and nicotine chewing gum toxicity in children. Hum Exp Toxicol 7:27–31

Stanley KM, Stabenau EK, Landry AM (1988) Debris ingestion by sea turtles along the Texas coast, In Eighth Annual Workshop on Sea Turtle Conservation and Biology. Fort Fisher, NC, USA: NOAA Technical. Memorandum:119–121

Turner A (2016) Heavy metals, metalloids and other hazardous elements in marine plastic litter. Mar Pollut Bull 111:136–142

Tyokumbur ET, Okorie TG (2014) Bioconcentration of trace metals in the freshwater snail Melanoides tuberculata (Mollusca: Thiaridae) from Alaro stream ecosystem of South West Nigeria. Adv Biosci Bioeng 2(1)

Vincent-Akpu IF, Babatunde BB (2013) Trace metals in water, fish and sediments from Elechi Creek, Port Harcourt, Rivers State, Nigeria. Trop Freshw Biol 22:13

Wang Y, Yao X-Y, Li D, Jin X, Li Q-C, Sun B, Han Y-H, Fan L, Qi Q-P (2007) Determination of hg and as in cigarette filter components with hydride generation-atomic fluorescence spectrometry. Tob Sci Technol 9:41–45

Warne MSJ, Patra RW, Cole B, Lunau B (2002) Toxicity and a hazard assessment of cigarette butts to aquatic organisms. Interact 2002—Programme and Abstract Book. Sydney, Australia 1:21–25

Widianarko B, Van Gestel CAM, Verweij RA, Van Straalen NM (2000) Associations between trace metals in sediment, water, and guppy, Poecilia reticulata (Peters), from urban streams of Semarang, Indonesia. Ecotoxicol Environ Saf 46:101–107

Wren CD, Scheider WA, Wales DL, Muncaster BW, Gray IM (1991) Relation between mercury concentrations in walleye (Stizostedion vitreum vitreum) and northern pike (Esox lucius) in Ontario lakes and influence of environmental factors. Can J Fish Aquat Sci 48:132–139

Yap CK, Sulaiman M, Edward FB, Tan SG (2012) Anthropogenic inputs of heavy metals in the east part of the Johore Straits as revealed by their concentrations in the different soft tissues of Perna viridis (L). Pertanika J Trop Agric Sci 35:815–822

Yılmaz F, Özdemir N, Demirak A, Tuna AL (2007) Heavy metal levels in two fish species Leuciscus cephalus and Lepomis gibbosus. Food Chem 100:830–835
Acknowledgments
The authors are thankful to the Bushehr University of Medical Sciences for their financial and technical support to the present study as well as the laboratory staff of the Environmental Health Engineering Department for their cooperation. This project was partly supported by Iran National Science Foundation (Research Chair Award No. 95/INSF/44913).
Funding
This work was supported by the Bushehr University of Medical Sciences [grant numbers 9197].
Additional information
Responsible editor: Philippe Garrigues
Electronic supplementary material
About this article
Cite this article
Dobaradaran, S., Schmidt, T.C., Nabipour, I. et al. Cigarette butts abundance and association of mercury and lead along the Persian Gulf beach: an initial investigation. Environ Sci Pollut Res 25, 5465–5473 (2018). https://doi.org/10.1007/s11356-017-0676-9
Received:

Accepted:

Published:

Issue Date:
Keywords
Bushehr

Cigarette butts

Lead

Mercury

Persian Gulf