Abstract
Pesticide risk assessment in the European regulatory framework is mandatory performed for active substances (pesticides) and the plant protection products they are constituents of. The aim is to guarantee that safe use can be achieved for the intended use of the product. This paper provides a feedback on the regulatory environmental risk assessment performed for pesticide registration at the EU and member state levels. The different steps of pesticide registration are addressed considering both exposure and hazard. In this paper, we focus on the environmental fate and behaviour in surface water together with the aquatic ecotoxicity of the substances to illustrate pesticide regulatory risk assessment performed for aquatic organisms. Current methodologies are presented along with highlights on potential improvements. For instance, as regards exposure aspects, moving from field based to landscape risk assessments is promising. Regarding ecotoxicology, ecological models may be valuable tools when applied to chemical risk assessment. In addition, interest and further developments to better take into account mitigation measures in risk assessment and management are also presented.
This is a preview of subscription content, log in to check access.
Access options
Buy single article
Instant access to the full article PDF.
US$ 39.95
Price includes VAT for USA
Subscribe to journal
Immediate online access to all issues from 2019. Subscription will auto renew annually.
US$ 99
This is the net price. Taxes to be calculated in checkout.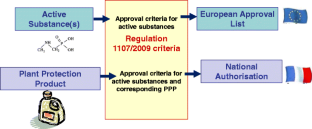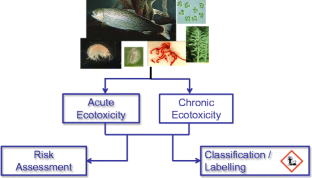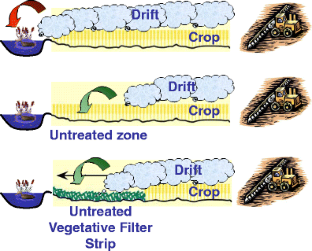 References
Alix A, Knauer K, Streloke M, Poulsen V. (2015) Development of a harmonized risk mitigation toolbox dedicated to environmental risks of pesticides in farmland in Europe: outcome of the MAgPIE workshop. Julius Kuhn-Archiv (Issue 449)

Boesten J, Businelly M, Delmas A, Edwards V, Helweg A, Jones R, Klein M, Kloskowski R, Layton R, Marcher S., Schäfer H, Smeets L, Styzcen M, Russell M, Travis K, Walker A, Yon D, 1995. Leaching models and EU registration: The final report of the work of the Regulatory Modelling Work Group of FOCUS (FOrum for the Co-ordination of pesticide fate models and their USe). European Commission Document DOC. 4952/VI/95, 291 p

Carsel RF, Smith CN, Mulkey LA, Dean JD, Jowise P (1984): User's manual for the pesticide root zone model (PRZM): release 1. EPA/600/3–84/109. U.S. EPA, Athens, GA

EFSA Panel on Plant Protection Products and their Residues (2013) Scientific opinion on the report of the FOCUS groundwater working group (FOCUS, 2009): assessment of higher tiers. EFSA J 11(6):3291 . doi:10.2903/j.efsa.2013.329125pp

Forbes VE, Calow P (2013) Use of the ecosystem services concept in ecological risk assessment of chemicals. Integr Environ Assess Manag 9:269–275

Gauroy C, Bougon N, Carluer N, Gouy V, Le Hénaff G, Piffady J, Tormos T (2014) Risk assessment of contamination of surface water bodies by pesticides in France: Arpeges method. TSM 12(2014):61–78. doi:10.1051/tsm/201412061

Jarvis NJ, Stähli M, Bergström L, Johnsson H (1994) Simulation of dichlorprop and bentazon leaching in soils of contrasting texture using the MACRO model. Journal of Environmental Science & Health A29(6):1255–1277

Jarvis NJ, Hollis JM, Nicholls PH, Mayr T, Evans SP (1997) MACRO—DB: a decision-support tool for assessing pesticide fate and mobility in soils. Environ Model Softw 12(2–3):251–265

Le Hénaff G, Ouvry JF, Real B, Boivin A, Billy C (2016) Mesures de gestion du ruissellement en France, quelles mesures alternatives au DVP de 20 m? AFPP-23e conference du Columa. Journées internationales sur la lutte contre les mauvaise herbes, Dijon

Mamy L, Patureau D, Barriuso E, Bedos C, Bessac F, Louchart X, Martin-laurent F, Miege C, Benoit P (2015) Prediction of the fate of organic compounds in the environment from their molecular properties: a review. Crit Rev Env Sci Tec 45(12)

Moeys J, Larsbo M, Brown CD, Coquet Y, Jarvis NJ (2012) Functional test of pedotransfer functions to predict water flow and solute transport with the dual-permeability model MACRO. Hydrology and Earth System Sciences, European Geosciences Union 16:2069–2083

Regulation (EC) No 1107/2009 of the European Parliament and of the Council of 21 October 2009 concerning the placing of plant protection products on the market and repealing Council Directives 79/117/EEC and 91/414/EEC, OJ L 309, 24.11.2009, p. 1–50

Schmolke A, Thorbek P, Chapman P, Grimm V (2010) Ecological models and pesticide risk assessment: current modeling practice. Environ Toxicol Chem 29:1006–1012

Topping CJ, Hansen TS, Jensen TS, Jepsen JU, Nikolajsen F, Odderskær P (2003) ALMaSS, an agent-based model for animals in temperate European landscapes. Ecol Model 167(1-2):65–82

Topping CJ, Craig PS, de Jong F, Klein M, Laskowski R, Manachini B, Pieper S, Smith R, Sousa JP, Streissl F, Swarowsky K, Tiktak A, van der Linden T (2015) Towards a landscape scale management of pesticides: ERA using changes in modelled occupancy and abundance to assess long-term population impacts of pesticides. Sci Total Environ 537(2015):159–169
Additional information
Responsible editor: Philippe Garrigues
About this article
Cite this article
Boivin, A., Poulsen, V. Environmental risk assessment of pesticides: state of the art and prospective improvement from science. Environ Sci Pollut Res 24, 6889–6894 (2017). https://doi.org/10.1007/s11356-016-8289-2
Received:

Accepted:

Published:

Issue Date:
Keywords
Pesticides

Regulation

Risk assessment

E-fate

Ecotoxicity

Improvements