Abstract
Sodium chlorate (NaClO3) is a widely used non-selective herbicide. It is also generated as a byproduct during disinfection of drinking water by chlorine dioxide. In the present work, the effects of NaClO3 on human erythrocytes were studied under in vitro conditions. Incubation of erythrocytes with different concentrations of NaClO3 at 37 °C for 90 min resulted in significant hemolysis. Cell lysates were prepared from NaClO3-treated and untreated (control) erythrocytes and assayed for various biochemical parameters. Methemoglobin levels were significantly increased and methemoglobin reductase activity was reduced upon NaClO3 treatment. There was a significant increase in protein oxidation and lipid peroxidation with a decrease in reduced glutathione and total sulfhydryl content. This suggests the induction of oxidative stress in erythrocytes upon exposure to NaClO3. The occurrence of oxidative stress was confirmed by significantly increased generation of reactive oxygen species and lowered antioxidant response of the cells. NaClO3 treatment also increased nitric oxide levels showing induction of nitrosative stress. The activities of major antioxidant and membrane-bound and metabolic enzymes were significantly altered upon incubation of erythrocytes with NaClO3. The erythrocytes became more osmotically fragile while electron microscopic images showed gross morphological alterations in NaClO3-treated cells. These results show that NaClO3 induces oxidative stress in human erythrocytes, which results in extensive membrane damage and lowers the antioxidant response.
This is a preview of subscription content, log in to check access.
Access options
Buy single article
Instant access to the full article PDF.
US$ 39.95
Price includes VAT for USA
Subscribe to journal
Immediate online access to all issues from 2019. Subscription will auto renew annually.
US$ 99
This is the net price. Taxes to be calculated in checkout.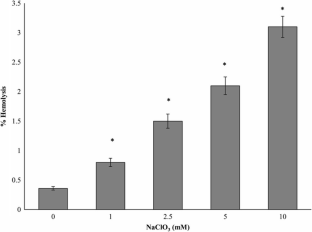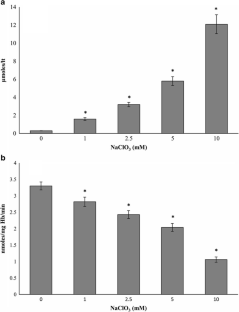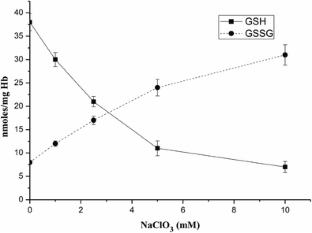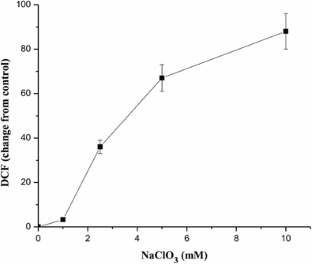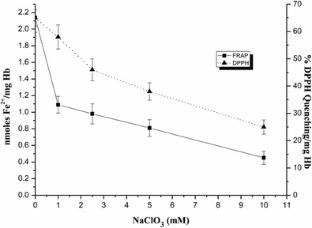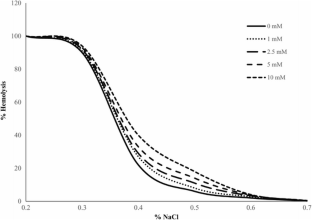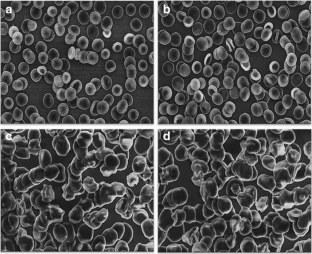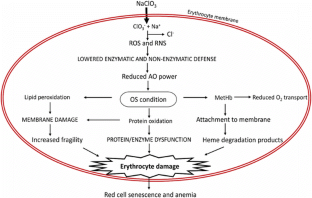 References
Abdel-Rahman MS, Couri D, Bull RJ (1985) Toxicity of chlorine dioxide in drinking water. J Environ Pathol Toxicol Oncol 6:105–113

Aebi H (1984) Catalase in vitro. Methods Enzymol 105:121–126

Benesch RE, Benesch R, Yung S (1973) Equations for the spectrophotometric analysis of hemoglobin mixtures. Anal Biochem 55:245–248. doi:10.1016/0003-2697(73)90309-6

Benzie IFF, Strain JJ (1996) The ferric reducing ability of plasma (FRAP) as a measure of "antioxidant power": the FRAP assay. Anal Biochem 239:70–76. doi:10.1006/abio.1996.0292

Blakley BR, Fraser LM, Waldner C (2007) Chlorate poisoning in beef cattle. Can Vet J 48:1071–1073

Bolyard M, Fair PS, Hautman DP (1993) Sources of chlorate ion in US drinking water. J Am Water Works Assoc 85:81–88

Bonting SL, Simon KA, Hawkins NM (1961) Studies on sodium-potassium-activated adenosine triphosphatase: I. Quantitative distribution in several tissues of the cat. Arch Biochem Biophys 95:416–423. doi:10.1016/0003-9861(61)90170-9

Buege JA, Aust SD (1978) Microsomal lipid peroxidation. Methods Enzymol 52:302–310

Campanella ME, Chu H, Low PS (2005) Assembly and regulation of a glycolytic enzyme complex on the human erythrocyte membrane. Proc Natl Acad Sci U S A 102:2402–2407. doi:10.1073/pnas.0409741102

Casey P, Vale JA (1994) Deaths from pesticide poisoning in England and Wales: 1945–1989. Hum Exp Toxicol 13:95–101

Condie LW (1986) Toxicological problems associated with chlorine dioxide. J Am Water Works Assoc 78:73–78

Couri D, Abdel-Rahman MS, Bull RJ (1982) Toxicological effects of chlorine dioxide, chlorite and chlorate. Environ Health Perspect 46:13–17

Dalle-Donne I, Rossi R, Colombo R et al (2006) Biomarkers of oxidative damage in human disease. Clin Chem 52:601–623. doi:10.1373/clinchem.2005.061408

Da-Silva SS, Sajan IS, Underwood JP (2003) Congenital methemoglobinemia: a rare cause of cyanosis in the newborn—a case report. Pediatrics 112:e158–e161

Ellman GL, Courtney KD, jr. Andres V, Featherstone RM (1961) A new and rapid colorimetric determination of acetylcholinesterase activity. Biochem Pharmacol 7:88–95. doi:10.1016/0006-2952(61)90145-9

Escobar JA, Rubio MA, Lissi EA (1996) SOD and catalase inactivation by singlet oxygen and peroxyl radicals. Free Radic Biol Med 20:285–290

Eysseric H, Vincent F, Peoc'h M et al (2000) A fatal case of chlorate poisoning: confirmation by ion chromatography of body fluids. J Forensic Sci 45:474–477

Flohé L, Günzler WA (1984) Assays of glutathione peroxidase. Methods Enzymol 105:114–120

Freed VH (1953) Herbicide mechanism, mode of action other than aryl oxyalkyl acids. J Agric Food Chem 1:47–51. doi:10.1021/jf60001a005

Gay C, Gebicki JM (2000) A critical evaluation of the effect of sorbitol on the ferric-xylenol orange hydroperoxide assay. Anal Biochem 284:217–220. doi:10.1006/abio.2000.4696

Gregory DG, Miller S, Whaley MW (1993) Chlorate toxicosis in a group of swine. J Vet Diagn Investig 5:494–496

Halbhuber KJ, Lemke C, Stibenz D, Linss W (1984) Activation of acetylcholine esterase (ACHE) as a sign for erythrocyte membrane alteration. Exp Pathol 25:35–44

Hissin PJ, Hilf R (1976) A fluorometric method for determination of oxidized and reduced glutathione in tissues. Anal Biochem 74:214–226

Jaffé ER (1986) Enzymopenic hereditary methemoglobinemia: a clinical/biochemical classification. Blood Cells 12:81–90

Keller A, Mohamed A, Dröse S et al (2004) Analysis of dichlorodihydrofluorescein and dihydrocalcein as probes for the detection of intracellular reactive oxygen species. Free Radic Res 38:1257–1267. doi:10.1080/10715760400022145

Khundmiri SJ, Asghar M, Khan F et al (2004) Effect of ischemia and reperfusion on enzymes of carbohydrate metabolism in rat kidney. J Nephrol 17:377–383

Kinoshita H, Yoshioka N, Kuse A et al (2011) A fatal case of severe methemoglobinemia presumably due to chlorate ingestion. Soud Lékarství Cas Sekce Soud Lékarstvi Cs Lékarské Spolecnosti J Ev Purkyne 56:43–44

Kirkman HN, Gaetani GF (1984) Catalase: a tetrameric enzyme with four tightly bound molecules of NADPH. Proc Natl Acad Sci U S A 81:4343–4347

Kuma F, Ishizawa S, Hirayama K, Nakajima H (1972) Studies on methemoglobin reductase I. Comparative studies of diaphorases from normal and methemoglobinemic erythrocytes. J Biol Chem 247:550–555

Lee E, Phua DH, Lim BL, Goh HK (2013) Severe chlorate poisoning successfully treated with methylene blue. J Emerg Med 44:381–384. doi:10.1016/j.jemermed.2012.02.040

Levine RL, Garland D, Oliver CN et al (1990) Determination of carbonyl content in oxidatively modified proteins. Methods Enzymol 186:464–478

Lundberg JO, Weitzberg E (2010) NO-synthase independent NO generation in mammals. Biochem Biophys Res Commun 396:39–45. doi:10.1016/j.bbrc.2010.02.136

Mannervik B, Carlberg I (1985) Glutathione reductase. Methods Enzymol 113:484–490

Marklund S, Marklund G (1974) Involvement of the superoxide anion radical in the autoxidation of pyrogallol and a convenient assay for superoxide dismutase. Eur J Biochem FEBS 47:469–474

Michael GE, Miday RK, Bercz JP et al (1981) Chlorine dioxide water disinfection: a prospective epidemiology study. Arch Environ Health 36:20–27

Miranda KM, Espey MG, Wink DA (2001) A rapid, simple spectrophotometric method for simultaneous detection of nitrate and nitrite. Nitric Oxide 5:62–71. doi:10.1006/niox.2000.0319

Mishra K, Ojha H, Chaudhury NK (2012) Estimation of antiradical properties of antioxidants using DPPH assay: a critical review and results. Food Chem 130:1036–1043. doi:10.1016/j.foodchem.2011.07.127

Mohanty JG, Nagababu E, Rifkind JM (2014) Red blood cell oxidative stress impairs oxygen delivery and induces red blood cell aging. Front Physiol 5:84. doi:10.3389/fphys.2014.00084

Moore GS, Calabrese EJ, DiNardi SR, Tuthill RW (1978) Potential health effects of chlorine dioxide as a disinfectant in potable water supplies. Med Hypotheses 4:481–496

Murphy D (2002) Final diagnosis: chlorate toxicosis in cattle. Indiana Anim Dis Diagn Lab Newsl Winter, 2, http://www.addl.purdue.edu/newsletters/2002/winter/-final_diag.shtml.Accessed 30 Aug 2004

NTP (2005) Toxicology and carcinogenesis studies of sodium chlorate (Cas No. 7775–09-9) in F344/N rats and B6C3F1 mice (drinking water studies). National Toxicology Program, NTP TR 517

Pacher P, Beckman JS, Liaudet L (2007) Nitric oxide and peroxynitrite in health and disease. Physiol Rev 87:315–424. doi:10.1152/physrev.00029.2006

Pandey KB, Rizvi SI (2010) Markers of oxidative stress in erythrocytes and plasma during aging in humans. Oxidative Med Cell Longev 3:2–12. doi:10.4161/oxim.3.1.10476

Perry WG, Smith FA, Kent MB (1994) The halogens. Toxicol 4th Ed NY John Wiley Sons 4449–4505

Pigeolet E, Corbisier P, Houbion A et al (1990) Glutathione peroxidase, superoxide dismutase, and catalase inactivation by peroxides and oxygen derived free radicals. Mech Ageing Dev 51:283–297

Sedlak J, Lindsay RH (1968) Estimation of total, protein-bound, and nonprotein sulfhydryl groups in tissue with Ellman's reagent. Anal Biochem 25:192–205

Shonk CE, Boxer GE (1964) Enzyme patterns in human tissues. I. Methods for the determination of glycolytic enzymes. Cancer Res 24:709–721

Singelmann E, Wetzel E, Adler G, Steffen C (1984) Erythrocyte membrane alterations as the basis of chlorate toxicity. Toxicology 30:135–147

Smith DJ, Oliver CE, Taylor JB, Anderson RC (2012) Efficacy, metabolism, and toxic responses to chlorate salts in food and laboratory animals. J Anim Sci 90:4098–4117. doi:10.2527/jas.2011-4997

Steffen C, Seitz R (1981) Severe chlorate poisoning: report of a case. Arch Toxicol 48:281–288

Steffen C, Singelmann E (1983) Improved method to measure erythrocyte filtration times increased extremely by chlorate. Arch Toxicol 53:249–252

Steffen C, Wetzel E (1993) Chlorate poisoning: mechanism of toxicity. Toxicology 84:217–231

Tamura T, Stadtman TC (1996) A new selenoprotein from human lung adenocarcinoma cells: purification, properties, and thioredoxin reductase activity. Proc Natl Acad Sci 93:1006–1011

Thurlow JS, Little DJ, Baker TP, Yuan CM (2013) Possible potassium chlorate nephrotoxicity associated with chronic matchstick ingestion. Clin Kidney J 6:316–318. doi:10.1093/ckj/sft034

Tsai LS, Higby R, Schade J (1995) Disinfection of poultry chiller water with chlorine dioxide: consumption and byproduct formation. J Agric Food Chem 43:2768–2773. doi:10.1021/jf00058a041

US EPA (2008) Inorganic chlorates facts. US Environ Prot Agency EPA 738-F-08-001:1–6

van Zwieten R, Verhoeven AJ, Roos D (2014) Inborn defects in the antioxidant systems of human red blood cells. Free Radic Biol Med 67:377–386. doi:10.1016/j.freeradbiomed.2013.11.022

Wang Y, Yang L, Cheng W et al (2009) Scanning electron microscopic observation of erythrocytes and endothelial cells of electrified death rabbits. Leg Med Tokyo Jpn 11(Suppl 1):S244–S247. doi:10.1016/j.legalmed.2009.01.097
Acknowledgment
Financial support to the department from the University Grants Commission (SAP-DRS-III) is gratefully acknowledged. Shaikh Nisar Ali is the recipient of UGC-sanctioned Maulana Azad National Fellowship (201011-MANF-MUS-WES-1902). We are also very much thankful to Fariheen Aisha for her help in this work.
Ethics declarations
Ethics statement
This work was approved by the Institutional Ethics Committee of the university and has been performed in accordance with the ethical standards as laid down in the 1964 Declaration of Helsinki and its later amendments or comparable ethical standards.
Conflict of interest
The authors declare that they have no conflict of interest.
Additional information
Responsible editor: Markus Hecker
About this article
Cite this article
Ali, S.N., Ahmad, M.K. & Mahmood, R. Sodium chlorate, a herbicide and major water disinfectant byproduct, generates reactive oxygen species and induces oxidative damage in human erythrocytes. Environ Sci Pollut Res 24, 1898–1909 (2017). https://doi.org/10.1007/s11356-016-7980-7
Received:

Accepted:

Published:

Issue Date:
Keywords
Erythrocytes

Chlorate

Methemoglobin

Reactive oxygen species

Oxidative stress

Herbicide

Antioxidant power