Abstract
Chlorella vulgaris was cultivated under limitation and starvation and under controlled conditions using different concentrations of nitrate (NaNO3) and phosphate (K2HPO4 and KH2PO4) chemicals in modified Bold basal medium (BBM). The biomass and lipid production responses to different media were examined in terms of optical density, cell density, dry biomass, and lipid productivity. In the 12-day batch culture period, the highest biomass productivity obtained was 72.083 mg L−1 day−1 under BBM - NcontrolPlimited condition. The highest lipid content, lipid concentration, and lipid productivity obtained were 53.202 %, 287.291 mg/L, and 23.449 mg L−1 day−1 under BBM - NControlPDeprivation condition, respectively. Nitrogen had a major effect in the biomass concentration of C. vulgaris, while no significant effect was found for phosphorus. Nitrogen and phosphorus starvation was found to be the strategy affecting the lipid accumulation and affected the lipid composition of C. vulgaris cultures.
This is a preview of subscription content, log in to check access.
Access options
Buy single article
Instant access to the full article PDF.
US$ 39.95
Price includes VAT for USA
Subscribe to journal
Immediate online access to all issues from 2019. Subscription will auto renew annually.
US$ 99
This is the net price. Taxes to be calculated in checkout.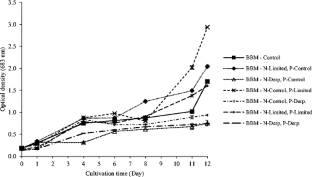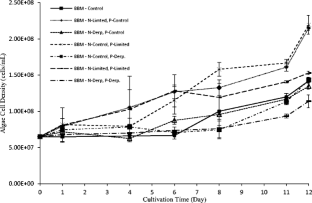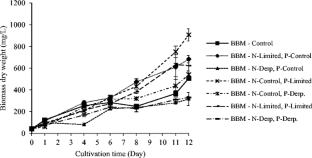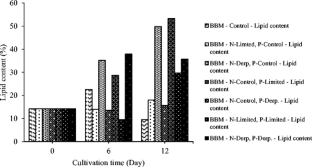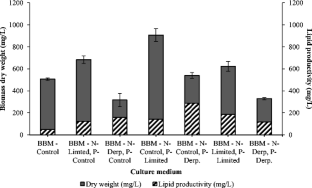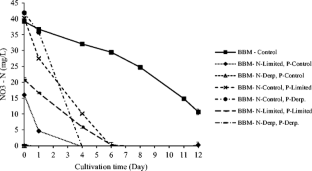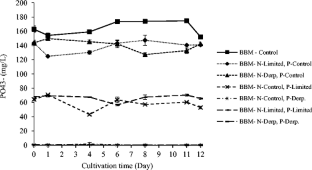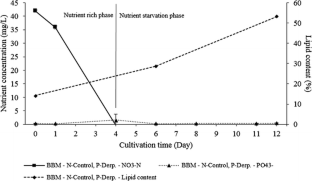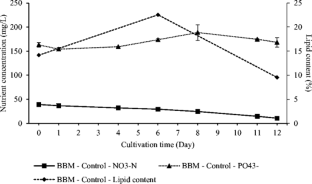 Reference
American Public Health Association, America Water Works (1995a) 10200 F. Phytoplankton Counting Techniques, Washington, DC, USA

American Public Health Association, America Water Works. (1995b). Standard methods for the examination of water and wastewater. Phosphorus-orthophosphate, PO43-P ascorbic acid method. Washington, DC, USA.

American Public Health Association, America Water Works. (1998). Standard methods for the examination of water and wastewater. NO3- spectrophotometric screening method. Washington, DC, USA.

Andersen RA (2005) Algal culturing techniques. 1st Edition from Robert A. Andersen. ISBN-9780120884261

Apel K, Hirt H (2004) Reactive oxygen species: metabolism, oxidative stress, and signal transduction. Annu Rev Plant Biol 55:373–399

Belotti G, Bravi M, de Caprariis B, de Filippis P, Scarsella M (2013) Effect of nitrogen and phosphorus starvations on Chlorella vulgaris lipids productivity and quality under different trophic regimens for biodiesel production. Am J Plant Sci 4:44-51

Blair MF, Kokabian B, Gude VG (2014) Light and growth medium effect on Chlorella vulgaris biomass production. J Environ Chem Eng 2:665–674

Bligh EG, Dyer WJ (1959) A rapid method of total lipid extraction and purification. Can J Biochem Physiol 37(8):911–917

Bojović BM, Stojanović J (2005) Chlorophyll and carotenoid content in wheat cultivars as a function of mineral nutrition. Archives of Biological Sciences 57:283–290

Candan N, Tarhan L (2003) Changes in chlorophyll-carotenoid contents, antioxidant enzyme activities and lipid peroxidation levels in Zn-stressed Mentha pulegium. Turkish Journal Of Chemistry 27:21–30

El-Sheek MM, Rady, AA (1995) Effect of phosphorus starvation on growth, photosynthesis and some metabolic processes in the unicellular green alga Chlorella kessleri. Phyton (Horn) 35(1):139-151

Feng P, Deng Z, Hu Z, Fan L (2011) Lipid accumulation and growth of Chlorella zofingiensis in flat plate photobioreactors outdoors. Bioresour Technol 102(22):10577–10584

Karan Z, Suárez-Alvarez S, Urreta I, Castañón S (2015) The effect of nitrogen limitation on the physiology and metabolism of Chlorella vulgaris var L3. Algal Res 10:134–144

Kong W, Song H, Cao Y, Yang H, Hua S, Xia C (2011) The characteristics of biomass production, lipid accumulation and chlorophyll biosynthesis of Chlorella vulgaris under mixotrophic cultivation. Afr J Biotechnol 10(55):11620–11630

Kuhl A (1974) Phosphorus. In: Stewart WDP (ed) Algal physiology and biochemistry. Blackwell Scientific, Oxford, pp. 636–654

Mohamed ZA (2008) Polysaccharides as a protective response against microcystin-induced oxidative stress in Chlorella vulgaris and Scenedesmus quadricauda and their possible significance in the aquatic ecosystem. Ecotoxicology 17:504–516

Mujtaba G, Choi W, Lee CG, Lee K (2012) Lipid production by Chlorella vulgaris after a shift from nutrient-rich to nitrogen starvation conditions. Bioresour Technol 123:279–283

Nichols HW, Bold HC (1965) Trichosarcina polymorpha gen. et sp. nov. J Phycol 1:34-38

Powell N, Shilton A, Chisti Y, Pratt S (2009) Towards a luxury uptake process via microalgae–defining the polyphosphate dynamics. Water Res 43:4207–4213

Rasdi NW, Qin JG (2015) Effect of N: P ratio on growth and chemical composition of Nannochloropsis oculata and Tisochrysis lutea. J Appl Phycol 27:2221–2230

Lichtenthaler HK, Buschmann C (2001) Chlorophylls and carotenoids: measurement and characterization by UV-VIS spectroscopy. Current protocols in food analytical chemistry Unit F 4.3

Sharma KK, Schuhmann H, Schenk PM (2012) High lipid induction in microalgae for biodiesel production. Energies 5:1532–1553

Wang L, Min M, Li Y, Chen P, Chen Y, Liu Y, Wang Y, Ruan R (2010) Cultivation of green algae Chlorella sp. in different wastewaters from municipal wastewater treatment plant. Appl Biochem Biotechnol 162:1174–1186
Acknowledgments
The work described in this paper was fully supported by a grant from the Research Grants Council of the Hong Kong Special Administrative Region, China (UGC/IDS16/14). Special thanks to Ms. Caroline Cottet for improving the manuscript.
Additional information
Responsible editor: Philippe Garrigues
About this article
Cite this article
Wong, Y., Ho, Y., Ho, K. et al. Maximization of cell growth and lipid production of freshwater microalga Chlorella vulgaris by enrichment technique for biodiesel production. Environ Sci Pollut Res 24, 9089–9101 (2017). https://doi.org/10.1007/s11356-016-7792-9
Received:

Accepted:

Published:

Issue Date:
Keywords
Chlorella vulgaris

Culture medium

Algal cultivation

Lipid production