Abstract
Metals have strong toxic effects in humans and can act as immunoregulatory factors. The purpose of our study was to determine whether the concentrations of metals are associated with the clinical course of nasal polyposis (NP). We measured the concentrations of 10 metals and non-metal (Zn, Mn, Se, Fe, Cr, Ni, Pb, Al, Cd, and Cu) in 58 patients with NP, and 29 controls with a healthy nasal mucosa. We used electron microscopy to compare the ultrastructural features of the nasal mucosa between NP patients and healthy controls. Concentrations of metals in nasal polyps and healthy mucosa were determined by mass spectrometry. Transmission electron microscopic (TEM) and scanning electron microscopic (SEM) images of the nasal mucosa were obtained. The mean tissue concentrations of all 10 metals and non-metal were significantly lower in NP patients than in healthy controls (P < 0.05).TEM and SEM revealed changes in the mucosal ultrastructure in NP with progressive fibrosis, devascularisation, and inflammation. Tissue concentrations of metals were lower in NP patients than in healthy controls, and this was particularly evident in massive polyposis.
This is a preview of subscription content, log in to check access.
Access options
Buy single article
Instant access to the full article PDF.
US$ 39.95
Price includes VAT for USA
Subscribe to journal
Immediate online access to all issues from 2019. Subscription will auto renew annually.
US$ 99
This is the net price. Taxes to be calculated in checkout.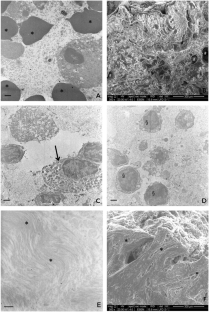 References
Al-Rawi MM, Edelstein DR, Erlandson RA (1998) Changes in nasal epithelium in patients with severe chronic sinusitis: a clinicopathologic and electron microscopic study. Laryngoscope 108(12):1816–1823

Asara Y, Marchal JA, Bandiera P, et al. (2012) Cadmium influences the 5-fluorouracil cytotoxic effects on breast cancer cells. Eur J Histochem 56:e1

Asara Y, Marchal JA, Carrasco E, et al. (2013) Cadmium modifies the cell cycle and apoptotic profiles of human breast cancer cells treated with 5-fluorouracil. Int J Mol Sci 14:16600–16616

Bent J, Kuhn F (1994) Diagnosis of allergic fungal sinusitis. Otolaryngol Head Neck Surg 111:580–588

Bernstein JM, Gorfien J, Noble B (1995) Role of allergy in nasal polyposis: a review. Otolaryngol Head Neck Surg 113(6):724–732

Bezerra TF, Pádua FG, Ogawa AI, et al. (2009) Biofilm in chronic sinusitis with nasal polyps: pilot study. Braz J Otorhinolaryngol 75(6):788–793

Bocca B, Madeddu R, Asara Y, et al. (2011) Assessment of reference ranges for blood Cu, Mn, Se and Zn in a selected Italian population. J Trace Elem Med Biol 25:19–26

Bocca B, Forte G, Oggiano R, et al. (2015) Level of neurotoxic metals in amyotrophic lateral sclerosis: a population-based case–control study. J Neurol Sci 359:11–17

Fokkens W, Lund VJ, Mullol J, et al. (2007) EP3OS 2007: European position paper on rhinosinusitis and nasal polyps. A summary for otorhinolaryngologists Rhinology 45:1–87

Forte G, Bocca B, Peruzzu A, et al. (2013) Blood metals concentration in type 1 and type 2 diabetics. Biol Trace Elem Res 156:79–90

Gelardi M, Fiorella ML, Russo C, et al. (2010) Role of nasal cytology. Int J Immunopathol Pharmacol (1 Suppl):45–49

Greisner WA, Settipane GA (1995) Hereditary factor for nasal polyps. J Allergy Clin Immunol; 95: 1(part 2) 205

Hartwig A (2013) Cadmium and cancer. Met Ions Life Sci 11:491–507

Ingrao G, Santaroni G, Tomassi G (1995) Trace elements: biological action and nutritional features in the man. Ann Ist Super Sanita 31(2):275–281

Khlifi R, Olmedo P, Gil F, et al. (2014) Heavy metals in normal mucosa and nasal polyp tissues from Tunisian patients. Environ Sci Pollut Res 22(1):463–471

Khlifi R, Olmedo P, Gil F, et al. (2015) Cadmium and nickel in blood of Tunisian population and risk of nasosinusal polyposis disease. Environ Sci Pollut Res 22:3586–3593

Langdon C, Mullol J (2016) Nasal polyps in patients with asthma: prevalence, impact, and management challenges. J Asthma Allergy Mar 14(9):45–53

Larsen K, Tos M (2002) The estimated incidence of symptomatic nasal polyps. Acta Otolaryngol 122(2):179–182

Lund VJ (1995) Diagnosis and treatment of nasal polyps. BMJ 311(7017):1411–1414

Madeddu R, Tolu P, Asara Y, et al. (2013) Blood biomonitoring of metals in subjects living near abandoned mining and active industrial areas. Environ Monit Assess 185:5837–5846

Okur E, Gul A, Kilinc M, et al. (2013) Trace elements in nasal polyps. Eur Arch Otorhinolaryngol 270(8):2245–2248

Ozcan C, Zeren H, Talas DU, et al. (2005) Antrochoanal polyp: a transmission electron and light microscopic study. Eur Arch Otorhinolaryngol 262:55–60

Peruzzu A, Solinas G, Asara Y, et al. (2015) Association of 347 trace elements with lipid profiles and glycaemic control in patients with type 1 diabetes mellitus in northern Sardinia, Italy: an observational study. Chemosphere 132:101–107

Rostkowska Nadolska B, Borawska M, Hukalowicz K (2005) Trace elements in nasal polyps. Biol Trace Elem Res 106:117–121

Settipane GA, Chafee FH (1977) Nasal polyps in asthma and rhinitis: a review of 6, 037 patients. J Allergy Clin Immunol 59:17–21

Settipane GA (1996) Epidemiology of nasal polyps. Allergy Asthma Proc 17:231–236

Sies H, Cadenas E (1985) Oxidative stress: damage to intact cells and organs. Philos Trans R Soc Lond Ser B Biol Sci 17:311(1152):617–631

Stammberger H (1999) Surgical treatment of nasal polyps: past, present and future. Allergy 54:7–11

Sturgess JM, Thompson MW, Czegledy-Nagy E, et al. (1986) Genetic aspects of immotile cilia syndrome. Am J Med Genet 25(1):149–160

Takeuchi K, Majima Y (2005) Remodeling in chronic sinusitis and nasal polyps. Allergol Int 54:39–43

Templeton DM (2003) The importance of trace element speciation in biomedical science. Anal Bioanal Chem 375(8):1062–1066

Waalkes MP (2003) Cadmium carcinogenesis. Mutat Res 533:107–120

Wright DT, Cohn LA, Li H, et al. (1994) Interactions of oxygen radicals with airway epithelium. Environ Health Perspect 102(Suppl. 10):85–90

Zalewski PD, Truong-Tran AQ, Grosser D, et al. (2005) Zinc metabolism in airway epithelium and airway inflammation: basic mechanisms and clinical targets. A review Pharmacology & Therapeutics 105:127–149

Zernotti ME, Angel Villegas N, Roques Revol M, et al. (2010) Evidence of bacterial biofilms in nasal polyposis. J Investig Allergol Clin Immunol 20(5):380–385
Acknowledgments
This study was partly supported by "Fondazione Banco di Sardegna", Grant No. U1044.2013/AI.967. MGB–PRAT. 2013.1452.
Ethics declarations
Conflict of interest
The authors declare that they have no competing interests.
Additional information
Yolande Asara and Andrea Melis contributed equally to the paper.
Responsible editor: Philippe Garrigues
About this article
Cite this article
Asara, Y., Melis, A., De Luca, L.M. et al. Influence of metals on rhinosinusal polyposis in Sardinian population (Italy). Environ Sci Pollut Res 23, 21726–21732 (2016). https://doi.org/10.1007/s11356-016-7406-6
Received:

Accepted:

Published:

Issue Date:
Keywords
Nasal polyps

Metals

Electron microscopy