Abstract
The chemism of the glaciers is strongly determined by long-distance transport of chemical substances and their wet and dry deposition on the glacier surface. This paper concerns spatial distribution of metals, ions, and dissolved organic carbon, as well as the differentiation of physicochemical parameters (pH, electrical conductivity) determined in ice surface samples collected from four Arctic glaciers during the summer season in 2012. The studied glaciers represent three different morphological types: ground based (Blomlibreen and Scottbreen), tidewater which evolved to ground based (Renardbreen), and typical tidewater glacier (Recherchebreen). All of the glaciers are functioning as a glacial system and hence are subject to the same physical processes (melting, freezing) and the process of ice flowing resulting from the cross-impact force of gravity and topographic conditions. According to this hypothesis, the article discusses the correlation between morphometric parameters, changes in mass balance, geological characteristics of the glaciers and the spatial distribution of analytes on the surface of ice. A strong correlation (r = 0.63) is recorded between the aspect of glaciers and values of pH and ions, whereas dissolved organic carbon (DOC) depends on the minimum elevation of glaciers (r = 0.55) and most probably also on the development of the accumulation area. The obtained results suggest that although certain morphometric parameters largely determine the spatial distribution of analytes, also the geology of the bed of glaciers strongly affects the chemism of the surface ice of glaciers in the phase of strong recession.
This is a preview of subscription content, log in to check access.
Access options
Buy single article
Instant access to the full article PDF.
US$ 39.95
Price includes VAT for USA
Subscribe to journal
Immediate online access to all issues from 2019. Subscription will auto renew annually.
US$ 99
This is the net price. Taxes to be calculated in checkout.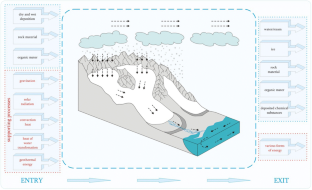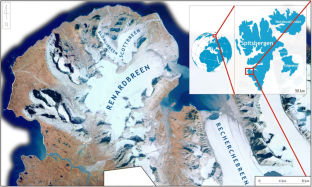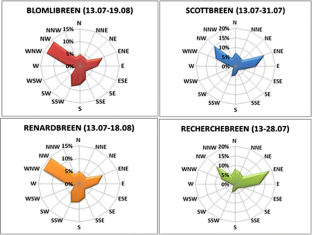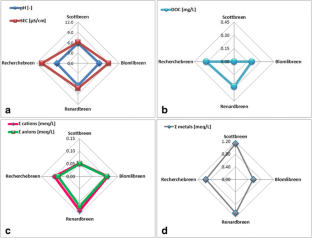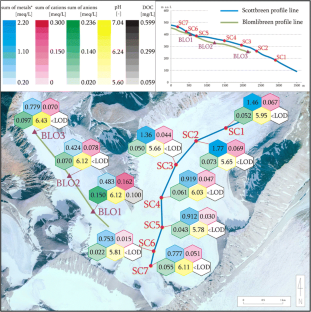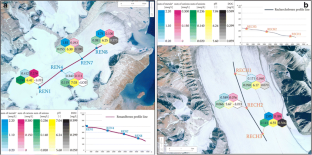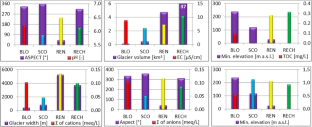 References
ACIA (2005) Arctic climate impact assessment. Cambridge University Press 1042p. 183–242. http://www.acia.uaf.edu. Accessed 19 July 2014

AMAP (2005). AMAP assessment 2002: heavy metals in the Arctic. Arctic Monitoring and Assessment Programme (AMAP), Oslo. http://www.amap.no/documents/doc/amap-assessment-2002-heavy-metals-in-the-arctic/97. Accessed 21 July 2014

Baranowski S (1977) Subpolar glaciers of Spitsbergen on the background of the region climate. Acta U Wratislaviensis 410:94 in Polish

Barrie LA (1986) Arctic air pollution: an overview of current knowledge. Atmos Environ 20:643–663. doi:10.1016/0004-6981(86)90180-0

Bartoszewski S, Gluza A, Siwek K (2006) Selected problems of development of the meteorological and hydrological conditions NW part of Wedel Jarlsberg Land (Spitsbergen). In: XX years of polar research 1986–2005. Institute of Polar Research, UMCS Lublin, pp 53–60. (in Polish)

Bidleman TF, Helm PA, Braune BM, Gabrielsen GW (2010) Polychlorinated naphthalenes in polar environments—a review. Sci Total Environ 408(15):2919–2935. doi:10.1016/j.scitotenv.2009.09.013

Birkenmajer K (1975) Caledonides of Svalbard and plate tectonics. B Geol Soc Denmark 24:1–10

Birkenmajer K (2004) Caledonian basement in NW Wedel Jarlsberg Land south of Bellsund, Spitsbergen. Pol Polar Res 25:3–26

Błaszczyk M, Jania J, Hagen JO (2009) Tidewater glaciers of Svalbard: recent changes and estimates of calving fluxes. Pol Polar Res 30:85–142

Braune BM, Outridge PM, Fisk AT, Muir DCG, Helm PA, Hobbs K, et al. (2005) Persistent organic pollutants and mercury in marine biota of the Canadian Arctic: an overview of spatial and temporal trends. Sci Total Environ 351-352:4–56. doi:10.1016/j.scitotenv.2004.10.034

Chapman PM (2007) Determining when contamination is pollution—weight of evidence determinations for sediments and effluents. Environ Int 33(4):492–501

Chmiel S, Reszka M, Rysiak A (2009) Heavy metals and radioactivity in environmental samples of the Scott glacier region on Spitsbergen in summer 2005. Quaestiones Geographicae 28 A/1. Adam Mickiewicz University Press, Poznań, pp. 23–29 ISBN 978–83–232-2128-9

Czerny J, Kieres A, Manecki M, Rajchel J (1993) Geological map of the SW part of Wedel Jarlsberg Land, Spitsbergen 1:25 000. Institute of Geology and Mineral Deposits, Kraków

Dallmann WK, Hjelle A, Ohta Y, Salvigsen O, Bjørnerud MG, Hauser EC, Maher HD, Craddock C (1990) Geological map of Svalbard 1:100 000, Sheet B 11 G, Van Keulenfjorden. Norsk Polar Institute, Oslo

De Caritat P, Hall G, Gìslason S, Belsey W, Braun M, Goloubeva NI, et al. (2005) Chemical composition of arctic snow: concentration levels and regional distribution of major elements. The Sci Total Environ 336:183–199. doi:10.1016/j.scitotenv.2004.05.031

Dragon K, Marciniak M (2010) Chemical composition of groundwater and surface water in the Arctic environment (Petuniabukta region, central Spitsbergen). J Hydrol 386(1–4):160–172. doi:10.1016/j.jhydrol.2010.03.017

Evans MS, Muir D, Lockhart WL, Stern G, Ryan M, Roach P (2005) Persistent organic pollutants and metals in the freshwater biota of the Canadian Subarctic and Arctic: an overview. Sci Total Environ 351-352:94–147. doi:10.1016/j.scitotenv.2005.01.052

Ferrari CP, Padova C, Faïn X, Gauchard PA, Dommergue A, Aspmo K, Boutron C (2008) Atmospheric mercury depletion event study in Ny-Alesund (Svalbard) in spring 2005. Deposition and transformation of Hg in surface snow during springtime. Sci Total Environ 397:167–177. doi:10.1016/j.scitotenv.2008.01.064

Fookes PG (2008) Some aspects of the geology of Svalbard. Geol Today 24(4):146–152. doi:10.1111/j.1365-2451.2008.00677.x

Gajek G, Grabiec M, Puczko D, Jania J (2008a) Changes of geometry of Renardbreen (Spitsbergen) and evolution of morphology of its forefield during the last century. Workshop on the dynamics and mass budget of Arctic glaciers, 28 January-1 February 2008, Obergurgl, Austria, Institute for Marine and Atmospheric Research Utrecht University, The Netherlands, IASC Working Group on Arctic Glaciology 2008a

Gajek G, Harasimiuk M, Jania J, Zagórski P (2008b) Assessment of changes in glacier geometry Renardbreen (Spitsbergen) on the basis of archival materials and GPS measurements. In: Twardosz R, Lake P. (Eds.), Issues of physical geography, Geographical Works 2008; 120: 31–37. Institute of Geography and Regional Development, University of Wrocław (in Polish)

Gajek G, Jania JA, Harasimiuk M, Grabiec M, Puczko D, Zagórski P (2009) Importance of topographic and geologic conditions for behaviour of Spitsbergen glaciers retreating from the sea to land. In: Workshop on the dynamics and mass budget of Arctic glaciers, GLACIODYN (IPY) meeting, 16–19 February 2009, Biogeoscience Institute, University of Calgary, Barrier Lake Station, Kananaskis Country, Alberta, Canada

Gajek G (2007) Changes of the Renardbreen glacier terminus position on the basis of archival records and GPS measurements. Polar Workshop on Changes of the Polar Ecosystem. 8th Meeting of Polar Section of the Czech Geographical Society, Spindlerouv Mlyn, Czech Republic (in press)

Glazovsky AF, YuYa M, Moskalevsky MY, Jania J (1991) Tidewater glaciers of Spitsbergen. Glaciers-Ocean-atmosphere interactions. IAHS Publ 208:229–239

Głowacki P (1998) The cryochemical processes and mass balance of Hans Glacier. In: Abstracts. Polar Aspects of Global Change. International Symposium Tromso, Norway. 24–28 August: S5/7

Głowacki P (2007) The role of physico-chemical processes in shaping the internal structure and the mass circulation of Spitsbergen glaciers. Publications of the Institute of Geophysics, Polish Academy of Science, Warszawa 30 (400): 147

Głowacki P, Leszkiewicz J (1994) Physico-chemical properties of precipitation and snow cover in Spitsbergen in the winter season 1992/1993. In: Zalewski SM (Ed.) XXI Polar Symposium. 60 Years of Polish Research of Spitsbergen, Warszawa, September 23–24, 1994. Institute of Geophysics, Polish Academy of Science, Warszawa, pp 199–205

Grabiec M, Jania J, Clarke G, Piechota A, Budzik T, Kolondra L, Puczko D, Gajek G (2010a) Relation of changes of glacier geometry and thermal structure to drainage system development in Spitsbergen. Second International Symposium on Arctic Research, Tokio 7–9 December 2010, ISAR-2 International Organizing Committee (IOC), Japan

Grabiec M, Jania J, Puczko D, Gajek G (2010b) Hydrothermal regime of selected glaciers in S Spitsbergen derived from radio echo-soundings. The AWAKE meeting, Sopot, 4–5 November, Poland

Grabiec M, Jania JA, Puczko D, Gajek G (2009) Elements of hydrothermal structure of glaciers from GPR soundings in Spitsbergen, Svalbard. In: Workshop on the dynamics and mass budget of Arctic glaciers, GLACIODYN (IPY) meeting, 16–19 February 2009, Biogeoscience Institute, University of Calgary, Barrier Lake Station, Kananaskis Country, Alberta, Canada

Grabiec M, Puczko D, Budzik T, Gajek G (2011) Snow distribution patterns on Svalbard glaciers derived from radio − echo soundings. Pol Polar Res 32(4):393–421

Hagen J, Liestøl O, Roland E, Jørgensen T (1993) In: Brekke A (ed) Glacier atlas of Svalbard and Jan Mayen, vol 129. Norsk Polar Institute, Oslo, pp. 1–169

Hagen JO, Kohler J, Melvold K, Winther JG (2003) Glaciers in Svalbard: mass balance, runoff and freshwater flux. Polar Res 22:145–159. doi:10.1111/j.1751-8369.2003.tb00104.x

Hallanger IG, Ruus A, Warner NA, Herzke D, Evenset A, Schøyen M, et al. (2011) Differences between Arctic and Atlantic fjord systems on bioaccumulation of persistent organic pollutants in zooplankton from Svalbard. Sci Total Environ 409:2783–2795. doi:10.1016/j.scitotenv.2011.03.015

Herbert BMJ, Halsall CJ, Villa S, Jones KC, Kallenborn R (2005) Rapid changes in PCB and OC pesticide concentrations in arctic snow. Envir Sci Tech 39(9):2998–3005. doi:10.1021/es040076l

Hodson A, Tranter M, Gurnell A, Clark M, Hagen JO (2002) The hydrochemistry of Bayelva, a high Arctic proglacial stream in Svalbard. J Hydrol 257:91–114. doi:10.1016/S0022-1694(01)00543-1

Hoel A, Werenskiold M (1962) Glaciers and snowfields in Norway. Norsk Polar Institute Skrifter, pp 114.

Hung H, Kallenborn R, Breivik K, Su Y, Brorström-Lundén E, Olafsdottir K, et al. (2010) Atmospheric monitoring of organic pollutants in the Arctic under the Arctic Monitoring and Assessment Programme (AMAP): 1993-2006. Sci Total Environ 408:2854–2873. doi:10.1016/j.scitotenv.2009.10.044

IPCC 2013, Vaughan DG, Comiso JC, Allison I, Carrasco J, Kaser G, Mote P, et al. (2013) Observations: cryosphere. In: Stocker TF, Qin D, Plattner GK, Tignor M, Allen SK, Boschung J, et al. (eds) Climate change 2013: the physical science basis. Contribution of working group I to the Fifth Assessment Report of the Intergovernmental Panel on Climate Change. Cambridge University Press, Cambridge

Isaksson E, Hermanson M, Hicks S, Igarashi M, Kamiyama K, Moore J, et al. (2003) Ice cores from Svalbard—useful archives of past climate and pollution history. Phys Chem Earth 28:1217–1228. doi:10.1016/j.pce.2003.08.053

Isaksson E, Kekonen T, Moore J, Mulvaney R (2005) The methanesulfonic acid (MSA) record in a Svalbard ice core. Ann Glaciol 42:345–351. doi:10.3189/172756405781812637

Jania J, Błaszczyk M, Grabiec M, Puczko D, Głowacki P, Kolondra L et al (2010) State and recent evolution of glacierization of Southern Spitsbergen. IPY Oslo Science Conference, 8–12 June 2010, WMO, ISCU, SCAR, IASC, IPY, The Research Council of Norway, APECS 2010.

Jania J, Głowacki P, Bukowska-Jania E, Kolondra L, Perski Z, Pulina M et al (2004) The glaciers in the vicinity of Hornsund fiord. In: Glaciological Workshop 2004, Polish Geomorphologists Association, Sosnowiec-Poznań-Longyearbyen 2004, VI-48 – VI-97 (in Polish)

Jania J (1988) Dynamic glacial processes in the southern Spitsbergen in the light of photointerpretative and photogrammetric research. Scientific Papers of the University of Silesia 955:258 in Polish

Jania J (1997) Glaciology: science about glaciers. PWN, Warszawa in Polish

Koivurova T (2005) Environmental protection in the Arctic and Antarctic: can the polar regimes learn from each other? Intern J Leg Inf 33:203–218

Kowallis BJ, Craddock C (1982) The occurrence of Permian blocks near Calypsobyen, Spitsbergen and their significance. Polar Res 2:105–108

Kozak K, Polkowska Z, Ruman M, Kozioł K, Namieśnik J (2013) Analytical studies on the environmental state of the Svalbard Archipelago provide a critical source of information about anthropogenic global impact. TrAC- Trend Anal Chem 50:107–126. doi:10.1016/j.trac.2013.04.016

Kwok KY, Yamazaki E, Yamashita N, Taniyasu S, Murphy MB, Horii Y, et al. (2013) Transport of Perfluoroalkyl substances (PFAS) from an arctic glacier to downstream locations: implications for sources. Sci Total Environ 447:46–55. doi:10.1016/j.scitotenv.2012.10.091

Larose C, Dommergue A, De Angelis M, Cossa D, Averty B, Marusczak N, et al. (2010) Springtime changes in snow chemistry lead to new insights into mercury methylation in the Arctic. Geochim et Cosmochim Ac 74:6263–6275. doi:10.1016/j.gca.2010.08.043

Lehmann S, Kociuba W, Franczak Ł, Gajek G, Łęczyński L, Kozak K, et al. (2014) Studies on the presence and spatial distribution of anthropogenic pollutants in the glacial basin of Scott Glacier in the face of climate change (Fiord Bellsund, Spitsbergen). AIP Conf Proc 1618:297–300 . doi:10.1063/1.4897733ISBN 978-0-7354-1255-2

Letcher RJ, Bustnes JO, Dietz R, Jenssen BM, Jørgensen EH, Sonne C, et al. (2010) Exposure and effects assessment of persistent organohalogen contaminants in arctic wildlife and fish. Sci Total Environ 408:2995–3043. doi:10.1016/j.scitotenv.2009.10.038

Liestøl O (1969) Glacier surges in West Spitsbergen. Can J Earth Sci 6(4):895–987

Liestøl O (1993) Glaciers of Europe—glaciers of Svalbard, Norway. In: Williams RS Jr, Ferrigno JG (edit.). Satellite image atlas of glaciers of the world, U.S. Geological Survey Professional Paper 1386-E-5: 127–151.

Lohmann R, Breivik K, Dachs J, Muir D (2007) Global fate of POPs: current and future research directions. Environ Pollut 150:150–156. doi:10.1016/j.envpol.2007.06.051

Macdonald RW, Barrie LA, Bidleman TF, Diamond ML, Gregor DJ, Semkin RG, et al. (2000) Contaminants in the Canadian Arctic: 5 years of progress in understanding sources, occurrence and pathways. Sci Total Environ 254:93–234. doi:10.1016/S0048-9697(00)00434-4

Macheret YY, Zhuravlev AB (1982) Radio−echo sounding of Svalbard glaciers. J Glaciol 28(99):295–314

Mangerud J, Landvik JY (2007) Younger Dryas cirque glaciers in western Spitsbergen: smaller than during the Little Ice Age. Boreas 36:278–285

Mędrek K, Gluza A, Siwek K, Zagórski P (2014) Meteorological conditions in the Calypsobyen station during summer season of 2014 on the background of multiannual 1986-2011. Issues of Polar Climatology 24:37–50 in Polish

Moore JC, Grinsted A, Kekonen T, Pohjola V (2005) Separation of melting and environmental signals in an ice core with seasonal melt. Geophys Res Lett 32(4):1–4. doi:10.1029/2005GL023039

Nuth C, Kohler J, Aas HF, Brandt O, Hagen JO (2007) Glacier geometry and elevation changeson Svalbard (1936-90): a baseline dataset. Ann Glaciol 46:1–11

Nuth C, Moholdt G, Kohler J, Hagen JO, Kääb A (2010) Svalbard glacier elevation changes and contribution to sea level rise. J Geophys Res 115

Post A (1969) Distribution of surging glaciers in western North America. J Glaciol 8(53):229–240

Pulina M (1991) Stratification and physico-chemical properties of snow in Spitsbergen in the hydro-glaciological year 1989/1990. Geographical expedition to Spitsbergen, Materials of Polar Session: Arctic Environment Research UMCS, Lublin, pp 191–213 (in Polish)

Reder J, Zagórski P (2007) Recession and development of marginal zone of the Renard Glacier. Landform Analysis 5:163–167

Rigét F, Bignert A, Braune B, Stow J, Wilson S (2010) Temporal trends of legacy POPs in Arctic biota, an update. Sci Total Environ 408(15):2874–2884. doi:10.1016/j.scitotenv.2009.07.036

Ruggirello RM, Hermanson MH, Isaksson E, Teixeira C, Forsström S, Muir DCG, et al. (2010) Current use and legacy pesticide deposition to ice caps on Svalbard, Norway. J Geophys Res Atmos 115:D 18308. doi:10.1029/2010JD014005

Ruman M, Kozak K, Lehmann S, Kozioł K, Polkowska Ż (2012) Pollutants present in different components of the Svalbard archipelago environment. Ecol Chem Eng S 19(4):571–584. doi:10.2478/v10216-011-0040-9

Sharp MJ (1988) Surging glaciers: geomorphic effects. Prog Phys Geogr 12:533–559

Stohl A (2006) Characteristics of atmospheric transport into the Arctic troposphere. J Geophys Res Atmos 111(11):D11306. doi:10.1029/2005JD006888

Wadham JL, Hodson AJ, Tranter M, Dowdeswell JA (1998) The hydrochemistry of meltwaters draining a polythermal-based, high Arctic glacier, south Svalbard: I. The ablation season. Hydrol Process 12:1825–1849. doi:10.1002/(SICI)1099-1085(19981015)12:12<1825::AID-HYP669>3.0.CO;2-R

Watanabe O, Motoyamal H, Igarashi M, Kamiyama K, Matoba S, Goto-Azumal K, et al. (2001) Studies on climatic and environmental changes during the last few hundred years using ice cores from various sites in Nordaustlandet, Svalbard. Mem. Natl. Inst. Polar Res 54:227–242

Weber J, Halsall CJ, Muir D, Teixeira C, Small J, Solomon K, et al. (2010) Endosulfan, a global pesticide: a review of its fate in the environment and occurrence in the Arctic. Sci Total Environ 408(15):2966–2984. doi:10.1016/j.scitotenv.2009.10.077

Zagórski P, Bartoszewski S (2004) Attempt to assess the recession of the glacier Scott based on archival material and GPS measurements. Pol Polar Stud, XXX International Polar Symposium, Gdynia, pp 415–424 (in Polish)

Zagórski P, Siwek K, Gluza A (2008a) Altering reach of the forehead and the geometry of the glacier Renard (Spitsbergen) on the background of the twentieth century climate change. Polar Climatology Problems 18:113–125 in Polish

Zagórski P, Siwek K, Gluza A, Bartoszewski S (2008b) Changes in the extent and geometry of the Scott Glacier, Spitsbergen. Pol Polar Res 29(2):163–185

Zagórski P, Gajek G, Demczuk P (2012) The influence of glacier systems of polar catchments on functioning of the coastal zone (Recherchefjorden, Svalbard). Z Geomorphol 56(l):101–122
Acknowledgments
The authors would like to thank Head of the Department of Analytical Chemistry of the Gdańsk University of Technology Professor Jacek Namieśnik for his support in the laboratory research. The study was conducted in the scope of the 24th Polar Expedition of the Marie Curie-Skłodowska University in Lublin to Spitsbergen, implementing grant of the National Science Centre: principal investigator Dr. Waldemar Kociuba, project title "Mechanisms of fluvial transport and delivery of sediment to the Arctic river channels with different hydrologic regime (SW Spitsbergen)" (No. 2011/01/B/ST10/06996).
Additional information
Responsible Editor: Philippe Garrigues
About this article
Cite this article
Lehmann, S., Gajek, G., Chmiel, S. et al. Do morphometric parameters and geological conditions determine chemistry of glacier surface ice? Spatial distribution of contaminants present in the surface ice of Spitsbergen glaciers (European Arctic). Environ Sci Pollut Res 23, 23385–23405 (2016). https://doi.org/10.1007/s11356-016-7354-1
Received:

Accepted:

Published:

Issue Date:
Keywords
Svalbard archipelago

Surface ice

Heavy metals

Anthropogenic pollutants

Environmental contamination

Glaciers