Abstract
Organophosphates (e.g. chlorpyrifos ethyl) and carbamates (e.g. fenobucarb) are commonly used to control a wide range of pests in rice fields of the Mekong Delta in Vietnam. This study assesses the combined effect of chlorpyrifos ethyl (CPF) and fenobucarb (F), applied at concentrations used by rice farmers, on the brain acetylcholinesterase (AChE) activity in climbing perch fingerlings from rice fields in the Mekong Delta. It also investigates if Pyridine-2-aldoxime methiodide (2-PAM) can be used to reactivate cholinesterase that has been blocked by CPF. Three days after spraying, the water concentrations of both insecticides decreased quickly below the detection levels. However, the brain AChE activity in fish was inhibited for more than 7 days. The results indicate a quicker but less prolonged inhibition of the brain AChE activity by the mixture than by only CPF. The inhibition levels were above 70 % only during the first 48 h, which could explain why all fish survived. 2-PAM resulted in a significant reactivation of the cholinesterase blocked by a combination of CPF and F, and it is proposed that the reactivation by 2-PAM could provide a way to assess the AChE inhibition levels in organisms, when no unexposed individuals are available as controls. The results indicate that the current use of CPF and F in rice farming in the Mekong Delta is likely to cause negative effects on non-target organisms. Many of these effects may be sub-lethal, and there is a need to develop biomarkers that are relevant, inexpensive and easy to apply. The results show that brain AChE in climbing perch fingerling is a relevant biomarker for monitoring of exposure to, and sub-lethal impacts from organophosphates and carbamates under tropical conditions in developing countries.
This is a preview of subscription content, log in to check access.
Access options
Buy single article
Instant access to the full article PDF.
US$ 39.95
Price includes VAT for USA
Subscribe to journal
Immediate online access to all issues from 2019. Subscription will auto renew annually.
US$ 99
This is the net price. Taxes to be calculated in checkout.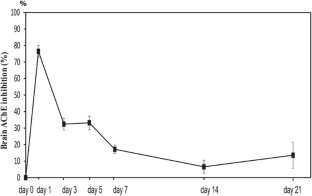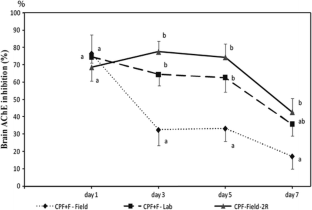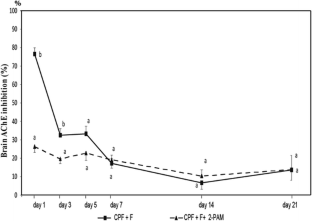 References
Anh VT, Chiem NN, Dung DT, Sultana P (2003) Vietnam PRA Report. Understanding livelihoods dependent on inland fisheries in Bangladesh and South East Asia—Synthesis Report for FMSP Project R8118. World Fish Center

Assis CRD, Bezerra RS, Luiz B, Carvalho, Jr (2011) Fish Cholinesterases as Biomarkers of Organophosphorus and Carbamate Pesticides. In: Stoytcheva M (ed) Pesticides in the Modern World - Pests Control and Pesticides Exposure and Toxicity Assessment. InTech, p 626. doi:10.5772/20777

Baensch HA, Riehl R (1982) Aquarium Atlas, vol 1. Mergus Verlag, Melle, Germany

Belden JB, Lydy MJ (2000) Impact of atrazine on organophosphate insecticide toxicity. Environ Toxicol Chem 19:2266–2274. doi:10.1002/etc.5620190917

Berg H, Berg C, Nguyen TT (2012) Integrated rice-fish farming: safeguarding biodiversity and ecosystem services for sustainable food production in the Mekong Delta. J Sustain Agric 36:859–872. doi:10.1080/10440046.2012.712090

Bondarenko S, Gan J (2004) Degradation and sorption of selected organophosphate and carbamate insecticides in urban stream sediments. Environ Toxicol Chem 23:1809–1814

Boonthai C, Scott RR, Chapman RB (2000) Acetylcholinesterase as a biomarker to assess the effect of chlorpyrifos and atrazine on some New Zealand aquatic invertebrates. Australas J Ecotoxicol 6:59–64

Chen C, Wang Y, Zhao X, Wang Q, Qian Y (2014) The combined toxicity assessment of carp (Cyprinus carpio) acetylcholinesterase activity by binary mixtures of chlorpyrifos and four other insecticides. Ecotoxicology 23:221–228. doi:10.1007/s10646-013-1165-7

Čolović MB, Krstić DZ, Lazarević-Pašti TD, Bondžić AM, Vasić VM (2013) Acetylcholinesterase inhibitors: pharmacology and toxicology. Curr Neuropharmacol 11:315–335. doi:10.2174/1570159X11311030006

Cong NV, Phuong NT, Bayley M (2006) Sensitivity of brain cholinesterase activity to diazinon (BASUDIN 50EC) and fenobucarb (BASSA 50EC) insecticides in the air-breathing fish Channa striata (Bloch, 1793). Environ Toxicol Chem 25:1418–1425

Cong NV, Phuong NT, Bayley M (2008) Brain cholinesterase response in the snakehead fish (Channa striata) after field exposure to diazinon. Ecotoxicol Environ Saf 71:314–318. doi:10.1016/j.ecoenv.2008.04.005

Dasgupta S, Meisner C, Wheeler D, Xuyen K, Lam NT (2007) Pesticide poisoning of farm workers—implications of blood test results from Vietnam. Int J Hyg Environ Health 210:121–132. doi:10.1016/j.ijheh.2006.08.006

Darvesh S, Darvesh KV, McDonald RS, Mataija D, Walsh R, Lockridge S, Mothana O, Martin E (2008) Carbamates with differential mechanism of inhibition toward acetylcholinesterase and butyrylcholinesterase. J Med Chem 51:4200–4212

Edwards P, Little DC, Yakupitiyage A (1997) A comparison of traditional and modified inland artisanal aquaculture systems. Aquacul Res 28:777–788. doi:10.1046/j.1365-2109.1997.00942.x

Ellman GL, Courtney KD, Andres VJ, Feather-Stone RM (1961) A new and rapid colorimetric determination of acetylcholinesterase activity. Biochem Pharmacol 7:88–95. doi:10.1016/0006-2952(61)90145-9

Ferrari A, Venturino A, de D'Angelo AM (2004) Time course of brain cholinesterase inhibition and recovery following acute and subacute azinphosmethyl, parathion and carbaryl exposure in the goldfish (Carassius auratus). Ecotoxicol Environ Saf 57:420–425. doi:10.1016/S0147-6513(02)00069-6

Fulton MH, Key PB (2001) Acetylcholinesterase inhibition in estuarine fish and invertebrates as an indicator of organophosphorus insecticide exposure and effects. Environ Toxicol Chem 20:37–45. doi:10.1897/1551-5028(2001)020<0037:Aiiefa>2.0.Co;2

Fukuto TR (1990) Mechanism of action of organophosphorus and carbamate insecticides. Environ Health Perspect 87:245–254

Gruber SJ, Munn MD (1998) Organophosphate and carbamate insecticides in agricultural waters and cholinesterase (ChE) inhibition in common carp (Cyprinus carpio). Arch Environ Contam Toxicol 35:391–396. doi:10.1007/s002449900393

Hai TV (2005) Syllabus of chemical plant protection. Faculty of Agriculture, University of Can Tho, Vietnam

Heong KL, Escalada MM, Mai V (1994) An analysis of insecticide use in rice: case studies in the Philippines and Vietnam. Int J Pest Manag 40:173–178. doi:10.1080/09670879409371878

Herre AW (1952) Philippine fish tales. D.P. Perez Company, Manila, Philippines

Klemick H, Lichtenberg E (2008) Pesticide use and fish harvests in Vietnamese rice agroecosystems. Am J Agr Econ 90:1–14. doi:10.1111/j.1467-8276.2007.01059.x

Labenia JS, Baldwin DH, French BL, Davis JW, Scholz NL (2007) Behavioral impairment and increased predation mortality in cutthroat trout exposed to carbaryl. Mar Ecol: Prog Ser 329:1–11

Laetz CA, Baldwin DH, Collier TK, Hebert V, Stark JD, Scholz NL (2009) The synergistic toxicity of pesticide mixtures: implications for risk assessment and the conservation of endangered pacific salmon. Environ Health Perspect 117:348–353. doi:10.1289/ehp.0800096

Laetz CA, Baldwin DH, Hebert V, Stark JD, Scholz NL (2013) Interactive Neurobehavioral toxicity of diazinon, malathion, and ethoprop to juvenile coho salmon. Environ Sci Technol 47:2925–2931. doi:10.1021/es305058y

Le Coq J-F, Trebuil G (2005) Impact of economic liberalization on rice intensification, agricultural diversification, and rural livelihoods in the Mekong Delta, Vietnam. Southeast Asian Studies

MARD (2013) List of pesticides permitted, restricted, and banned for use. Decision No. 21/2013/TT-BNNPTNT issued on April 17, 2013. Ministry of Agriculture and Rural Development, Ha Noi

MARD (2014) Ministry of Agriculture and Rural Development. Statistics and food security data bases. Cultivation data. http://fsiu.mard.gov.vn/data/trongtrot.htm. Assessed 14 Feb 2015

Mehler TW, Schuler LJ, Lydy MJ (2007) Examining the joint toxicity of chlorpyrifos and atrazine in the aquatic species: Lepomis macrochirus, Pimephales promelas and Chironomus tentans. Environ Pollut 152:217–224

Nam CQ (2011) Evaluation of rotational rice-fish farming systems and new fish species for concurrent rice-fish culture in the Mekong Delta, Vietnam. Dissertation, K.U.Leuven

Nam CQ, Vromant N, Be TT, Ollevier F (2012) Investigation of the predation potential of different fish species on brown planthopper (Nilaparvata lugens (Stål)) in experimental rice-fish aquariums and tanks. Crop Prot 38:95–102. doi:10.1016/j.cropro.2012.03.003

Nunes B (2011) The use of cholinesterases in ecotoxicology. Rev Environ Contam Toxicol 212:29–59

Parfitt CH (2000) Pesticide and industrial chemical residues. In: Horwitz W (ed) Official Methods of Analysis of AOAC International, vol 1—Agrochemicals; Contaminants; Drugs, 17th edn. Association of Analytical Communities International, Gaithersburg, pp 22–23

Rainboth WJ (1996) Fishes of the Cambodian Mekong. Food and Agriculture Organization of the United Nations, Rome, Italia

Sakurada K, Ikegaya H, Ohta H, Akutsu T, Takatori T (2006) Hydrolysis of an acetylthiocholine by pralidoxime iodide (2-PAM). Toxicol Lett 166:255–260. doi:10.1016/j.toxlet.2006.07.339

Sandahl JF, Baldwin DH, Jenkins JJ, Scholz NL (2005) Comparative thresholds for acetylcholinesterase inhibition and behavioral impairment in coho salmon exposed to chlorpyrifos. Environ Toxicol Chem 24:136--145

Sebesvari Z, Le H, Toan PV, Arnold U, Renaud F (2012) Agriculture and water quality in the Vietnamese Mekong Delta. In: Renaud FG, Kuenzer C (eds) The Mekong Delta System. Springer Environmental Science and Engineering. Springer, Netherlands, pp 331–361. doi:10.1007/978-94-007-3962-8_13

Silman I, Sussman JL (2005) Acetylcholinesterase: 'classical' and 'non-classical' functions and pharmacology. Curr Opin Pharmacol 5:293–302

Singh S, Chaudhry D, Behera D, Gupta D, Jindal SK (2001) Aggressive atropinisation and continuous pralidoxime (2-PAM) infusion in patients with severe organophosphate poisoning: experience of a northwest Indian hospital. Hum Exp Toxicol 20:15–18

Stadlinger N, Berg H, Tam NT, Gunnarsson JS, Van den Brink P (2016) Predicted toxicity risks of pesticides used in paddy rice field in the Mekong and comparison between different agro- Delta, Vietnam, management regimes. Accepted Environ Sci Pollut R

Tam NT, Berg H, Hang NTT, Cong NV (2015) Effects of Chlorpyrifos ethyl on acetylcholinesterase activity in Climbing perch cultured in rice fields in the Mekong Delta, Vietnam. Ecotoxicol Environ Saf 117:34–40. doi:10.1016/j.ecoenv.2015.03.020

Tam NT (2016) Pesticides use in rice farming and its impacts on the brain AChE activity in climbing perch (Anabas testudineus) in the Mekong Delta of Vietnam. Dissertation, Stockholm University

Tam NT, Berg H, Lauraeus J, Cong NV, Tedengren M (2016) Effects of sequential applications of Bassa 5EC (Fenobucarb) and Vitashiled 40EC (Chlorpyrifos ethyl) on acetylcholinesterase activity in Climbing perch (Anabas testudineus) cultured in rice fields in the Mekong Delta, Vietnam. Arch Environ Contam Toxicol. doi: 10.1007/s00128-016-1796-5

Taylor B, Brown JH (1999) Acetylcholine. In: Siegel GJ, Agranoff BW, Albers RW, Fisher SK, Uhler MD (eds) Basic neurochemistry: molecular, cellular, and medical aspects. Lippincott Williams & Wilkins, Philadelphia, PA, USA, pp 213–242

Toan PV, Sebesvari Z, Blasing M, Rosendahl I, Renaud FG (2013) Pesticide management and their residues in sediments and surface and drinking water in the Mekong Delta, Vietnam. Sci Total Environ 452:28–39. doi:10.1016/j.scitotenv.2013.02.026

Vromant N, Chau NH, Ollevier F (2001) The effect of rice-seeding rate and fish stocking on the floodwater ecology of the trench of a concurrent, direct-seeded rice-fish system. Hydrobiologia 457:105–117. doi:10.1023/a:1012218725126

WHO (2005) WHO Specifications and Valuations for Public Health Pesticides Propoxur. 2-isopropoxyphenyl methylcarbamate. World Health Organization, Geneva

Xuan VT, Matsui S (1998) Development of Farming Systems in the Mekong Delta of Vietnam. JIRCAS, CTU & CLRRI. Ho Chi Minh Publishing House, Ho Chi Minh, Vietnam
Acknowledgments
This study was made with financial support from Swedish International Development Cooperation Agency (Sida) (Ref. No. AKT2010-010) through the Partner Driven Cooperation (PDC) project "Managing Ecosystem Services for Sustainable Aquaculture Development. The study also funded by the Ministry of Education and Training of Vietnam (Ref. No 4069/QĐ-BGDĐT). The manuscript was improved with valuable comments from three reviewers.
Additional information
Responsible editor: Cinta Porte
About this article
Cite this article
Tam, N.T., Berg, H. & Van Cong, N. Evaluation of the joint toxicity of chlorpyrifos ethyl and fenobucarb on climbing perch (Anabas testudineus) from rice fields in the Mekong Delta, Vietnam. Environ Sci Pollut Res 25, 13226–13234 (2018). https://doi.org/10.1007/s11356-016-6980-y
Received:

Accepted:

Published:

Issue Date:
Keywords
Anabas testudineus

Chlorpyrifos ethyl

Fenobucarb

Mixture

Acetylcholinesterase

Mekong Delta