Abstract
In this study, the validation of liquid chromatography-tandem mass spectrometry (HPLC-MS/MS) isotopic dilution method for the determination of benzene and nicotine metabolites in urine was carried out. Limit of detection are 0.026 μg/L for S-phenylmercapturic acid (SPMA), 0.55 μg/L for t,t-muconic acid (t,t-MA), and 12.41 μg/L for the cotinine, and the relative combined uncertainty was also calculated. The study involves 446 healthy volunteer residents since at least 10 years in an area of central Italy. SPMA resulted to be strongly correlated with cotinine (p = 0.75), its concentration in smokers (93) being about ten times than in non/ex-smokers (197/156), while the t,t-MA of smokers is about twice the non/ex-smokers value. A cutoff value for the definition of smoker is set at 100 μg/g creat. Oxidative stress was studied in smokers and non- and ex-smokers by means of the determination of the biomarkers 8-Oxo-7,8-dihydro-2′-deoxyguanosine (8-oxodGuo), 8-Oxo-7,8-dihydroguanosine (8-oxoGuo), and 8-Oxo-7,8-dihydroguanine (8-oxoGua): no significant differences were found between smokers and non/ex-smokers, but when subjects are classified according to the cotinine cutoff value, a correlation in smokers' urinary 8-oxodGuo is found with SPMA and cotinine (p = 0.60 and p = 0.57). Results were confirmed by chemometric analysis that also identified the experimental variables most contributing the discrimination as cotinine and t,t-MA.
This is a preview of subscription content, log in to check access.
Access options
Buy single article
Instant access to the full article PDF.
US$ 39.95
Price includes VAT for USA
Subscribe to journal
Immediate online access to all issues from 2019. Subscription will auto renew annually.
US$ 99
This is the net price. Taxes to be calculated in checkout.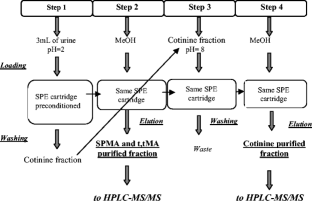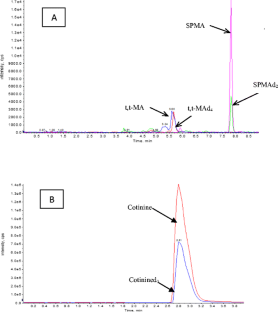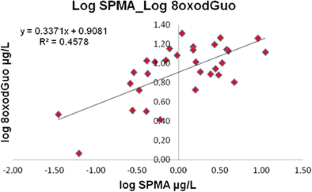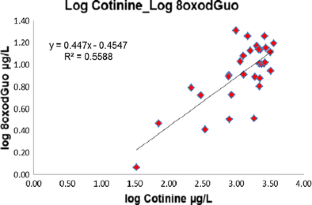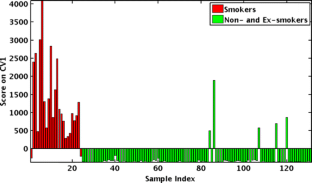 References
ACGIH (2014) Threshold limit values (TLVs) for chemical substances and physical agents and biological exposure indices (BEIs). American Conference of Governmental Industrial Hygienists, Cincinnati

Andreoli R, Manini P, De Palma G, Alinovi R, Goldoni M, Niessen WMA, Mutti A (2010) Quantitative determination of urinary 8-oxo-7,8-dihydro-2′-deoxyguanosine, 8-oxo-7,8-dihydroguanine, 8-oxo-7,8-dihydroguanosine, and their non-oxidized forms: daily concentration profile in healthy volunteers. Biomarkers 15(3):221–231. doi:10.3109/13547500903434501

Carrieri M, Bartolucci GB, Livieri M, Paci E, Sisto R, Pigini D, Corsetti F, Tranfo G (2009) Quantitative determination of the 1,3 butadiene urinary metabolite 1,2-dihydroxybutylmercapturic acid by high-performance liquid chromatography/tandem mass spectrometry using polynomial calibration curves. J Chromatogr B 877(13):1388–1393. doi:10.1016/j.jchromb.2009.02.005

D Lgs 13 agosto 2010, n. 155, Attuazione della direttiva 2008/50/CE relativa alla qualità del'aria ambiente e per un'aria più pulita in Europa. G.U. 216 del 15 settembre 2010. http://www.camera.it/parlam/leggi/deleghe/10155dl.htm

Ellison SLR, Rosslein M, Williams A (2000) Guide CG4 Quantifying Uncertainty in Analytical Measurement. EURACHEM/CITAC, http://www.citac.cc/QUAM2000-1.pdf

Fayed AS, Shehata MA, Ashour A, Hassan NY, Weshahy SA (2007) Validated stability-indicating methods for determination of cilostazol in the presence of its degradation products according to the ICH guidelines. J Pharm Biomed Anal 45(3):407–416. doi:10.1016/j.jpba.2007.06.028

Fisher RA (1936) The Use of Multiple Measurements in Taxonomic Problems. Ann Eugen 7(2):179–188

Fustinoni S, Consonni D, Campo L, Buratti M, Colombi A, Pesatori AC, Bonzini M, Bertazzi PA, Foà V, Garte S, Farmer PB, Levy LS, Pala M, Valerio F, Fontana V, Desideri A, Merlo DF (2005) Monitoring low benzene exposure: comparative evaluation of urinary biomarkers, influence of cigarette smoking, and genetic polymorphisms. Cancer Epidemiol Biomarkers Prev 14(9):2237–2244. doi:10.1158/1055-9965.EPI-04-0798

Fustinoni S, Campo L, Satta G, Campagna M, Ibba A, Tocco MG, Atzeri S, Avataneo G, Flore C, Meloni M, Bertazzi PA, Cocco P (2012) Environmental and lifestyle factors affect benzene uptake biomonitoring of residents near a petrochemical plant. Environ Int 39(1):2–7. doi:10.1016/j.envint.2011.09.001

Fustinoni S, Campo L, Polledri E, Mercadante R, Erspamer L, Ranzi A, Lauriola P, Goldoni CA, Bertazzi PA (2013) A validated method for urinary cotinine quantification used to classify active and environmental tobacco smoke exposure. Curr Anal Chem 9(3):447–456. doi:10.2174/1573411011309030014

Henry RJ (1974) Clinical Chemistry Principle and Techniques, 2nd edn. Harper & Row, New York

ICH (The International Conference on Harmonization) (1996).Validation of Analytical Procedure: Methodology (Q 2B), Food and Drug Administration, USA. http://www.ich.org/fileadmin/Public_Web_Site/ICH_Products/Guidelines/Quality/Q2_R1/Step4/Q2_R1__Guideline.pdf

Il'yasova D, Scarbrough P, Spasojevic I (2012) Urinary biomarkers of oxidative status. Clin Chim Acta 413(19-20):1446–1453. doi:10.1016/j.cca.2012.06.012

Jacob KD, Noren Hooten N, Trzeciak AR, Evans MK (2013) Markers of oxidant stress that are clinically relevant in aging and age-related disease. Mech Ageing Dev 134(3-4):139–157. doi:10.1016/j.mad.2013.02.008

Lai CH, Liou SH, Lin HC, Shih TS, Tsai PJ, Chen JS, Yang T, Jaakkola JJ, Strickland PT (2005) Exposure to traffic exhausts and oxidative DNA damage. Occup Environ Med 62(4):216–222. doi:10.1136/oem.2004.015107

Manini P, De Palma G, Andreoli R, Mozzoni P, Poli D, Goldoni M, Petyx M, Apostoli P, Mutti A (2010) Occupational exposure to low levels of benzene: biomarkers of exposure and nucleic acid oxidation and their modulation by polymorphic xenobiotic metabolizing enzymes. Toxicol Lett 193(3):229–235. doi:10.1016/j.toxlet.2010.01.013

Matuszewski BK, Costanzer ML, Chavez-Eng CM (2003) Strategies for the assessment of matrix effect in quantitative bioanalytical methods based on HPLC-MS/MS. Anal Chem 75(13):3019–3030. doi:10.1021/ac020361s

Paci E, Pigini D, Cialdella AM, Faranda P, Tranfo G (2007) Determination of free and total S-phenylmercapturic acid by HPLC/MS/MS in the biological monitoring of benzene exposure. Biomarkers 12(2):111–122. doi:10.1080/13547500601007943

Picó Y, la Farré M, Soler C, Barceló D (2007) Identification of unknown pesticides in fruits using ultra-performance liquid chromatography-quadrupole time-of-flight mass spectrometry. Imazalil as a case study of quantification. J Chromatog A 1176(1-2):123–134. doi:10.1016/j.chroma.2007.10.071

Protano C, Guidotti M, Manini P, Petyx M, La Torre G, Vitali M (2010) Benzene exposure in childhood: role of living environments and assessment of available tools. Environ Int 36(7):779–787. doi:10.1016/j.envint.2010.06.003

Valavanidis A, Vlachogianni T, Fiotakis C (2009) 8-hydroxy-2′-deoxyguanosine (8-OHdG): a critical biomarker of oxidative stress and carcinogenesis. J Environ Sci Health Pt C-Environ Carcinog Ecotoxicol Rev 27(2):120–139. doi:10.1080/10590500902885684
Additional information
Responsible editor: Philippe Garrigues
About this article
Cite this article
Tranfo, G., Pigini, D., Paci, E. et al. Association of exposure to benzene and smoking with oxidative damage to nucleic acids by means of biological monitoring of general population volunteers. Environ Sci Pollut Res 24, 13885–13894 (2017). https://doi.org/10.1007/s11356-016-6366-1
Received:

Accepted:

Published:

Issue Date:
Keywords
HPLC-MS/MS

Biomonitoring

8-Oxo-7,8-dihydro-2′-deoxyguanosine

8-Oxo-7,8-dihydroguanine

8-Oxo-7,8-dihydroguanosine

S-Phenylmercapturic acid

t,t-Muconic acid

Urinary cotinine