Abstract
Mixing can influence the optical, physical, and chemical characteristics of aerosols, which in turn can modify their life cycle and radiative effects. Assumptions on the mixing state can lead to uncertain estimates of aerosol radiative effects. To examine the effect of mixing on the aerosol characteristics, and their influence on radiative effects, aerosol mixing states are determined over four environmentally distinct locations (Karachi, Gwangju, Osaka, and Singapore) in Asia, an aerosol hot spot region, using measured spectral aerosol optical properties and optical properties model. Aerosol optical depth (AOD), single scattering albedo (SSA), and asymmetry parameter (g) exhibit spectral, spatial, and temporal variations. Aerosol mixing states exhibit large spatial and temporal variations consistent with aerosol characteristics and aerosol type over each location. External mixing of aerosol species is unable to reproduce measured SSA over Asia, thus providing a strong evidence that aerosols exist in mixed state. Mineral dust (MD) (core)-Black carbon (BC) (shell) is one of the most preferred aerosol mixing states. Over locations influenced by biomass burning aerosols, BC (core)-water soluble (WS, shell) is a preferred mixing state, while dust gets coated by anthropogenic aerosols (BC, WS) over urban regions influenced by dust. MD (core)-sea salt (shell) mixing is found over Gwangju corroborating the observations. Aerosol radiative forcing exhibits large seasonal and spatial variations consistent with features seen in aerosol optical properties and mixing states. TOA forcing is less negative/positive for external mixing scenario because of lower SSA. Aerosol radiative forcing in Karachi is a factor of 2 higher when compared to Gwangju, Osaka, and Singapore. The influence of g on aerosol radiative forcing is insignificant. Results emphasize that rather than prescribing one single aerosol mixing state in global climate models regionally and temporally varying aerosol mixing states should be included for more accurate assessment of aerosol radiative effects
This is a preview of subscription content, log in to check access.
Access options
Buy single article
Instant access to the full article PDF.
US$ 39.95
Price includes VAT for USA
Subscribe to journal
Immediate online access to all issues from 2019. Subscription will auto renew annually.
US$ 99
This is the net price. Taxes to be calculated in checkout.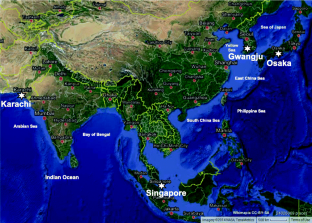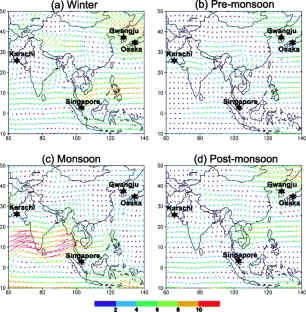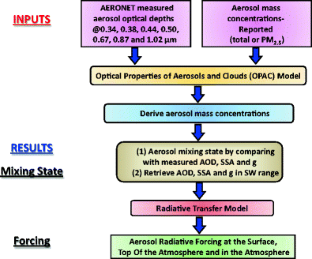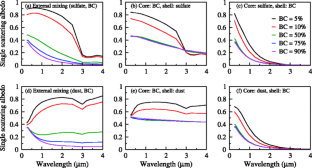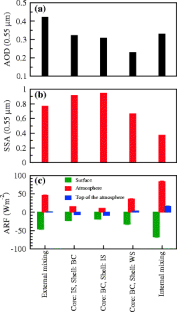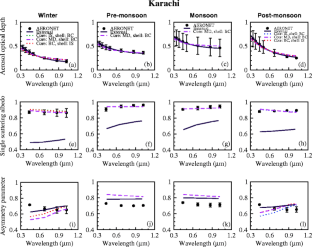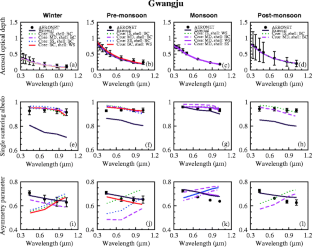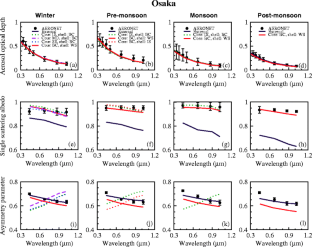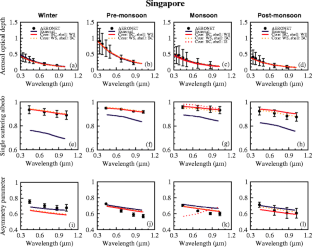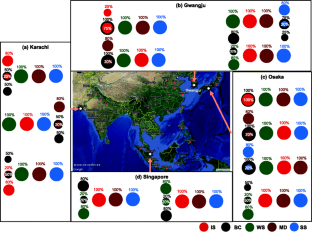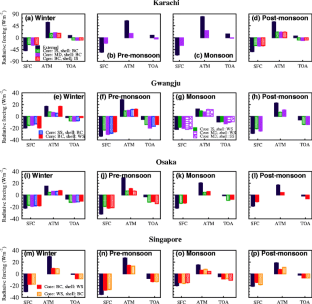 References
Andreae MO, Charlson RJ, Bruynseels F, Storms H, Van Grieken R, Maenhaut W (1986) Internal mixture of sea salt, silicates, and excess of sulfate in marine aerosols. Science 232:1620–1623

Andrews E, Sheridan PJ, Fiebig M, McComiskey A, Ogren JA, Arnott P, Covert D, Elleman R, Gasparini R, Collins D, Jonsson H, Schmid B, Wang J (2006) Comparison of methods for deriving aerosol asymmetry parameter. J Geophys Res 111(D05S04). doi:10.1029/2004JD005734

Arimoto R, Kim YJ, Kim YP, Quinn PK, Bates TS, Anderson TL, Gong S, Uno I, Chin M, Huebert BJ, Clarke AD, Shinozuka Y, Weber RJ, Anderson JR, Guazzotti SA, Sullivan RC, Sodeman DA, Prather KA, Sokolik IN (2006) Characterization of Asian dust during ACE-Asia. Glob Planet Chang 52:23–56

Balasubramanian R, Qian W-B, Decesari S, Facchini MC, Fuzzi S (2003) Comprehensive characterization of PM2.5 aerosols in Singapore. J Geophys Res 108:4523. doi:10.1029/2002JD002517

Bohren CF, Huffman DR (1983) Absorption and scattering of light by small particles. John Wiley & Sons, Inc, pp 483–489

Chin M, Diehl T, Dubovik O, Eck TF, Holben BN, Sinyuk A, Streets DG (2009) Light absorption by pollution, dust and biomass burning aerosols: a global model study and evaluation with AERONET measurements. Ann Geophys 27:3439–3464

Chung SH, Seinfeld JH (2002) Global distribution and climate forcing of carbonaceous aerosols. J Geophys Res 107:4407. doi:10.1029/2001JD001397

Chung CE, Ramanathan V, Kim D, Podgorny IA (2005) Global anthropogenic aerosol direct forcing derived from satellite and ground-based observations. J Geophys Res 110:D24207. doi:10.1029/2005JD006356

Dubovik O, King MD (2000) A flexible inversion algorithm for retrieval of aerosol optical properties from Sun and sky radiance measurements. J Geophys Res 105:20673–20696

Dubovik O, Smirnov A, Holben BN, Eck TF, Slutsker I (2000) Accuracy assessments aerosol optical properties retrieved from AERONET Sun- and sky-radiance measurements. J Geophys Res 105:9791–9806

Dubovik O, Sinyuk A, Lapyonok T, Holben BN, Mishchenko M, Yang P, Eck TF, Volten H, Munoz O, Veihelmann B, van der Zande WJ, Leon J-F, Sorokin M, Slutsker I (2006) Application of spheroid models to account for aerosol particle nonsphericity in remote sensing of desert dust. J Geophys Res 111 (D11208). doi:10.1029/2005JD006619

Dubuisson P, Buriez JC, Fouquart Y (1996) High spectral resolution solar radiative transfer in absorbing and scattering media: application to the satellite simulation. J Quant Spectrosc Radiat Transf 55:103–126

Dutkiewicz VA, Alvi S, Ghauri BM, Choudhary MI, Husain L (2009) Black carbon aerosols in urban air in south Asia. Atmos Environ 43:1737–1744

Emmons LK, Walters S, Hess PG, Lamarque J-F, Pfister GG, Fillmore D, Granier C, Guenther A, Kinnison D, Laepple T, Orlando J, Tie X, Tyndall G, Wiedinmyer C, Baughcum SL, Kloster S (2010) Description and evaluation of the Model for Ozone and Related chemical Tracers. version 4 (MOZART-4). Geosci Model Dev 3:43–67

Forster P, Ramaswamy V, Artaxo P, Berntsen T, Betts R, Fahey DW, Haywood J, Lean J, Lowe DC, Myhre G, Nganga J, Prinn R, Raga G, Schulz M, Van Dorland R (2007) Changes in atmospheric constituents and in radiative forcing. In: Solomon S, Qin D, Manning M, Chen Z, Marquis M, Averyt KB, Tignor M, Miller HL (eds) Climate change 2007: the physical science basis. Contribution of working group i to the fourth assessment report of the intergovernmental panel on climate change. Cambridge University Press, Cambridge, United Kingdom and New York, pp 129–234

Funasaka K, Sakai M, Shinya M, Miyazaki T, Kamiura T, Kaneco S, Ohta K, Fujita T (2003) Size distributions and characteristics of atmospheric inorganic particles by regional comparative study in urban Osaka, Japan. Atmos Environ 37:4597–4605

Guazzotti SA, Coffee KR, Prather KA (2001) Continuous measurements of size-resolved particle chemistry during INDOEX-intensive Field Phase 99. J Geophys Res 106:28,607–28,627

Hänel G, Zankl B (1979) Aerosol size and relative humidity: water uptake by mixtures of salts. Tellus 31:478–486

Hasegawa S, Ohta S (2002) Some measurements of mixing state of soot containing particles at urban and nonurban sites. Atmos Environ 36:3899–3908

Hess M, Koepke P, Schult I (1998) Optical properties of aerosols and clouds: the software package OPAC. Bull Am Meteorol Soc 79:831–844

Holben BN, Tanré D, Smirnov A, Eck TF, Slutsker I, Abuhassan N, Newcomb WW, Schafer JS, Chatenet B, Lavenu F, Kaufman YJ, Castle JV, Setzer A, Markham B, Clark D, Frouin R, Halthore R, Karneli, O'Neill NT, Pietras C, Zibordi G, Voss K, Zibordi G (2001) An emerging ground-based aerosol climatology: aerosol optical depth from AERONET. J Geophys Res 106:12067–12097

Jacobson MZ (2000) A physically-based treatment of elemental carbon optics: implications for global direct forcing of aerosols. Geophys Res Lett 27:217–220

Kedia S, Ramachandran S, Holben BN, Tripathi SN (2014) Quantification of aerosol type, and sources of aerosols over the Indo-Gangetic plain. Atmos Environ 98:607–619

Kopp RE, Mauzarell DL (2010) Assessing the climatic benefits of black carbon mitigation. Proc Natl Acad Sci 107:11703–11708

Lau K-M, Ramanathan V, Wu G-X, Li Z, Tsay SC, Hsu C, Sikka DR, Holben B, Lu D, Tartari G, Chin M, Koudelova P, Chen H, Ma Y, Juang J, Taniguchi K, Zhang R (2008) The joint aerosol-monsoon experiment. Bull Am Meteorol Soc 89:369–383

Lee H, Park SS, Kim KW, Kim YJ (2008) Source identification of PM2.5 particles measured in Gwangju, Korea. Atmos Res 88:199–211

Lesins G, Chylek P, Lohmann U (2002) A study of internal and external mixing scenarios and its effect on aerosol optical properties and direct radiative forcing. J Geophys Res 107:4094. doi:10.1029/2001JD000973

Mishchenko MI, Travis LD, Kahn RA, West RA (1997) Modeling phase functions for dustlike tropospheric aerosols using a shape mixture of randomly oriented polydisperse spheroids. J Geophys Res 102:16831–16847

Mukai M, Sano I, Satoh M, Holben BN (2006) Aerosol properties and air pollutants over an urban area. Atmos Res 82:643– 651

Murphy DM, Cziczo DJ, Froyd KD, Hudson PK, Matthew BM, Middlebrook AM, Peltier RE, Sullivan A, Thomson DS, Weber RJ (2006) Single-particle mass spectrometry of tropospheric particles. J Geophys Res 111(D23S32). doi:10.1029/2006JD007340

Parekh PP, Ghauri B, Siddiqi ZR, Husain L (1987) The use of chemical and statistical methods to identify sources of selected elements in ambient air aerosols in Karachi, Pakistan. Atmos Environ 21:1267–1274

Prospero JM, Ginoux P, Torres O, Nicholson SE, Gill TE (2002) Environmental characterization of global sources of atmospheric soil dust identified with the Nimbus 7 Total Ozone Mapping Spectrometer (TOMS) absorbing aerosol product. Rev Geophys 40:1002. doi:10.1029/2000RG000095

Ramachandran S, Jayaraman A (2002) Premonsoon aerosol mass loadings and size distributions over the Arabian Sea and the tropical Indian Ocean. J Geophys Res 107:4738. doi:10.1029/2002JD002386

Ramachandran S (2005) Premonsoon shortwave aerosol radiative forcings over the Arabian Sea and tropical Indian Ocean: Yearly and monthly mean variabilities. J Geophys Res 110:D07207. doi:10.1029/2004JD005563

Ramachandran S, Kedia S (2010) Black carbon aerosols over an urban region: radiative forcing and climate impact. J Geophys Res 115(D10202). doi:10.1029/2009JD013560

Ramachandran S, Kedia S (2011) Radiative effects of aerosols over Indo-Gangetic Plain: environmental (urban vs. rural) and seasonal variations. Environ Sci Pollut Res 19:2159– 2171

Remer LA, Kleidman RG, Levy RC, Kaufman YJ, Tanré D, Mattoo S, Martins JV, Ichoku C, Koren I, Yu H, Holben BN (2008) Global aerosol climatology from the MODIS satellite sensors. J Geophys Res 113:D14S07. doi:10.1029/2007JD009661

Ricchiazzi P, Yang S, Gautier C, Sowle D (1998) SBDART, A research and teaching tool for plane-parallel radiative transfer in the Earth's atmosphere. Bull Am Meteorol Soc 79:2101– 2114

Russell PB, Kacenelenbogen M, Livingston JM, Hasekamp OP, Burton SP, Schuster GL, Johnson MS, Knobelspiesse KD, Redemann J, Ramachandran S, Holben BN (2014) A Multi-parameter aerosol classification method and its application to retrievals from Spaceborne polarimetry. J Geophys Res 119:9838–9863. doi:10.1002/2013JD021411

Srivastava R, Ramachandran S (2013) The mixing state of aerosols over the Indo-Gangetic Plain and its impact on radiative forcing. Q J R Meteorol Soc 39:137–151

Tanré D, Remer LA, Kaufman YJ, Mattoo S, Hobbs PV, Livingston JM, Russell PB, Smirnov A (1999) Retrieval of aerosol optical thickness and size distribution over ocean from the MODIS airborne simulator during TARFOX. J Geophys Res 104:2261– 2278

Vester BP, Ebert M, Barnert EB, Schneider J, Kandler K, Schütz L, Weinbruch S (2007) Composition and mixing state of the urban background aerosol in the Rhein-Main area (Germany). Atmos Environ 41:6102–6115
Acknowledgments
We thank B.N. Holben (Karachi), S.-C. Liew and S.V. Salinos Cortijo (Singapore), Y.J. Kim (Gwangju), and I. Sano (Osaka), the principal investigators of the respective sites, for their efforts in establishing and maintaining the AERONET, the data of which are used in the study. Columnar ozone from OMI are downloaded from GES-DISC, NASA. Winds, temperature, and pressure profiles are downloaded from http://www.cdc.noaa.gov. PRL high performance computing cluster was used for the coated sphere Mie calculation and radiative forcing computation.
Additional information
Responsible Editor: Gerhard Lammel
About this article
Cite this article
Ramachandran, S., Srivastava, R. Mixing states of aerosols over four environmentally distinct atmospheric regimes in Asia: coastal, urban, and industrial locations influenced by dust. Environ Sci Pollut Res 23, 11109–11128 (2016). https://doi.org/10.1007/s11356-016-6254-8
Received:

Accepted:

Published:

Issue Date:
Keywords
Aerosols

Mixing

Environment

Pollution effects

Region

Radiative implications