Abstract
Glyphosate (GLY) is the most used herbicide worldwide and its effects on anurans are well known. Pollutants can cause physiological and morphological effects. Therefore, this study evaluated the effects of GLY on hepatic melanomacrophages as a response to environmental stressors. Three treatments were exposed to different concentrations of pure GLY (100, 1000, and 10,000 μg g−1, respectively), and there was also a control group. After the experimental time, liver and blood were analyzed. Melanomacrophages (MMCs) were located between the hepatocyte cordons, close to sinusoids. GLY increased the melanin area in MMCs of Leptodactylus latinasus exposed since lowest concentration until highest concentration. GLY also changed the occurrence of hepatic catabolism pigments into melanomacrophages and erythrocyte nuclear abnormalities; therefore, it can interfere with the hepatic metabolism. In conclusion, GLY promotes alterations in the hepatic tissue and erythrocyte nuclear abnormalities. Furthermore, MMCs may be useful as morphological responses of GLY effects.
This is a preview of subscription content, log in to check access.
Access options
Buy single article
Instant access to the full article PDF.
US$ 39.95
Price includes VAT for USA
Subscribe to journal
Immediate online access to all issues from 2019. Subscription will auto renew annually.
US$ 99
This is the net price. Taxes to be calculated in checkout.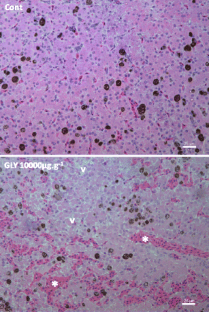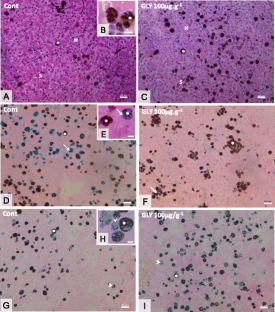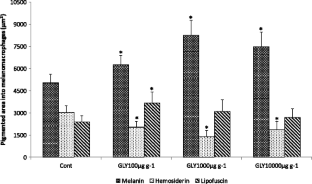 References
Agius C (1981) Preliminary studies on the ontogeny of the melanomacrophages of teleost hematopoetic tissues and age-related changes. Dev Comp Immunol 5:597–606

Agius C, Roberts RJ (2003) Melano-macrophage centres and their role in fish pathology. J Fish Biol 26:499–509

Annett R, Habibi HR, Hontela A (2014) Impact of glyphosate and glyphosate-based herbicides on the freshwater environment. J Appl Toxicol 34:458–479

Aparicio VC, De Gerónimo E, Marino D, Primost J, Carriquiriborde P, Costa JL (2013) Environmental fate of glyphosate and aminomethylphosphonic acid in surface waters and soil of agricultural basins. Chemosphere 93:1866–1873

Arregui MC, Lenardón A, Sanchez D, Maitre MI, Scotta R, Enrique S (2004) Monitoring glyphosate residues in transgenic glyphosate-resistant soybean. Pest Manag Sci 60:163–166

Azqueta A, Shaposhnikov S, Collins AR (2009) DNA oxidation: investigating its key role in environmental mutagenesis with the comet assay. Mutat Res Genet Toxicol Environ Mutagen 674:101–108

Barni S, Bertone V, Croce AC, Bottiroli G, Bernini F, Gerzeli G (1999) Increased liver pigmentation during natural hibernation in some amphibians. J Anat 195:19–25

Blaustein AR, Wake DB (1990) Declining amphibian populations: a global phenomenon? Trends Ecol Evol 5:203–204

Blaustein AR, Wake DB, Sousa WP (1994) Amphibian declines: judging stability, persistence, and susceptibility of populations to local and global extinctions. Conserv Biol 8:60–71

Blaustein AR, Romansic JM, Kiesecker JM, Hatch AC (2003) Ultraviolet radiation, toxic chemicals and amphibian population declines. Divers Distrib 9:123–140

Bosch B, Mañas F, Gorla N, Aiassa D (2011) Micronucleus test in post metamorphic Odontophrynus cordobae and Rhinella arenarum (Amphibia: Anura) for environmental monitoring. J Toxicol Environ Health Sci 3:154–163

Brodkin MA, Madhoun H, Rameswaran M, Vatnick I (2007) Atrazine is an immune disruptor in adult northern leopard anurans (Rana pipiens). Environm Toxicol Chem 26:80–84

Bucke D, Vethaak AD, Lang AT (1992) Quantitative assessment of Melanomacrophage centres (MMCs) in dab Limanda limanda along a pollution transect in the German. Bight Mar Ecol Prog Ser 91:193–196

Cakıcı O (2015) Histopathologic changes in liver and kidney tissues induced by carbaryl in Bufotes variabilis (Anura: Bufonidae). Experim Toxicol Pathol 67:237–243

Campbell TW. 2015. Exotic animal hematology and cytology. John Wiley & Sons, Hoboken, New Jersey

Carey C, Bryant CJ (1995) Possible interrelations among environmental toxicants, amphibian development, and decline of amphibian populations. Environ Health Persp 103:13–17

Christin MS, Ménarda L, Gendron AD, Rubyc S, Cyra D, Marcogliese DJ, Rollins-Smith L, Fournier M (2004) Effects of agricultural pesticides on the immune system of Xenopus laevis and Rana pipiens. Aquat Toxicol 67:33–43

Clements C, Ralph S, Petras M (1997) Genotoxicity of select herbicides in Rana catesbeiana tadpoles using the alkaline single-cell gel DNA electrophoresis (comet) assay. Environ Mol Mutagen 29(3):277–288

Couillard CM, Hodson PV (1996) Pigmented macrophage aggregates: a toxic response in fish exposed to bleached-kraft mill effluent? Environ Toxicol Chem 15:1844–1854

Davidson C, Shaffer BH, Jennings MR (2002) Spatial tests of the pesticide drift, habitat destruction, UV-B, and climate-change hypotheses for California amphibian declines. Conserv Biol 16:1588–1601

Fenech M (2007) Cytokinesis-block micronucleus cytome assay. Nat Protoc 2:1084–1104

Feng JC, Thompson DG, Reynolds PH (1990) Fate of glyphosate in a Canadian forest watershed. 1. Aquatic residues and off-target deposit assessment. J Agric Food Chem 38:1110–1118

Fenoglio C, Boncompagni E, Fasola M, Gandini C, Comizzoli S, Milanesi G, Barni S (2005) Effects of environmental pollution on the liver parenchymal cells and Kupffer-melanomacrophagic cells of the anuran Rana esculenta. Ecotoxicol Environ Saf 60:259–268

Franco-Belussi L, Castrucci AM, Oliveira C (2013) Responses of melanocytes and melanomacrophages of Eupemphix nattereri (Anura: Leiuperidae) to Nle4, D-Phe7-α-melanocyte stimulating hormone and lipopolysaccharides. Zool 116:316–324

Fuentes L, Moore LJ, Rodgers JH Jr, Bowerman WW, Yarrow GK, Chao WY (2011) Comparative toxicity of two glyphosate formulations (original formulation of Roundup® and Roundup Weathermax®) to six north american larval anurans. Environ Toxicol Chem 30:2756–2761

Giesy JP, Dobson S, Solomon KR (2000) Ecotoxicological risk assessment for Roundup herbicide. Rev Environ Contam Toxicol 167:35–120

Gonçalves MW, Vieira TB, Maciel NM, Carvalho WF, Lima LSF, Gambale PG, Nomura F, Bastos RP, Silva DM (2014) Detecting genomic damages in the anuran Dendropsophus minutus: preserved versus perturbed areas. Environ Sci Poll Res. 22:3947–3954

Govindarajulu PP (2008) Literature review of impacts of glyphosate herbicide on amphibians: what risks can the silvicultural use of this herbicide pose for amphibians in B.C.? B.C. Ministry of Environment, Victoria, BC, Wildlife Report No R-28

Greulich K, Pflugmacher S (2003) Differences in susceptibility of various life stages of amphibians to pesticide exposure. Aquat Toxicol 65:329–336

Güngördü A (2013) Comparative toxicity of methidathion and glyphosate on early life stages of three amphibian species: Pelophylax ridibundus, Pseudepidalea viridis, and Xenopus laevis. Aquat Toxicol 140–141:220–228

Gurushankara HP, Krishnamurthy SV, Vasudev V (2007) Morphological abnormalities in natural populations of common anurans inhabiting agroecosystems of central Western Ghats. Appl Herpetol 4:39–45

Harris ML, Bishop CA, Struger J, Ripley B, Bogart JP (1998) The functional integrity of northern leopard anuran (Rana pipiens) and green anuran (Rana clamitans) populations in orchard wetlands. II. Effects of pesticides and eutrophic conditions on early life stage development. Environ Toxicol Chem 17:1351–1363

Hedberg D, Wallin M (2010) Effects of Roundup and glyphosate formulations on intracellular transport, microtubules and actin filaments in Xenopus laevis melanophores. Toxicolin vitro 24:795–802

IUCN 2013. The IUCN red list of threatened Species. Version (2013) 2. http://www.iucnredlist.org. Downloaded on 21 November 2013

Jantawongsri K, Thammachoti P, Kitana J, Khonsue W, Kitana N (2013)Comparison herbicide utilization in paddy field alters immune response of the rice anuran Fejervarya limnocharis living in agricultural area at Nan province, Thailand. EHSM 2013, P-E-07: 1–6

Jha AN (2008) Ecotoxicological applications and significance of the comet assay. Mutagenesis 23:207–221

Jones DK, Hammond JI, Relyea RA (2010) Roundup and amphibians: the importance of concentration, application time, and stratification. Environ Toxicol Chem 29:2016–2025

Jordanova M, Miteva N, Rocha E (2008) A qualitative and quantitative study of the hepatic pigmented macrophage aggregates during the breeding cycle of ohrid trout, Salmo letnica Kar. (Teloestei, Salmonidae). Microsc Res Tech 71:822–830

Kranz H (1989) Changes in splenic melano-macrophage centres of dab. Limanda limanda during and after infection with ulcer disease. Dis Aquat Organ 6:167–173

Lajmanovich RC, Attademo AM, Peltzer PM, Junges CM, Cabagna MC (2011) Toxicity of four herbicide formulations with glyphosate on Rhinella arenarum (Anura: Bufonidae) tadpoles: B-esterases and glutathione S-transferase inhibitors. Arch Environ Contam Toxicol 60:681–689

Lajmanovich RC, Cabagna-Zenklusen MC, Attademo AM, Junges CM, Peltzer PM, Bassó A, Lorenzatti E (2014) Induction of micronuclei and nuclear abnormalities in tadpoles of the common toad (Rhinella arenarum) treated with the herbicides Liberty® and glufosinate-ammonium. Mutat Res Genet Toxicol Environ Mutagen 769:7–12

Loumbourdis NS (2007) Liver histopathologic alterations in the anuran Rana ridibunda from a small river of Northern Greece. Arch Environ Contam Toxicol 53:418–425

Loumbourdis NS, Vogiatzis AK (2002) Impact of cadmium on liver pigment system of the anuran Rana ridibunda. Ecotoxicol Environ Saf 53:52–58

Mann RM, Bidwell JR (1999) The toxicity of glyphosate and several glyphosate formulations to four species of Southwestern Australian anurans. Arch Environ Contam Toxicol 36:193–199

McComb BC, Curtis L, Chambers CL, Newton M, Bentson K (2008) Acute toxic hazard evaluations of glyphosate herbicide on terrestrial vertebrates of the Oregon Coast range. Env Sci Pollut Res 15:266–272

Mela M, Randi MA, Ventura DF, Carvalho CE, Pelletier E, Ribeiro CAO (2007) Effects of dietary methylmercury on liver and kidney histology in the neotropical fish Hoplias malabaricus. Ecotoxicol Environ Saf 68:426–435

Mela M, Guiloski IC, Doria HB, Rabitto IS, Silva CA, Maraschi AC, Prodocimo V, FreireCA RMAF, Oliveira Ribeiro CA, Silva de Assis HC (2012) Risks of water borne copper exposure to a cultivated fresh water neotropical catfish (Rhamdia quelen). Ecotoxicol Environ Saf 88:108–116

Mela M, Guiloski IC, Doria HB, Randi MAF, Ribeiro CAO, Pereira L, Maraschi AC, Prodocimo V, Freire CA, Silva de Assis HC (2013) Effects of the herbicide atrazina in neotropical catfish (Rhamdia quelen). Ecotoxicol Environ Saf 93:13–21

Meza-Joya FL, Ramírez-Pinilla MP, Fuentes-Lorenzo JL (2013) Toxic, cytotoxic, and genotoxic effects of a glyphosate formulation (Roundup®SL-Cosmoflux® 411F) in the direct-developing anuran Eleutherodactylus johnstonei. Environ Mol Mutag 54:362–373

Moore LJ, Fuentes L, Rodgers JJH, Bowerman WW, Yarrow GK, Chao WY, Bridges WC Jr (2012) Relative toxicity of the components of the original formulation of roundups to five North American anurans. Ecotoxicol Environ Saf 78:128–133

National Research Council (US) Committee for the update of the guide for the care and use of laboratory animals. Guide for the care and use of laboratory animals. 8th edition. Washington (DC): National Academies Press (US) (2011) Available from: http://www.ncbi.nlm.nih.gov/books/NBK54050/

OECD (2007) .In vitro micronucleus test. OECD guidelines for the testing of chemicals, organization for economic co-operation and development (OECD), Paris.

Pacheco M, Santos MA (2002) Biotransformation, genotoxic, and histopathological effects of environmental contaminants in European eel (Anguilla anguilla L.). Ecotoxicol and Environ Saf 53:331–347

Pascoli F, Negrato E, Di Giancamillo A, Bertotto D, Domeneghini C, Simontacchi C, Mutinelli F, Radaelli G (2011) Evaluation of oxidative stress biomarkers in Zosterisessor ophiocephalus from the Venice Lagoon, Italy. Aquat Toxicol 101:512–520

Paunescu A, Ponepal CM, Drghici O, Marinescu AG (2010) Liver histopathologic alterations in the frog Rana (Pelophylax) Ridibunda induce by the action of reldan 40EC insecticide. An UO Fasc Biol 17:166–169

Pérez-Iglesias JM, de Arcaute CR, Nikoloff N, Dury L, Soloneski S, Natale S, Larramendy ML (2014) The genotoxic effects of the imidacloprid-based insecticide formulation Glacoxan Imida on Montevideo tree frog Hypsiboas pulchellus tadpoles (Anura, Hylidae). Ecotoxicol Environ Saf 104:120–126

Peruzzo P, Porta A, Ronco AE (2008) Levels of glyphosate in surface waters, sediments and soils associated with direct sowing soybean cultivation in north pampasic region of Argentina. Environ Pollut 156:61–66

Pickford GW (1953) Fish endocrinology. A study of the hypophysectomized male killifish, Fundulus heteroclitus (L.). Bull Bingham Oceanogr Coll 14:5–41

Reboratti C (2010) Un mar de soja: la nueva agricultura en Argentina y sus consecuencias. Rev Geog Norte Grande 45:63–76

Relyea RA, Jones DK (2009) The toxicity of Roundup Original Max® to 13 species of larval amphibians. Environ Toxicol Chem 28:2004–2008

Relyea RA, Schoeppner NM, Hoverman JT (2005) Pesticides and amphibians: the importance of community context. Ecolog Appl 15:1125–1134

Rohr JR, Crumrine PW (2005) Effects of an herbicide and an insecticide on pond community structure and processes. Ecolog Appl 15:1135–1147

Rozanowska M, Sarna T, Land EJ, Truscott TG (1999) Free radical scavenging properties of melanin interaction of eu-and pheomelanin models with reducing and oxidizing radicals. Free Radic Biol Med 26:518–525

Rund CR, Christiansen JL, Johnson JC (1998) In vitro culture of melanomacrophages from the spleen and liver of turtles: comments on melanomacrophage morphology. Pigm Cell Res 11:114–119

Santos LRS, Franco-Belussi LF, Zieri R, Borges RE, Oliveira C (2014) Effects of thermal stress on hepatic melanomacrophages of Eupemphix nattereri (Anura). Anat Rec 297:864–875

Scribner EA, Battaglin WA, Dietze JE, Thurman EM (2003) Reconnaissance data for glyphosate, other selected herbicides, their degradation products, and antibiotics in 51 streams in nine Midwestern States, 2002: U.S. Geological Survey Open-File Report 03–217, 101 p.

Sebrenski da Silva G, Filipak Neto F, Silva de Assis HC, Bastos WR, Oliveira Ribeiro CA (2012) Potential risks of natural mercury levels to wild predator fish in an Amazon reservoir. Environ Monit Assess 184:4815–4827

Silva de Assis HC, Silva CA, Oba ET, Pamplona JH, Mela M, Doria HB, Guiloski IC, Ramsdorf W, Cestari MM (2013) Hematologic and hepatic responses of the freshwater fish Hoplias malabaricus after saxitoxin exposure. Toxicon 66:25–30

Sparling DW, Linder G, Bishop CA, Krest SK (2010) Ecotoxicology of amphibians and reptiles. CRC Press. SETAC Books, Boca Raton, Florida. Second Edition. pp. 916.

Stebbins RC, Cohen NW (1995) A natural history of amphibians. Princeton Univ. Press, Princeton, New Jersey, p 368

Struger J, Thompson D, Staznik B, Martin P, McDaniel T, Marvin C (2008) Occurrence of glyphosate in surface waters of southern Ontario. Bull Environ Contam Toxicol 80:378–384

U.S. Department of the Interior | U.S. Geological Survey. URL: http://toxics.usgs.gov/highlights/glyphosate02.html. Page Last Modified: Tuesday, 04-Aug-2015.

Vaira M, Akmentins M, Attademo A, Baldo D, Barrasso D, Barrionuevo S, Basso N, Blotto B, Cairo S, Cajade R, Céspedez J, Corbalán V, Chilote P, Duré M, Falcione C, Ferraro D, Gutierrez F, Junges P, Lajmanovich R, Lescano J, Marangoni F, Martinazzo L, Marti L, Moreno L, Natale G, Pérez Iglesias J, Peltzer P, Quiroga L, Rosset S, Sanabria E, Sánchez P, Schaefer E, Úbeda C, Zaracho V (2012) Categorización del estado de conservación de los Anfibios de la República Argentina. Cuad Herpetol 26:131–159

Van der Oost R, Beyer J, Vermeulen NP (2003) Fish bioaccumulation and biomarkers in environmental risk assessment: a review. Environ Toxicol Pharmacol 13:57–149

Wagner N, Reichenbecher W, Teichmann H, Tappeser B, Lötters S (2013) Questions concerning the potential impact of glyphosate-based herbicides on amphibians. Environ Toxicol Chem 32:1688–1700

Williams GM, Kroes M, Munro IC (2000) Safety evaluation and risk assessment of the herbicide Roundup and its active ingredient, glyphosate, for humans. Regulatory Toxicol Pharmacol 31:117–165

Wolke RE, George CJ, Blazer VS (1995) Pigmented macrophage accumulations (MMC; PMB): possible monitors of fish health. In: Parasitology and pathology of the world oceans (ed. By W.J. Hargis). NOAA Technical Report, NMFS 25. National Marine Fishery Service, Washington, DC, pp 27–33

World Health Organization (WHO) (1994) Environmental health criteria: Glyphosate. Geneva, 159: p 177

Yadav SS, Giri S, Singha U, Boro F, Giri A (2013) Toxic and genotoxic effects of Roundup on tadpoles of the Indian skittering frog (Euflictis cyanophlyctis) in the presence and absence of predator stress. Aquat Toxicol 15:132–133

Zar JH (2010) Biostatistical Analysis, 5th edn. Prentice Hall, NewJersey, p 994
Acknowledgments
We are grateful to Gabriela Baroni Leite for helping with the histological procedures, Dr. Fernando Ferrari for help in statistical analysis, and GLEBA S.A. for providing pure glyphosate. This study was supported by CONICET (PIP 0723), FAPESP (Process 2013/02067-5), and CNPq (Grant 306123/2012-6). JMPI was supported by Universidad Nacional de San Luis (Res. No. 109/11 CS), while LFB was supported by a post-doctoral fellowship (FAPESP 2014/00946-4).
Additional information
Responsible editor: Thomas Hutchinson
Additional file
Below is the link to the electronic supplementary material.
Histopathologic lesion in liver of L. latinasus after exposure of glyphosate. (XLSX 35 kb)
About this article
Cite this article
Pérez-Iglesias, J.M., Franco-Belussi, L., Moreno, L. et al. Effects of glyphosate on hepatic tissue evaluating melanomacrophages and erythrocytes responses in neotropical anuran Leptodactylus latinasus . Environ Sci Pollut Res 23, 9852–9861 (2016). https://doi.org/10.1007/s11356-016-6153-z
Received:

Accepted:

Published:

Issue Date:
Keywords
Glyphosate

Melanomacrophages

Melanin

Hemosiderin

Morphological responses

Genotoxic effects