Abstract
The sorption behaviour of three perfluoroalkyl substances (PFASs) (perfluorooctanesulfonic acid (PFOS), perfluorooctanoic acid (PFOA) and perfluorobutanesulfonic acid (PFBS)) was studied in sewage sludge samples. Sorption isotherms were obtained by varying initial concentrations of PFOS, PFOA and PFBS. The maximum values of the sorption solid–liquid distribution coefficients (Kd,max) varied by almost two orders of magnitude among the target PFASs: 140–281 mL g−1 for PFOS, 30–54 mL g−1 for PFOA and 9–18 mL g−1 for PFBS. Freundlich and linear fittings were appropriate for describing the sorption behaviour of PFASs in the sludge samples, and the derived KF and Kd,linear parameters correlated well. The hydrophobicity of the PFASs was the key parameter that influenced their sorption in sewage sludge. Sorption parameters and log(KOW) were correlated, and for PFOS (the most hydrophobic compound), pH and Ca + Mg status of the sludge controlled the variation in the sorption parameter values. Sorption reversibility was also tested from desorption isotherms, which were also linear. Desorption parameters were systematically higher than the corresponding sorption parameters (up to sixfold higher), thus indicating a significant degree of irreversible sorption, which decreased in the sequence PFOS > PFOA > PFBS.
This is a preview of subscription content, log in to check access.
Access options
Buy single article
Instant access to the full article PDF.
US$ 39.95
Price includes VAT for USA
Subscribe to journal
Immediate online access to all issues from 2019. Subscription will auto renew annually.
US$ 99
This is the net price. Taxes to be calculated in checkout.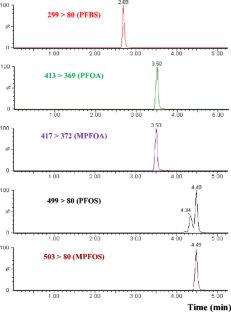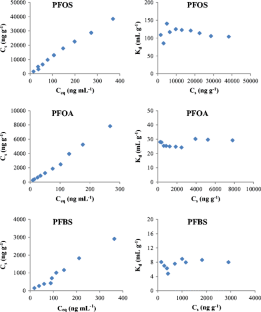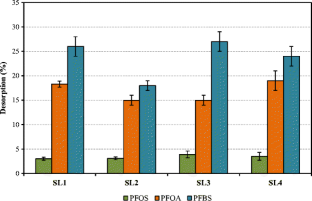 References
Arvaniti OS, Ventouri EI, Stasinakis AS, Thomaidis NS (2012) Occurrence of different classes of perfluorinated compounds in Greek wastewater treatment plants and determination of their solid-water distribution coefficients. J Hazard Mater 239–240:24–31

Arvaniti OS, Andersen HR, Thomaidis NS, Stasinakis AS (2014) Sorption of perfluorinated compounds onto different types of sewage sludge and assessment of its importance during wastewater treatment. Chemosphere 111:405–411

Busch J, Ahrens L, Sturm R, Ebinghaus R (2010) Polyfluoroalkyl compounds in landfill leachates. Environ Pollut 158:1467–1471

Deng S, Zhang Q, Nie Y, Wei H, Wang B, Huang J, Yu G, Xing B (2012) Sorption mechanisms of perfluorinated compounds on carbon nanotubes. Environ Pollut 168:138–144

Ellis DA, Martin JW, De Silva AO, Mabury SA, Hurley MD, Andersen MPS, Wallington TJ (2004) Degradation of fluorotelomer alcohols: a likely atmospheric source of perfluorinated carboxyl acids. Environ Sci Technol 38:3316–3321

Gómez-Canela C, Barth JAC, Lacorte S (2012) Occurrence and fate of perfluorinated compounds in sewage sludge from Spain and Germany. Environ Sci Pollut R 19:4109–4119

Higgins CP, Luthy RG (2006) Sorption of perfluorinated surfactants on sediments. Environ Sci Technol 40:7251–7256

Hinz C (2001) Description of sorption data with isotherm equations. Geoderma 99:225–243

ISO (1995) Soil quality. Determination of organic and total carbon after dry combustion (elementary analysis). International Organisation for Standardisation, ISO 10694

Kannan K (2011) Perfluoroalkyl and polyfluoroalkyl substances: current and future perspectives. Environ Chem 8:333–338

Kinniburgh DG (1986) General purpose adsorption isotherms. Environ Sci Technol 20:895–904

Langlois I, Oehme M (2006) Structural identification of isomers present in technical perfluorooctane sulfonate by tandem mass spectrometry. Rapid Commun Mass Sp 20:844–850

Lau C, Anitole K, Hodes C, Lai D, Pfahles-Hutchens A, Seed J (2007) Perfluoroalkyl acids: a review of monitoring and toxicological findings. Toxicol Sci 99:366–394

Llorca M, Farré M, Picó Y, Barceló D (2011) Analysis of perfluorinated compounds in sewage sludge by pressurized solvent extraction followed by liquid chromatography-mass spectrometry. J Chromatogr A 1218:4840–4846

Milinovic J, Vidal M, Lacorte S, Rigol A (2014) Leaching of heavy metals and alkylphenolic compounds from fresh and dried sewage sludge. Environ Sci Pollut Res 21:2009–2017

Milinovic J, Lacorte S, Vidal M, Rigol A (2015) Sorption behaviour of perfluoroalkyl substances in soils. Sci Total Environ 511:63–71

Newsted JL, Beach SA, Gallagher SP, Giesy JP (2008) Acute and chronic effects of perfluorobutane sulfonate (PFBS) on the mallard and northern bobwhite quail. Arch Environ Con Tox 54:535–545

Ochoa-Herrera V, Sierra-Alvarez R (2008) Removal of perfluorinated surfactants by sorption onto granular activated carbon, zeolite and sludge. Chemosphere 72:1588–1593

OECD (2000) Organization for economic co-operation and development. Guideline for the testing of chemicals: adsorption-desorption using a batch equilibrium method. OECD/OCDE 106

OECD (2006) Organization for economic co-operation and development. Results of the 2006 OECD survey on production and use of PFOS, PFAS, PFOA, PFCA, their related substances and products/mixtures containing these substances. OECD Environment, Health and Safety Publications, Series on Risk Management

Sinclair E, Kannan K (2006) Mass loading and fate of perfluoroalkyl surfactants in wastewater treatment plants. Environ Sci Technol 40:1408–1414

Sun H, Gerecke AC, Giger W, Alder AC (2011) Long-chain perfluorinated chemicals in digested sewage sludges in Switzerland. Environ Pollut 159:654–662

Sun H, Zhang X, Wang L, Zhang T, Li F, He N, Alder AC (2012) Perfluoroalkyl compounds in municipal WWTPs in Tianjin, China—concentrations, distribution and mass flow. Environ Sci Pollut Res 19(5):1405–1415

UNEP (2009) Stockholm Convention on Persistent Organic Pollutants (POPs). Listing of perfluorooctane sulfonic acid, its salts and perfluorooctane sulfonyl fluoride, UNEP-POPS-COP.4-SC-4/17, Geneva, Stockholm Convention, UNEP. Available in [http://chm.pops.int/TheConvention/ThePOPs/TheNewPOPs/tabid/2511/Default.aspx]

Yu J, Hu J, Tanaka S, Fujii S (2009) Perfluorooctane sulfonate (PFOS) and perfluorooctanoic acid (PFOA) in sewage treatment plants. Water Res 43:2399–2408

Zhang C, Yan H, Li F, Hu X, Zhou Q (2013) Sorption of short- and long-chain perfluoroalkyl surfactants on sewage sludges. J Hazard Mater 260:689–699

Zhou Q, Deng S, Zhang Q, Fan Q, Huang J, Yu G (2010) Sorption on perfluorooctane sulfonate and perfluorooctanoate on activated sludge. Chemosphere 81:453–458
Acknowledgments
This research was funded by the Spanish government (CICYT, contracts CTM 2008–01147/TECNO and CTM 2011–27211) and the Generalitat de Catalunya (2009SGR1188). Jelena Milinovic thanks the Catalan government for a PhD fellowship (2010FI_B 00513). We thank Cristian Gómez, Roser Chaler and Dori Fanjul for the assistance with the LC-MS/MS analysis.
Additional information
Responsible editor: Philippe Garrigues
Electronic supplementary material
Below is the link to the electronic supplementary material.
About this article
Cite this article
Milinovic, J., Lacorte, S., Rigol, A. et al. Sorption of perfluoroalkyl substances in sewage sludge. Environ Sci Pollut Res 23, 8339–8348 (2016). https://doi.org/10.1007/s11356-015-6019-9
Received:

Accepted:

Published:

Issue Date:
Keywords
Perfluorooctanesulfonic acid

Perfluorooctanoic acid

Perfluorobutanesulfonic acid

Sewage sludge

Sorption

Desorption