Abstract
This paper applies Pedroni's panel cointegration approach to explore the causal relationship between trade openness, carbon dioxide emissions, energy consumption, and economic growth for the panel of newly industrialized economies (i.e., Brazil, India, China, and South Africa) over the period of 1970–2013. Our panel cointegration estimation results found majority of the variables cointegrated and confirm the long-run association among the variables. The Granger causality test indicates bidirectional causality between carbon dioxide emissions and energy consumption. A unidirectional causality is found running from trade openness to carbon dioxide emission and energy consumption and economic growth to carbon dioxide emissions. The results of causality analysis suggest that the trade liberalization in newly industrialized economies induces higher energy consumption and carbon dioxide emissions. Furthermore, the causality results are checked using an innovative accounting approach which includes forecast-error variance decomposition test and impulse response function. The long-run coefficients are estimated using fully modified ordinary least square (FMOLS) method, and results conclude that the trade openness and economic growth reduce carbon dioxide emissions in the long run. The results of FMOLS test sound the existence of environmental Kuznets curve hypothesis. It means that trade liberalization induces carbon dioxide emission with increased national output, but it offsets that impact in the long run with reduced level of carbon dioxide emissions.
This is a preview of subscription content, log in to check access.
Access options
Buy single article
Instant access to the full article PDF.
US$ 39.95
Price includes VAT for USA
Subscribe to journal
Immediate online access to all issues from 2019. Subscription will auto renew annually.
US$ 99
This is the net price. Taxes to be calculated in checkout.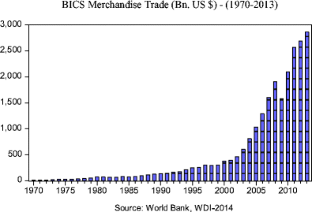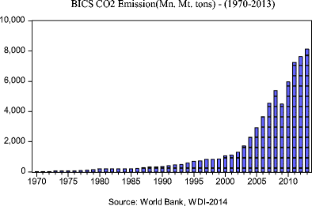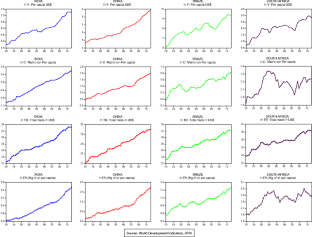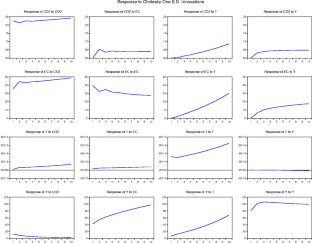 Notes
1.

The General Agreement on Trade and Tariffs (GATT) came in to force on January 1, 1948.

2.

The World Trade Organization (WTO) commenced on January 1, 1995 under Marrakesh Agreement and replaced GATT.

3.

BICS (Brazil, India, China, South Africa).

4.

North American Free Trade Agreement (NAFTA).

5.

Also known as Rio Summit organized by the United Nations at Rio de Janeiro (Brazil) from June 3–14, 1992.

6.

7.

BICS group is comprises of four newly industrialized economies: Brazil, India, China, and South Africa.

8.

Clean Clean Development Mechanism (SDM) and Joint Implementation (JI) are designed under Kyoto Protocol as emission reduction strategy through international technology diffusion from industrialized to industrializing countries. For more insights regarding SDM and JI, please refer to Youngman et al. (2007), Dechezleprêtre et al. (2008)), and Ahmed and Long (2013b).
References
Ahmed K, Long W (2013a) An empirical analysis of CO< DN> 2</DN> emission in Pakistan using EKC hypothesis. J Int Trade Law Policy 12(2):188–200

Ahmed K, Long W (2013b) Climate change and trade policy: from legal complications to time factor. J Int Trade Law Policy 12(3):258–271

Ahmed K, Qazi AQ (2014) Environmental Kuznets curve for CO2 emissions in Mongolia: an empirical analysis. Manag Environ Qual An Int J 25(4):10–10

Ahmed K, Shahbaz M, Qasim A, Long W (2015a) The linkages between deforestation, energy and growth for environmental degradation in Pakistan. Ecol Indic 49:95–103

Ahmed K, Bhattacharya M, Qazi AQ, Long W (2015b) Department of economics discussion paper series (discussion paper 43–15). University, Monash, Energy Consumption in China and Underlying Factors in a Changing Landscape: Empirical Evidence since the Reform Period

Ang JB (2007) CO 2 emissions, energy consumption, and output in France. Energy Policy 35(10):4772–4778

Antweiler W, Copeland BR, Taylor MS (2001) Is Free Trade Good for the Environment? Am Econ Rev 91(4):877–908

Arouri MEH, Ben Youssef A, M'henni H, Rault C (2012) MPRA paper 46185. University Library of Munich, Germany, Empirical Analysis of The EKC Hypothesis for Sulfur Dioxide Emissions in Selected Middle East and North African Countries

Baek J, Cho Y, Koo WW (2009) The environmental consequences of globalization: A country-specific time-series analysis. Ecol Econ 68(8):2255–2264

Birdsall N, Wheeler D (1993) Trade policy and industrial pollution in Latin America: where are the pollution havens? J Environ Dev 2(1):137–149

Breitung J (2005) A parametric approach to the estimation of cointegration vectors in panel data. Econ Rev 24(2):151–173

Chang Y (2002) Nonlinear IV unit root tests in panels with cross-sectional dependency. J Econ 110(2):261–292

Chang MC (2015) Room for improvement in low carbon economies of G7 and BRICS countries based on the analysis of energy efficiency and environmental Kuznets curves. J Clean Prod 99:140–151

Choi I (2001) Unit root tests for panel data. J Int Money Financ 20(2):249–272

Cole MA (2004) Trade, the pollution haven hypothesis and the environmental Kuznets curve: examining the linkages. Ecol Econ 48(1):71–81

Cole MA, Elliott RJ (2003) Determining the trade–environment composition effect: the role of capital, labor and environmental regulations. J Environ Econ Manag 46(3):363–383

Cole MA, Elliott RJ, Shimamoto K (2005) Industrial characteristics, environmental regulations and air pollution: an analysis of the UK manufacturing sector. J Environ Econ Manag 50(1):121–143

Copeland BR, Taylor MS (1994) North–south trade and the environment. Q J Econ 755–787

Copeland BR, Taylor MS (1995) Trade and transboundary pollution. Am Econ Rev 85(4):716–737

Copeland BR and Taylor MS (2003) Trade, growth and the environment (No. w9823). National Bureau of Economic Research

Copeland BR, Taylor MS (2004) Trade, tragedy, and the commons (No. w10836). National Bur Econ Res. doi:10.3386/w10836

Copeland B R and Taylor MS (2013) Trade and the environment: theory and evidence. Princeton University Press

Costantini M, Lupi C (2013) A simple panel CADF test for unit roots. Oxf Bull Econ Stat 75(2):276–296

De Hoyos RE, Sarafidis V (2006) Testing for cross-sectional dependence in panel-data models. Stata J 6(4):482

Dechezleprêtre A, Glachant M, Ménière Y (2008) The clean development mechanism and the international diffusion of technologies: an empirical study. Energy Policy 36(4):1273–1283

Dinda S (2004) Environmental Kuznets curve hypothesis: a survey. Ecol Econ 49(4):431–455

Driscoll JC, Kraay AC (1998) Consistent covariance matrix estimation with spatially dependent panel data. Rev Econ Stat 80(4):549–560

Dumitrescu EI, Hurlin C (2012) Testing for Granger non-causality in heterogeneous panels. Econ Model 29(4):1450–1460

Duro JA, Padilla E (2006) International inequalities in per capita CO< sub> 2</sub> emissions: a decomposition methodology by Kaya factors. Energy Econ 28(2):170–187

Engle RF, Granger CW (1987) Co-integration and error correction: representation, estimation, and testing. Econometrica: Journal of the Econometric Society 251–276

Eskeland GS, Harrison AE (2003) Moving to greener pastures? Multinationals and the pollution haven hypothesis. J Dev Econ 70(1):1–23

Frankel JA (2008) Global environmental policy and global trade policy. Harvard Kennedy School, Harvard University USA

Frankel JA, Rose AK (2005) Is trade good or bad for the environment? Sorting out the causality. Rev Econ Stat 87(1):85–91

Fodha M, Zaghdoud O (2010) Economic growth and pollutant emissions in Tunisia: an empirical analysis of the environmental Kuznets curve. Energy Policy 38(2):1150–1156

Friedman M (1937) The use of ranks to avoid the assumption of normality implicit in the analysis of variance. J Am Stat Assoc 32:675–701

Granger CW (1969) Investigating causal relations by econometric models and cross-spectral methods. Econometrica. J Econ Soc 37(3):424–438. doi:10.2307/1912791

Granger CWJ, & Newbold P (2014). Forecasting economic time series. Academic Press

Groen JJJ, Kleibergen F (2003) Likelihood-based cointegration analysis in panels of vector errorcorrection models. J Bus Econ Stat 21(2):295–318

Grossman GM, Krueger AB (1991) Environmental impacts of a North American free trade agreement (No. w3914). National Bur Econ Res. doi:10.3386/w3914

Gujarati DN (2012) Basic econometrics., Tata McGraw-Hill Education

Gul et al (2015) Causal nexus between energy consumption and carbon dioxide emission for Malaysia using maximum entropy bootstrap approach. Environ Sci Pollut Res 22(24):19773–19785

Han C, Lee H (2013) Dependence of economic growth on CO2 emissions. J Econ Dev 38:47–57

Hansen BE (1995) Rethinking the univariate approach to unit root testing: using covariates to increase power. Econometric Theory 11(5):1148–1171

Hartung J (1999) A note on combining dependent tests of significance. Biom J 41(7):849–855

Hoechle D (2007) Robust standard errors for panel regressions with cross-sectional dependence. Stata J 7(3):281

Hossain S (2011) Panel estimation for CO< sub> 2</sub> emissions, energy consumption, economic growth, trade openness and urbanization of newly industrialized countries. Energy Policy 39(11):6991–6999, http://www.oecd.org/environment/indicators-modelling-outlooks/40200582.pdf

Im KS, Pesaran MH, Shin Y (1997) Testing for unit roots in heterogeneous panels, manuscript, Department of Applied Economics. University of Cambridge, UK

IMF (2013) World economic outlook, April-2013. (http://www.imf.org/external/pubs/ft/weo/2013/01/pdf/text.pdf)

Jalil A, Feridun M (2011) The impact of growth, energy and financial development on the environment in China: a cointegration analysis. Energy Econ 33(2):284–291

Jalil A, Mahmud SF (2009) Environment Kuznets curve for CO< sub> 2</sub> emissions: a cointegration analysis for China. Energy Policy 37(12):5167–5172

Johansen S (1988) Statistical analysis of cointegration vectors. J Econ Dyn Control 12(2):231–254

Kahuthu A (2006) Economic growth and environmental degradation in a global context. Environ Dev Sustain 8(1):55–68

Kao C (1999) Spurious regression and residual-based tests for cointegration in panel data. J Econ 90(1):1–44

Kawahara S (2014) Trade, environment and market access: policy reforms in a small open economy. Environ Dev Econ 19(02):173–181

Kearsley A, Riddel M (2010) A further inquiry into the pollution haven hypothesis and the environmental Kuznets curve. Ecol Econ 69(4):905–919

Kellenberg DK (2008) A reexamination of the role of income for the trade and environment debate. Ecol Econ 68(1):106–115

Khan et al (2016) Triangular relationship among energy consumption, air pollution and water resources in Pakistan. J Clean Prod 112(2):1375–1385

Kuznets S (1955) Economic growth and income inequality. Am Econ Rev 1–28

Larsson R, Lyhagen J, Löthgren M (2001) Likelihood-based cointegration tests in heterogeneous panels. Econ J 4(1):109–142. doi:10.1111/1368-423X.00059

Lee CC, Chiu YB, Sun CH (2009) Does one size fit all? A reexamination of the environmental Kuznets curve using the dynamic panel data approach. Applied Econ Perspect Policy 31(4):751–778

Levin A, Lin CF (1993) Working paper 56. University of California at San Diego, Department of Economics, Unit Root Tests in Panel Data: New Results

Levin A, Lin CF, Chu CSJ (2002) Unit root tests in panel data: asymptotic and finite-sample properties. J Econ 108(1):1–24

Liddle B (2012) The importance of energy quality in energy intensive manufacturing: evidence from panel cointegration and panel FMOLS. Energy Econ 34(6):1819–1825

Ling CH, Ahmed K, Muhamad RB, Shahbaz M (2015) Decomposing the trade-environment nexus for Malaysia: what do the technique, scale, composition, and comparative advantage effect indicate? Environ Scie Pollut Res 22(24):20131–20142

Lopez R (1994) The environment as a factor of production: the effects of economic growth and trade liberalization. J Environ Econ Manag 27(2):163–184

Maddala GS, Wu S (1999) A comparative study of unit root tests with panel data and a new simple test. Oxf Bull Econ Stat 61(S1):631–652

Managi S, Jena PR (2008) Environmental productivity and Kuznets curve in India. Ecol Econ 65(2):432–440

Managi S, Hibiki A, Tsurumi T (2008) Does trade liberalization reduce pollution emissions. Discussion papers 8013

Managi S, Hibiki A, Tsurumi T (2009) Does trade openness improve environmental quality? J Environ Econ Manag 58(3):346–363

Mani M, Wheeler D (1998) In search of pollution havens? Dirty industry in the world economy, 1960 to 1995. J Environ Dev 7(3):215–247

Mazzanti M, Montini A, Zoboli R (2008) Environmental Kuznets curves for air pollutant emissions in Italy: evidence from environmental accounts (NAMEA) panel data. Econ Syst Res 20(3):277–301

McCoskey S, Kao C (1998) A residual-based test of the null of cointegration in panel data. Econ Rev 17(1):57–84

Messerlin PA (2010) Climate change and trade policy: From mutual destruction to mutual support. World Bank Policy Res Work Pap Ser Vol. doi:10.1596/1813-9450-5378

Mudakkar et al (2013) Energy for economic growth, industrialization, environment and natural resources: living with just enough. Renew Sust Energ Rev 25:580–595

Naranpanawa A, Bandara JS, Selvanathan S (2011) Trade and poverty nexus: A case study of Sri Lanka. J Policy Model 33(2):328–346

Omri A (2013) CO2 emissions, energy consumption and economic growth nexus in MENA countries: evidence from simultaneous equations models. Energy Econ 40:657–664

Organisation for Economic Co-operation and Development (2008) OECD environmental outlook to 2030. Organisation for Economic Co-operation and Development

Ozturk I (2015) Sustainability in the food-energy-water nexus: evidence from BRICS (Brazil, the Russian Federation, India, China, and South Africa) countries. Energy 93:999–1010

Pan J, Phillips J, Chen Y (2008) China's balance of emissions embodied in trade: approaches to measurement and allocating international responsibility. Oxf Rev Econ Policy 24(2):354–376

Pedroni P (1999) Critical values for cointegration tests in heterogeneous panels with multiple regressors. Oxf Bull Econ Stat 61(1):653–670

Pedroni P (2001) Fully modified OLS for heterogeneous cointegrated panels. Adv Econ 15:93–130

Pedroni P (2004) Panel cointegration: asymptotic and finite sample properties of pooled time series tests with an application to the PPP hypothesis. Econ Theory 20(03):597–625

Pedroni P (2007) Social capital, barriers to production and capital shares: implications for the importance of parameter heterogeneity from a nonstationary panel approach. J Appl Econ 22(2):429–451

Pesaran MH (2007) A simple panel unit root test in the presence of cross-section dependence. J Appl Econ 22(2):265–312

Peters GP, Minx JC, Weber CL, Edenhofer O (2011) Growth in emission transfers via international trade from 1990 to 2008. Proc Natl Acad Sci 108(21):8903–8908

Phillips PC (1987) Time series regression with a unit root. Journal of the Econometric Society, Econometrica, pp 277–301

Qazi AQ, Ahmed K, Mudassar M (2012) Disaggregate energy consumption and industrial output in Pakistan: an empirical analysis (No. 2012-29). Economics discussion papers

Qureshi et al (2016) Energy crisis, greenhouse gas emissions and sectoral growth reforms: repairing the fabricated mosaic. J Clean Prod 112(5):I3657–I3666

Sadorsky P (2011) Trade and energy consumption in the Middle East. Energy Econ 33(5):739–749

Sadorsky P (2012) Correlations and volatility spillovers between oil prices and the stock prices of clean energy and technology companies. Energy Econ 34(1):248–255

Selden TM, Song D (1994) Environmental quality and development: is there a Kuznets curve for air pollution emissions? J Environ Econ Manag 27(2):147–162

Shafik, N. (1994). Economic development and environmental quality: an econometric analysis. Oxford economic papers 757–773. http://www.jstor.org/stable/2663498

Shafik N, Bandyopadhyay S (1992) Economic growth and environmental quality: time-series and crosscountry evidence (Vol. 904). World Bank Publications

Shahbaz M (2012) Does trade openness affect long run growth? Cointegration, causality and forecast error variance decomposition tests for Pakistan. Econ Model 29(6):2325–2339

Shahbaz M, Lean H-H, Shabbir M-S (2012) Environmental Kuznets curve hypothesis in Pakistan: cointegration and Granger causality. Renew Sust Energ Rev 16:2947–2953

Shahbaz M, Khan S, Tahir MI (2013) The dynamic links between energy consumption, economic growth, financial development and trade in China: fresh evidence from multivariate framework analysis. Energy Econ 40:8–21

Shahbaz M, Khraief N, Uddin GS, Ozturk I (2014) Environmental Kuznets curve in an open economy: a bounds testing and causality analysis for Tunisia. Renew Sust Energ Rev 34:325–336

Shahbaz M, Bhattacharya M, Ahmed K (2015) Department of Economics Discussion Paper Series (discussion paper 23–15). University, Monash, Growth-Globalisation-Emissions Nexus: The Role of Population in Australia

Soytas U, Sari R, Ewing BT (2007) Energy consumption, income, and carbon emissions in the United States. Ecol Econ 62(3):482–489

Stern DI (2004) The rise and fall of the environmental Kuznets curve. World Dev 32(8):1419–1439

Suri V, Chapman D (1998) Economic growth, trade and energy: implications for the environmental Kuznets curve. Ecol Econ 25(2):195–208

Topalova P, Khandelwal A (2011) Trade liberalization and firm productivity: the case of India. Review Econ Stat 93(3):995–1009

Tsurumi T, Managi S (2010) Decomposition of the environmental Kuznets curve: scale, technique, and composition effects. Environ Econ Policy Stud 11(1–4):19–36

Wacziarg R, Welch KH (2008) Trade liberalization and growth: new evidence. World Bank Econ Rev 22(2):187–231

Westerlund J (2007) Testing for error correction in panel data*. Oxf Bull Econ Stat 69(6):709–748

Wiebe KS, Bruckner M, Giljum S, Lutz C (2012) Calculating energy-related CO2 emissions embodied in international trade using a global input–output model. Econ Syst Res 24(2):113–139

Wooldridge J (2012) Introductory econometrics: a modern approach., Cengage Learning

World Bank (1992) World development report 1992: development and the environment., Oxford University Press

World Bank (2008) Development and Climate Change. A Strategic Framework for the World Bank Group, Consultation Draft, August 2008. Available at http://siteresources.worldbank.org/EXTCC/Resources/407863-1219339233881/DevelopmentandClimateChange.pdf

Youngman R, Schmidt J, Lee J, De Coninck H (2007) Evaluating technology transfer in the clean development mechanism and joint implementation. Clim Pol 7(6):488–499

Zaman et al (2011) Bivariate cointegration between energy consumption and development factors: a case study of Pakistan. Int J Green Energy 8(8):820–833
Additional information
Responsible editor: Philippe Garrigues
About this article
Cite this article
Ahmed, K., Shahbaz, M. & Kyophilavong, P. Revisiting the emissions-energy-trade nexus: evidence from the newly industrializing countries. Environ Sci Pollut Res 23, 7676–7691 (2016). https://doi.org/10.1007/s11356-015-6018-x
Received:

Accepted:

Published:

Issue Date:
Keywords
Newly industrialized economies

Gross domestic production (GDP)

Carbon dioxide emissions

Trade liberalization

Energy consumption