Abstract
The catalysts such as Fe, Bi2O3, and Fe-doped Bi2O3 were synthesized for the sonophotocatalytic treatment of synthetic dye and real textile wastewater. The resultant catalysts were characterized for its size and uniform shape using x-ray diffractogram (XRD) and scanning electron microscopy (SEM) which signified the nanorod shape formed Bi2O3. The higher ultraviolet light absorbance capacity of the catalysts was also evident using diffuse reflectance spectroscopy (DRS). Initially, the effect of conventional parameters such as initial pH, gas bubbling (argon, oxygen, air and nitrogen) and oxidant addition (H2O2 and peroxymonosulfate) in the presence of sonolysis (22 and 37 kHz frequency) and photolysis (UV-C light) on 10 ppm Basic Brown 1 dye was studied. The results showed that highest decolorization of 62 % was attained for 3 g/L peroxymonosulfate under 37 kHz frequency sonolysis treatment. Secondly, with the catalyst study, highest of 46 % dye color removal was obtained with 4 g/L Fe under 37 kHz frequency sonolysis treatment. The sonophotocatalytic treatment of dye with Fe-doped Bi2O3 catalyst in combination with peroxymonosulfate showed highest color removal of 99 %. Finally, the sonophotocatalytic treatment of real textile wastewater in the presence of 3 g/L Fe-doped Bi2O3 and 6 g/L peroxymonosulfate reduced the total organic carbon (TOC) and chemical oxygen demand (COD) level to 77 and 91 %, respectively, in 180 min. The reported treatment process was found to treat the synthetic dye and real textile wastewater effectively.
This is a preview of subscription content, log in to check access.
Access options
Buy single article
Instant access to the full article PDF.
US$ 39.95
Price includes VAT for USA
Subscribe to journal
Immediate online access to all issues from 2019. Subscription will auto renew annually.
US$ 99
This is the net price. Taxes to be calculated in checkout.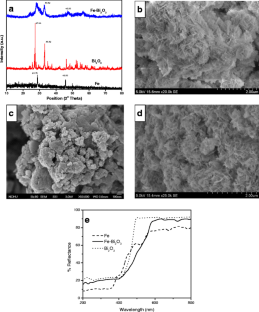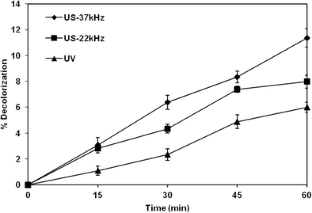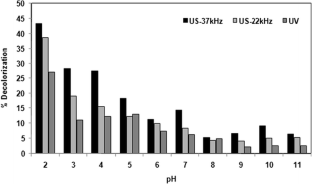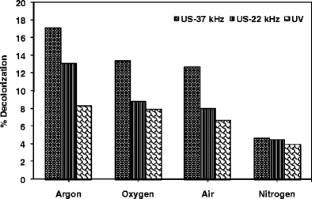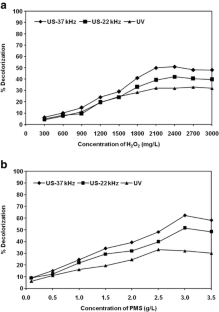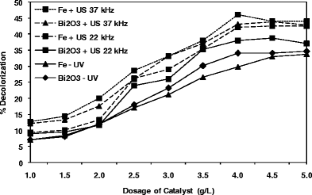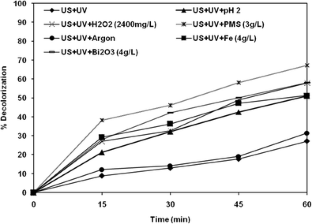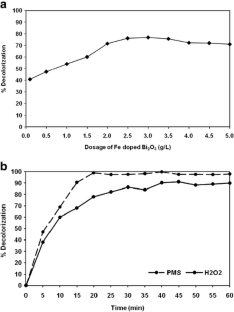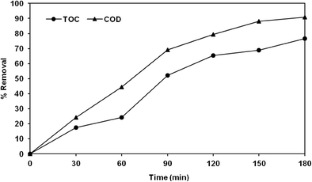 References
American Public Health Association (APHA) (1998) Standard methods for the examination of water and wastewater, 17th edn. American Public Health Association, Washington

Anandan S, Lee GJ, Chen PK, Fan C, Wu JJ (2010) Removal of orange II dye in water by visible light assisted photocatalytic ozonation using Bi2O3 and Au/Bi2O3 nanorods. Ind Eng Chem Res 49:9729–9737

Bagal MV, Gogate PR (2012) Sonochemical degradation of alachlor in the presence of process intensifying additives. Sep Purif Technol 90:92–100

Behnajady MA, Modirshahla N, Hamzavi R (2006) Kinetic study on photocatalytic degradation of C.I. Acid yellow 23 by ZnO photocatalyst. J Hazard Mater B 133:226–232

Beriberidou C, Poulis I, Xekoukoulootakis NP, Mantzavinos D (2007) Sonolytic, photocatalytic and sonophotocatalytic degradation of malachite green in aqueous solutions. Appl Catal B Environ 74:63–72

Bokhale NB, Bomble SD, Dalbhanjan RR, Mahale DD, Hinge SP, Banerjee BS, Mohod AV, Gogate PR (2014) Sonocatalytic and sonophotocatalytic degradation of rhodamine 6G containing wastewaters. Ultrason Sonochem 21:1797–1804

Cai QH, Zou ZX, Li YQ (2007) Simultaneous determination of Sudan II and Sudan III via synchronous fluorescence spectrometry. Chem J Chin Univ 28:1663–1665

Cai MQ, Wei XQ, Song ZJ, Jin MC (2015) Decolorization of azo dye orange G by aluminum powder enhanced by ultrasonic irradiation. Ultrason Sonochem 22:167–173

Chakinala AG, Gogate PR, Burgess AE, Bremner DH (2007) Intensification of hydroxyl radical production in sonochemical reactors. Ultrason Sonochem 14:509–514

Chakrabarti S, Dutta BK (2004) Photocatalytic degradation of model textile dyes in wastewater using ZnO as semiconductor catalyst. J Hazard Mater B 112:269–278

Chen W, Huang S (2011) Sonophotocatalytic degradation of dinitrotoluenes and trinitrotoluene in industrial wastewater. Chem Eng J 172:944–951

Chen L, Zhang Q, Huang R, Yin S, Luo S, Au C (2012) Porous peanut-like Bi2O3–BiVO4 composites with hetero junctions: one-step synthesis and their photocatalytic properties. Dalton Trans 41:9513–9518

Dinesh GK, Anandan S, Sivasankar T (2015) Sonophotocatalytic treatment of Bismarck brown G dye and real textile effluent using synthesized novel Fe(0)-doped TiO2 catalyst. RSC Adv 5:10440–10451

Gayathri P, Praveena R, Juliya D, Palanivelu K (2010) Sonochemical degradation of textile dyes in aqueous solution using sulphate radicals activated by immobilized cobalt ions. Ultrason Sonochem 17:566–571

Gogate PR, Pandit AB (2004a) A review of imperative technologies for wastewater treatment I: oxidation technologies at ambient conditions. Adv Environ Res 8:501–551

Gogate PR, Pandit AB (2004b) A review of imperative technologies for wastewater treatment II: hybrid methods. Adv Environ Res 8:553–597

Gogate PR, Pandit AB (2004c) Sonocatalytic reactors for wastewater treatment: a critical review. AIChE J 50:1051–1079

Gogate PR, Shirgaonkar IZ, Sivakumar M, Senthilkumar P, Vichare NP, Pandit AB (2001) Cavitation reactors: efficiency assessment using a model reaction. AIChE J 47:2526–2538

Hapeshi E, Achilleos A, Papaioannou A, Valanidou L (2010) Sonochemical degradation of ofloxacin in aqueous solutions. Water Sci Technol 61:3141–3146

Hou J, Yang C, Wang Z, Zhou W, Jiao S, Zhu H (2013) In situ synthesis of α-β phase heterojunction on Bi2O3 nanowires with exceptional visible-light photocatalytic performance. Appl Catal B Environ 142–143:504–511

Iyyapushpam S, Nishanti ST, Padiyan P (2013) Photocatalytic degradation of methyl orange using α-Bi2O3 prepared without surfactant. J Alloys Compd 563:104–107

Iyyapushpam S, Nishanti ST, Padiyan P (2014) Enhanced photocatalytic degradation of methyl orange using gamma Bi2O3 and its kinetics. J Alloys Compd 601:85–87

Jadhav SR, Saharan VK, Pinjari D, Sonawane S, Saini D, Pandit AB (2013) Synergetic effect of combination of AOP's (hydrodynamic cavitation and H2O2) on the degradation of neonicotinoid class of insecticide. J Hazard Mater 261:139–147

Katekhaye SN, Gogate PR (2011) Intensification of cavitational activity in sonochemical reactors using different additives: efficacy assessment using a model reaction. Chem Eng Process 50:95–103

Kerkez DV, Tomasevic DD, Kozma G, Becelic-Tomin MR (2014) Three different clay-supported nanoscale zero-valent iron materials for industrial azo dye degradation: a comparative study. J Taiwan Inst Chem Eng 45:2451–2461

Madhavan J, Grieser F, Ashokkumar M (2010) Degradation of orange-G by advanced oxidation processes. Ultrason Sonochem 17:338–343

Malathy P, Vignesh K, Rajarajan M, Suganthi A (2014) Enhanced photocatalytic performance of transition metal doped Bi2O3 nanoparticles under visible light irradiation. Ceram Int 40:101–107

Modirshala N, Hassani A, Behnajady MA, Rahbarfam R (2011) Effect of operational parameters on decolorization of acid yellow 23 from wastewater by UV irradiation using ZnO and ZnO/SnO2 photocatalysts. Desalination 271:187–192

Moholkar VS, Sabale S, Pandit AB (2000) Mapping the cavitational intensity in an ultrasonic bath using acoustic emission. AIChE J 46:684–694

Petrier C, Combet E, Mason T (2007) Oxygen-induced concurrent ultrasonic degradation of volatile and non-volatile aromatic compounds. Ultrason Sonochem 14:117–121

Petrova SP, Stoychev PA (2003) Ultrafiltration purification of waters contaminated with bifunctional reactive dyes. Desalination 154:247–252

Pugazhenthiran N, Sathishkumar P, Murugesan S, Anandan S (2011) Effective degradation of acid orange 10 by catalytic ozonation in the presence of Au-Bi2O3 nanoparticles. Chem Eng J 168:1227–1233

Rabindranathan S, Suja DP, Yesodharan S (2003) Photocatalytic degradation of phosphamidon on semiconductor oxides. J Hazard Mater 102:217–229

Rey A, Carbajo J, Adana C, Faraldos M, Bahamonde A, Casas JA, Rodriguez JJ (2011) Improved mineralization by combined advanced oxidation processes. Chem Eng J 174:134–142

Saharan VK, Badve MP, Pandit AB (2011) Degradation of reactive red 120 dye using hydrodynamic cavitation. Chem Eng J 178:100–107

Shirsath SR, Pinjari DV, Gogate PR, Sonawane SH, Pandit AB (2013) Ultrasound assisted synthesis of doped TiO2 nano-particles: characterization and comparison of effectiveness for photocatalytic oxidation of dyestuff effluent. Ultrason Sonochem 20:277–286

Sivakumar A, Murugesan B, Loganathan A, Sivakumar P (2014) A review on decolourisation of dyes photodegradation using various bismuth catalysts. J Taiwan Inst Chem Eng 45:2300–2306

Sun X, Ou H, Miao C, Chen L (2014) Removal of Sudan dyes from aqueous solution by magnetic carbon nanotubes: equilibrium, kinetic and thermodynamic studies. J Ind Eng Chem 22:373–377

Thompson LH, Doraiswamy LK (1999) Sonochemistry: science and engineering. Ind Eng Chem Res 38:1215–1249

Vichare NP, Senthilkumar P, Moholkar VS, Gogate PR, Pandit AB (2000) Energy analysis in acoustic cavitation. Ind Eng Chem Res 39:1480–1486

Wang Y, He Y, Li T, Cai J, Luo M, Zhao L (2012) Photocatalytic degradation of methylene blue on CaBi6O10/Bi2O3 composites under visible light. Chem Eng J 189:473–481
Acknowledgments
The authors would like to thank the Ministry of Environment and Forest (MoEF), Government of India for the financial funding of the project. The authors also wish to thank the Environmental Engineering Laboratory, Department of Civil Engineering, NIT Tiruchirappalli for assisting in analyzing real textile wastewater characterization. The comments and the valuable suggestions provided by the unanimous reviewers were greatly acknowledged.
Additional information
Responsible editor: Santiago V. Luis
About this article
Cite this article
Dinesh, G.K., Anandan, S. & Sivasankar, T. Synthesis of Fe-doped Bi2O3 nanocatalyst and its sonophotocatalytic activity on synthetic dye and real textile wastewater. Environ Sci Pollut Res 23, 20100–20110 (2016). https://doi.org/10.1007/s11356-015-5951-z
Received:

Accepted:

Published:

Issue Date:
Keywords
Fe-doped Bi2O3

Basic brown 1 dye

Sonophotocatalysis

Real textile wastewater