Abstract
Hexachlorocyclohexanes (HCHs) and dichlorodiphenyltrichloroethanes (DDTs) tend to persist in the environment for long periods of time. The concentration and distribution of HCHs and DDTs were investigated in surface sediments of Yongdingxinhe wetland and Binhai wetland by gas chromatography-mass spectrometer (GC-MS). All isomers of HCHs and DDTs were detected in all of the samples. The concentrations of total HCHs (ΣHCHs) in two wetland sediments ranged from 69.81 to 379.28 ng · g −1, with a mean value of 224.55 ng · g −1. The concentrations of total DDTs (ΣDDTs) ranged from 98.32 to 129.10 ng · g −1, with a mean value of 113.71 ng · g −1. The results of an ecological risk assessment demonstrated that there was high-risk ecological effect of organochlorine pesticides (OCPs) on the estuary wetlands. Lindane and technical DDTs were found to be the main sources of OCPs.
This is a preview of subscription content, log in to check access.
Access options
Buy single article
Instant access to the full article PDF.
US$ 39.95
Price includes VAT for USA
Subscribe to journal
Immediate online access to all issues from 2019. Subscription will auto renew annually.
US$ 99
This is the net price. Taxes to be calculated in checkout.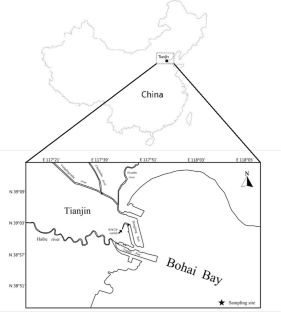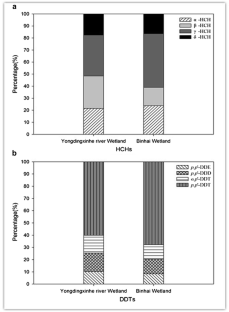 References
Bakan G, Ariman S (2004) Persistent organochlorine residues in sediments along the coast of mid-Black Sea region of Turkey. Mar Pollut Bull 48:1031–1039

Doong RA, Peng CK, Sun YC, Liao PL (2002) Composition and distribution of organochlorine pesticide residues in surface sediments from the Wu-Shi River estuary, Taiwan. Mar Pollut Bull 45:246–253

Ge J, Woodward LA, Li QX, Wang J (2013) Composition, distribution and risk assessment of organochlorine pesticides in soils from the Midway Atoll, North Pacific Ocean. Sci Total Environ 452–453:421–426

Guo W, Zhang H, Huo S (2014) Organochlorine pesticides in aquatic hydrophyte tissues and surrounding sediments in Baiyangdian wetland, China. Ecol Eng 67:150–155

Hitch RK, Day HR (1992) Unusual persistence of DDT in some Western USA soils. Bull Environ Contam Toxicol 48:259–264

Hong HS, Chen WQ, Xu L, Wang XH, Zhang LP (1999) Distribution and fate of organochlorine pollutants in the Pearl River estuary. Mar Pollut Bull 39:376–382

Hou H, Zhao L, Zhang J, Xu YF, Yan ZG, Bai LP, Li FS (2013) Organochlorine pesticides and polychlorinated biphenyls in soils surrounding the Tanggu Chemical Industrial District of Tianjin, China. Environ Sci Pollut Res 20:3366–3380

Hu L, Zhang G, Zheng B, Qin Y, Lin T, Guo Z (2009) Occurrence and distribution of organochlorine pesticides (OCPs) in surface sediments of the Bohai Sea, China. Chemosphere 77:663–672

Kannan K, Tanabe S, Tatsukawa R (1995) Geographical distribution and accumulation features of organochlorine residues in fish in tropical Asian and oceania. Environ Sci Technol 29:2673–2683

Lee KT, Tanabe S, Koh CH (2001) Distribution of organochlorine pesticides in sediments of Kyeonggi Bay and nearby areas, Korea. Environ Pollut 114:207–213

León VM, Moreno-Gonzalez R, Gonzalez E, Martinez F, Garcia V, Campillo JA (2013) Interspecific comparison of polycyclic aromatic hydrocarbons and persistent organochlorines bioaccumulation in bivalves from a Mediterranean coastal lagoon. Sci Total Environ 463–464:975–987

Li J, Zhang G, Qi S, Li X, Peng X (2006) Concentrations, enantiomeric compositions, and sources of HCH, DDT and chlordane in soils from the Pearl River Delta, South China. Sci Total Environ 372:215–224

Liu G, Li J, Yin L, Liu L, Qi H, Wu Y (2012) Distribution characteristics of organochlorine pesticides in surface and vertical sediments from the Zha Long Wetland, China. Environ Sci Pollut Res 19:2681–2689

Long ER, MacDonald DD, Smith SC, Calder FD (1995) Incidence of adverse biological effects within ranges of chemical concentrations in marine and estuarine sediments. Environ Manag 19:81–97

Long ER, Field LJ, MacDonald DD (1998) Predicting toxicity marine sediments with numerical sediment quality guidelines. Environ Toxicol Chem 17:714–727

Macdonald DD, Carr RS, Calder FD, Long ER, Ingersoll CG (1996) Development and evaluation of sediment quality guidelines for Florida coastal waters. Ecotoxicology 5:253–278

McCauley DJ, De Grave GM, Linton TK (2000) Sediment quality guidelines and assessment: overview and research needs. Environ Sci Pol 3:133–144

Mishra K, Sharma RC, Kumar S (2013) Contamination profile of DDT and HCH in surface sediments and their spatial distribution from North-East India. Ecotoxicol Environ Saf 95:113–122

Montuori P, Cirillo T, Fasano E, Nardone A, Esposito F, Triassi M (2014) Spatial distribution and partitioning of polychlorinated biphenyl and organochlorine pesticide in water and sediment from Sarno River and Estuary, southern Italy. Environ Sci Pollut Res 21:5023–5035

Phuong PK, Son CPN, Sauvain JJ, Tarradellas (1998) Contamination by PCB's, DDT's, and heavy metals in sediments of Ho Chi Minh City's Canals, Viet Nam. Bull Environ Contam Toxicol 60:347–354

Shen L, Wania F (2005) Compilation, evaluation, and selection of physical-chemical property data for organochlorine pesticides. J Chem Eng Data 50:742–768

Syed JH, Malik RN, Li J, Chaemfa C, Zhang G, Jones KC (2014) Status, distribution and ecological risk of organochlorines (OCs) in the surface sediments from the Ravi River, Pakistan. Sci Total Environ 472:204–211

Tan L, He M, Men B, Lin C (2009) Distribution and sources of organochlorine pesticides in water and sediments from Daliao River estuary of Liaodong Bay, Bohai Sea (China). Estuar Coast Shelf Sci 84:119–127

Tao S, Xu FL, Wang XJ, Liu WX, Gong ZM, Fang JY, Zhu LZ, Luo YM (2005) Organochlorine pesticides in agricultural soil and vegetables from Tianjin, China. Environ Sci Technol 39:2494–2499

Tao S, Li BG, He XC, Liu WX, Shi Z (2007) Spatial and temporal variations and possible sources of dichlorodiphenyltrichloroethane (DDT) and its metabolites in rivers in Tianjin, China. Chemosphere 68:10–16

Walker K, Vallero DA, Lewis RG (1999) Factors influencing the distribution of lindane and other hexachlorocyclohexanes in the environment. Environ Sci Technol 33:4373–4378

Wang X, Piao X, Chen J, Hu J, Xu F, Tao S (2006) Organochlorine pesticides in soil profiles from Tianjin, China. Chemosphere 64:1514–1520

Willett KL, Ulrich EM, Hites RA (1998) Differential toxicity and environmental fates of hexachlorocyclohexane isomers. Environ Sci Technol 32:2197–2207

Wu S, Tao S, Zhang Z, Lan T, Zuo Q (2005) Distribution of particle-phase hydrocarbons, PAHs and OCPs in Tianjin, China. Atmos Environ 39:7420–7432

Xie WP, Zhu XP, Chen KC, Nie XP, Zheng GM, Luo JR, Pan DB, Wang SB (2009) Risk assessment and investigation of HCHs and DDTs in the water, sediment and aquatic animals from the Pearl River estuary in China. Acta Sci Circumst 29:1984–1994

Yang RQ, Jiang GB, Zhou QF, Yuan CG, Shi JB (2005a) Occurrence and distribution of organochlorine pesticides (HCH and DDT) in sediments collected from East China Sea. Environ Int 31:799–804

Yang RQ, Lv AH, Shi JB, Jiang GB (2005b) The levels and distribution of organochlorine pesticides (OCPs) in sediments from the Haihe River, China. Chemosphere 61:347–354

Yuan L, Qi S, Wu X, Wu C, Xing X, Gong X (2013) Spatial and temporal variations of organochlorine pesticides (OCPs) in water and sediments from Honghu Lake, China. J Geochem Explor 132:181–187

Zhang G, Min YS, Mai BX, Sheng GY, Fu JM, Wang ZS (1999) Time trend of BHCs and DDTs in a sedimentary core in Macao estuary, Southern China. Mar Pollut Bull 39:326–330

Zhang G, Parker A, House A, Mai BX, Li XD, Kang YH, Wang ZS (2002) Sedimentary records of DDT and HCH in the Pearl River Delta, South China. Environ Sci Technol 36:3671–3677

Zhao L, Hou H, Zhou Y, Xue N, Li H, Li F (2010) Distribution and ecological risk of polychlorinated biphenyls and organochlorine pesticides in surficial sediments from Haihe River and Haihe estuary area, China. Chemosphere 78:1285–1293

Zhi H, Zhao Z, Zhang L (2015) The fate of polycyclic aromatic hydrocarbons (PAHs) and organochlorine pesticides (OCPs) in water from Poyang Lake, the largest freshwater lake in China. Chemosphere 119:1134–1140
Acknowledgments
This work was supported by the Project of Tianjin with Spill Oil Accident from Penglai Oilfield 19–3 Compensation (No. 19-3BC2014-05).
Additional information
Responsible editor: Ester Heath
About this article
Cite this article
Liu, Q., Tian, S., Jia, R. et al. Pollution characteristics and ecological risk assessment of HCHs and DDTs in estuary wetland sediments from the Bohai Bay, North China. Environ Sci Pollut Res 24, 26967–26973 (2017). https://doi.org/10.1007/s11356-015-5882-8
Received:

Accepted:

Published:

Issue Date:
Keywords
Wetland

Surface sediment

HCHs

DDTs

Ecological risk