Abstract
Sidestream cigarette smoke, the major component of environmental tobacco smoke, is a complex and reactive aerosol. The particulate matter (PM) in sidestream smoke is one of the carriers of chemical constituents. However, particle size-dependent toxicological effects of PM are poorly understood. In this study, we evaluated the relationship between the PM size and in vitro cytotoxicity and mutagenicity of sidestream cigarette smoke. A NanoMoudi-II™ 125A was used to collect PM samples ranging from 10 nm to 10 μm. The in vitro toxicity of PM was evaluated using a neutral red cytotoxicity assay and Salmonella mutagenicity assay. The results showed that the cytotoxicity and mutagenicity of PM larger than 1 μm was significantly lower than PM sized 10 nm–1 μm. Furthermore, there was a noticeable trend that the smaller the size of the PM of sidestream cigarette smoke, the greater the toxicity. This study suggests that the toxicity of PM in sidestream cigarette smoke is size-dependent.
This is a preview of subscription content, log in to check access.
Access options
Buy single article
Instant access to the full article PDF.
US$ 39.95
Price includes VAT for USA
Subscribe to journal
Immediate online access to all issues from 2019. Subscription will auto renew annually.
US$ 99
This is the net price. Taxes to be calculated in checkout.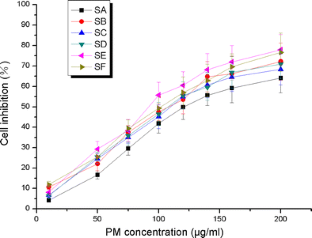 References
Behera SN, Xian H, Balasubramanian R (2014) Human health risk associated with exposure to toxic elements in mainstream and sidestream tobacco smoke. Sci Total Environ 472:947–56. doi:10.1016/j.scitotenv.2013.11.063

Borgerding M, Klus H (2005) Analysis of complex mixtures—tobacco smoke. Exp Toxicol Pathol Suppl 1:43–73

Brown DM, Wilson MR, MacNee W, Stone V, Donaldson K (2001) Size-dependent proinflammatory effects of ultrafine polystyrene particles: a role for surface area and oxidative stress in the enhanced activity of ultrafines. Toxicol Appl Pharmacol 175(3):191–9

CORESTA (Cooperation Centre for Scientific Research Relative to Tobacco) In vitro Toxicology Task Force. The rationale and strategy for conducting in vitro toxicology testing of tobacco smoke, 2004. Accessible at: http://www.coresta.org/reports/TF-In-Vitro-Tox_Rationale-IVT-Testing-Tob.-Smoke_Report_Jun04.pdf.

Doolittle DJ, Lee CK, Ivett JL, Mirsalis JC, Riccio E, Rudd CJ, Burger GT, Hayes AW (1990) Comparative studies on the genotoxic activity of mainstream smoke condensate from cigarettes which burn or only heat tobacco. Environ Mol Mutagen 15(2):93–105

Farina F, Sancini G, Mantecca P, Gallinotti D, Camatini M, Palestini P (2011) The acute toxic effects of particulate matter in mouse lung are related to size and season of collection. Toxicol Lett 202(3):209–17. doi:10.1016/j.toxlet.2011.01.031

Health Canada (2004a) Official Method T-501, Bacterial reverse mutation assay for mainstream tobacco smoke, 2nd ed

Health Canada (2004b) Official Method T-502, Neutral red uptake assay for mainstream tobacco smoke, 2nd ed

Health Canada (2004c) Official Method T-503, In vitro micronucleus assay for mainstream tobacco smoke, 2nd ed

IARC (International Agency for Research on Cancer). Tobacco smoke and involuntary smoking, Vol. 83 IARC monographys on the evaluation of the carcinogenic risk of chemicals to human. IARC, WHO, Lyon, France, 2004.

IOM (Institute of Medicine) (2011) Scientific standards for studies on modified risk tobacco products. The national academies press, Washington DC

Ivask A, Kurvet I, Kasemets K, Blinova I, Aruoja V, Suppi S, Vija H, Käkinen A, Titma T, Heinlaan M, Visnapuu M, Koller D, Kisand V, Kahru A (2014) Size-dependent toxicity of silver nanoparticles to bacteria, yeast, algae, crustaceans and mammalian cells in vitro. PLoS One 9(7):e102108. doi:10.1371/journal.pone.0102108

Johnson MD, Schilz J, Djordjevic MV, Rice JR, Shields PG (2009) Evaluation of in vitro assays for assessing the toxicity of cigarette smoke and smokeless tobacco. Cancer Epidemiol Biomarkers Prev 18(12):3263–304. doi:10.1158/1055-9965.EPI-09-0965

Lee HL, Hsieh DP, Li LA (2011) Polycyclic aromatic hydrocarbons in cigarette sidestream smoke particulates from a Taiwanese brand and their carcinogenic relevance. Chemosphere 82(3):477–82. doi:10.1016/j.chemosphere.2010.09.045

Lewtas J (2007) Air pollution combustion emissions: characterization of causative agents and mechanisms associated with cancer, reproductive, and cardiovascular effects. Mutat Res 636(1-3):95–133

Li X, Peng B, Nie C, Shang P, Liu H (2013) Evaluation of the cytotoxicity of tobacco smoke total particulate matter using three in vitro assays and two types of cells. Toxicol Mech Methods 23(4):240–6. doi:10.3109/15376516.2012.743640

Lin B, Li X, Zhang H, Lin Z, Tian L, Nie C, Fang Y, Xi Z (2014) Comparison of in vitro toxicity of mainstream tobacco smoke particulate matter from nano- to micro-size. Food Chem Toxicol 64:353–60. doi:10.1016/j.fct.2013.12.007

Löfroth G (1989) Environmental tobacco smoke: overview of chemical composition and genotoxic components. Mutat Res 222(2):73–80

Lubick N (2009) Breathing less easily with ultrafine particles. Environ Sci Technol 43(13):4615–7

Mantecca P, Farina F, Moschini E, Gallinotti D, Gualtieri M, Rohr A, Sancini G, Palestini P, Camatini M (2010) Comparative acute lung inflammation induced by atmospheric PM and size-fractionated tire particles. Toxicol Lett 198(2):244–54. doi:10.1016/j.toxlet.2010.07.002

Maron DM, Ames BN (1983) Reviewed methods for the Salmonella mutagenicity test. Mutat Res 113:173–215

McAdam KG, Gregg EO, Liu C, Dittrich DJ, Duke MG, Proctor CJ (2011) The use of a novel tobacco-substitute sheet and smoke dilution to reduce toxicant yields in tobacco smoke. Food Chem Toxicol 49(8):1684–96. doi:10.1016/j.fct.2011.04.002

Mortelmans K, Zeiger E (2000) The Ames Salmonella/microsome mutagenicity assay. Mutat Res 455(1-2):29–60

OEHHA (Office of Environmental Health Hazard Assessment). Proposed identification of environmental tobacco smoke as a toxic air contaminant. Part B: Health effects assessment for environmental tobacco smoke. OEHHA, California EPA Sacramento, CA, USA, 2005.

Okada T, Ishizu Y, Matsunuma K (1977) Determination of particle size distribution and concentration of tobacco smoke by a light scattering method. Beitr Tabakforsch 9:153–60

Putnam KP, Bombick DW, Doolittle DJ (2002) Evaluation of eight in vitro assays for assessing the cytotoxicity of tobacco smoke condensate. Toxicol In Vitro 16(5):599–607

Rodgman A, Perfetti TA (2009) The chemical components of tobacco and tobacco smoke. Boca Raton, Taylor & Francis Group

Roemer E, Ottmueller TH, Zenzen V, Wittke S, Radtke F, Blanco I, Carchman RA (2009) Cytotoxicity, mutagenicity, and tumorigenicity of mainstream smoke from three reference cigarettes machine-smoked to the same yields of total particulate matter per cigarette. Food Chem Toxicol 47(8):1810–8. doi:10.1016/j.fct.2009.04.048

Sangani RG, Ghio AJ (2011) Lung injury after cigarette smoking is particle related. Int J Chron Obstruct Pulmon Dis 6:191–8. doi:10.2147/COPD.S14911

Shin HJ, Sohn HO, Han JH, Park CH, Lee HS, Lee DW, Hwang KJ, Hyun HC (2009) Effect of cigarette filters on the chemical composition and in vitro biological activity of cigarette mainstream smoke. Food Chem Toxicol 47(1):192–7. doi:10.1016/j.fct.2008.10.028

Slezakova K, Castro D, Pereira MC, Morais S, Delerue-Matos C, Alvim-Ferraz MC (2009) Influence of tobacco smoke on carcinogenic PAH composition in indoor PM10 and PM2.5. Atmos Environ 43(40):6376–82. doi:10.1016/j.atmosenv.2009.09.015

U.S. Department of Health and Human Services. How tobacco smoke causes disease: the biology and behavioral basis for smoking-attributable disease: a report of the surgeon general, 2010.

Valavanidis A, Fiotakis K, Bakeas E, Vlahogianni T (2005) Electron paramagnetic resonance study of the generation of reactive oxygen species catalysed by transition metals and quinoid redox cycling by inhalable ambient particulate matter. Redox Rep 10(1):37–51

Valavanidis A, Fiotakis K, Vlachogianni T (2008) Airborne particulate matter and human health: toxicological assessment and importance of size and composition of particles for oxidative damage and carcinogenic mechanisms. J Environ Sci Health C Environ Carcinog Ecotoxicol Rev 26(4):339–62. doi:10.1080/10590500802494538

Valavanidis A, Vlachogianni T, Fiotakis K (2009) Tobacco smoke: involvement of reactive oxygen species and stable free radicals in mechanisms of oxidative damage, carcinogenesis and synergistic effects with other respirable particles. Int J Environ Res Public Health 6(2):445–62. doi:10.3390/ijerph6020445

Valavanidis A, Fiotakis K, Vlachogianni T. The role of stable free radicals, metals and PAHs of airborne particulate matter in mechanisms of oxidative stress and carcinogenicity. In Urban airborne particulate. Part of the series Environmental Science and Engineering. 2010;411-429. doi: 10.1007/978-3-642-12278-1_21.

Valavanidis A, Vlachogianni T, Fiotakis K, Loridas S (2013) Pulmonary oxidative stress, inflammation and cancer: respirable particulate matter, fibrous dusts and ozone as major causes of lung carcinogenesis through reactive oxygen species mechanisms. Int J Environ Res Public Health 10(9):3886–907. doi:10.3390/ijerph10093886

Yang JY, Kim JY, Jang JY, Lee GW, Kim SH, Shin DC, Lim YW (2013) Exposure and toxicity assessment of ultrafine particles from nearby traffic in urban air in Seoul Korea. Environ Health Toxicol 28:e2013007. doi:10.5620/eht.2013.28.e2013007

Zhang Q, Xu L, Wang J, Sabbioni E, Piao L, Di Gioacchino M, Niu Q (2013) Lysosomes involved in the cellular toxicity of nano-alumina: combined effects of particle size and chemical composition. J Biol Regul Homeost Agents 27(2):365–75
Acknowledgments
This work was supported by the National Natural Science Foundation of China (No. 21007094, 21575162).
Conflict of interest statement
The authors declare that they have no competing interests.
Additional information
Bencheng Lin is a co-first author.
Responsible editor: Philippe Garrigues
Electronic supplementary material
Below is the link to the electronic supplementary material.
About this article
Cite this article
Li, X., Lin, B., Zhang, H. et al. Cytotoxicity and mutagenicity of sidestream cigarette smoke particulate matter of different particle sizes. Environ Sci Pollut Res 23, 2588–2594 (2016). https://doi.org/10.1007/s11356-015-5483-6
Received:

Accepted:

Published:

Issue Date:
Keywords
Sidestream cigarette smoke

Particle size

Cytotoxicity

Mutagenicity