Abstract
Among 348 microbial strains isolated from petroleum hydrocarbon-contaminated soil, five were selected for their ability to produce biosurfactant based on battery of screening assay including hemolytic activity, surface tension reduction, drop collapse assay, emulsification activity, and cell surface hydrophobicity studies. Of these, bacterial isolate DSVP20 was identified as Pseudomonas aeruginosa (NCBI GenBank accession no. GQ865644) based on biochemical characterization and the 16S rDNA analysis, and it was found to be a potential candidate for biosurfactant production. Maximum biosurfactant production recorded by P. aeruginosa DSVP20 was 6.7 g/l after 72 h at 150 rpm and at a temperature of 30 °C. Chromatographic analysis and high-performance liquid chromatography-mass spectrometry (HPLC-MS) revealed that it was a glycolipid in nature which was further confirmed by nuclear magnetic resonance (NMR) spectroscopy. Bioremediation studies using purified biosurfactant showed that P. aeruginosa DSVP20 has the ability to degrade eicosane (97 %), pristane (75 %), and fluoranthene (47 %) when studied at different time intervals for a total of 7 days. The results of this study showed that the P. aeruginosa DSVP20 and/or biosurfactant produced by this isolate have the potential role in bioremediation of petroleum hydrocarbon-contaminated soil.
This is a preview of subscription content, log in to check access.
Access options
Buy single article
Instant access to the full article PDF.
US$ 39.95
Price includes VAT for USA
Subscribe to journal
Immediate online access to all issues from 2019. Subscription will auto renew annually.
US$ 99
This is the net price. Taxes to be calculated in checkout.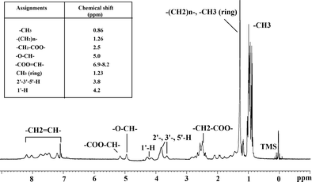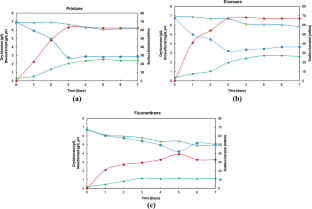 References
Al-Thani RF, Abd-El-Haleem DAM, Al-Shammri M (2009) Isolation and characterization of polyaromatic hydrocarbons-degrading bacteria from different Qatari soils. Afr J Microbiol Res 3:761–766

Aparna A, Srinikethan G, Hedge S (2011) Effect of addition of biosurfactant produced by Pseudomonas ssp. on biodegradation of crude oil. International Proceedings of Chemical, Biological & Environmental Engineering 71-75.

Banat IM, Marchant R, Rahman TJ (2004) Geobacillus bebilis sp. nov., a novel obligately thermophilic bacterium isolated from a cool soil environment, and reassignment of Bacillus pallidus to Geobacillus pallidus comb. nov. Int J Syst Evol Microbiol 54:2197–2201

Bodour AA, Miller-Maier RM (1998) Application of a modified drop-collapse technique for surfactant quantitation and screening of biosurfactant-producing microorganisms. J Microbiol Methods 32:273–280

Cameron DR, Cooper DG, Neufeld RJ (1988) The mannoprotein of Saccharomyces cerevisiae is an effective bioemulsifier. Appl Environ Microbiol 54:1420–1425

Carrillo PG, Mardaraz C, Pitta-Alvarez SI, Giulietti AM (1996) Isolation and selection of biosurfactant-producing bacteria. World J Microb Biot 12:82–84

Das N, Chandran P (2010) Microbiol degradation of petroleum hydrocarbon contaminants: an overview. Biotechnol Res Int 2011:1–13. doi:10.4061/2011/941810

Dubey KV, Charde PN, Meshram SU, Shendre LP, Dubey VS, Juwarkar AA (2012a) Surface-active potential of biosurfactants produced in curd whey by Pseudomonas aeruginosa strain-PP2 and Kocuria turfanesis strain-J at extreme environmental conditions. Bioresour Technol 126:368–374

Dubey KV, Charde PN, Meshram SU, Yadav SK, Singh S, Juwarkar AA (2012b) Potential of new microbial Isolates for biosurfactant production using combinations of distillery waste with other industrial wastes. J Pet Environ Biotechnol. doi:10.4172/2157-7463.S1-002

Franzetti A, Gandolfi I, Bestetti G, Smyth TJ, Banat IM (2010) Production and applications of trehalose lipid biosurfactants. Eur J Lipid Sci Tech 112:617–627

Glick BR, Pasternak JJ, Patten CL (1994) Molecular biotechnology: principles and applications of recombinant DNA. ASM, Washington

Hong JH, Kim J, Choi OK, Cho KS, Ryu HW (2005) Characterization of a diesel-degrading bacterium, Pseudomonas aeruginosa IU5, isolated from oil-contaminated soil in Korea. World J Microbiol Biotechnol 21:381–384. doi:10.1007/s11274-004-3630-1

Juwarkar AA, Nair A, Dubey KV, Singh SK, Devotta S (2007) Biosurfactant technology for remediation of cadmium and lead contaminated soils. Chemosphere 68:1996–2002

Juwarkar AA, Dubey KV, Nair A, Singh SK (2008) Bioremediation of multi-metal contaminated soil using biosurfactant—a novel approach. Indian J Microbiol 48:142–146

Kadali KK, Simons KL, Skuza PP, Moore RB, Ball AS (2012) A complementary approach to identifying and assessing the remediation potential of hydrocarbonoclastic bacteria. J Microbiol Meth 88:348–355. doi:10.1016/j.mimet.2011.12.006

Li AH, Xu MY, Sun W, Sun GP (2011) Rhamnolipid production by Pseudomonas aeruginosa GIM 32 using different substrates including molasses distillery wastewater. Appl Biochem Biotechnol 163:600–611

Monteiro SA, Sassaki GL, de Souza LM, Meira JA, de Araújo JM, Mitchell DA, Ramos LP, Krieger N (2007) Molecular and structural characterization of the biosurfactant produced by Pseudomonas aeruginosa DAUPE 614. Chem Phys Lipids 147:1–13

Mukherjee S, Das P, Sen R (2006) Towards commercial production of microbial surfactants. Trends Biotechnol 24:509–515

Mulligan CN (2005) Environmental applications for biosurfactants. Environ Pollut 133:183–198

Obayori O (2009) Degradation of hydrocarbons and biosurfactant production by Pseudomonas sp. Strain LP1. Microbiol Biotechnol 25:1615–1623

Okoh A (2006) Biodegradation alternative in the cleanup of petroleum hydrocarbon pollutants. Biotechnol. Mol Biol Rev 1:38–50

Okoh A, Trejo-Hernandez M (2006) Remediation of petroleum hydrocarbon polluted systems: exploiting the bioremediation strategies. Afr J Biotechnol 5:2520–2525

Pacwa-Płociniczak M, Płaza GA, Poliwoda A, Piotrowska-Seget Z (2014) Characterization of hydrocarbon-degrading and biosurfactant-producing Pseudomonas sp. P-1 strain as a potential tool for bioremediation of petroleum-contaminated soil. Environ Sci Pollut R 21:9385–9395

Pallas N, Pethica B (1983) The surface tension of water. Colloid Surf 6:211–227

Pemmaraju SC, Sharma D, Singh N, Panwar R, Cameotra SS, Pruthi V (2012) Production of microbial surfactants from oily sludge-contaminated soil by Bacillus subtilis DSVP23. Appl Biochem Biotechnol 167:1119–1131

Pereira J, Gudia E, Dria M, Domingues M, Rodrigues L, Teoxeira J, Coutinho J (2012) Characterization by electrospray ionization and tandem mass spectrometry of rhamnolipids produced by two Pseudomonas aeruginosa strains isolated from Brazilian crude oil. Eur J Mass Spectrom 18:399

Price NP, Ray KJ, Vermillion K, Kuo TM (2009) MALDI-TOF mass spectrometry of naturally occurring mixtures of monorhamnolipids and dirhamnolipids. Carbohydr Res 344:204–209

Pruthi V, Cameotra SS (1995) Rapid method for monitoring maximum biosurfactant production obtained by acetone precipitation. Biotechnol Tech 9:271–276

Pruthi V, Cameotra SS (1997) Rapid identification of biosurfactant-producing bacterial strains using a cell surface hydrophobicity technique. Biotechnol Tech 11:671–674

Puškárová A, Bučková M, Chovanová K, Harichová J, Karelová E, Godočiková J, Polek B, Ferianc P, Pangallo (2013) Diversity and PAH growth abilities of bacterial strains isolated from a contaminated soil in Slovakia. Biologia 4:587–591. doi:10.2478/s11756-013-0193-3

Queiroga CL, Nascimento LR, Serra GE (2003) Evaluation of paraffins biodegradation and biosurfactant production by Bacillus subtilis in the presence of crude oil. Braz J Microbiol 34:321–324

Raza ZA, Khalid ZM, Banat IM (2009) Characterization of rhamnolipids produced by a Pseudomonas aeruginosa mutant strain grown on waste oils. J Environ Sci Health A 44:1367–1373

Saikia RR, Deka S, Deka M, Banat IM (2012) Isolation of biosurfactant producing Pseudomonas aeruginosa RS29 from oil-contaminated soil and evaluation of different nitrogen sources in biosurfactant production. Ann Microbiol 62:753–763. doi:10.1007/s13213-011-0315-5

Satpute SK, Bhawsar BD, Dhakephalkar PK, Chopade BA (2008) Assessment of different screening methods for selecting biosurfactant producing marine bacteria. Indian J Mar Sci 37:243

Siegmund I, Wagner F (1991) New method for detecting rhamnolipids excreted by Pseudomonas species during growth on mineral agar. Biotechnol Tech 5:265–268

Silva EJ, Silva NMPR, Rufino RD, Luna JM, Silva RO, Sarubbo LA (2014) Characterization of a biosurfactant produced by Pseudomonas cepacia CCT6659 in the presence of industrial wastes and its application in the biodegradation of hydrophobic compounds in soil. Colloid Surface B 117:36–41

Su WT, Wu BS, Chen WJ (2011) Characterization and biodegradation of motor oil by indigenous Pseudomonas aeruginosa and optimizing medium constituents. J Taiwan Inst Chem E 42:689–695

Syldatk C, Wagner F (1987) Production of biosurfactants. In Kosaric N, Cairns WL, Gray NCC, (ed) Biourfactants and Biotechnology, Surfactant Science Series. 25:89-120, Marcel Dekker Inc. NY, USA

Verma S, Bhargava R, Pruthi V (2006) Oily sludge degradation by bacteria from Ankleshwar, India. Int Biodeter Biodegr 57:207–213

Walters GW, Aitken MD (2001) Surfactant-enhanced solubilization and anaerobic biodegradation of 1, 1, 1-trichloro-2, 2-bis (p-chlorophenyl)-ethane (DDT) in contaminated soil. Water Environ Res 73:15–23

Wei YH, Chou CL, Chang JS (2005) Rhamnolipid production by indigenous Pseudomonas aeruginosa J4 originating from petrochemical wastewater. Biochem Eng J 27:146–154

Yan P, Lu M, Yang Q, Zhang HL, Zhang ZZ, Chen R (2012) Oil recovery from refinery oil sludge using a rhamnolipid biosurfactant producing Pseudomonas. Bioresour Technol 116:24–28

Zheng C, Wang M, Wang Y, Huang Z (2012) Optimization of biosurfactant-mediated oil extraction from oil sludge. Bioresour Technol 110:338–342

Zhu H, Aitken MD (2010) Surfactant-enhanced desorption and biodegradation of polycyclic aromatic hydrocarbons in contaminated soil. Environ Sci Technol 44:7260–7265

Zobell CE (1946) Action of microörganisms on hydrocarbons. Bacteriol Rev 10:1
Acknowledgments
The authors are grateful to Deanship of Scientific Research and College of Food and Agriculture Science Research, King Saud University Riyadh for providing research support.
Conflict of interest
We comfirm that there is no conflict of interest upon publication of this paper.
Ethical statement
This article does not contain any studies with human participants or animals performed by any of the authors.
Informed consent
Informed consent was not necessary because the study did not involve human participants.
Additional information
Deepak Sharma and Mohammad Javed Ansari contributed equally to this work.
Responsible editor: Robert Duran
About this article
Cite this article
Sharma, D., Ansari, M.J., Al-Ghamdi, A. et al. Biosurfactant production by Pseudomonas aeruginosa DSVP20 isolated from petroleum hydrocarbon-contaminated soil and its physicochemical characterization. Environ Sci Pollut Res 22, 17636–17643 (2015). https://doi.org/10.1007/s11356-015-4937-1
Received:

Accepted:

Published:

Issue Date:
Keywords
Petroleum hydrocarbons

Biodegradation

Biosurfactants

Pseudomonas aeruginosa