Abstract
Sulfadimethoxine (SDM) is an antibiotic commonly used in concentrated animal feeding operations and released into the environment via manure application on agricultural lands. Transformation of antibiotics in soil impacts the likelihood of their entry to water bodies, uptake by plants, and thus their effect on terrestrial and aquatic organisms. We conducted experiments to incubate SDM in a sandy loam soil in the presence of humification enzymes commonly found in natural soil, laccase, horseradish peroxidase, and lignin peroxidase. Incubation with the enzymes led to significant reduction in the fraction of SDM extractable from soil, indicating the formation of bound residues. Such transformation was enhanced when the organic matter content in soil is increased or when certain chemical mediators were used along with laccase. The study provided a basis for understanding the environmental fate of sulfonamides and help with the development of remediation methods to mitigate the release of sulfonamides from soil to water.
This is a preview of subscription content, log in to check access.
Access options
Buy single article
Instant access to the full article PDF.
US$ 39.95
Price includes VAT for USA
Subscribe to journal
Immediate online access to all issues from 2019. Subscription will auto renew annually.
US$ 99
This is the net price. Taxes to be calculated in checkout.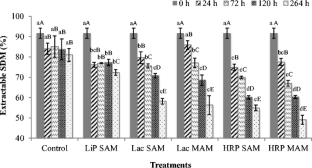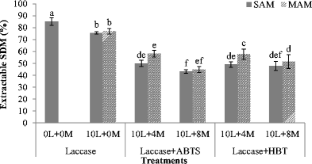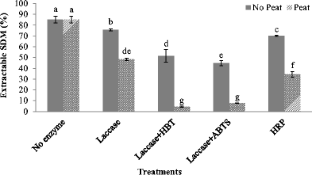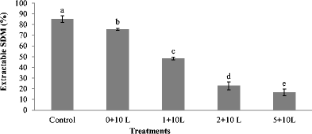 References
Ariese F, Ernst WHO, Sijm THM (2001) Natural and synthetic organic compounds in the environment—a symposium report. Environ Toxicol Pharmacol 10:65–80

Banci L, Ciofi-Baffoni S, Tien M (1999) Lignin and Mn peroxidase catalyzed oxidation of phenolic lignin oligomers. Biochemistry 38:3205–3210

Bialk HM, Simpson AJ, Pederson JA (2005) Cross-coupling of sulfonamide antimicrobial agents with model humic constituents. Environ Sci Technol 39:4463–4473

Bialk HM, Hedman C, Castillo A, Pederson JA (2007) Laccase mediated Michael addition of 15N-sulfapyridine to a model humic constituent. Environ Sci Technol 41:3593–3600

Bollag JM, Dec J (2000) Phenol-oxidase mediated interactions of phenols and anilines with humic materials. J Environ Qual 29:665–676

Bollag JM, Myers C (1992) Detoxification of aquatic and terrestrial sites through binding of pollutants to humic substances. Sci Total Environ 118:357–366

Bollag JM, Myers CJ, Minard RD (1992) Biological and chemical interactions of pesticides with soil organic-matter. Sci Total Environ 123:205–217

Bourbonnais R (1997) Reactivities of various mediators and laccases with kraft pulp and lignin model compounds. Appl Environ Microbiol 63:4627–4632

Boxall ABA, Johnson P, Smith EJ, Sinclair CJ, Stutt E, Levy LS (2006) Uptake of veterinary medicines from soils into plants. J Agric Food Chem 54:2288–2297

Call HP, Mücke I (1997) History, overview and applications of mediated lignolytic systems, especially laccase-mediator-systems (lignozym-process). J Biotechnol 53:163–202

Colon D, Weber EJ, Baughman GL (2002) Sediment associated reactions of aromatic amines. 2. QSAR development. Environ Sci Technol 36:2443–2450

Colosi LM, Burlingame DJ, Huang Q, Weber WJ Jr (2006) Peroxidase-mediated removal of a polychlorinated biphenyl using natural organic matter as the sole cosubstrate. Environ Sci Technol 41:891–896

Fillat A, Colom JF, Vidal T (2010) A new approach to the biobleaching of flax pulp with laccase using natural mediators. Bioresour Technol 101:4104–4110

Gramss G, Voigt KD, Kirsche B (1999) Oxidoreductase enzymes liberated by plant roots and their effects on soil humic material. Chemosphere 38:1481–1494

Gulkowska A, Krauss M, Rentsch D, Hollender J (2012) Reactions of a sulfonamide antimicrobial with model humic constituents: assessing pathways and stability of a covalent bonding. Environ Sci Technol 46:2102–2111

Gulkowska A, Sander M, Hollender J, Krauss M (2013) Covalent binding of sulfamethazine to natural and synthetic humic acids: assessing laccase catalysis and covalent bond stability. Environ Sci Techno. doi:10.1021/es3044592

Haller MY, Müller SR, McArdell CS, Alder AC, Suter MJF (2002) Quantification of veterinary antibiotics (sulfonamides and trimethoprim) in animal manure by liquid chromatography-mass spectrometry. J Chromatogr A 952:111–120

Halling-Sørensen B, Jensen J, Tjørnelund J, Montforts M (2001) Worst-case of estimations of predicted environmental soil concentrations (PEC) of selected veterinary antibiotics and residues used in Danish agriculture. In: Kummerer K (ed) Pharmaceuticals in the environment. Springer Verlag, Berlin, Germany, pp 143–157

Karthikeyan KG, Meyer MT (2006) Occurrence of antibiotics in wastewater treatment facilities in Wisconsin, USA. Sci Total Env 361:196–207

Kolpin DW, Furlong ET, Meyer MT, Thurman EM, Zaugg SD, Barber LB, Buxton HT (2002) Pharmaceuticals, hormones, and other organic wastewater contaminants in US streams, 1999–2000: a national reconnaissance. Environ Sci Technol 36:1202–1211

Kumar K, Gupta SC, Baidoo SK, Chander Y, Rosen CJ (2005) Antibiotic uptake by plants from soil fertilized with animal manure. J Environ Qual 34:2082–2085

Kümmerer K (2009) Antibiotics in the aquatic environment—a review—part I. Chemosphere 75:417–434

Li K, Xu F, Eriksson K-EL (1999) Comparison of fungal laccases and redox mediators in oxidation of a non-phenolic lignin model compound. Appl Environ Microbiol 65:2654–2660

Mellon M, Benbrook C, Benbrook KL (2001) Hogging it: estimates of antimicrobial abuse in livestock. UCS Publications, Cambridge, MA

Morris AK, Masterton RG (2002) Antibiotic resistance surveillance: action for international studies. J Antimicrob Chemotherap 49:7–10

Palomo M, Bhandari A (2011) Peroxidase-catalyzed stabilization of 2,4-dichlorophenol in alkali extracted soils. J Environ Qual 40:126–132

Richnow HH, Seifert R, Kastner M, Mahro B, Horsfield B, Tiedgen U, Bohm S, Michaelis W (1995) Rapid screening of PAH residues in bioremediated soils. Chemosphere 31:3991–3999

Schlusener MP, Bester K, Spiteller M (2003) Determination of antibiotics such as macrolides, ionophores and tiamulin in liquid manure by HPLC-MS/MS. Anal Bioanal Chem 375:942–947

Sukul P, Spiteller M (2006) Sulfonamides in the environment as veterinary drugs. Rev Environ Contam Toxicol 187:67–101

Thiele-Bruhn S (2003) Pharmaceutical antibiotic compounds in soils—a review. J Plant Nutr Soil Sci 166:145–167

Thorn KA, Kennedy KR (2002) 15N NMR investigation of the covalent binding of reduced TNT amines to soil humic acid, model compounds, and lignocellulose. Environ Sci Technol 36:3787–3796

Weng S-S, Ku K-L, Lai H-T (2012) The implication of mediators for enhancement of laccase oxidation of sulfonamide antibiotics. Bioresour Tech 113:259–264

Wollenberger L, Halling-Sørensen B, Kusk KO (2000) Acute and chronic toxicity of veterinary antibiotics to Daphnia magna. Chemosphere 40:723–730
Compliance with Ethical Standards
There is no potential conflict of interest involved in this study. The study did not involve human participants or animals. All ethical standards were strictly followed.
Additional information
Responsible editor: Robert Duran
Electronic supplementary material
Below is the link to the electronic supplementary material.
About this article
Cite this article
Singh, R., Sidhu, S.S., Zhang, H. et al. Removal of sulfadimethoxine in soil mediated by extracellular oxidoreductases. Environ Sci Pollut Res 22, 16868–16874 (2015). https://doi.org/10.1007/s11356-015-4893-9
Received:

Accepted:

Published:

Issue Date:
Keywords
Sulfadimethoxine

Soil

Laccase

Mediators

Soil-bound residue