Abstract
Airborne particulate matter (PM) contains several quinones, which are able to generate reactive oxygen species impacting on cell viability. A method able to detect and quantify PM oxidative potential, based on the cytochrome c (cyt-c) reduction by means of superoxide anion produced through quinones redox cycling in the presence of reducing agents, is here described. Tris(2-carboxyethyl)phosphine resulted to be the most efficient reducing agent among the ones tested. The procedure included rapid particles extraction, followed by two alternative analytical methods, a spectrophotometric assay based on the initial rate of cyt-c reduction at 550 nm, and an amperometric assay, based on self-assembled monolayers modified gold electrodes. The smallest amount of PM needed to obtain an evaluable signal is 2 μg. The described procedure may represent a starting point to develop devices for PM measurements in polluted atmospheric environments.
This is a preview of subscription content, log in to check access.
Access options
Buy single article
Instant access to the full article PDF.
US$ 39.95
Price includes VAT for USA
Subscribe to journal
Immediate online access to all issues from 2019. Subscription will auto renew annually.
US$ 99
This is the net price. Taxes to be calculated in checkout.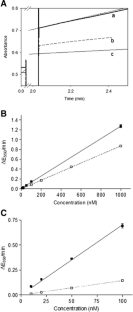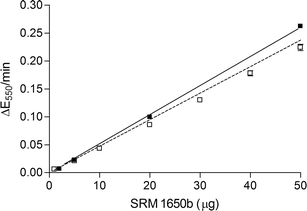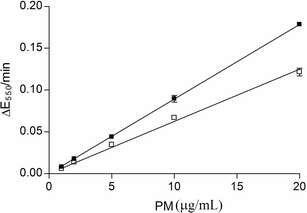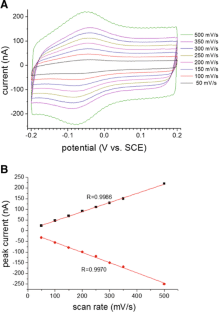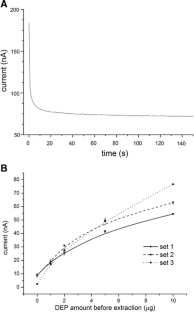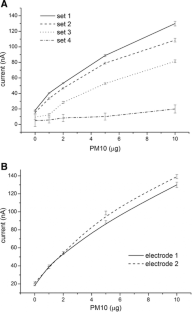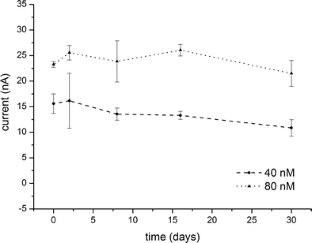 References
Albinet A, Leoz-Garziandia E, Budzinski H, Viilenave E (2007) Polycyclic aromatic hydrocarbons (PAHs), nitrated PAHs and oxygenated PAHs in ambient air of the Marseilles area (South of France): concentrations and sources. Sci Total Environm 384:280–292

Bard AJ, Faulkner LR (2001) Electrochemical methods, fundamental and applications, 2nd ed. John Wiley & Sons Inc., New York

Billet S, Garçon G, Dagher Z, Verdin A, Ledoux F, Cazier F, Courcot D, Aboukais A, Shirali P (2007) Ambient particulate matter (PM2.5): physicochemical characterization and metabolic activation of the organic fraction in human lung epithelial cells (A549). Environ Res 105:212–223

Brook RD (2007) Why physicians who treat hypertension should know more about air pollution. J Clin Hypertens 9:629–635

Brook RD (2008) Cardiovascular effects of air pollution. Clin Sci 115:175–187

Camatini M, Corvaja V, Mantecca P, Gualtieri M (2012) PM10-biogenic fraction drives the seasonal variation of pro-inflammatory response in A549 cells. Environ Toxicol 27:63–73

Charrier JG, Anastasio C (2012) On dithiothreitol (DTT) as a measure of oxidative potential for ambient particles: evidence for the importance of soluble transition metals. Atmos Chem Phys 12:9321–9333

Chen XJ, West AC, Cropek DM, Banta S (2008) Detection of the superoxide radical anion using various alkanethiol monolayers and immobilized cytochrome c. Anal Chem 80:9622–9629

Cho AK, Di Stefano E, You Y, Rodriguez CE, Schmitz DA, Kumagai Y, Miguel AH, Eiguren-Fernandez A, Kobayashi T, Avol E, Froines JH (2004) Determination of four quinones in diesel exhaust particles, SRM 1649a and atmospheric PM2.5. Aerosol Sci Tech 38(S1):68–81

Cho AK, Sioutas C, Miguel AH, Kumagai Y, Schmitz DA, Singh M, Eiguren-Fernandez A, Froines JR (2005) Redox activity of airborne particulate matter at different sites in the Los Angeles Basin. Environ Res 99:40–47

Chung MY, Lazaro RA, Lim D, Jackson J, Lyon J, Rendulic D, Hasson AS (2006) Aerosol-borne quinones and reactive oxygen species generation by particulate matter extracts. Environ Sci Technol 40:4880–4886

Cline DJ, Redding SE, Brohawn SG, Psathas JN, Schneider JP, Thorpe C (2004) New water-soluble phosphines as reductants of peptide and protein disulfide bonds: reactivity and membrane permeability. Biochemistry 43:15195–15203

Cortina-Puig M, Muñoz-Berbel X, Rouillon R, Calas-Blanchard C, Marty J (2009) Development of a cytochrome c-based scree-printed biosensor for the determination of the antioxidant capacity of orange juices. Bioelectrochemistry 76:76–80

Ge B, Lisdat F (2002) Superoxide sensor based on cytochrome c immobilized on mixed-thiol SAM with a new calibration method. Anal Chim Acta 454:53–64

Getz EB, Xiao M, Chakrabarty T, Cooke R, Selvin PR (1999) A comparison between the sulfhydryl reductants tris(2-carboxyethyl)phosphine and dithiothreitol for use in protein biochemistry. Anal Biochem 273:73–80

Gualtieri M, Longhin E, Pezzolato E, Mantecca P, Molteni E, Holme JA, Camatini M (2010a) In vitro effects of summer and winter Milan particulate matter. Toxicol Lett 196:37

Gualtieri M, Øvrevik J, Holme JA, Perrone G, Bolzacchini E, Schwarze PE, Camatini M (2010b) Differences in cytotoxicity versus pro-inflammatory potency of different PM fractions in human epithelial lung cells. Toxicol in Vitro 24:29–39

Gualtieri M, Øvrevik J, Mollerup S, Asare N, Longhin E, Dahlman HJ, Camatini M, Holme JA (2011) Airborne urban particles (Milan winter-PM2.5) cause mitotic arrest and cell death: effects on DNA, mitochondria, AhR binding and spindle organization. Mutation Res/Fundam Mol Mech Mutagen 713:18–31

Jakober CA, Riddle SG, Robert MA, Destaillats H, Judith Charles M, Green PG, Kleeman MJ (2007) Quinone emissions from gasoline and diesel motor vehicles. Environ Sci Technol 41:4548–4554

Kinney PL, Aggarwal M, Northridge ME, Janssen NAH, Shepard P (2000) Airborne concentrations of PM2.5 and diesel exhaust particles on Harlem sidewalks: a community-based pilot study. Eviron Health Perspect 108:213–218

Kumagai Y, Arimoto T, Shinyashiki M, Shimojo N, Nakai Y, Yoshikawa T, Sagai M (1997) Generation of reactive oxygen species during interaction of diesel exhaust particle components with NADPH-cytochrome P450 reductase and involvement of the bioactivation in the DNA damage. Free Radical Biol Med 22:479–487

Kumagai Y, Koide S, Taguchi K, Endo A, Nakai Y, Yoshikawa T, Shimojo N (2002) Oxidation of proximal protein sulfhydryls by phenanthraquinone, a component of diesel exhaust particles. Chem Res Toxicol 15:483–489

Layshock JA, Wilson G, Anderson KA (2010) Ketone and quinone-substituted polycyclic aromatic hydrocarbons in mussel tissue, sediment, urban dust, and diesel particulate matrices. Environ Toxicol Chem 29:2450–2460

Leal J, Luengo-Fernández R, Gray A, Petersen S, Rayner M (2006) Economic burden of cardiovascular diseases in the enlarged European Union. Eur Heart J 27:1610–1619

Li N, Sioutas C, Cho A, Schmitz D, Misra C, Sempf J, Wang M, Oberley T, Froines J, Nel A (2003) Ultrafine particulate pollutants induce oxidative stress and mitochondrial damage. Environ Health Persp 111:455–460

Li N, Xia T, Nel AE (2008) The role of oxidative stress in ambient particulate matter-induced lung diseases and its implications in the toxicity of engineered nanoparticles. Free Radic Biol Med 44:1689–1699

Li R, Ning Z, Cui J, Khalsa B, Ai L, Takabe W, Beebe T, Majumdar R, Sioutas C, Hsiai T (2009) Ultrafine particles from diesel engines induce vascular oxidative stress via JNK activation. Free Radic Biol Med 46:775–782

Longhin E, Pezzolato E, Mantecca P, Holme JA, Franzetti A, Camatini M, Gualtieri M (2013a) Season linked responses to fine and quasi-ultrafine Milan PM in cultured cells. Toxicol in Vitro 27(2):2551–559

Longhin E, Holme JA, Gutzkow KB, Arlt VM, Kucab JE, Camatini M, Gualtieri M (2013b) Cell cycle alterations induced by urban PM2.5 in bronchial epithelial cells: characterization of the process and possible mechanisms involved. Particle and Fibre Toxicol 10:63. doi:10.1186/1743-8977-10-63

Loomis D, Grosse Y, Lauby-Secretan B, El Ghissassi F, Bouvard V, Benbrahim-Tallaa L, Guha N, Baan R, Mattock H, Straif K (2013) The carcinogenicity of outdoor air pollution. Lancet Oncol 14(13):1262–1263

Lovinsky-Desir S, Yan B, Camann D, Sjodin A, Li Z, Perera F, Kinney P, Chillrud S, Miller RL (2014) Time trends of polycyclic aromatic hydrocarbon exposure in New York City from 2001 to 2012: assessed by repeat air and urine samples. Environ Res 131:95–103

Lucking AJ, Lundback M, Mills NL, Faratian D, Barath SL, Pourazar J, Cassee FR, Donaldson K, Boon NA, Badimon JJ, Sandstrom T, Blomberg A, Newby DE (2008) Diesel exhaust inhalation increases thrombus formation in man. Eur Heart J 29:3043–3051

Luengo-Fernández R, Leal J, Gray A, Petersen S, Rayner M (2006) Cost of cardiovascular diseases in the United Kingdom. Heart 92:1384–1389

Naser TM, Yuji Y, Kazuhiko S, Qingyue W, Kazuhiko S (2008) Chemical composition of PM2.5 and PM10 and associated polycyclic aromatic hydrocarbons at a roadside and an urban background area in Saitama, Japan. Asian J Atmos Environ 2–2:90–101

Peters A, Dockery DW, Muller JE, Mittleman MA (2001) Increased particulate air pollution and the triggering of myocardial infarction. Circulation 103:2810–2815

Prieto-Simón B, Cortina M, Campàs M, Calas-Blanchard C (2008) Electrochemical biosensors as a tool for antioxidant capacity assessment. Sensor Actuat B-Chem 129:459–466

Ristovski ZD, Miljevic B, Surawski NC, Morawska L, Fong KM, Goh F, Yang IA (2012) Respiratory health effects of diesel particulate matter. Respirol 17:201–212

Rohr AC, Wyzga RE (2012) Attributing health effects to individual particulate matter constituents. Atmos Environ 62:130–152

Sameenoi Y, Koehler K, Shapiro J, Boonsong K, Sun Y, Collett J Jr, Volckens J, Henry CS (2012) Microfluidic electrochemical sensor for on-line monitoring of aerosol oxidative activity. J Am Chem Soc 134:10562–10568

Sevastyanova O, Binkova B, Topinka J, Srama RJ, Kalina I, Popov T, Novakova Z, Farmer PB (2007) In vitro genotoxicity of PAH mixtures and organic extract from urban air particles. Part II: human cell lines. Mutat Res 620:123–134

Shang Y, Fan L, Feng J, Lv S, Wu M, Li B, Zang Y-S (2013) Genotoxic and inflammatory effects of organic extracts from traffic-related particulate matter in human lung epithelial A549 cells: the role of quinones. Toxicol in Vitro 27(2):922–931

Shang Y, Zhang L, Jiang Y, Li Y, Lu P (2014) Airborne quinones induce cytotoxicity and DNA damage in human lung epithelial A549 cells: the role of reactive oxygen species. Chemosphere 100(2014):42–49

Shimada H, Oginuma M, Hara A, Imamura Y (2004) 9,10-Phenanthrenequinone, a component of diesel exhaust particles, inhibits the reduction of 4-benzoylpiridine and all-trans-retinal and mediates superoxide formation through its redox cycling in pig heart. Chem Res Toxicol 17:1145–1150

Squadrito GL, Cueto R, Dellinger B, Pryor WA (2001) Quinoid redox cycling as a mechanism for sustained free radical generation by inhaled airborne particulate matter. Free Rad Biol Med 31:1132–1138

Wei Y, Han I, Hu M, Shao M, Zhang J, Tang X (2010) Personal exposure to particulate PAHs and anthraquinone and oxidative DNA damages in humans. Chemosphere 81:1280–1285

Zhang XE (2004) Screen-printing methods for biosensor production. In: Cooper J, Cass T (eds) Biosensors, 2nd edn. Oxford University Press, New York, pp 41–58
Acknowledgments
This research has been supported by a grant of Lombardy Region to M.C. for the project Smeller. We thank Dr. Costanza Ronchi for technical assistance in performing screen-printed electrode modifications.
Conflict of interest
The authors have no conflict of interest.
Funding source
This research has been supported by a grant of Lombardy Region to M.C. for the project Smeller.
Human and animal rights and informed consent
No human subjects or animals have been used for this research.
Additional information
Responsible editor: Gerhard Lammel
Electronic supplementary material
Below is the link to the electronic supplementary material.
About this article
Cite this article
Ciriello, F., Gualtieri, M., Longhin, E. et al. A new method and tool for detection and quantification of PM oxidative potential. Environ Sci Pollut Res 22, 12469–12478 (2015). https://doi.org/10.1007/s11356-015-4551-2
Received:

Accepted:

Published:

Issue Date:
Keywords
Particulate matter

Redox cycling

Cytochrome c

TCEP

Gold electrode