Abstract
Due to the high volume of crude oil released by the Deepwater Horizon oil spill, the salt marshes along the gulf coast were contaminated with crude oil. Biodegradation of crude oil in salt marshes is primarily limited by oxygen availability due to the high organic carbon content of the soil, high flux rate of S2−, and saturated conditions. Chlorate, nitrate, and perchlorate were evaluated for use as electron acceptors in comparison to oxygen by comparing oil transformation and mineralization in mesocosms consisting of oiled salt marsh sediment from an area impacted by the BP Horizon oil spill. Mineralization rates were determined by measuring CO2 production and δ 13C of the produced CO2 and compared to transformation evaluated by measuring the alkane/hopane ratios over a 4-month period. Total alkane/hopane ratios decreased (~55–70 %) for all treatments in the following relative order: aerated ≈ chlorate > nitrate > perchlorate. Total CO2 produced was similar between treatments ranging from 550–700 mg CO2-C. The δ 13C-CO2 values generally ranged between the indigenous carbon and oil values (−17 and −27 ‰, respectively). Oil mineralization was greatest for the aerated treatments and least for the perchlorate amended. Our results indicate that chlorate has a similar potential as oxygen to support oil mineralization in contaminated salt marshes, but nitrate and perchlorate were less effective. The use of chlorate as a means to promote oil mineralization in situ may be a promising means to remediate contaminated salt marshes while preventing unwanted secondary impacts related to nutrient management as in the case of nitrate amendments.
This is a preview of subscription content, log in to check access.
Access options
Buy single article
Instant access to the full article PDF.
US$ 39.95
Price includes VAT for USA
Subscribe to journal
Immediate online access to all issues from 2019. Subscription will auto renew annually.
US$ 99
This is the net price. Taxes to be calculated in checkout.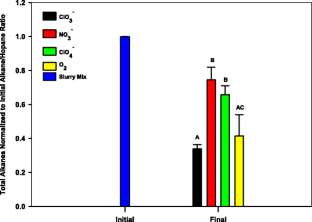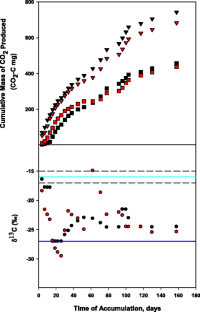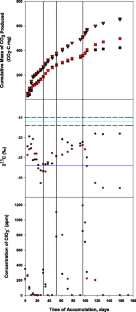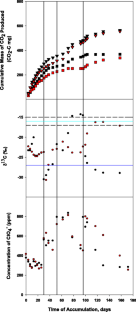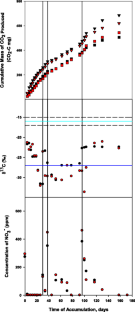 References
Aeppli C, Carmichael CA, Nelson RK, Lemkau KL, Graham WM, Redmond RC, Valentine DL, Reddy CM (2012) Oil weathering after the Deepwater Horizon disaster led to the formation of oxygenated residues. Environ Sci Technol 46(16):8799–8807

Anid PJ, Alvarez P, Vogel TM (1993) Biodegradation of monoaromatic hydrocarbons in aquifer columns amended with hydrogen peroxide and nitrate. Water Resour 27(4):685–691

Atlas RM (1981) Microbial degradation of petroleum hydrocarbons: an environmental perspective. Micro Rev 45(1):180

Boopathy R, Shields S, Nunna S (2011) Biodegradation of crude oil from the BP oil spill in the marsh sediments of Southeast Louisiana, USA. Appl Biochem Biotechnol 167:1560–1568

Chyabutra C, Ju LK (2000) Degradation of n-hexadecane and its metabolites by Pseudomonas aeruginosa under microaerobic and anaerobic denitrifying conditions. Appl Environ Microbiol 66(2):493–498

Coates JD, Achenbach LA (2004) Microbial perchlorate reduction: rocket-fuelled metabolism. Nature Rev Microbiol 2(7):569–580

Coates JD, Bruce RA, Patrick J, Achenbach LA (1999a) Hydrocarbon bioremediative potential of (per)chlorate-reducing bacteria. Bioremed J 3(4):323–334

Coates JD, Ellis DJ, Gaw CV, Lovley DR (1999b) Geothrix fermentans gen. nov., sp. nov., a novel Fe (III)-reducing bacterium from a hydrocarbon-contaminated aquifer. Int J Syst Bacteriol 49(4):1615–1622

Crocetti CA, Head CL, Ricciardelli AJ (1992) Aeration enhanced bioremediation of oil-contaminated soil: a laboratory treatability study. Proc. Petroleum Hydrocarbons and Organic Chemicals in Groundwater, Houston, TX. National Ground Water Assoc, Houston, pp 427–440

Fuex AN (1977) The use of stable carbon isotopes in hydrocarbon exploration. J Geochem Explor 7:155–188

Head IM, Jones DM, Röling W (2006) Marine microorganisms make a meal of oil. Nature Rev Microbiol 4.3:173–182

Howarth RW (1984) The ecological significance of sulfur in the energy dynamics of salt marsh and coastal marine sediments. Biogeochemistry 1(1):5–27

Howarth RW, Giblin A (1983) Sulfate reduction in the salt marshes at Sapelo Island. Georgia Limnol Oceanogr 28(1):70–82

Howes BL, Dacey JW, King GM (1984) Carbon flow through oxygen and sulfate reduction pathways in salt marsh sediments. Limnol Oceanogr 29(5):1037–1051

Hutchins SR (1991) Biodegradation of monoaromatic hydrocarbons by aquifer microorganisms using oxygen, nitrate, or nitrous oxide as the terminal electron acceptor. Appl Environ Microbiol 57(8):2403–2407

Jackson WA, Pardue JH (1999a) Quantifying the mineralization of contaminants using stable carbon isotope ratios. Org Geochem 30(8):787–792

Jackson WA, Pardue JH (1999b) Potential for enhancement of biodegradation of crude oil in Louisiana salt marshes using nutrient amendments. Water Air Soil Pollut 109(1–4):343–355

Jackson AW, Pardue JH, Araujo R (1996) Monitoring crude oil mineralization in salt marshes: use of stable carbon isotope ratios. Environ Sci Technol 30(4):1139–1144

Jackson WA, Böhlke JK, Gu B, Hatzinger PB, Sturchio NC (2010) Isotopic composition and origin of indigenous natural perchlorate and co-occurring nitrate in the southwestern United States. Environ Sci Technol 44:4869–4876

Jackson WA, Davila AF, Estrada N, Berry LW, Coates JD, Priscu JC (2012) Perchlorate and chlorate biogeochemistry in ice-covered lakes of the McMurdo Dry Valleys, Antarctica. Geochim Cosmochim Acta 98:19–30

Kounaves SP, Stroble ST, Anderson RM, Moore Q, Catling DC, Douglas S, McKay CP, Ming DW, Smith PH, Tamppari LK, Zent AP (2010) Discovery of natural perchlorate in the Antarctic dry valleys and its global implications. Environ Sci Technol 44(7):2360–2364

Lovley DR, Woodward JC (1996) Mechanisms for chelator stimulation of microbial Fe (III)-oxide reduction. Chem Geol 132(1):19–24

Lovley DR, Coates JD, Woodward JC, Phillips E (1995) Benzene oxidation coupled to sulfate reduction. Appl Environ Microbiol 61(3):953–958

Mahmoudi N, Porter TM, Zimmerman AR, Fulthorpe RR, Kasozi GN, Silliman BR, Slater GF (2013) Rapid degradation of deepwater horizon spilled oil by indigenous microbial communities in Louisiana saltmarsh sediments. Environ Sci Technol 47(23):13303–13312

Majora DW, Mayfielda CI, Barkerb JF (1988) Biotransformation of benzene by denitrification in aquifer sand. Groundwater 26(1):8–14

Mbadinga SM, Wang LY, Zhou L, Liu JF, Gu JD, Mu BZ (2011) Microbial communities involved in anaerobic degradation of alkanes. Int Biodeterior Biodegrad 65(1):1–13

Mehboob F, Junca H, Schraa G, Stams AJ (2009) Growth of Pseudomonas chloritidismutans AW-1T on n-alkanes with chlorate as electron acceptor. Appl Microbiol Biotechnol 83(4):739–747

Michaelsen M, Hulsch R, Hopner T, Berthe-Corti L (1992) Hexadecane mineralization in oxygen-controlled sediment-seawater cultivations with autochthonous microorganisms. Appl Environ Microbiol 58(9):3072–3077

Michel J, Rutherford N (2014) Impacts, recovery rates, and treatment options for spilled oil in marshes. Mar Pollut Bull 82(1):19–25

Pfaff JD (1993) US EPA Method 300.0, Methods for the determination of inorganic substances in environmental samples., EPA -600/R-93-100, NTIS PB94-121811

Rao B, Anderson TA, Orris GJ, Rainwater KA, Pajagopalan S, Suandvig RM, Scanlon BR, Stonestrom DA, Walvoord MA, Jackson WA (2007) Widespread natural perchlorate in unsaturated zones of the southwest United States. Environ Sci Technol 41(13):4522–4528

Rao B, Hatzinger PB, Bohlke JK, Sturchio NC, Andraski BJ, Eckardt FD, Jackson WA (2010) Natural chlorate in the environment: application of a new IC-ESI/MS/MS method with a Cl18O3-internal standard. Environ Sci Technol 44(22):8429–8434

Reddy CM, Arey JS, Seewald JS, Sylva SP, Lemkau KL, Nelson RK, Carmichael CA, McIntyre CP, Fenwick J, Ventura GT, Van Mooy BAS, Camilli R (2012) Composition and fate of gas and oil released to the water column during the Deepwater Horizon oil spill. Proc Natl Acad Sci 109(50):20229–20234

Shin WS, Pardue JH, Jackson WA (2000) Oxygen demand and sulfate reduction in petroleum hydrocarbon contaminated salt marsh soils. Water Res 34(4):1345–1353

Stahl WJ (1977) Carbon and nitrogen isotopes in hydrocarbon research and exploration. Chem Geol 20:121–149

Tao R, Yu K (2013) Nitrate addition has minimal effect on anaerobic biodegradation of benzene in coastal saline (salt), brackish and freshwater marsh sediments. Wetland 33(4):759–767

Tate PT, Shin WS, Pardue JH, Jackson WA (2012) Bioremediation of an experimental oil spill in a coastal Louisiana salt marsh. Water Air Soil Pollut 223(3):1115–1123

Venosa AD, Zhu X (2003) Biodegradation of crude oil contaminating marine shorelines and freshwater wetlands. Spill Sci Technol Bull 8(2):163–178

Weelink SA, Tan NC, Ten Broeke H et al (2008) Isolation and characterization of Alicycliphilus denitrificans strain BC, which grows on benzene with chlorate as the electron acceptor. Appl Environ Microbiol 74(21):6672–6681

Weiner JM, Lovley DR (1998) Rapid benzene degradation in methanogenic sediments from a petroleum-contaminated aquifer. Appl Environ Microbiol 64(5):1937–1939

Weiner JM, Lauck TS, Lovley DR (1998) Enhanced anaerobic benzene degradation with the addition of sulfate. Bioremed J 2(3–4):159–173

Wilson JT, Armstrong JM, Rifai SH (1994) A full-scale field demonstration on the use of hydrogen peroxide for in situ bioremediation of an aviation gasoline-contaminated aquifer. Bioremediation: Field Exp: 333–360
Acknowledgments
We gratefully acknowledge funding from the Gulf of Mexico Research Initiative and the assistance of Dr. Michael Blum at Tulane University.
Additional information
Responsible editor: Philippe Garrigues
About this article
Cite this article
Brundrett, M., Horita, J., Anderson, T. et al. The use of chlorate, nitrate, and perchlorate to promote crude oil mineralization in salt marsh sediments. Environ Sci Pollut Res 22, 15377–15385 (2015). https://doi.org/10.1007/s11356-015-4435-5
Received:

Accepted:

Published:

Issue Date:
Keywords
Chlorate

Perchlorate

Nitrate

Salt marshes

Deepwater Horizon oil spill

Biodegradation

Crude oil

Mineralization