Abstract
Two indigenous bacterial strains, Bacillus megaterium ETLB-1 (accession no. KC767548) and Pseudomonas plecoglossicida ETLB-3 (accession no. KC767547), isolated from soil contaminated with paper mill effluent, were co-immobilized on corncob cubes to investigate their biodegradation potential against black liquor (BL). Results exhibit conspicuous reduction in color and lignin of BL upto 913.46 Co-Pt and 531.45 mg l−1, respectively. Reduction in chlorophenols up to 12 mg l−1 was recorded with highest release of chloride ions, i.e., 1290 mg l−1. Maximum enzyme activity for lignin peroxidase (LiP), manganese peroxidase (MnP), and laccase (LAC) was recorded as 5.06, 8.13, and 8.23 U ml−1, respectively, during the treatment. Scanning electron microscopy (SEM) revealed successful immobilization of bacterial strains in porous structures of biomaterial. Gas chromatography/mass spectroscopy (GC/MS) showed formation of certain low molecular weight metabolites such as 4-hydroxy-benzoic acid, 3-hydroxy-4-methoxybenzaldehyde, ferulic acid, and t-cinnamic acid and removal of majority of the compounds (such as teratogenic phthalate derivatives) during the period of treatment. Results demonstrated that the indigenous bacterial consortium possesses excellent decolorization and lignin degradation capability which enables its commercial utilization in effluents treatment system.
This is a preview of subscription content, log in to check access.
Access options
Buy single article
Instant access to the full article PDF.
US$ 39.95
Price includes VAT for USA
Subscribe to journal
Immediate online access to all issues from 2019. Subscription will auto renew annually.
US$ 99
This is the net price. Taxes to be calculated in checkout.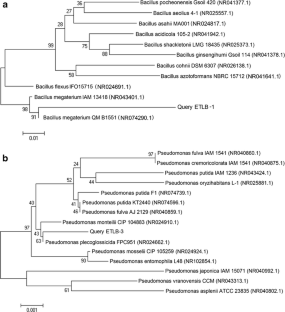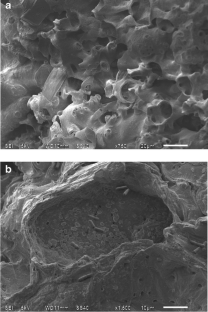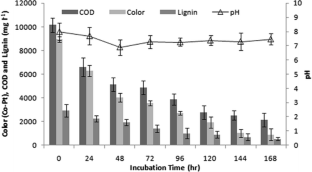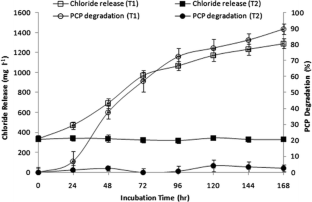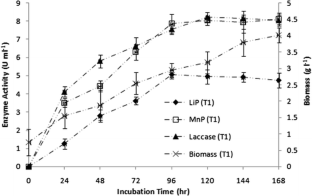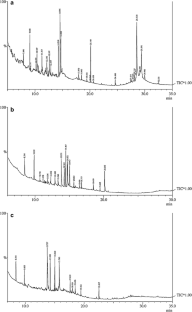 Abbreviations
U ml−1 :

Unit per mililiter

w/v :

Weight/volume

v/v :

Volume/volume

Co-Pt:

Cobalt-platinum

OD:

Optical density

C/N:

Carbon and nitrogen ratio

ETLB:

Ecotechnology laboratory bacteria
References
Arora DS, Chander M, Gill PK (2002) Involvement of lignin peroxidase, manganese peroxidase and laccase in degradation and selective ligninolysis of wheat straw. Int Biodeterior Biodegrad 50:115–120

Bajpai P, Mehna A, Bajpai PK (1993) Decolorization of kraft bleach plant effluent with the white rot fungus Trametes versicolor. Process Biochem 28:377–384

Belem A, Panteleitchouk AV, Duarte AC, Rocha-Santos TAP, Freitas AC (2008) Treatment of the effluent from a kraft bleach plant with white rot fungi Pleurotus sajor caju and Pleurotus ostreatus. Global Nest 10:426–431

Bergmann JG, Sanik J (1957) Determination of trace amounts of chlorine in naptha. Anal Chem 29:241–243

Brányik T, Vicente AA, Oliveira R, Teixeira JA (2004) Physicochemical surface properties of brewing yeast influencing their immobilization onto spent grains in a continuous reactor. Biotechnol Bioeng 88:84–93

Brenner DJ, Krieg NR, Staley JT (2005) Bergey's manual of systematic bacteriology. In: Garrity GM (ed), Vol 2, 2nd edn. Springer, New York

Buswell JA, Odier E (1987) Lignin biodegradation. Crit Rev Biotechnol 6:1–60

Chandra R, Singh R (2012) Decolourisation and detoxification of rayon grade pulp paper mill effluent by mixed bacterial culture isolated from pulp paper mill effluent polluted site. Biochem Eng J 61:49–58

Chandra R, Abhishek A, Sankhwar M (2011) Bacterial decolorization and detoxification of black liquor from rayon grade pulp manufacturing paper industry and detection of their metabolic products. Bioresour Technol 102:6429–6436

Chen CY, Kao CM, Chen SC, Chien HY, Lin CE (2007) Application of immobilized cells to the treatment of cyanide wastewater. Water Sci Technol 56:99–107

Chen CY, Kao CM, Chen SC (2008) Application of Klebsiella oxytoca immobilized cells on the treatment of cyanide wastewater. Chemosphere 71:133–139

Chen YH, Chai LY, Zhu YH, Yang ZH, Zheng Y, Zhang H (2012) Biodegradation of kraft lignin by a bacterial strain Comamonas sp. B-9 isolated from eroded bamboo slips. J Appl Microbiol 112:900–906

Chung E, Oh J, Hwang S, Ahn I-S, Yoon YJ (2005) Enhanced production of manganese peroxidase from immobilized Phanerochaete chrysosporium due to the increased autolysis of chlamydospore-like cells. Biotechnol Lett 27:477–481

D'Souza DT, Tiwari R, Sah AK, Raghukumar C (2006) Enhanced production of laccase by a marine fungus during treatment of colored effluents and synthetic dyes. Enzym Microb Technol 38:504–511

Franzetti L, Scarpellini M (2007) Characterisation of Pseudomonas spp. isolated from foods. Ann Microbiol 57:39–47

Genisheva Z, Mussatto SI, Oliveira JM, Teixeira JA (2011) Evaluating the potential of wine-making residues and corncobs as support materials for cell immobilization for ethanol production. Ind Crop Prod 34:979–985

Genisheva Z, Mussatto S, Oliveira JM, Teixeira JA (2013) Malolactic fermentation of wines with immobilized lactic acid bacteria—influence of concentration, type of support material and storage conditions. Food Chem 138:1510–1514

Greenberg AE, Connors JJ, Jenkins D, Franson MA (1995) Standard methods for the examination of water and wastewater, 15th edn. American Public Health Association, Washington, DC

Kimura M (1980) A simple method for estimating evolutionary rates of base substitutions through comparative studies of nucleotide sequences. J Mol Evol 16:111–120

Ko J, Shimizu Y, Ikeda K, Kim SK, Park CH, Matsui S (2009) Biodegradation of high molecular weight lignin under sulfate reducing conditions: lignin degradability and degradation by-products. Bioresour Technol 100:1622–1627

Kuwahara M, Glenn JK, Morgan MA, Gold MH (1984) Separation and characterization of two extracellular H2O2-dependent oxidases from ligninolytic cultures of Phanerochaete chrysosporium. FEBS Lett 169:247–250

Lee S-E, Lee CG, Kang DH, Lee H-Y, Jung K-H (2012) Preparation of corncob grits as a carrier for immobilizing yeast cells for ethanol production. J Microbiol Biotechnol 22:1673–1680

Linger JG, Vardon DR, Guarnieri MT, Karp EM, Hunsinger GB, Franden MA, Johnson CW, Chupka G, Strathmann TJ, Pienkos PT,. Beckham GT (2014) Lignin valorization through integrated biological funneling and chemical catalysis. PNAS 1-6. doi/10.1073/pnas.1410657111.

Lundquist K, Kirk TK (1971) Acid degradation of lignin. Acta Chem Scand 25:889–894

Malaviya P, Rathore VS (2007) Bioremediation of pulp and paper mill effluent by a novel fungal consortium isolated from polluted soil. Bioresour Technol 98:3647–3651

Mishra M, Thakur IS (2010) Isolation and characterization of alkalotolerant bacteria and optimization of process parameters for decolorization and detoxification of pulp and paper mill effluent by Taguchi approach. Biodegradation 21:967–978

Oliveira LPD, Duarte MCT, Ponezi AN, Durrant LR (2009) Purification and partial characterization of manganese peroxidase from Bacillus pumilus and Panibacillus sp. Braz J Microbiol 40:818–826

Pakshirajan K, Swaminathan T (2009) Biosorption of copper and cadmium in packed bed columns with live immobilized fungal biomass of Phanerochaete chrysosporium. Appl Biochem Biotechnol 157:159–173

Paliwal R, Rawat AP, Rawat M, Rai JPN (2012) Bioligninolysis: recent updates for biotechnological solution. Appl Biochem Biotechnol 167:1865–1889

Pang Y, Zeng GM, Tang L, Zhang Y, Liu YY, Lei XX, Wu MS, Li Z, Liu C (2011) Cr(VI) reduction by Pseudomonas aeruginosa immobilized in a polyvinyl alcohol/sodium alginate matrix containing multi-walled carbon nanotubes. Bioresour Technol 102:10733–10736

Pathak C, Chopra AK, Srivastava S (2013) Accumulation of heavy metals in Spinacia oleracea irrigated with paper mill effluent and sewage. Environ Monit Assess 185:7343–7352

Pearl A, Benson HK (1940) The determination of lignin in sulfite pulping liquor. Pap Trade J 111:35–36

Philp JC, Balmand S, Hajto E, Bailey MJ, Wiles S, Whiteley AS, Lilley AK, Hajto J, Dunbar SA (2003) Whole cell immobilized biosensors for toxicity assessment of a wastewater treatment plant treating phenolics-containing waste. Anal Chim Acta 487:61–74

Raghukumar C, Rivonkar G (2001) Decolorization of molasses spent wash by the white rot fungus Flavadon flavus, isolated from marine habitat. Appl Microbiol Biotechnol 55:510–514

Raj A, Reddy MMK, Chandra R (2007) Identification of low molecular weight aromatic compounds by gas chromatography-mass spectrometry (GC-MS) from kraft lignin degradation by three Bacillus sp. Int Biodeterior Biodegrad 59:292–296

Saitou N, Nei M (1987) The neighbor-joining method: a new method for reconstructing phylogenetic trees. Mol Biol Evol 4:406–425

Salter GJ, Kell DB (1991) New materials and technology for cell immobilization. Curr Opin Biotechnol 2:385–389

Shi K, Chai L, Tang C, Yang Z, Zhang H, Chen R, Chen Y, Zheng Y (2013a) Characterization and genomic analysis of kraft lignin biodegradation by the beta-proteobacterium Cupriavidus basilensis B-8. Biotechnol Biofuels 6:1–14

Shi Y, Chai L, Tang C, Yang Z, Zheng Y, Chen Y, Jing Q (2013b) Biochemical investigation of kraft lignin degradation by Pandoraea sp. B-6 isolated from bamboo slips. Bioprocess Biosyst Eng 36:1957–1965

Singh A, Agrawal SB, Rai JPN, Singh P (2002) Assessment of the pulp and paper mill effluent on growth, yield and nutrient quality of heat (Triticum aestivum L). J Environ Biol 23:283–288

Singhal V, Kumar A, Rai JPN (2005) Bioremediation of pulp and paper mill effluent with Phanerochaete chrysosporium. J Environ Biol 26:525–529

Sipsas V, Kolokythas G, Kourkoutas Y, Plessas S, Nedovic VA, Kanellaki M (2009) Comparative study of batch and continuous multi-stage fixed-bed tower (MFBT) bioreactor during wine-making using freeze-dried immobilized cells. J Food Eng 90:495–503

Tamura K, Dudley J, Nei M, Kumar S (2007) MEGA4: molecular evolutionary genetics analysis (MEGA) software version 4.0. Mol Biol Evol 24:1596–1599

Tayal AK, Das L, Kaur I (1999) Biodegradation of pentachlorophenol (PCP) by white rot fungal strains screened from local sources and its estimation by high-performance liquid chromatography. Biomed Chromatogr 13:220–224

Thompson JD, Higgins DJ, Gibson TJ (1994) CLUSTAL W: improving the sensitivity of progressive multiple sequence alignment through sequence weighting, position specific gap penalties and weight matrix choice. Nucleic Acids Res 22:4673–4680

Vos P, Garrity G, Jones D, Krieg NR, Ludwig W, Rainey FA, Schleifer K-H, Whitman WB (2009) Bergey's manual of systematic bacteriology. In: Garrity GM (ed), Vol 3, 2nd edn. Springer, New York

Xu P, Zeng GM, Huang DL, Lai C, Zhao MH, Wei Z, Li NJ, Huang C, Xie GX (2012) Adsorption of Pb(II) by iron oxide nanoparticles immobilized Phanerochaete chrysosporium: Equilibrium, kinetic, thermodynamic and mechanisms analysis. Chem Eng J 203:423–431

Yang C-F, Lee C-M (2007) Biodegradation and dechlorination of pentachlorophenol with a pentachlorophenol degrading bacterium sphingomonas chlorophenolica. J Environ Eng Manag 17:157–161

Yu J, Yue G, Zhong J, Zhang X, Tan T (2010) Immobilization of Saccharomyces cerevisiae to modified bagasse for ethanol production. Renew Energy 35:1130–1134
Acknowledgments
Dr. Ajay Kumar (AIRF, Jawaharlal Nehru University, New Delhi) is thankfully acknowledged for his assistance with the GC/MS analysis. The authors also sincerely appreciate other laboratory facilities received from G.B. Pant University of Agriculture and Technology, Pantnagar.
Additional information
Responsible editor: Philippe Garrigues
About this article
Cite this article
Paliwal, R., Uniyal, S. & Rai, J.P.N. Evaluating the potential of immobilized bacterial consortium for black liquor biodegradation. Environ Sci Pollut Res 22, 6842–6853 (2015). https://doi.org/10.1007/s11356-014-3872-x
Received:

Accepted:

Published:

Issue Date:
Keywords
Biodegradation

Bacterial consortium

Immobilization

Corncob

GC/MS

SEM