Abstract
The aim of this paper is to present a survey on the current status of wastewater treatment systems in 11 central and eastern European (CEE) countries, with a focus on rural areas and on small treatment wetlands for settlements of below 2,000 people. The results indicate that CEE countries have insufficient sanitation systems with different performance efficiencies. These differences stem from the different historical, political and economic developments as well as legislation in the previous five to six decades. CEE settlements with less than 2,000 inhabitants represent almost 30.0 % of the overall number of persons living in CEE countries. These data show that CEE countries have a mainly rural character, but this is slowly decreasing. Over 42 million inhabitants are waiting for proper sanitation systems. This requirement will be ever-growing in the next future, and it is important to know and to prepare appropriate steps for progressive realisation.
This is a preview of subscription content, log in to check access.
Access options
Buy single article
Instant access to the full article PDF.
US$ 39.95
Price includes VAT for USA
Subscribe to journal
Immediate online access to all issues from 2019. Subscription will auto renew annually.
US$ 99
This is the net price. Taxes to be calculated in checkout.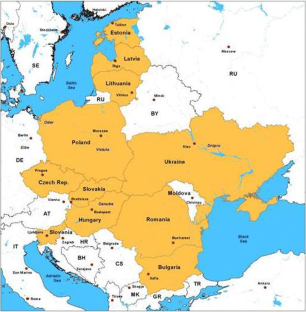 References
Bodík I, Boscornea C, Istenič D, Zakharchenko M (2012) GWP CEE Regional Study. Natural processes of wastewater treatment—actual status in CEE countries. http://www.gwp.org/Global/GWP-CEE_Files/Regional/Q-study-report-CEE.pdf. Accessed 21 May 2014

Bulc T, Slak AS (2009) Ecoremediations—a new concept in multifunctional ecosystem technologies for environmental protection. Desalination 246(1–3):2–10. doi:10.1016/j.desal.2008.03.039

Global Water Partnership (2007) In: Bodík I, Ridderstolpe P (eds) Sustainable sanitation in central and eastern Europe—addressing the needs of small and medium-size settlements. GWP CEE, Bratislava

Kadlec RH, Wallace SD (2009) Treatment wetlands, 2nd edn. CRC Press, Boca Raton

Lakatos G (1998) Hungary. In: Vymazal J et al (eds) Constructed wetlands for wastewater treatment in Europe. Backhuys Publishers, Leiden, pp 191–206

Mander U, Kuusemets V, Öövel M, Mauring T, Ihme R, Pieterse AJ (2001) Wastewater purification efficiency in experimental treatment wetlands in Estonia. In: Vymazal J (ed) Transformations of nutrients in natural and constructed wetlands. Backhuys Publishers, Leiden, pp 201–224

Paruch AM, Maehlum T, Obarska-Pempkowiak H, Gajewska M, Wojciechowska E, Ostojski A (2011) Rural domestic wastewater treatment in Norway and Poland: experiences, cooperation and concepts on the improvement of constructed wetland technology. Water Sci Technol 63(4):776–781. doi:10.2166/wst.2011.308

United Nations (2011) http://unstats.un.org/unsd/environment/wastewater.htm. Accessed 22 May 2014

Vymazal J (2011) Long-term performance of constructed wetlands with horizontal sub-surface flow: ten case studies from the Czech Republic. Ecol Eng 37(1):54–63. doi:10.1016/j.ecoleng.2009.11.028

Vymazal J, Kropfelová L (2011) A three-stage experimental constructed wetland for treatment of domestic sewage: first 2 years of operation. Ecol Eng 37(1):90–98. doi:10.1016/j.ecoleng.2010.03.004
Acknowledgments
The authors would like to acknowledge all national experts who contributed the answers to the questionnaire (Miloš Rozkošný—Czech Republic, Galia Bardarska—Bulgaria, Mikhailo Zakharchenko—Ukraine, Corina Boscornea—Romania, Sandra Skrivmane—Latvia, Eva Deseö—Hungary, Ain Lääne—Estonia).
Additional information
Responsible editor: Philippe Garrigues
About this article
Cite this article
Istenic, D., Bodík, I. & Bulc, T. Status of decentralised wastewater treatment systems and barriers for implementation of nature-based systems in central and eastern Europe. Environ Sci Pollut Res 22, 12879–12884 (2015). https://doi.org/10.1007/s11356-014-3747-1
Received:

Accepted:

Published:

Issue Date:
Keywords
Central and eastern Europe

Decentralised treatment

Rural areas

Treatment wetlands

Small settlements

Wastewater treatment