Abstract
Early-life exposure to pollutants, such as lead, may have long-lasting consequences on health, behavior, and cognition. However, experiments on delayed effects of specific pollutants are very rare in wild animals. We experimentally exposed wild nestling great tits (Parus major) to dietary lead (high, low, or control group) in levels relevant to exposure levels of wild populations in Europe and studied delayed effects on phenotypic and behavioral traits in captivity. We also included a group of birds from a vicinity of a copper smelter, exposed to a mixture of toxic metals and altered food supply during development. This experimental setup allowed us to compare the strength of direct (exposure to lead per se) and indirect (pollution-related changes in diet) effects of pollutants. Our experimental lead treatment significantly increased lead levels in bone and feces compared with controls. However, we found no carry-over effect of early-life dietary lead on morphology, plumage coloration, or heat shock proteins. Treatment did not affect activity, exploration, neophobia, or success in learning and spatial memory task. We conclude that with the exposure levels and relatively short exposure period used, delayed effects on the measured traits were not found. However, it is important to further study other types of behavioral traits and ultimately fitness effects.
This is a preview of subscription content, log in to check access.
Access options
Buy single article
Instant access to the full article PDF.
US$ 39.95
Price includes VAT for USA
Subscribe to journal
Immediate online access to all issues from 2019. Subscription will auto renew annually.
US$ 99
This is the net price. Taxes to be calculated in checkout.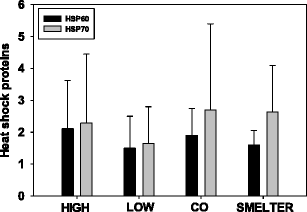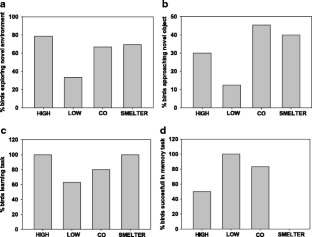 References
Arnold KE, Ramsay SL, Donaldson C, Adam A (2007) Parental prey selection affects risk-taking behaviour and spatial learning in avian offspring. Proc R Soc B 274:2563–2569

Barton JC, Conrad ME, Harrison L, Nuby S (1978) Effects of calcium on absorption on retention of lead. J Lab Clin Med 91:366–376

Bauman JW, Liu J, Klaassen CD (1993) Production of metallothionein and heat shock proteins in response to metals. Fundam Appl Toxicol 21:15–22

Belskii EA, Bezel VS, Polents EA (1995) Early stages of the nesting period of hollow-nesting birds under conditions of industrial-pollution. Russ J Ecol 26:38–43

Berglund AMM, Ingvarsson PK, Danielsson H, Nyholm NEI (2010) Lead exposure and biological effects in pied flycatchers (Ficedula hypoleuca) before and after the closure of a lead mine in northern Sweden. Environ Pollut 158:1368–1375

Berglund AMM, Koivula MJ, Eeva T (2011) Species- and age-related variation in metal exposure and accumulation of two passerine bird species. Environ Pollut 159:2368–2374

Bouton SN, Frederick PC, Spalding MG, McGill H (1999) Effects of chronic, low concentrations of dietary methylmercury on the behavior of juvenile great egrets. Environ Toxicol Chem 18:1934–1939

Bressler JP, Goldstein GW (1991) Mechanisms of lead neurotoxicity. Biochem Pharmacol 41:479–484

Brown S, Dragann N, Vogel WH (1971) Effects of lead acetate on learning and memory in rats. Arch Environ Health 22:370–372

Burger J (1998) Effects of lead on sibling recognition in young herring gulls. Toxicol Sci 43:155–160

Burger J (2007) A framework and methods for incorporating gender-related issues in wildlife risk assessment: gender-related differences in metal levels and other contaminants as a case study. Environ Res 104:153–162

Burger J, Gochfeld M (1985) Early-postnatal lead exposure—behavioral-effects in common tern chicks (Sterna hirundo). J Toxicol Environ Health 16:869–886

Burger J, Gochfeld M (1993) Lead and behavioral-development in young herring gulls—effects of timing of exposure on individual recognition. Fundam Appl Toxicol 21:187–195

Burger J, Gochfeld M (1994) Behavioral impairments of lead-injected young herring gulls in nature. Fundam Appl Toxicol 23:553–561

Burger J, Gochfeld M (1995a) Effects of varying temporal exposure to lead on behavioral development in herring gull (Larus argentatus) chicks. Pharmacol Biochem Behav 52:601–608

Burger J, Gochfeld M (1995b) Behavior effects of lead-exposure on different days for gull (Larus argentatus) chicks. Pharmacol Biochem Behav 50:97–105

Burger J, Gochfeld M (2000) Effects of lead on birds (Laridae): a review of laboratory and field studies. J Toxicol Env Health B-Crit Rev:59–78.

Burger J, Gochfeld M (2005) Effects of lead on learning in herring gulls: an avian wildlife model for neurobehavioral deficits. Neurotoxicology 26:615–624

Carere C, Drent PJ, Koolhaas JM, Groothuis TGG (2005) Epigenetic effects on personality traits: early food provisioning and sibling competition. Behaviour 142:1329–1355

Chen JF, Chen YH, Liu W, Bai CL, Liu XX, Liu K, Li R, Zhu JH, Huang CJ (2012) Developmental lead acetate exposure induces embryonic toxicity and memory deficit in adult zebrafish. Neurotoxicol Teratol 34:581–586

Chiodo LM, Covington C, Sokol RJ, Hannigan JH, Jannise J, Ager J, Greenwald M, Delaney-Black V (2007) Blood lead levels and specific attention effects in young children. Neurotoxicol Teratol 29:538–546

Dauwe T, Eens M (2008) Melanin- and carotenoid-dependent signals of great tits (Parus major) relate differently to metal pollution. Naturwissenschaften 95:969–973

Dauwe T, Bervoets L, Blust R, Pinxten R, Eens M (2000) Can excrement and feathers of nestling songbirds be used as biomonitors for heavy metal pollution? Arch Environ Contam Toxicol 39:541–546

Dauwe T, Janssens E, Bervoets L, Blust R, Eens M (2004) Relationships between metal concentrations in great tit nestlings and their environment and food. Environ Pollut 131:373–380

Dauwe T, Janssens E, Bervoets L, Blust R, Eens M (2005) Heavy-metal concentrations in female laying great tits (Parus major) and their clutches. Arch Environ Contam Toxicol 49:249–256

Dietert RR, Piepenbrink MS (2006) Lead and immune function. Crit Rev Toxicol 36:359–385

Domingo JL (1994) Metal-induced developmental toxicity in mammals—a review. J Toxicol Environ Health 42:123–141

Douglas-Stroebel EK, Brewer GL, Hoffman DJ (2005) Effects of lead-contaminated sediment and nutrition on mallard duckling behavior and growth. J Toxicol Environ Health A 68:113–128

Eeva T, Lehikoinen E (1996) Growth and mortality of nestling great tits (Parus major) and pied flycatchers (Ficedula hypoleuca) in a heavy metal pollution gradient. Oecologia 108:631–639

Eeva T, Lehikoinen E (2000) Pollution—recovery of breeding success in wild birds. Nature 403:851–852

Eeva T, Tanhuanpää S, Rabergh C, Airaksinen S, Nikinmaa M, Lehikoinen E (2000) Biomarkers and fluctuating asymmetry as indicators of pollution-induced stress in two hole-nesting passerines. Funct Ecol 14:235–243

Eeva T, Lehikoinen E, Nikinmaa M (2003) Pollution-induced nutritional stress in birds: an experimental study of direct and indirect effects. Ecol Appl 13:1242–1249

Eeva T, Ryöma M, Riihimäki J (2005) Pollution-related changes in diets of two insectivorous passerines. Oecologia 145:629–639

Eeva T, Ahola M, Lehikoinen E (2009) Breeding performance of blue tits (Cyanistes caeruleus) and great tits (Parus major) in a heavy metal polluted area. Environ Pollut 157:3126–3131

Eeva T, Rainio M, Kanerva M, Salminen JP (2012) Plasma carotenoid levels are not directly related to heavy metal exposure or reproductive success in three insectivorous passerines. Environ Toxicol Chem 31:1363–1369

Eeva T, Rainio M, Berglund Å, Kanerva M, Stauffer J, Mareike S, Ruuskanen S (2014) Experimental manipulation of dietary lead levels in great tit nestlings—limited effects on growth, physiology and survival. Ecotoxocology 23:914–928

Figuerola J, Senar JC (2000) Measurement of plumage badges: an evaluation of methods used in the great tit Parus major. Ibis 142:482–484

Fisher IJ, Pain DJ, Thomas VG (2006) A review of lead poisoning from ammunition sources in terrestrial birds. Biol Conserv 131:421–432

Garavan H, Morgan RE, Levitsky DA, Hermer-Vazquez L, Strupp BJ (2000) Enduring effects of early lead exposure: evidence for a specific deficit in associative ability. Neurotoxicol Teratol 22:151–164

Garza A, Vega R, Soto E (2006) Cellular mechanisms of lead neurotoxicity. Medl Sci Monit 12:RA57–RA65

Gilbert ME, Kelly ME, Samsam TE, Goodman JH (2005) Chronic developmental lead exposure reduces neurogenesis in adult rat hippocampus but does not impair spatial learning. Toxicol Sci 86:365–374

Gorissen L, Snoeijs T, Van Duyse E, Eens M (2005) Heavy metal pollution affects dawn singing behaviour in a small passerine bird. Oecologia 145:504–509

Goyer RA (1997) Toxic and essential metal interactions. Ann Rev Nutr 17:37–50

Hallinger KK, Zabransky DJ, Kazmer KA, Cristol DA (2010) Birdsong differs between mercury-polluted and reference sites. Auk 127:156–161

Hodgson ZG, Healy SD (2005) Preference for spatial cues in a non-storing songbird species. Anim Cogn 8:211–214

Janssens E, Dauwe T, Van Duyse E, Beernaert J, Pinxten R, Eens M (2003) Effects of heavy metal exposure on aggressive behavior in a small territorial songbird. Arch Environ Contam Toxicol 45:121–127

Kiikkilä OS (2003) Heavy-metal pollution and remediation of forest soil around the Harjavalta Cu–Ni smelter, in SW Finland. Silva Fenn 37:399–415

Lawler EM, Duke GE, Redig PT (1991) Effect ofsublethal lead exposure on gastric motility of red-tailed hawks. Arch Environ Contam Toxicol 21:78–83

Lurie DI, Brooks DM, Gray LC (2006) The effect of lead on the avian auditory brainstem. Neurotoxicology 27:108–117

McGraw KJ (2003) Melanins, metals, and mate quality. Oikos 102:402–406

McGraw KJ (2008) An update on the honesty of melanin-based color signals in birds. Pigment Cell Melanoma Res 21:133–138

Metcalfe NB, Monaghan P (2001) Compensation for a bad start: grow now, pay later? Trends Ecol Evol 16:254–260

Morgan RE, Levitsky DA, Strupp BJ (2000) Effects of chronic lead exposure on learning and reaction time in a visual discrimination task. Neurotoxicol Teratol 22:337–345

Muller YMR, Rivero LBD, Carvalho MC, Kobus K, Farina M, Nazari EM (2008) Behavioral impairments related to lead-induced developmental neurotoxicity in chicks. Arch Toxicol 82:445–451

Naguib M, Florcke C, van Oers K (2011) Effects of social conditions during early development on stress response and personality traits in great tits (Parus major). Dev Psychobiol 53:592–600

Needleman H (2009) Low level lead exposure: history and discovery. Ann Epidemiol 19:235–238

Norris KJ (1990) Female choice and the evolution of the conspicuous plumage coloration of monogamous male great tits. Behav Ecol Sociobiol 26:129–138

Nyholm N (1994) Heavy metal tissue levels, impact on breeding and nestling development in natural populations of pied flycatchers (Aves) in the pollution gradient from a smelter.

Scheuhammer AM (1987) The chronic toxicity of aluminium, cadmium, mercury, and lead in birds—are review. Environ Pollut 46:263–295

Scheuhammer AM (1991) Effects of acidification on the availability of toxic metals and calcium to wild birds and mammals. Environ Pollut 71:329–375

Tomas G, Martinez J, Merino S (2004) Collection and analysis of blood samples to detect stress proteins in wild birds. J Field Ornithol 75:281–287

Verbeek MEM, Drent PJ, Wiepkema PR (1994) Consistent individual differences in early exploratory-behavior of male great tits. Anim Behav 48:1113–1121

White AE, Cristol DA (2014) Plumage coloration in belted kingfishers (Megaceryle alcyon) at a mercury-contaminated river. Waterbirds 37:144–152

White LD, Cory-Slechta DA, Gilbert ME, Tiffany-Castiglioni E, Zawia NH, Virgolini M, Rossi-George A, Lasley SM, Qian YC, Basha MR (2007) New and evolving concepts in the neurotoxicology of lead. Toxicol Appl Pharmacol 225:1–27

Youssef SAH, ElSanousi AA, Afifi NA, ElBrawy AMA (1996) Effect of subclinical lead toxicity on the immune response of chickens to Newcastle disease virus vaccine. Resin Vet Sci 60:13–16

Zhong ZM, Zhang CX, Rizak JD, Cui YH, Xu SQ, Che Y (2010) Chronic prenatal lead exposure impairs long-term memory in day old chicks. Neurosci Lett 476:23–26
Acknowledgments
We thank Salla Koskinen, Tarja Pajari, Marjo Aikko, Orsolyia Palfi, Åsa Berglund, and Jorma Nurmi for their efforts in helping us with field work. Tuija Koivisto made the color measurements. Meri Lindquist is acknowledged for molecular sexing of birds. Paul Ek and Sten Lindholm (Åbo Akademi) are acknowledged for the metal analyzes. Our study was financed by KONE foundation (SR) and Academy of Finland (TE, project 265859).
Additional information
Responsible editor: Philippe Garrigues
About this article
Cite this article
Ruuskanen, S., Eeva, T., Kotitalo, P. et al. No delayed behavioral and phenotypic responses to experimental early-life lead exposure in great tits (Parus major). Environ Sci Pollut Res 22, 2610–2621 (2015). https://doi.org/10.1007/s11356-014-3498-z
Received:

Accepted:

Published:

Issue Date:
Keywords
Heavy metal

Carry-over effect

Developmental stress

Behavioral changes

Bird ecotoxicology