Abstract
The epibenthic amphipod Melita plumulosa shows unique gene expression profiles when exposed to different contaminants. We hypothesized that specific changes in transcript abundance could be used in a battery of quantitative polymerase chain reaction (qPCR) assays as a toxicity identification evaluation (TIE)-like approach to identify the most relevant stressor in field-contaminated sediments. To test this hypothesis, seven candidate transcriptomic markers were selected, and their specificity following metal exposure was confirmed. The performance of these markers across different levels of added metals was verified. The ability of these transcripts to act as markers was tested by exposing amphipods to metal-contaminated field-collected sediments and measuring changes in transcript abundance via qPCR. For two of the three sediments tested, at least some of the transcriptomic patterns matched our predictions, suggesting that they would be effective in helping to identify metal exposure in field sediments. However, following exposure to the third sediment, transcriptomic patterns were unlike our predictions. These results suggest that the seven transcripts may be insufficient to discern individual contaminants from complex mixtures and that microarray or RNA-Seq global gene expression profiles may be more effective for TIE. Changes in transcriptomics based on laboratory exposures to single compounds should be carefully validated before the results are used to analyze mixtures.
This is a preview of subscription content, log in to check access.
Access options
Buy single article
Instant access to the full article PDF.
US$ 39.95
Price includes VAT for USA
Subscribe to journal
Immediate online access to all issues from 2019. Subscription will auto renew annually.
US$ 99
This is the net price. Taxes to be calculated in checkout.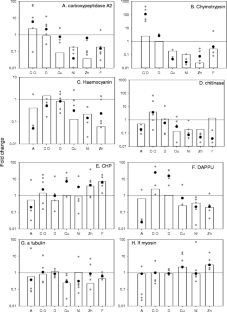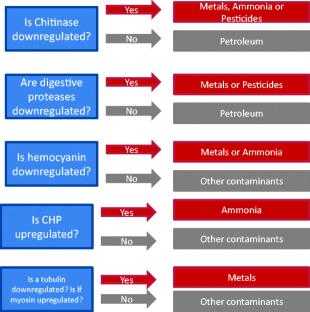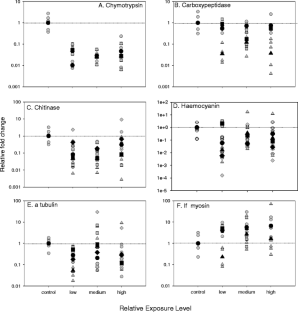 References
Amato ED, Simpson SL, Jarolimek C, Jolley DF (2014) Diffusive gradients in thin films technique provide robust prediction of metal bioavailability and toxicity in estuarine sediments. Environ Sci Technol 48:4485–4494. doi:10.1021/es404850f

Amin RP, Hamadeh HK, Bushel PR, Bennett L, Afshari CA, Paules RS (2002) Genomic interrogation of mechanism(s) underlying cellular responses to toxicants. Toxicology 181–182:555–563

Antczak P, Jo HJ, Woo S, Scanlan L, Poynton H, Loguinov A, Chan S, Falcani F, Vulpe C (2013) Molecular toxicity Identification evaluation approach predicts chemical exposure in Daphnia magna. Environ Sci Technol 47:11747–11756

Beresford N, Brian JV, Runnalls TJ, Sumpter JP, Jobling S (2011) Estrogenic activity of tropical fish food can alter baseline vitellogenin concentrations in male fathead minnows (Pimephales promelas). Environ Toxicol Chem 30:1139–1145

Biales AD, Kostich M, Burgess RM, Ho KT, Bencic DC, Flick RL, Portis LM, Pelletier MC, Perron MM, Reiss M (2013) Linkage of genomic biomarkers to whole organism end points in a toxicity identification evaluation (TIE). Environ Sci Technol 47:1306–1312

Brack E (2011) Effect-directed analysis of complex environmental contamination. The Handbook of Environmental Chemistry (series), Vol. 15, Springer

Brouwer M, Larkin P, Brown-Peterson N, King C, Manning S, Denslow N (2004) Effects of hypoxia on gene and protein expression in the blue crab, Callinectes sapidus. Mar Environ Res 58:787–792

Brouwer M, Brown-Peterson NJ, Larkin P, Patel V, Denslow N, Manning S, Hoexum Brouwer T (2007) Molecular and whole animal responses of grass shrimp, Palaemonetes pugio, exposed to chronic hypoxia. J Exp Mar Biol Ecol 341:16–31

Burridge L, Weis JS, Cabello F, Pizarro J, Bostick K (2010) Chemical use in salmon aquaculture: a review of current practices and possible environmental effects. Aquaculture 306:7–23

Campana O, Spadaro DA, Blasco J, Simpson SL (2012) Sublethal effects of copper to benthic invertebrates explained by changes in sediment properties and dietary exposure. Environ Sci Technol 46:6835–6842

Chariton AA, Roach AC, Simpson SL, Batley GE (2010) The influence of the choice of physical and chemistry variables on interpreting the spatial patterns of sediment contaminants and their relationships with benthic communities. Mar Freshwat Res 61:1109–1122

Chen Z, Mayer LM, Weston DP, Bock MJ, Jumars PA (2002) Inhibition of digestive enzyme activities by copper in the guts of various marine benthic invertebrates. Environ Toxicol Chem 21:1243–1248

Dafforn KA, Simpson SL, Komyakova V, Wong C, Johnston EL (2012) The challenge of choosing between chemical and biological monitoring tools for assessing the health of estuaries. Environ Pollut 163:207–217

De Schamphelaere KAC, Vandenbrouck T, Muyssen BTA, Soetart A, Blust R, De Coen W, Iguchi T, Callaghan A (2008) Integration of molecular with higher level effects of dietary zinc exposure in Daphnia magna. Comp Biochem Physiol Part D Genomics Proteomics 3:305–310

Falciani F, Diab AM, Sabine V, Williams TD, Ortega F, George SG, Chipman JK (2008) Hepatic transcriptomic profiles of European flounder (Platichthys flesus) from field sites and computational approaches to predict site from stress gene responses following exposure to model toxicants. Aquat Toxicol 90:92–101

Hamadeh HK, Bushel PR, Jaydev S, Martin K, DiSorbo O, Siber S, Bennett L, Tennant R, Stoll R, Barrett JC, Blanchard K, Paules RS, Afshari CA (2002) Gene expression analysis reveals chemical specific profiles. Toxicol Sci 67:219–231

Hook SE, Skillman AD, Small JA, Schultz IR (2006) Gene expression patterns in rainbow trout, Oncorhynchus mykiss, exposed to a suite of model toxicants. Aquat Toxicol 77:372–385

Hook SE, Skillman AD, Small JA, Schultz IR (2008) Gene expression profiles in rainbow trout, Onorhyncus mykiss, exposed to a chemical mixture. Toxicol Sci 102:42–60

Hook SE, Lampi MA, Febbo EJ, Ward JA, Parkerton TJ (2010) Temporal patterns in the transcriptomic response of rainbow trout, Oncorhynchus mykiss, to crude oil. Aquat Toxicol 99:320–329

Hook SE, Osborn HL, Spadaro DA, Simpson SL (2014a) Assessing mechanisms of toxicant response in the amphipod Melita plumulosa through transcriptomic profiling. Aquat Toxicol 146:247–257

Hook SE, Twine NA, Simpson SL, Spadaro DA, Moncuquet P, Wilkins M (2014b) 454 pyrosequencing-based analysis of gene expression profiles in the amphipod Melita plumulosa: transcriptome assembly and toxicant induced changes. Aquat Toxicol 153:73–88. doi:10.1016/j.aquatox.2013.11.022

Hook SE, Osborn HL, Golding LA, Spadaro DA, Simpson SL (2014c) Dissolved and particulate copper exposure induces differing gene expression profiles and mechanisms of toxicity in the deposit feeding amphipod Melita plumulosa. Environ Sci Technol 48:3504–3512

Hutchins C, Teasdale PR, Lee SY, Simpson SL (2008) Cu and Zn concentration gradients created by dilution of pH neutral metal-spiked sediment: comparing the geochemical response with alternate methods of metal addition. Environ Sci Technol 42:2912–2918

Kennedy AJ, Steevens JA, Lotufo GR, Farrar JD, Reiss MR, Kropp RK, Doi J, Bridges TS (2009) A comparison of acute and chronic toxicity methods for marine sediments. Mar Environ Res 68:118–127

Koskinen H, Pehkonen P, Vehniainen E, Krasnov A, Rexroad C, Afanasyev S, Molsa H, Oikari A (2004) Response of rainbow trout transcriptome to model chemical contaminants. Biochem Biophys Comm 320:745–753

Livak KJ, Schmittgen TD (2001) Analysis of relative gene expression data using real-time quantitative PCR and the 2-ΔΔCt method. Methods 25:402–408

MacLeod C, Eriksen E (2007) Review of the ecological impacts of selected antibiotics and antifoulants currently used in the Tasmanian salmonid farming industry (marine farming phase). Fisheries Research and Development Corporation (FRDC) Final Report (Project No. 2007/246). http://www.imas.utas.edu.au/__data/assets/pdf_file/0010/68545/Final_Report_FRDC_2007-246_MacleodEriksenWeb_format2.pdf

Mann RM, Hyne RV, Spadaro DA, Simpson SL (2009) Development and application of a rapid amphipod reproduction test for sediment quality assessment. Environ Toxicol Chem 28:1244–1254

Martinovic-Weigelt D, Wang RL, Villeneuve DL, Bencic DC, Lazorchak J, Ankley GT (2011) Gene expression profiling of the androgen receptor antagonists flutamide and vinclozolin in zebrafish (Danio rerio) gonads. Aquat Toxicol 101:447–458

Menzel R, Swain SC, Hoess S, Claus E, Menzel S, Steinberg CEW, Reifferscheid G, Sturzenbaum SR (2009) Gene expression profiling to characterize sediment toxicity—a pilot study using Caenorhabditis elegans whole genome microarrays. BMC Genomics 10:160

Mortensen AS, Arukwe A (2007) Targeted salmon gene array (SalArray): a toxicogenomic tool for gene expression profiling of interactions between estrogen and aryl hydrocarbon receptor signaling pathways. Chem Res Toxicol 20:474–488

Osborn HL, Hook SE (2013) Using transcriptomic profiles in the diatom Phaeodactylum tricornutum to identify and prioritize stressors. Aquat Toxicol 138:12–25

Poynton HC, Vulpe CD (2009) Ecotoxicogenomics: emerging technologies for emerging contaminants. J Am Water Resour Assoc 45:83–96

Poynton HC, Varshavsky JR, Chang B, Cavigiolio G, Chan S, Holman PS, Loguinov AV, Bauer DJ, Komachi K, Theil EC, Perkins EJ, Hughes O, Vulpe CD (2007) Daphnia magna ecotoxicogenomics provides mechanistic insights into metal toxicity. Environ Sci Technol 41:1044–1050

Poynton HC, Loguinov AV, Varshavsky JR, Chan S, Perkins EJ, Hughes O, Vulpe CD (2008) Gene expression profiling in Daphnia magna Part I: concentration-dependant profiles provide support for the No Observed Transcriptional Effect Level. Environ Sci Technol 42:6250–6256

Scarlett A, Rowland SJ, Canty M, Smith EL, Galloway TS (2007) Method for assessing the chronic toxicity of marine and estuarine sediment-associated contaminants using the amphipod Corophium volutator. Mar Environ Res 63:457–470

Simpson SL, Spadaro DA (2011) Performance and sensitivity of rapid sublethal sediment toxicity tests with the amphipod Melita plumulosa and copepod Nitocra spinipes. Environ Toxicol Chem 30:2326–2334

Simpson SL, Angel BM, Jolley DF (2004) Metal equilibration in laboratory-contaminated (spiked) sediments used for the development whole-sediment toxicity tests. Chemosphere 54:597–609

Simpson SL, Spadaro DA, O'Brien D (2013) Incorporating bioavailability into management limits for copper and zinc in sediments contaminated by antifouling paint and aquaculture. Chemosphere 93:2499–2506. doi:10.1016/j.chemosphere.2013.08.100

Spadaro DA, Micevska T, Simpson SL (2008) Effect of nutrition on toxicity of contaminants to the epibenthic amphipod Melita plumulosa. Arch Environ Contam Toxicol 55:593–602

Strom D, Simpson SL, Batley GE, Jolley DF (2011) The influence of sediment particle size and organic carbon on toxicity of copper to benthic invertebrates in oxic/sub-oxic surface sediments. Environ Toxicol Chem 30:1599–1610

Tilton SC, Givan SA, Pereira CB, Bailey GS, Williams DE (2006) Toxicogenomic profiling of the hepatic tumor promoters indole-3-carbinol, 17beta-estradiol and beta-napthoflavone in rainbow trout. Toxicol Sci 90:61–72

Vandegehuchte MB, Vandenbrouck T, De Coninck D, De Coen WM, Janssen CR (2010) Gene transcription and higher-level effects of multigenerational Zn exposure in Daphnia magna. Chemosphere 80:1014–1020

Wang WX (2011) Incorporating exposure into aquatic toxicological studies: an imperative. Aquat Toxicol 105S:9–15
Acknowledgments
The authors acknowledge the assistance of Ian Hamilton (CSIRO, Land and Water) with animal husbandry and exposures. Chad Jarolimek and Josh King (CSIRO, Land and Water) assisted with the analytical chemistry of the metals. Funding for this study was provided by the CSIRO Land and Water Capability Development Theme.
Additional information
Responsible editor: Philippe Garrigues
About this article
Cite this article
Hook, S.E., Osborn, H.L., Spadaro, D.A. et al. Challenges for using quantitative PCR test batteries as a TIE-type approach to identify metal exposure in benthic invertebrates. Environ Sci Pollut Res 22, 17280–17289 (2015). https://doi.org/10.1007/s11356-014-3234-8
Received:

Accepted:

Published:

Issue Date:
Keywords
Amphipods

Gene expression

Metal toxicity

Sediments

TIE

Reproductive toxicity

Transcriptomics