Abstract
Andra Environmental Specimen Bank (ESB) was established in 2010 as a part of the Perennial Observatory of the Environment (OPE), ongoing Long-Term Environmental Research Monitoring and Testing System located next to the Underground Research Laboratory (URL) at Bure, Meuse/Haute-Marne, France. The URL is used to study the deep geological disposal of high and intermediate level radioactive waste. Andra ESB is designed to archive during at least 100 years samples collected to define the initial state of environmental quality of the local area before the construction of industrial facilities and to ensure the traceability of long-term series of samples collected by the OPE (http://www.andra.fr/ope), using safe long-term conservation practices. Samples archived in the bank include some local food chain products (milk, cheese, honey, cereals, grass, cherry plum…) and specimen usually archived internationally to monitor the environmental quality (soil, sediment, water, fish, tree leaves, wild life, etc.). Regarding the different samples and analytical issues, three conservation modalities and facilities were designed: dry conservation under controlled temperature and humidity, cryopreservation in liquid nitrogen (LN2) vapor phase freezers (−150 °C) and in deep-freezing at −80 °C for temporary storage and raw samples before preparation. Andra ESB is equipped with a sample preparation clean room, certified ISO Class 5, dedicated to cryopreservation. This paper describes this first French experiment of long-term chemical quality monitoring and samples cryopreservation of different ecosystems and environmental compartments.
This is a preview of subscription content, log in to check access.
Access options
Buy single article
Instant access to the full article PDF.
US$ 39.95
Price includes VAT for USA
Subscribe to journal
Immediate online access to all issues from 2019. Subscription will auto renew annually.
US$ 99
This is the net price. Taxes to be calculated in checkout.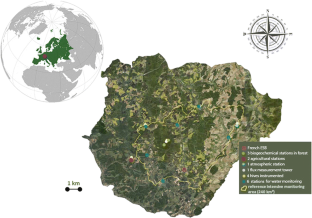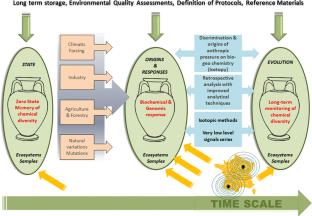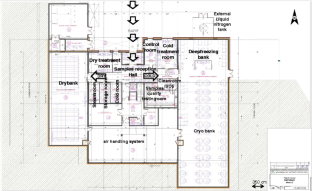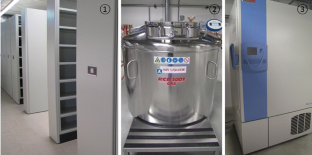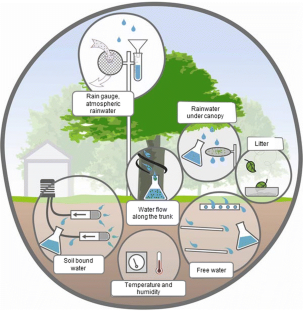 References
Chiffoleau J-F, Auger D, Chartier E, Michel P, Truquet I, Ficht A, Gonzalez J-L, Romana L-A (2001) Spatiotemporal changes in cadmium contamination in the Seine Estuary (France). Estuaries 24(6B):1029–1040

Fliedner A, Rüdel H, Knopf B, Weinfurtner K, Paulus M, Ricking M, Koschorreck J, (2014) Spatial and temporal trends of metals and arsenic in German freshwater compartments, Environ Sci Pollut Res Int

Hammer S, Konrad G, Vermeulen AT, Laurent O, Delmotte M, Jordan A, Hazan L, Conil S, Levin I (2012) Feasibility study of using a "travelling" CO2 and CH4 instrument to validate continuous in-situ measurement stations, Atmos Meas Tech, Issue 5

Kim M., Choi T., Han A., Shin J., Lee J. (2010) The National Environmental Specimen Bank in Korea: Establishment and standard operating procedures. Interdisc Studies Environm Chem Environ Spec Bank pp 125–132

Koizumi A, Harada KH, Inoue K, Hitomi T, Yang H-R, Moon C-S, Wang P, Hung NN, Watanabe T, Shimbo S, Ikeda M (2009) Past, present, and future of environmental specimen banks. Environ Health Prev Med 14:307–318

Lequy É, Conil S, Turpault M-P (2014) Complementary methods to distinguish organic and mineral matter in atmospheric particulate deposition and their respective nutrient inputs to temperate forest ecosystems. Aeolian Res 12:101–109

Morita M, Yoshinaga J, Mukai H, Ambe Y, Tanaka A, Shibata Y (1997) Specimen banking at national institute for environmental studies, Japan. Chemosphere 34(9/10):1907–1919

Olsson M, Bignert A (1997) Specimen banking—a planning in advance. Chemosphere 34(9/10):1961–1974

Pugh Rebecca S, Moors Amanda J, Rust Lauren B, Porter Barbara J and Becker Paul R (2010) The Marine Environmental specimen bank (Marine ESB) : A research and Environmental Monitoring Resource. Interdisciplinary Studies on Environmental Chemistry – Environmental Specimen Bank. Pp 33–41

Rüdel H, (2012) Use of environmental specimen banks for investigations of emerging substances: Examples for freshwater fish monitoring studies, Network of Reference Laboratories for Monitoring of Environmental Substances. Norman Bulletin. Online J, No.3, pp 5–7

Rüdel H, Müller J, Quack M, Klein R (2012) Monitoring of hexabromocyclododecane diastereomers in fish from European freshwaters and estuaries. Environ Sci Pollut Res 19(3):772–783

Rüdel H, Böhmer W, Müller M, Fliedner A, Ricking M, Teubner D, Schröter-Kermani C (2013) Retrospective study of triclosan and methyl-triclosan residues in fish and suspended particulate matter: results from the German Environmental Specimen Bank. Chemosphere 91(11):1517–1524

Schulze T, Ricking M, Schröter-Kermani C, Koerner A, Denner H-D, Weinfurtner K, Winkler A, Pekdeger A (2007) The German Environmental Specimen Bank—sampling, processing, and archiving sediment and suspended particulate matter. J Soils Sediment 7(6):361–367

Wiesmüller Gerhard A, Eckard R, Dobler L, Günsel A, Oganowski M, Schröter-Kermani C, Schlüter Christoph Gies A, Kemper Fritz H (2007) The environmental specimen Bank for Human Tissues as part of the German Environmental Specimen Bank. Int J Hyg Environ Health 210:299–305

Zhang Y-x, Wang Y-s, Qian Y-e, Tan M-g, Zhi M, Li D-y, Cheng F, Znang G-l (2000) Establishment of environmental specimen bank in shanghai. J Environ Sci 12(4):398–401
Acknowledgments
Andra thanks the German ESB (Heinz Ruedel, Fraunhofer IME in Schmallenberg, Deutschland), the US Marine ESB (Paul Becker and Rebecca Pugh, NIST in Charleston, US), the project of Observatoire de Recherche sur la Qualité de l'Environnement (Olivier Donard, Emmanuel Tessier and David Point, ORQUE, IPREM, Pau, France), and INRA (INFOSOL, Claudy Jolivet, Orléans, France) for their assistance during the early stages of the project.
Additional information
Responsible editor: Philippe Garrigues
About this article
Cite this article
Leclerc, E., d'Arbaumont, M., Verron, J. et al. Andra Environmental Specimen Bank: archiving the environmental chemical quality for long-term monitoring. Environ Sci Pollut Res 22, 1568–1576 (2015). https://doi.org/10.1007/s11356-014-2924-6
Received:

Accepted:

Published:

Issue Date:
Keywords
Environmental specimen bank

Monitoring

Pollutants

Cryogeny

Ecosystems

Forest

Agriculture

Human food chain

Quality assurance

Radioactivity

Chemicals